Discovering the Best Lakes in Texas: A Comprehensive Guide
Explore the beauty and tranquility of Texas' best lakes with our comprehensive guide. Find the perfect spot for fishing, swimming, and other outdoor activities. Get ready to make memories and enjoy all of the amazing things Texas has to offer!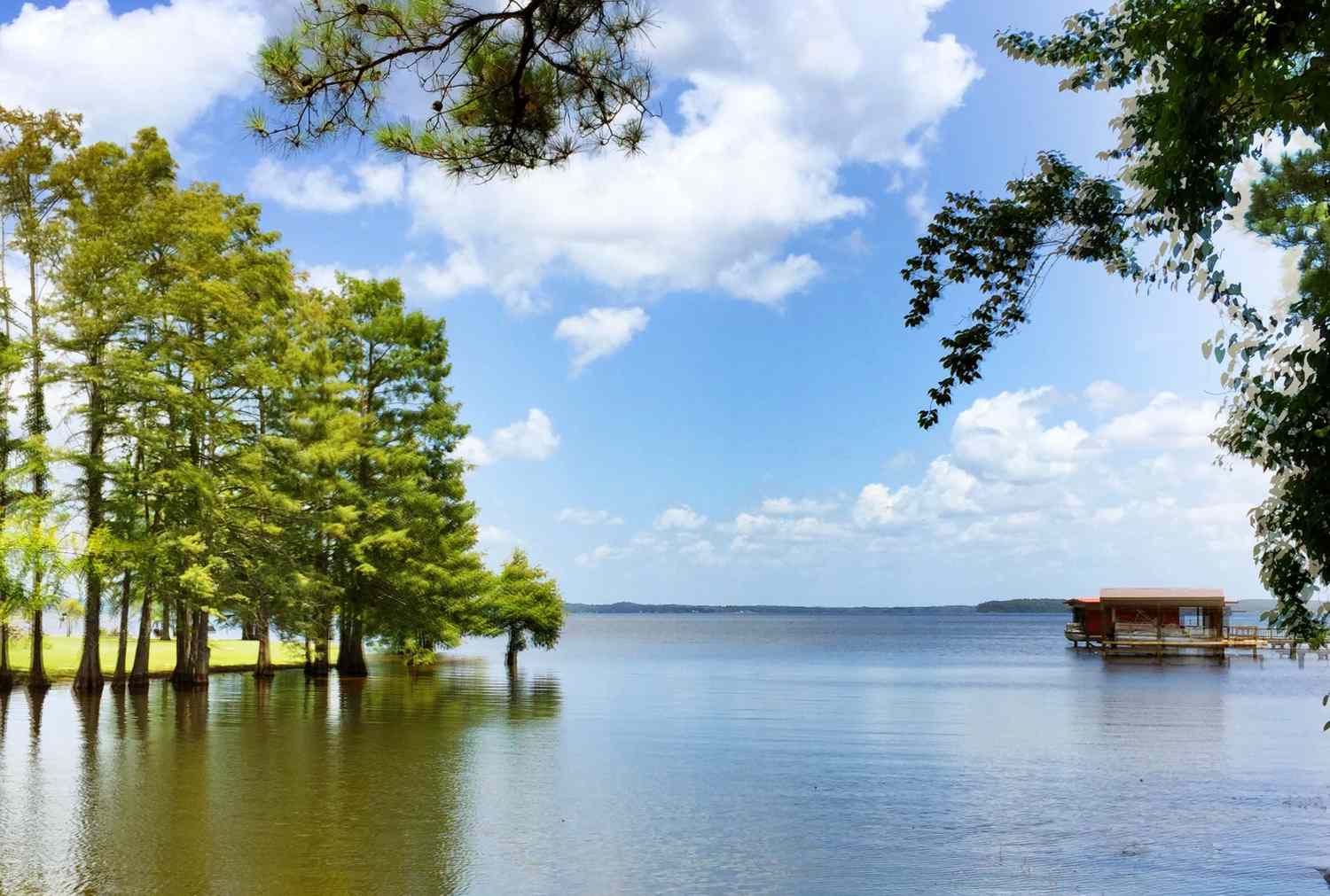 This article was created by a dedicated and authentic team of passionate travelers from the PTA Team, who are not only experienced travel experts but also proud members of the World Travel & Tourism Council (WTTC). Our sole purpose is to assist and support fellow travelers in planning their tours with utmost care and precision. With exclusive information, valuable insights, and meticulous analysis, we strive to provide high-quality content that leaves no room for mistakes. Count on us to deliver comprehensive destination reports and all the necessary information to ensure an exceptional and well-planned travel experience for you. Learn More
As a local traveler who has lived in Texas, I've had the privilege of exploring and experiencing the best lakes in Texas. These lakes are not only stunningly beautiful but also serve as a recreational haven, offering a host of activities for outdoor enthusiasts. From the breathtaking scenery of Inks Lake State Park to the tranquil waters of Johnson Creek, Texas is home to some truly impressive and diverse bodies of water.
One of the standout lakes is Caddo Lake, a natural wonder of USA that is also home to the Caddo Lake State Park. This lake is a testament to the natural beauty that Texas has to offer. Equally mesmerizing is the Devil's Waterhole, a popular spot at Inks Lake State Park known for its cliff-jumping opportunities. From the serenity of Eagle Mountain Lake to the impressive flood control measures at Toledo Bend Reservoir, each lake has its unique charm and attractions.
Lake Amistad and the Sam Rayburn Reservoir are two more examples of the diverse and captivating lakes in Texas. Offering a mix of recreational activities, natural landscapes, and wildlife spotting opportunities, these lakes are a must-visit for nature lovers and adventure seekers. Whether you're a local or a tourist, the lakes in Texas are sure to offer an unforgettable experience.
In this comprehensive guide, we will delve into the top 10 must-visited and best lakes in Texas, offering insights into their unique features, activities, and why they should be on your travel bucket list. So, buckle up and get ready to explore the best lakes in Texas, each with its unique charm and allure.
Introduction to Texas' Finest Lakes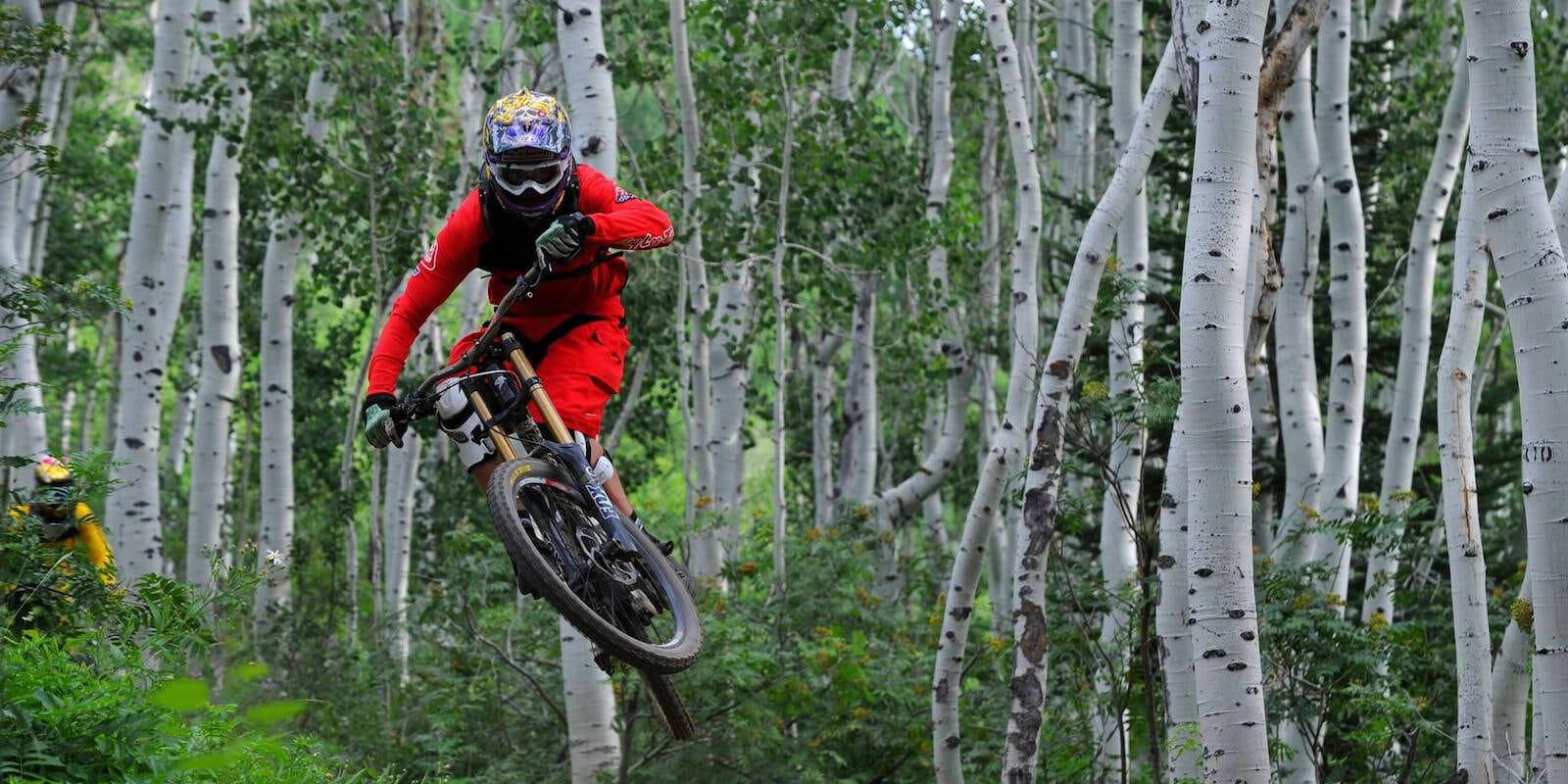 Texas is home to some of the finest lakes in the United States, each offering unique recreational activities and stunning natural beauty. Whether you're into mountain biking along picturesque trails, participating in thrilling fishing tournaments, or simply soaking in the tranquility of the waters, Texas lakes have something for everyone.
Take Lake Tawakoni State Park, for instance, which lies just fifty miles east of Dallas. This natural resource is a favorite among locals and tourists for boating, swimming, and fishing. It's surrounded by 376 acres of oak forest, offering ample opportunities for hiking and mountain biking. Furthermore, the park is home to a variety of wildlife, including red and gray foxes, bobcats, coyotes, possums, armadillos, and cougars. On the waterfront, one can spot frogs and beavers.
The lake itself is a reservoir on the Sabine River, formed to provide water to surrounding cities, including Dallas. It's not just a recreational hub, but also a crucial natural resource. The lake is teeming with a variety of fish, making it a favorite spot for fishing tournaments. From striped to largemouth bass, crappie to high-fin blue catfish, the lake is a fisherman's paradise. With its diverse offerings, it's clear why Texas lakes are considered among the finest in the country.
Top 10 Must-Visit Lakes in Texas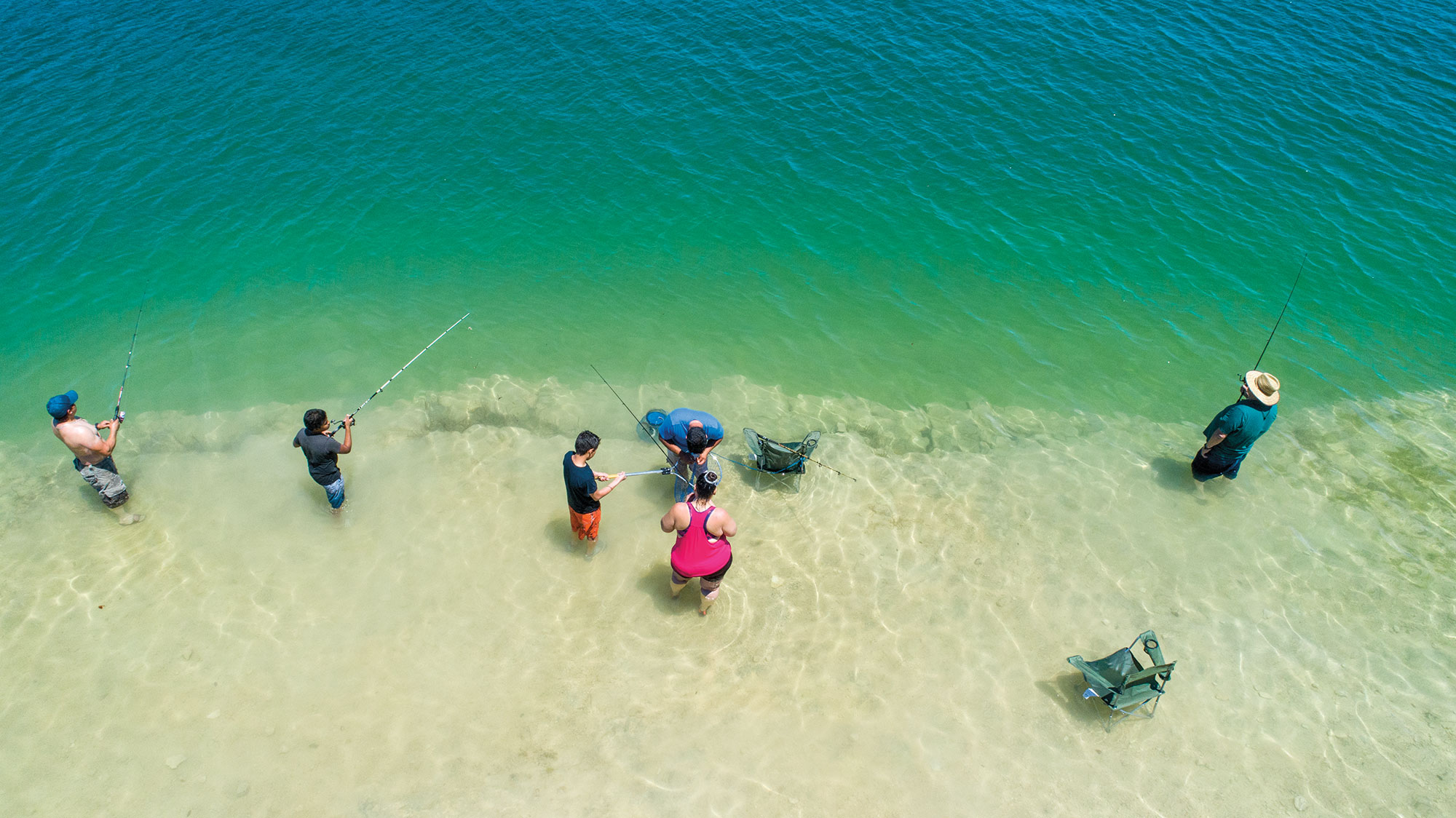 There's an abundance of natural beauty to be explored in the Lone Star State, and its lakes are no exception. Each one possesses its own unique charm, offering visitors a variety of experiences. From tranquil waters to adventure-filled areas, these top 10 must-visit lakes in Texas are sure to impress.
1. Caddo Lake, Best Lake in Texas: A Natural Wonder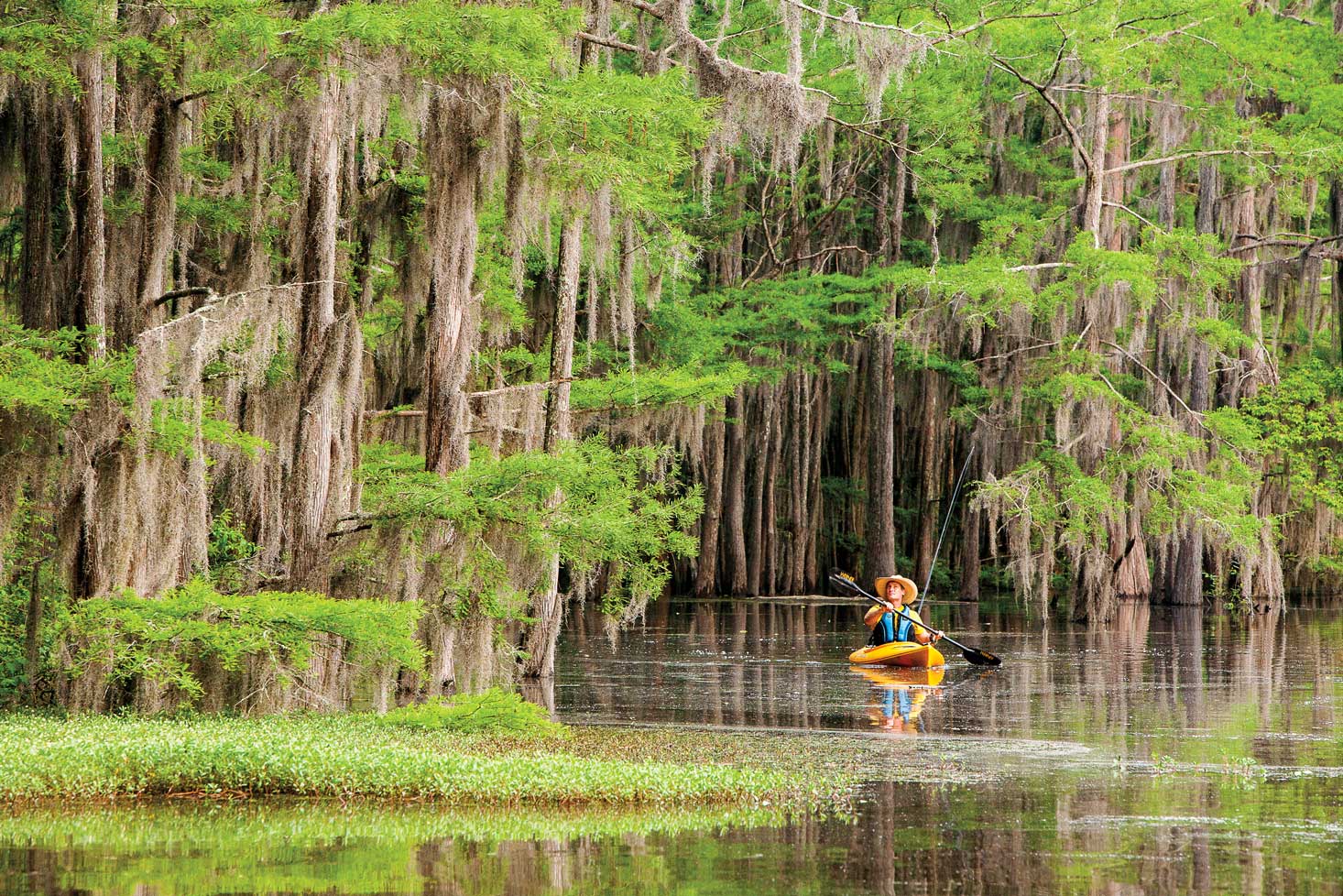 Straddling the Texas and Louisiana border, Caddo Lake is one of the best lakes in Texas that has a unique marvel that nature lovers won't want to miss. This enchanting lake stands out with its sprawling cypress forest, draped majestically with Spanish moss. It covers more than 20,000 acres and is laced with a complex network of bayous, channels, and waterways, presenting a breathtaking spectacle of natural beauty.
Visitors will find themselves captivated by the sight of low-flying herons and the occasional rare sighting of American alligators. Caddo Lake State Park, located on the west end of the lake along the Cypress Bayou, is a central spot for recreation. Here, visitors can embark on hiking trails, set up camp, or simply immerse themselves in the serene ambiance.
But the true allure of this site lies in its water. With over 40 miles of scenic paddling trails, kayaking and canoeing are popular activities. The state park also offers canoe rentals for those who prefer not to bring their own gear. Jet skis are another fun way to explore the water, adding a splash of excitement to the tranquil setting.
2. Exploring the Depths of Lake Texoma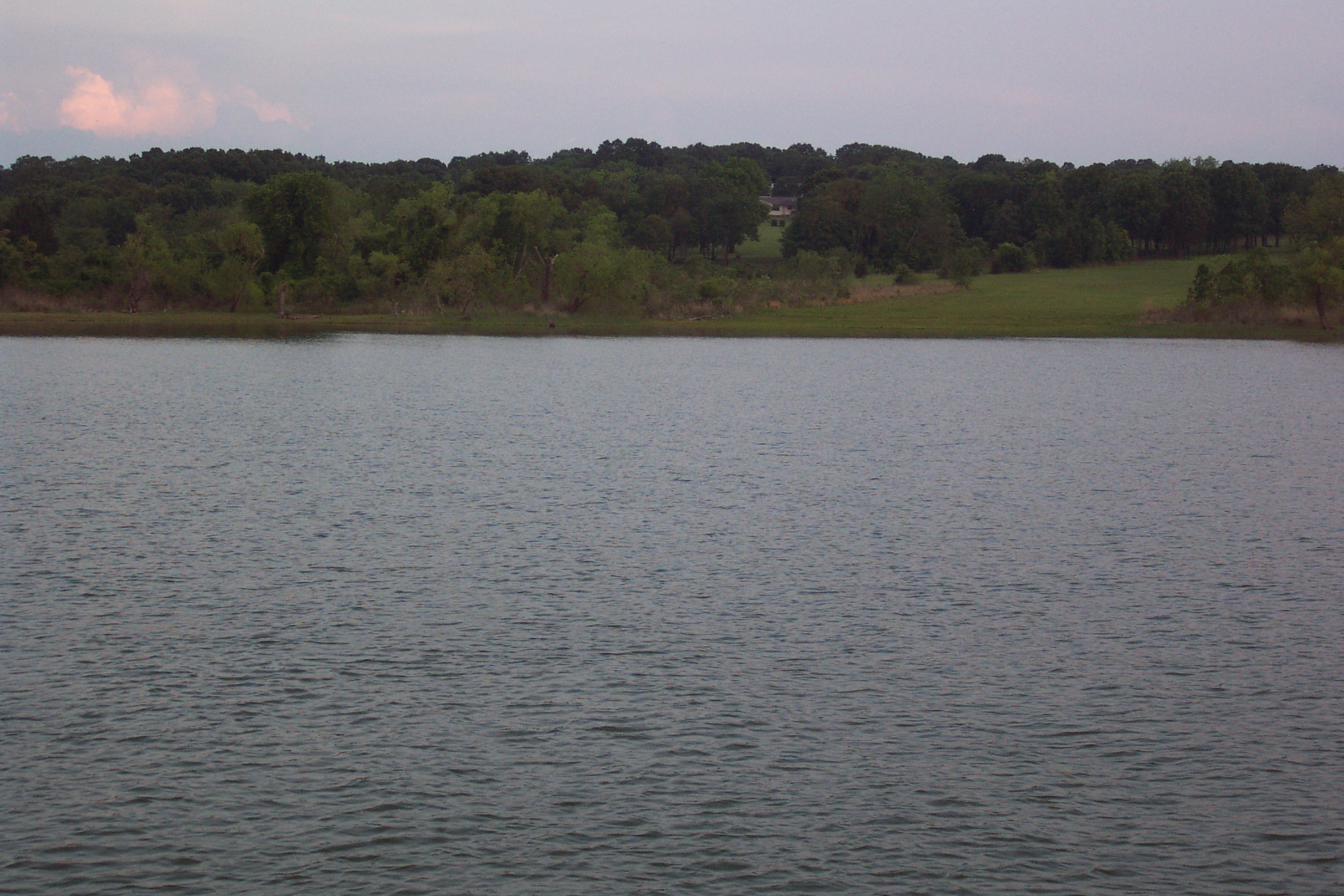 Lake Texoma, straddling the Oklahoma and Texas border, is another must-visit destination of the best lakes in Texas. This massive lake attracts millions of visitors each year, thanks in part to its reputation as one of the best bass fishing lakes in Texas. Anglers from near and far flock here for the opportunity to land smallmouth, spotted, and striped bass.
Boasting a shoreline that spans approximately 580 miles, Lake Texoma is one of the largest reservoirs in the United States. Its vast expanse is sprinkled with several golf courses, hotels, marinas, and boat rentals. Chartered fishing ventures are also available, making it an angler's paradise.
But it's not just about the fishing. Each year, the lake holds the Lakefest Regatta, a popular sailing event that draws crowds from around the state. Whether you're an avid fisherman, a sailing enthusiast, or simply a lover of the great outdoors, Lake Texoma holds an adventure for everyone.
3. The Splendid Scenery of Lake Travis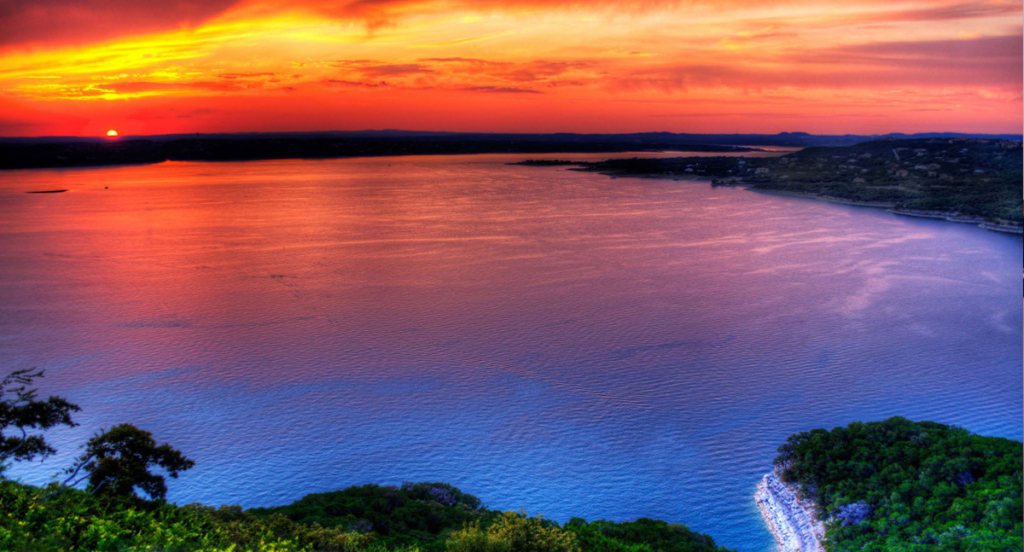 A showcase of natural beauty nestled in the Texas Hill Country, Lake Travis is a man-made lake created in 1942 to prevent flooding of the Colorado River. It stretches an impressive 65 miles long, graced with 270 miles of shoreline. Its pristine waters supply Austin and its metropolitan area, making the lake an essential resource for the city.
Lake Travis is more than just a water reservoir. It is a hub of outdoor recreation, attracting locals and tourists alike. Its clear waters are perfect for boating, swimming, and fishing, with a diverse fish population that includes largemouth, Guadalupe, white, and striped bass, catfish, and sunfish. Bob Wentz Park, a popular entry point to the lake, is equipped with picnic tables, volleyball courts, and restroom facilities for a comfortable visit.
One of the best beaches in Texas, Windy Point Park, can be found on the shores of Lake Travis. This lakeside park offers breathtaking views, and the vibrant greenery coupled with the crystal clear water makes for an incredible sight. With its charm and recreational offerings, Lake Travis is undeniably one of Texas' finest lakes.
4. The Recreational Paradise: Possum Kingdom Lake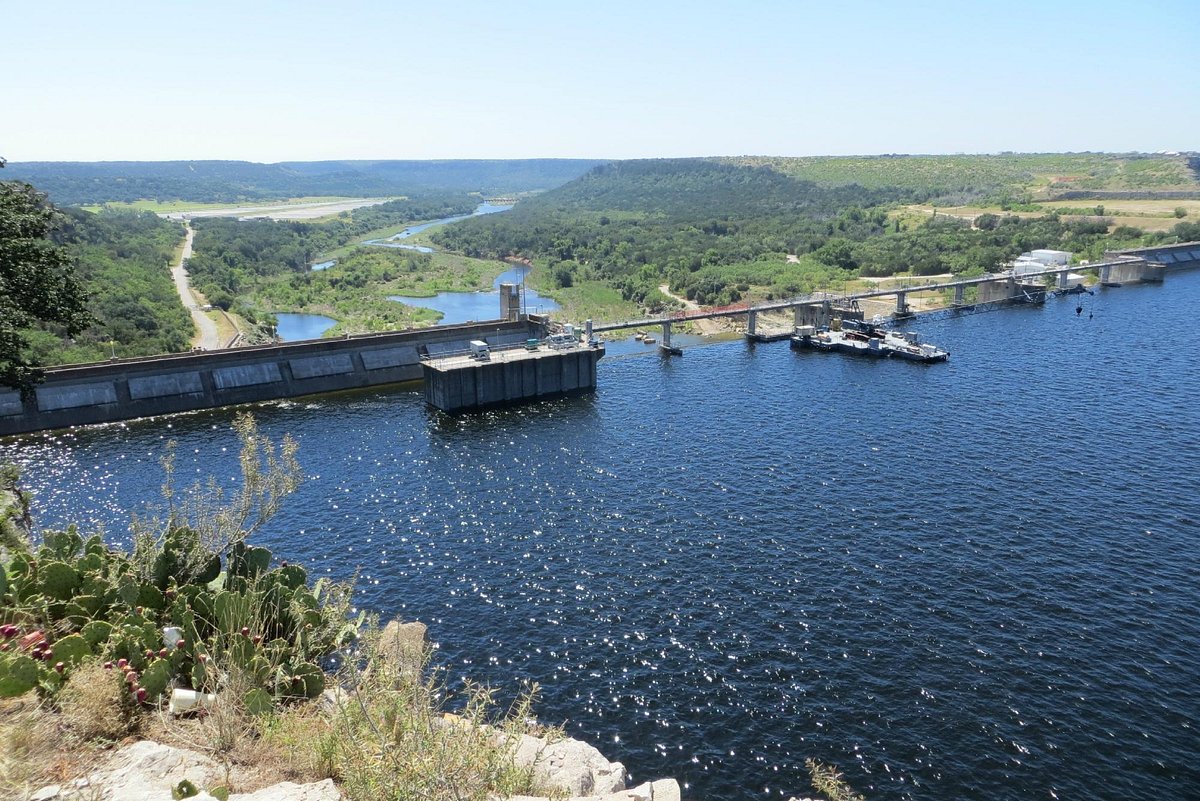 Located in a rugged canyon country on the Brazos River, 70 miles west of Fort Worth, Possum Kingdom Lake is a gem in the heart of Texas. The lake boasts an area of roughly 20,000 acres, with cliff features adorning its south end, and 300 miles of shoreline to explore. Its crystal blue waters are not only pleasing to the eye but also perfect for activities such as fishing and scuba diving.
Possum Kingdom State Park, situated on the west side of the lake, is a popular spot for outdoor enthusiasts. It offers a variety of activities including hiking and biking trails that weave through the dense greenery. The park also provides several places to stay, including campgrounds and air-conditioned cabins, catering to the needs of all visitors.
Possum Kingdom Lake is renowned for its thrilling cliff-jumping experiences at spots like Hell's Gate and Palo Pinto. These locations offer a unique thrill that is hard to find in other places in Texas or even South America. With its natural beauty and recreational possibilities, Possum Kingdom Lake promises an unforgettable visit.
5. Uncovering the Charm of Canyon Lake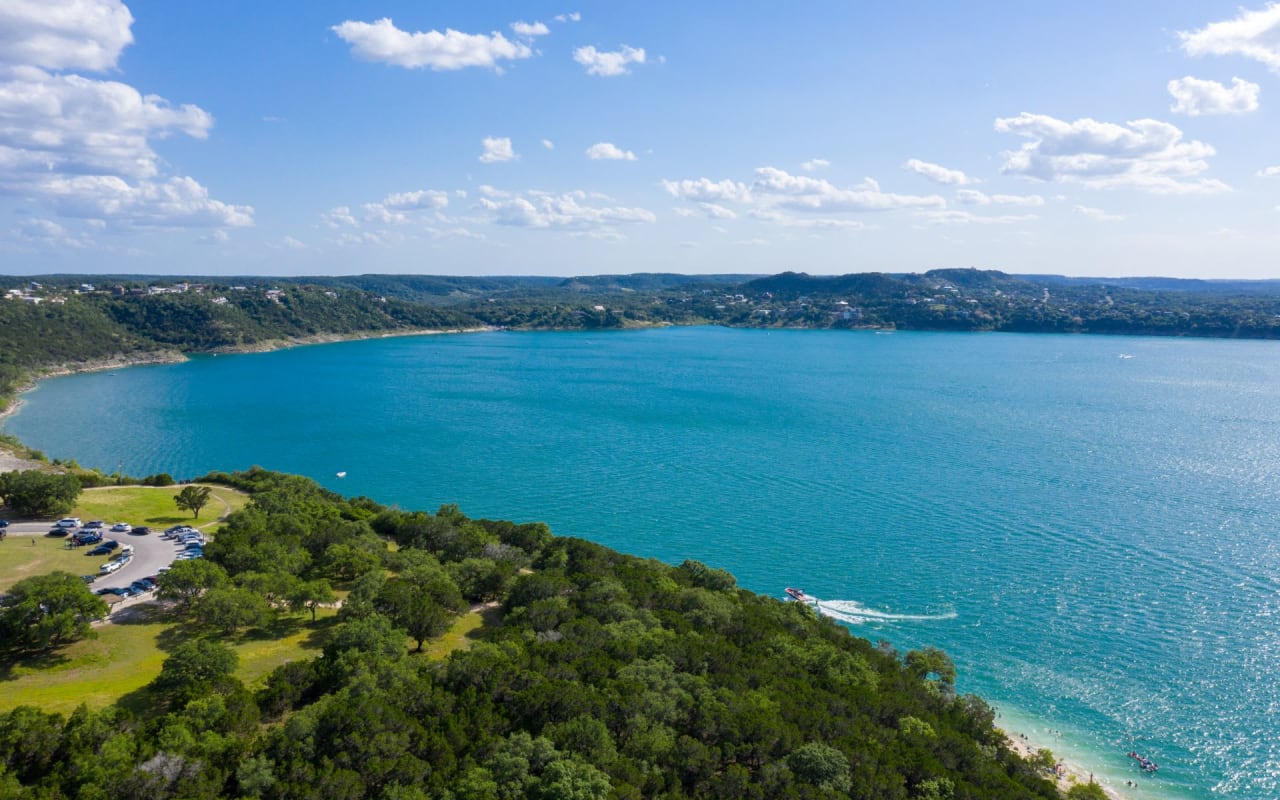 Nestled in the heart of Texas Hill Country, halfway between San Antonio and Austin, Canyon Lake is a true gem. A 30-minute drive from New Braunfels, this lake is part of the Guadalupe River system. One of the most striking features of Canyon Lake is its incredibly clear water, making it a popular spot for a wide array of recreational activities such as boating and fishing.
The Army Corps of Engineers maintains eight developed recreation sites around the lake, offering visitors plenty of choice. At places like Canyon Park and Fort Sam Houston Recreation Area, tent camping is a popular option. The sites are also equipped for RV camping, and picnic tables are available for visitors to use. These spots are perfect for day-long family outings or weekend getaways, offering a chance to enjoy the outdoors and the beautiful scenery.
Overlook Park offers a unique walking trail that takes you to the top of Canyon Dam. This trail also provides access to the Canyon Lake Gorge, a stunning geological feature on the north shore of the lake. For those seeking something different, other spots like Guadalupe Park and Comal Park serve as day-use destinations, with picnic tables and hiking trails.
6. The Tranquil Waters of Lake Whitney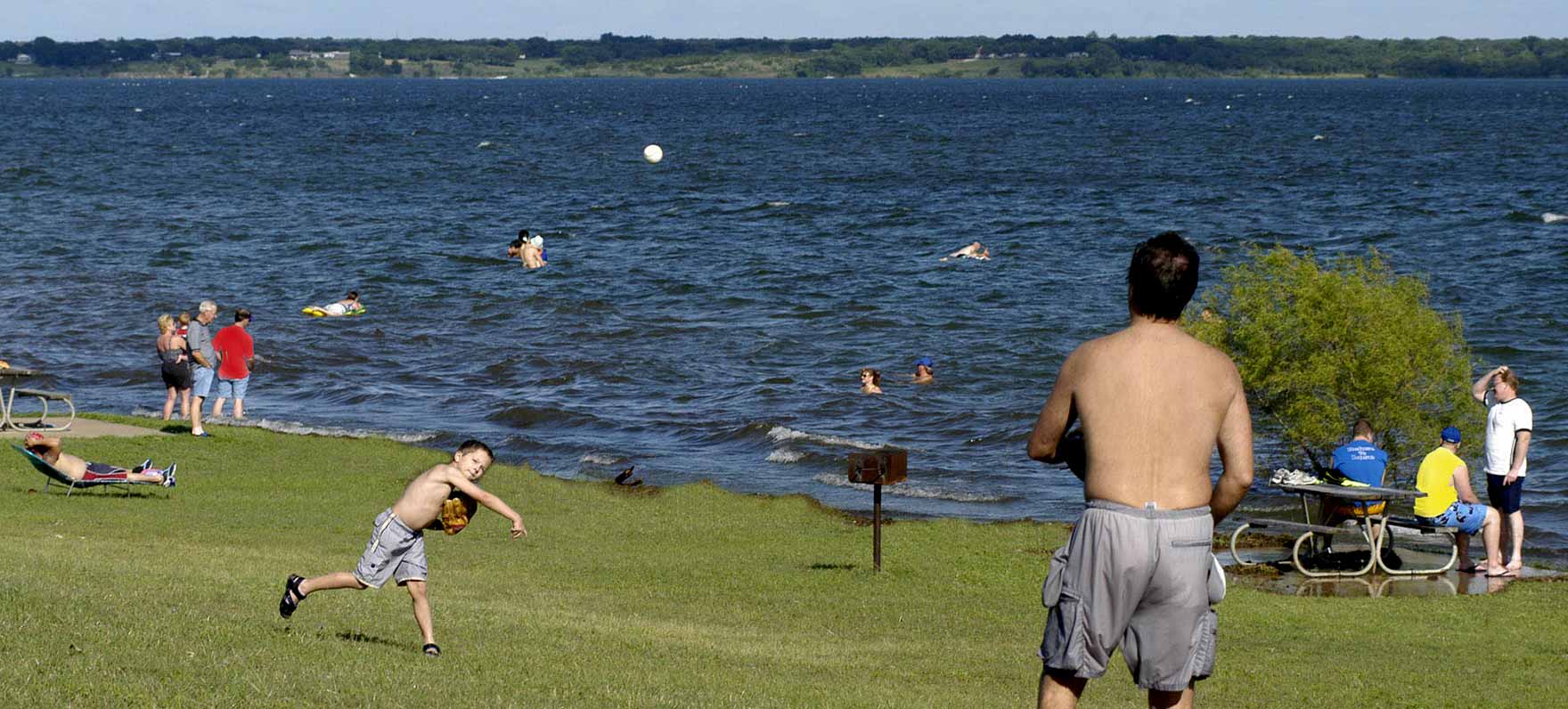 Located a mere 30 minutes from Waco, Lake Whitney is a reservoir on the Brazos River. It's a renowned spot for a variety of water sports including sailing, jet skiing, and water skiing. But the allure of Lake Whitney extends beyond its tranquil waters. The surrounding area offers a bounty of land activities, from golfing to hunting, making it a versatile destination for outdoor enthusiasts.
Besides its recreational offerings, Lake Whitney is also a hotspot for wildlife spotting. Visitors have reported seeing a diverse range of birds, including wild turkeys, egrets, and bald eagles. Even white-tailed deer, coyotes, and foxes are regularly sighted. Birdwatchers and nature lovers will find this place a paradise. For optimal wildlife viewing, springtime visits are recommended when bluebonnet flowers are blooming in the fields, creating a beautiful backdrop.
When it comes to accommodation, Lake Whitney doesn't disappoint. There are numerous resorts and lodges in the vicinity, catering to every preference. Whether you're looking for a rustic campground or a luxury resort, Lake Whitney has it all. The Arrowhead Resort in nearby Whitney is a popular choice among visitors. With its tranquil waters and diverse offerings, it's easy to see why Lake Whitney has earned the title of the "Getaway Capital of Texas".
7. Adventure at Lake Buchanan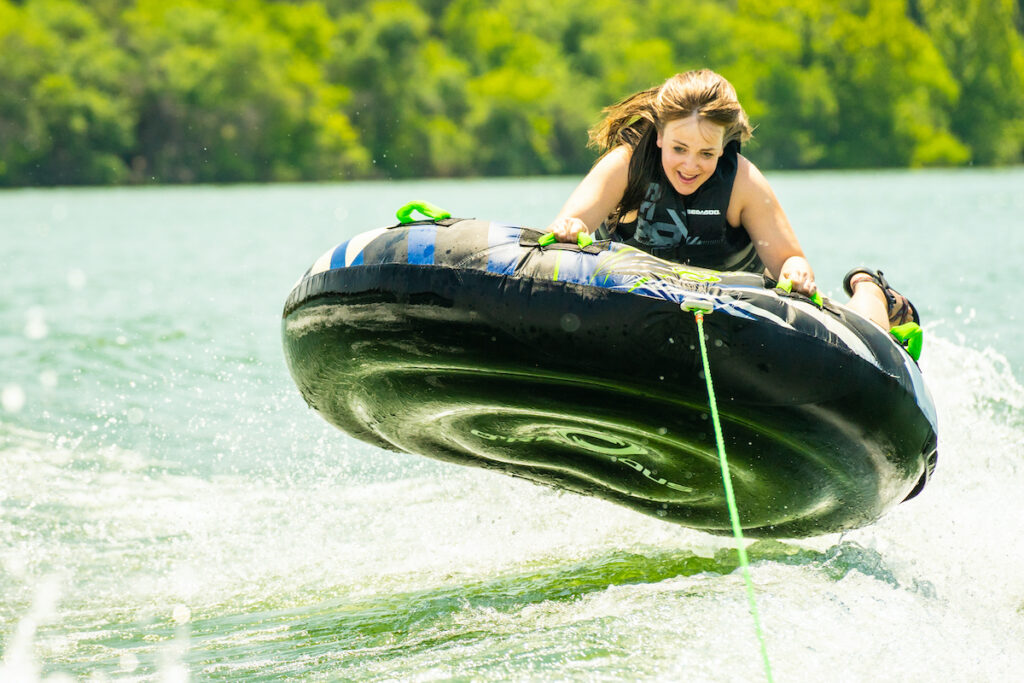 Lake Buchanan, nestled in the heart of the Texas Highland Lakes, is a treasure for adventure seekers and nature enthusiasts alike. Being the second-largest lake in the region, it is smaller only to Lake Travis. Just about an hour's drive northwest of Austin, it offers a refreshing escape from the city hustle.
The lake is known for its expansive shoreline that stretches over 124 miles. Numerous access points around the lake make it a convenient spot for various water activities. Whether you wish to go boating, take a dip in the calming waters, or simply soak up some sun, Lake Buchanan has something for everyone.
But the real charm of Lake Buchanan lies in its reputation as a fishing haven. It is a hotspot for anglers, particularly those pursuing largemouth bass. However, it is equally rich in white bass and striped bass. The day doesn't have to end with the setting sun; several cabin rentals are scattered around the lake for cozy overnight stays.
8. The Natural Beauty of Inks Lake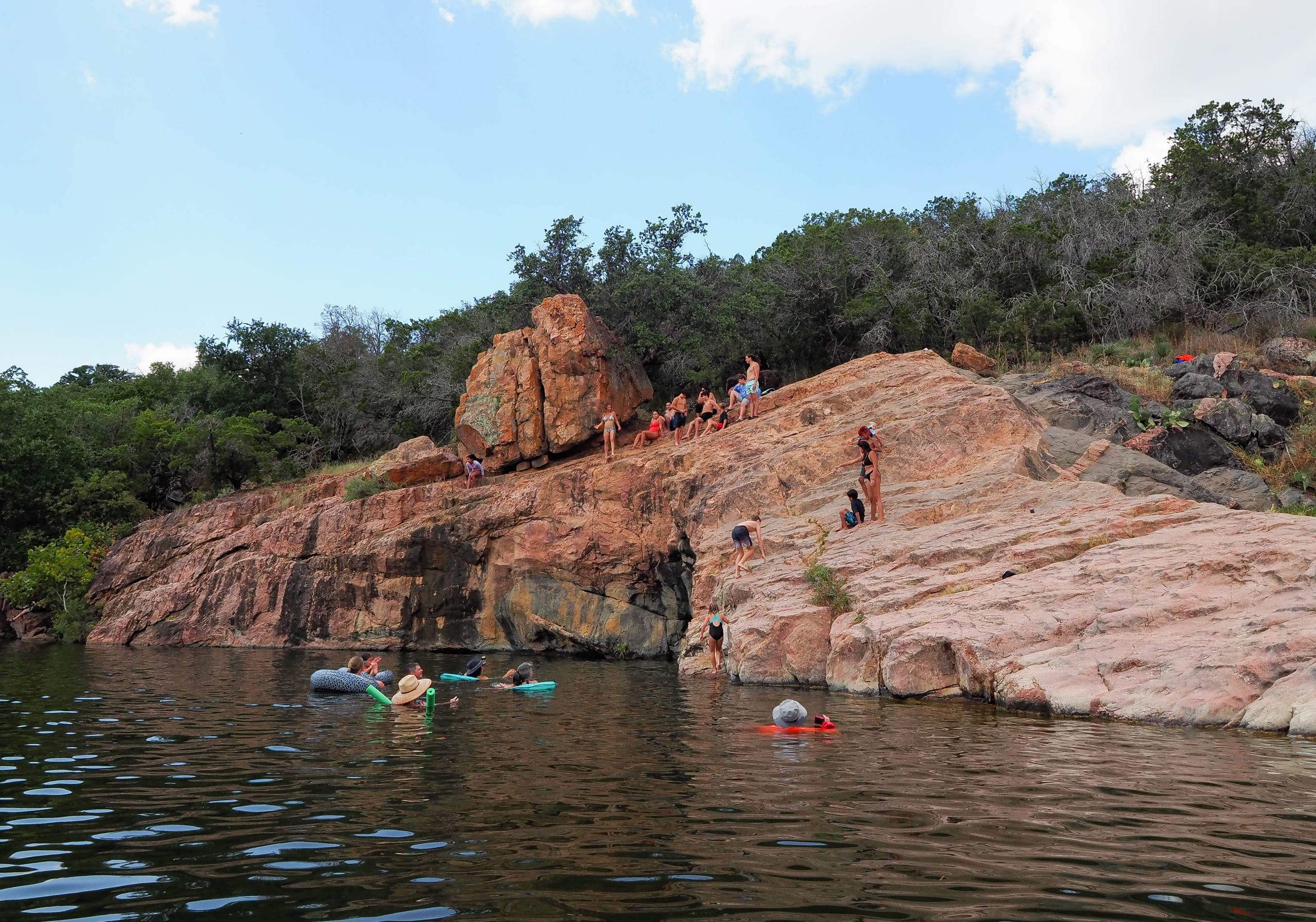 Inks Lake, an incredibly scenic reservoir on the Colorado River, is situated approximately fifty miles northwest of Austin. Its picturesque setting is accentuated by the combination of serene waters and rugged rock outcroppings. The natural beauty of Inks Lake makes it one of the most desirable camping destinations in Texas.
Everyday activities at Inks Lake revolve around its inviting waters. From swimming to skiing and paddling, there's a plethora of water sports to engage in. The state park also offers canoe and kayak rentals for those who wish to explore the lake at their own pace.
The lake is not just about active pursuits; it's also an angler's paradise. It features two fishing piers, a cleaning station, and a boat ramp. Whether you are a seasoned fisherman or a rookie angler, Inks Lake promises an exciting fishing experience in the heart of nature.
9. The Urban Oasis: Lady Bird Lake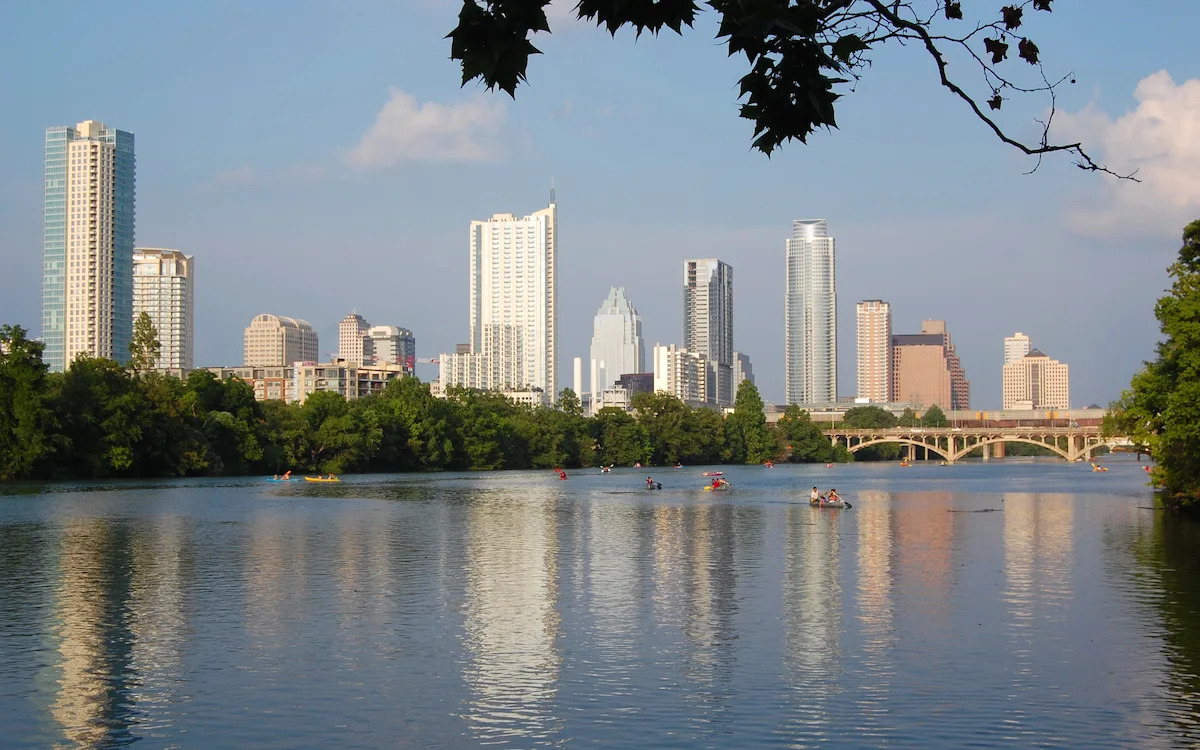 Lady Bird Lake, the easternmost gem in the Texas Highland Lakes chain, offers a unique blend of urban convenience and natural beauty. This chain also features other notable lakes such as Lake Buchanan, Lake Travis, and Lake Austin. In the heart of Austin, Lady Bird Lake, formerly known as Town Lake, stands as a testament to the city's commitment to preserving its natural resources.
The lake is a haven for water sports enthusiasts, especially those who enjoy non-motorized activities. The City of Austin has prohibited the use of motorized watercraft on Lady Bird Lake to ensure a serene and tranquil environment. As a result, it is a popular spot for paddleboards, kayaks, canoes, and dragon boats, offering respite from the bustling city life.
While swimming is prohibited in Lady Bird Lake due to safety concerns, there are other ways to stay cool in Austin. Visitors can take a refreshing dip at the Deep Eddy Pool, Texas' oldest swimming pool, or at the nearby Barton Springs Pool. Named after Lady Bird Johnson, a former First Lady dedicated to environmental conservation, Lady Bird Lake epitomizes the harmonious fusion of urban development and nature preservation.
10. The Unspoiled Beauty of Lake O' the Pines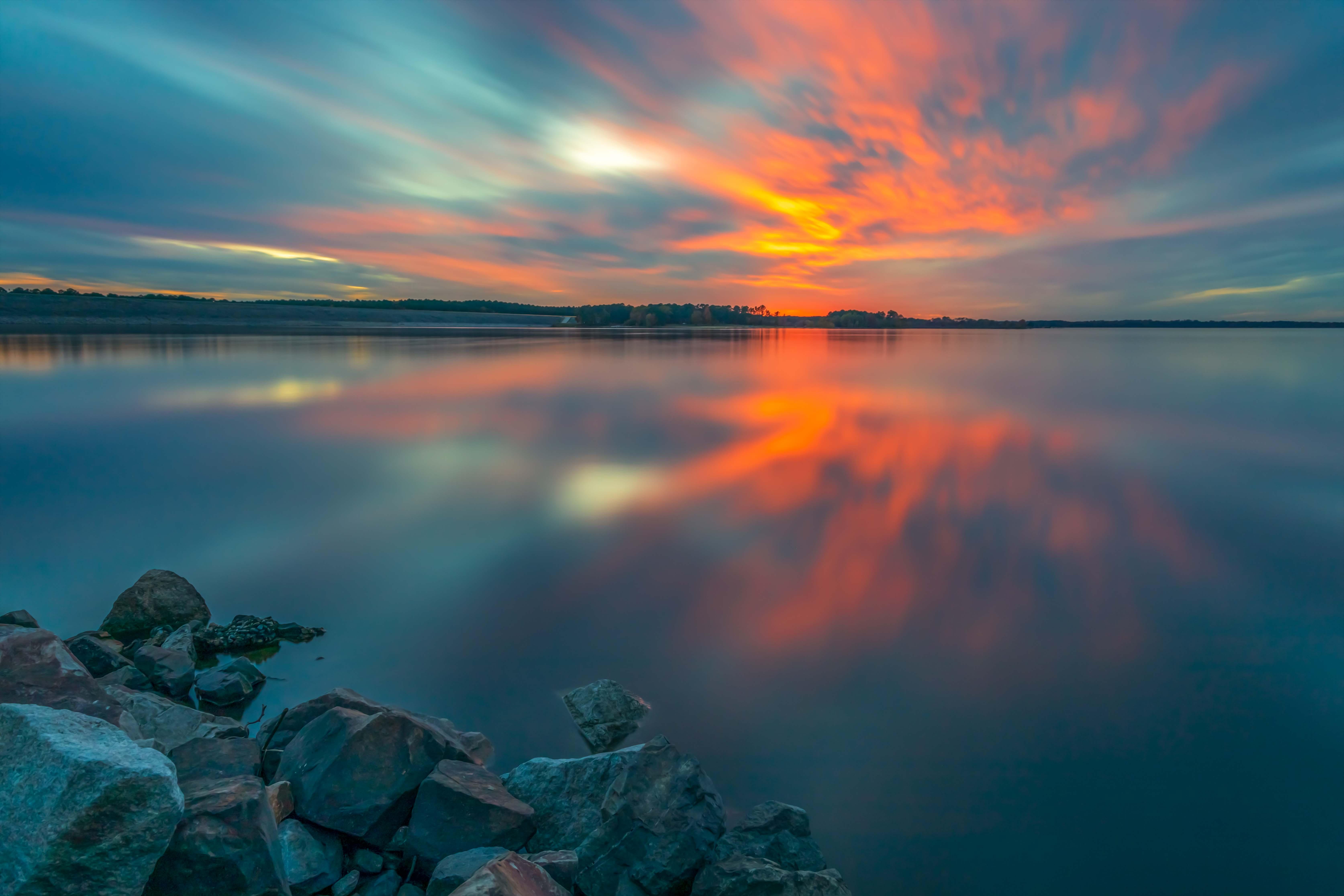 In the Piney Woods of East Texas, near the borders with Arkansas and Louisiana, lies the enchanting Lake O' the Pines. The lake's name is a direct reference to its surroundings, an area abundant with towering pine trees that give the region its unique character. This is a place where the lush greenery of the Piney Woods meets the cool, crystal-clear waters of Lake O' the Pines, creating a breathtaking vista.
The unspoiled beauty of Lake O' the Pines makes it an ideal destination for campers and nature lovers. Here, in the heart of the Piney Woods, visitors can rejuvenate amidst the tranquility of nature. Whether it's setting up a tent beneath the majestic pines or exploring the lake's serene waters, there's an adventure waiting for everyone.
One of the key attractions near Lake O' the Pines is Brushy Creek Park. With its rich flora and fauna, the park serves as an excellent spot for hiking, bird-watching, and picnicking. In the evening, the park transforms into a place of absolute tranquility, offering a perfect end to an exciting day spent exploring the wonders of Lake O' the Pines and the Piney Woods.
Other Remarkable Lakes in Texas Worth Exploring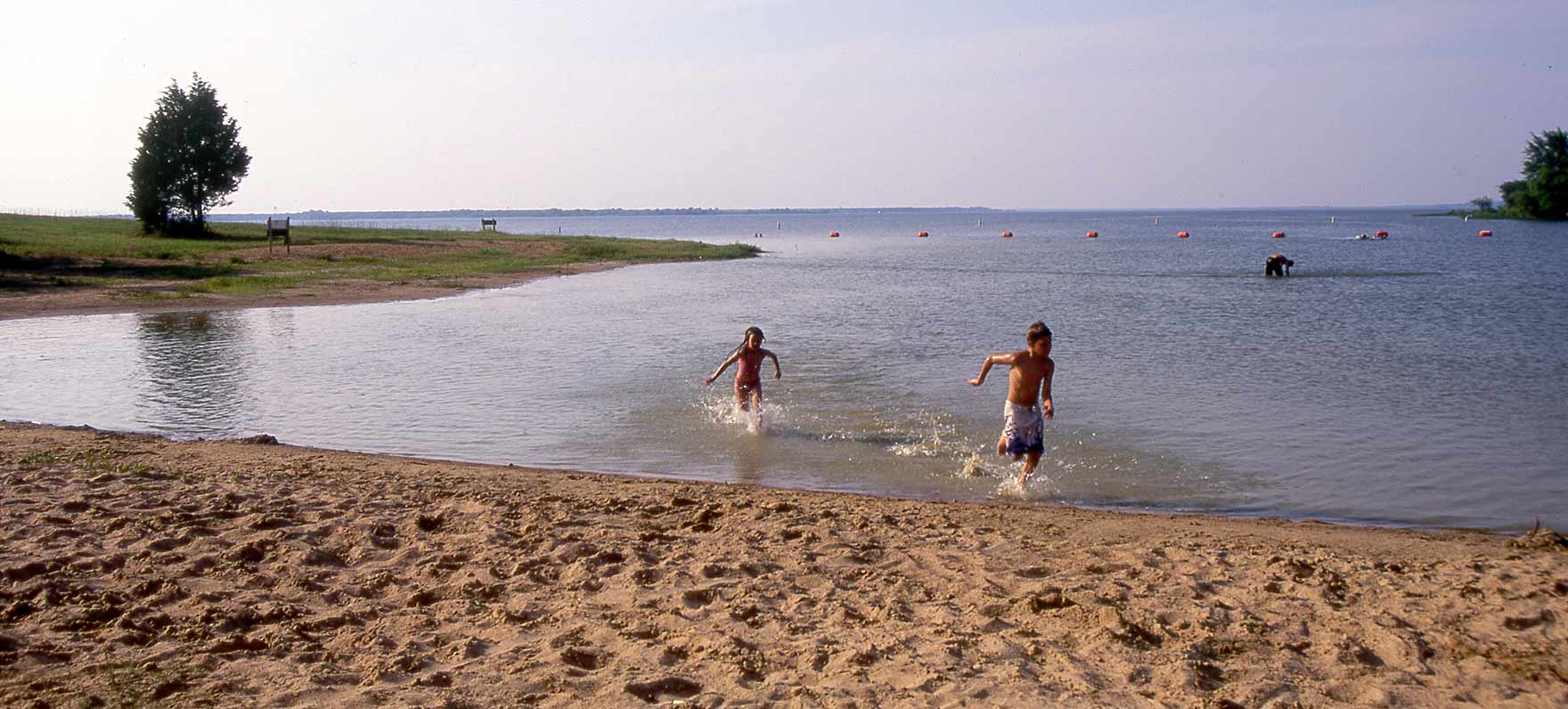 While the top ten lakes in Texas provide a remarkable experience, there are other hidden gems that deserve mention. These lakes may not be as well-known, but they offer equally stunning beauty and exciting activities. Whether you're a fan of mountain biking, or fishing, or simply want to enjoy the tranquillity of nature, these lesser-known lakes have something for everyone.
One of these hidden treasures is Lake Tawakoni State Park, situated just fifty miles east of Dallas. This park is a wonderland for outdoor enthusiasts. It's a popular location for mountain biking, with five miles of trails winding through a lush oak forest. Lake Tawakoni is also known for its fishing tournaments, with its waters teeming with a variety of fish like striped, largemouth, and white bass, crappie, and high-fin blue catfish. It's a fantastic day trip for the whole family, offering a blend of adventure, relaxation, and natural beauty.
The Allure of Lake Conroe
Another remarkable lake worth your attention is Lake Conroe. Sitting just an hour north of Houston, this lake is a popular getaway destination. The lake sits in the heart of the Sam Houston National Forest, offering stunning views and an abundance of nature activities. The allure of Lake Conroe is not just its natural beauty, but also the range of activities it offers.
Water sports enthusiasts will find Lake Conroe a paradise, with opportunities for jet skiing, wakeboarding, and water skiing. If you don't have your own equipment, don't worry. There are several places nearby where you can rent a boat or other water sports gear. But the fun doesn't stop at the water's edge. Lake Conroe is surrounded by several golf courses, providing an alternative recreational activity for visitors.
But it's not just about adventure at Lake Conroe. After a day of jet skiing or golfing, you can unwind at one of the many excellent restaurants around the lake. Whether you're a foodie looking for a gourmet experience or just want a hearty meal after a day of adventure, you'll find something to satisfy your palate. When the day is done, you can retire to a comfortable room at one of the local inns, like the La Quinta Inn or the Baymont Inn in Conroe. Indeed, Lake Conroe offers a complete vacation experience, combining natural allure with modern comforts.
The Serene Lake Granbury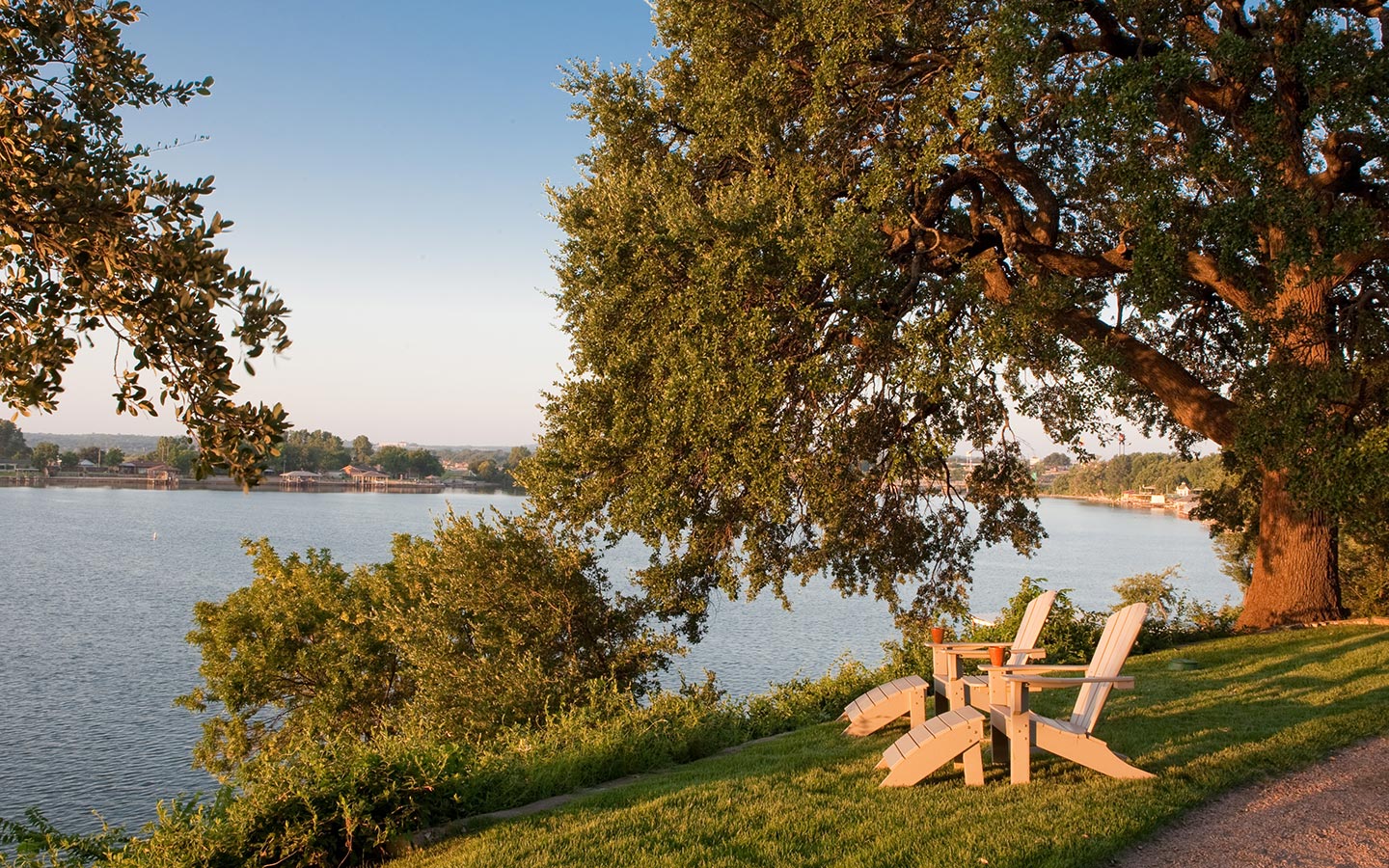 Located in North Texas, a mere 35 miles southwest of Fort Worth, you'll find the serene waters of Lake Granbury. This reservoir, created in 1969, has become a popular destination for those seeking tranquility and natural beauty. The lake's crystal clear waters reflect the surrounding lush greenery, creating a breathtaking view that captivates all who visit.
Lake Granbury offers the perfect escape from the hustle and bustle of city life. The peaceful environment encourages relaxation, whether you're lounging by the water's edge, swimming in the refreshing waters, or embarking on a leisurely boat ride. As the sun sets, the lake transforms into a mesmerizing spectacle, with the vibrant hues of the sky mirrored on its calm surface.
Visitors to Lake Granbury can also explore the charming town that shares its name. From unique shops and restaurants to historic landmarks, there's something to suit everyone's interests. Combined with the allure of the lake itself, it's easy to see why Lake Granbury is considered a must-visit location in North Texas.
The Hidden Gem: Lake Lewisville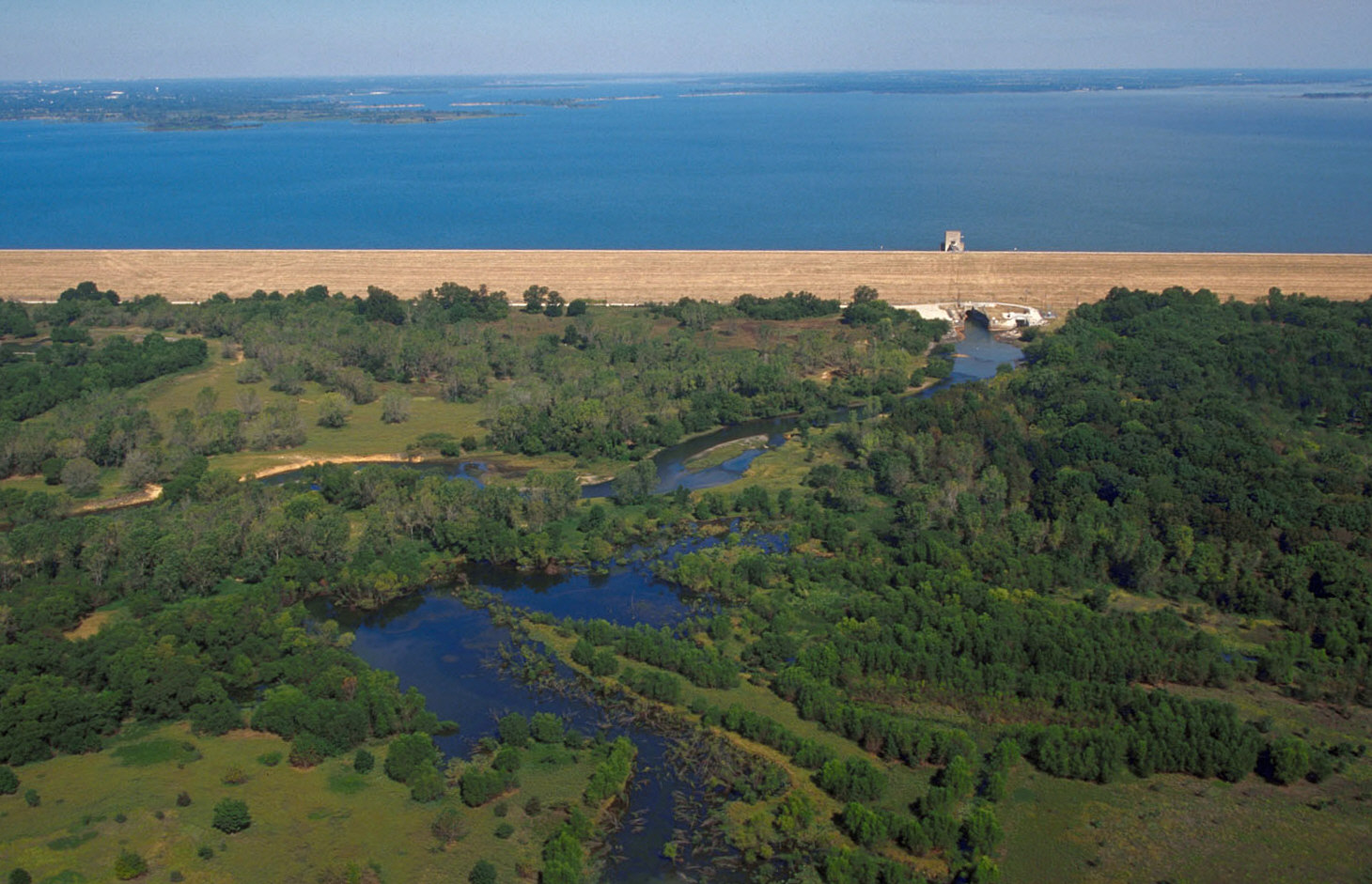 In the northern part of Texas lies one of the state's largest lakes - Lake Lewisville. Known as the "hidden gem" of Texas, this lake offers a plethora of recreational activities and stunning natural beauty. One of the most popular spots at Lake Lewisville is Party Cove. Nestled near Westlake Park, Party Cove is famed for its laid-back atmosphere. Here, visitors tie up their boats, listen to music, and soak up the sun while enjoying the company of friends and family.
Lake Lewisville is not just about relaxation; it's also a haven for fishing enthusiasts. The lake hosts an annual large-scale bass fishing tournament, attracting anglers from all over. Stocked with largemouth, spotted, white, and hybrid striped bass, it provides ample opportunities for both amateur and seasoned fishermen to test their skills.
For those who prefer land-based activities, the parks around the lake offer places to sunbathe, swim, and picnic. Several establishments offer boat and jet-ski rentals for those who want to explore the lake's vast expanses. With so many ways to enjoy the outdoors, Lake Lewisville truly lives up to its reputation as Texas' hidden gem.
Maximizing Your Visit: What to do at Texas Lakes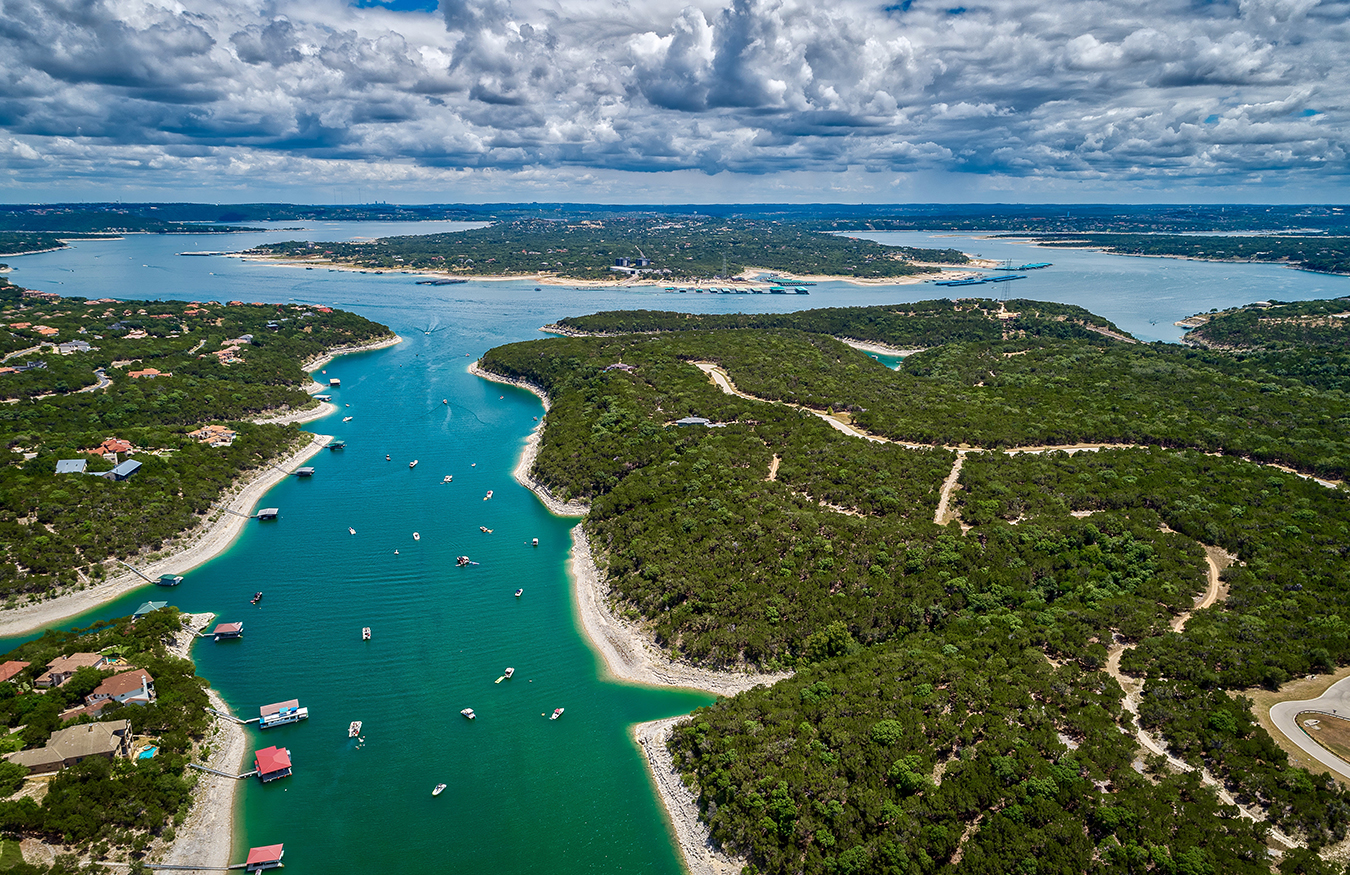 Visiting the Lone Star State's lakes offers a unique opportunity to indulge in recreational activities, explore natural landscapes in the United States, and spot wildlife. Each lake in Texas has its own distinctive charm, making them perfect destinations for a lakeside vacation. These magnificent bodies of water are the hidden gems of Texas, providing escape from the ordinary and opening doors to adventure.
Many of these lakes are situated within an hour's drive north of Fort Worth, allowing for easy access and convenience for both locals and tourists. The Guadalupe River, which receives water from Canyon Lake, is a notable mention for its spectacular scenery and abundant recreational activities.
Recreational Activities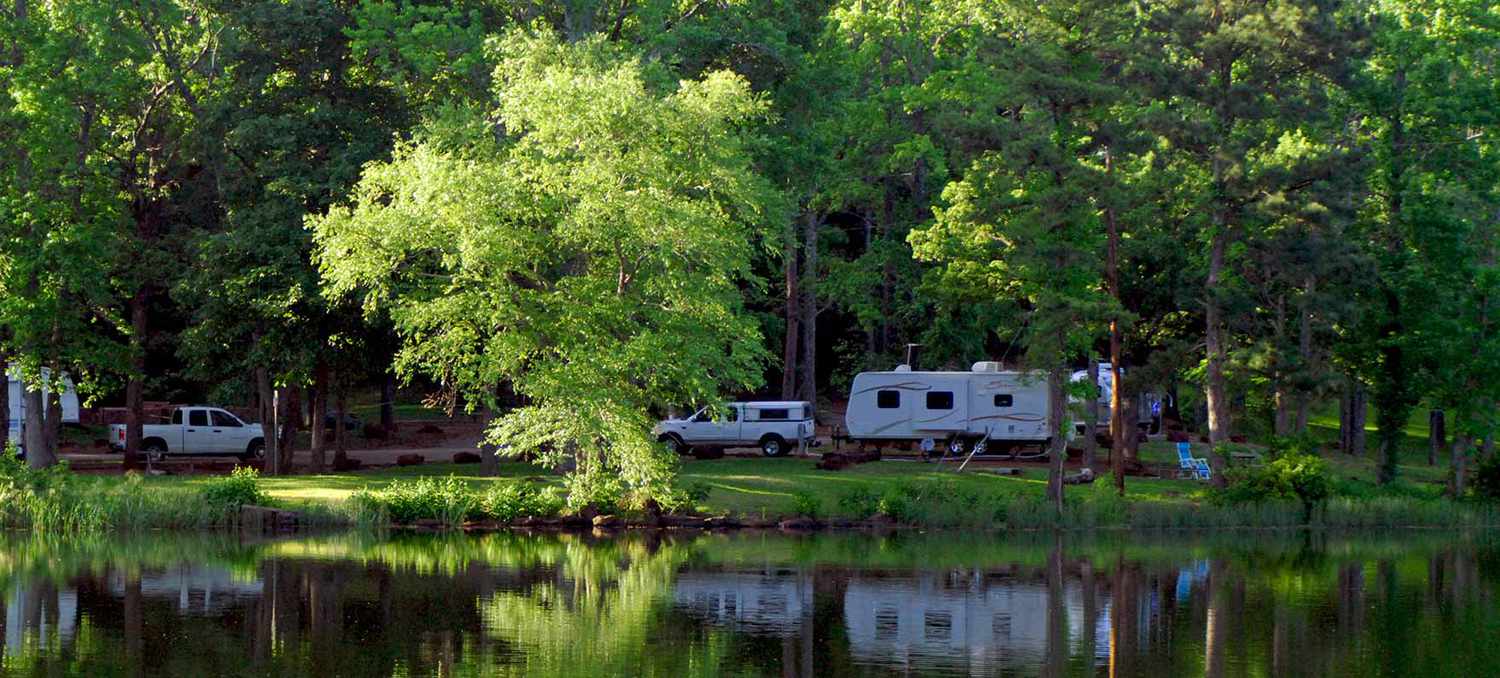 Whether you are an adventure junkie, a nature lover, or someone who just loves to relax, the lakes in Texas offer a variety of recreational activities to cater to all preferences. For instance, you can find boat ramps at many of these lakes, making them an ideal place for boating enthusiasts. Amistad Lake, a massive reservoir located along the Mexican border, offers a series of multipurpose storage dams and wide-open waterways with 12 public boat ramps for boating and fishing activities.
For those who enjoy paddling, these lakes also offer numerous paddling trails. You can take a leisurely paddle down these trails, experience the tranquility of the water, and enjoy the breathtaking views. Moreover, the nearby Panther Cave, known for its prehistoric Native American rock art, adds an element of historical exploration to your lake visit.
Other activities that you can indulge in include swimming, jet-skiing, and hiking along the lakeside trails. Each of these activities offers a unique way to enjoy the beauty of these Texas lakes and create unforgettable memories.
Natural Landscapes and Wildlife Spotting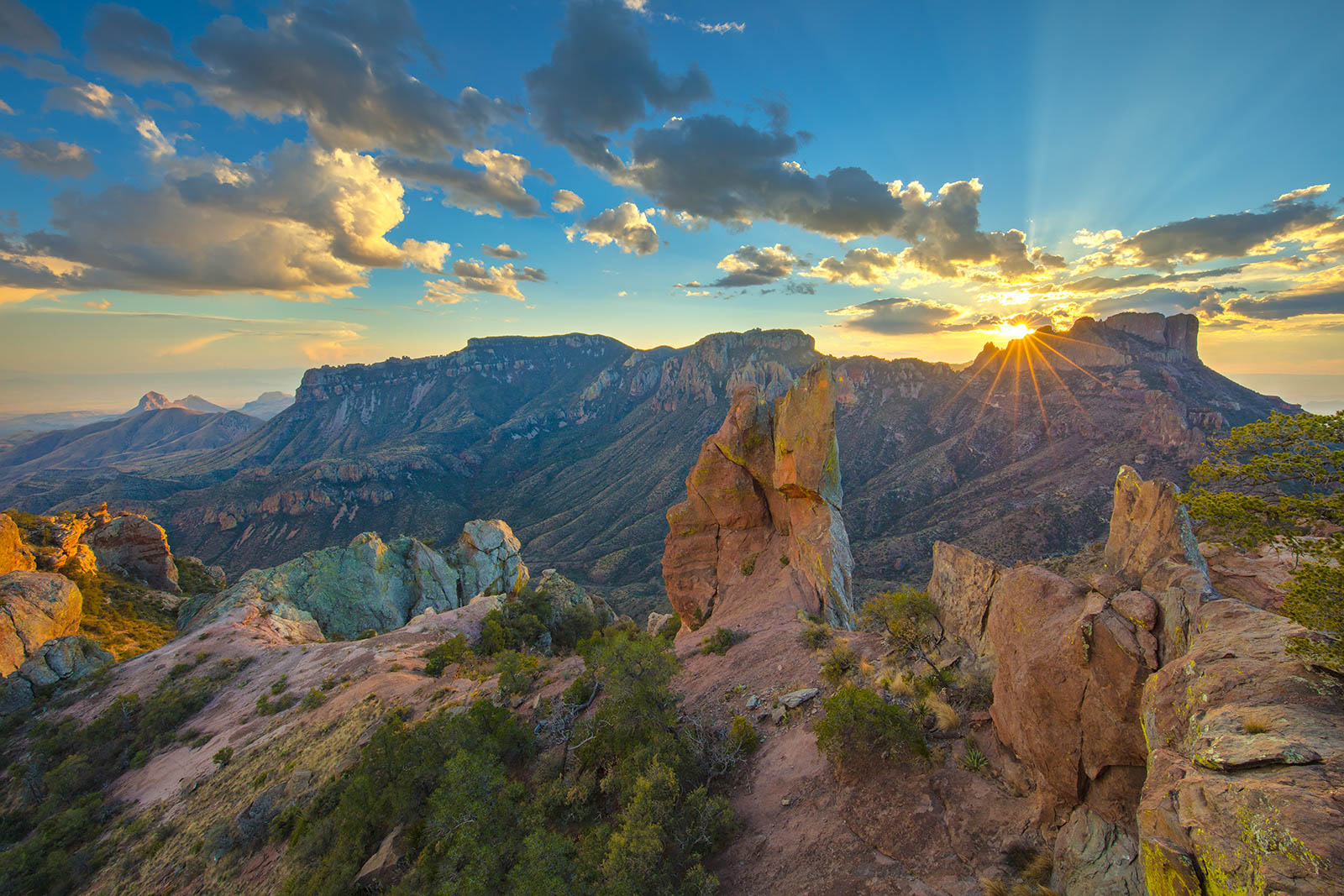 Aside from the recreational activities, the natural landscapes around these Texas lakes are equally mesmerizing. From the steep-walled river canyons to the wide-open waterways, these landscapes offer an excellent opportunity for sightseeing and photography. The wildlife around these lakes is also a major draw for nature lovers. You can spot a variety of birds, fishes, and other wildlife in their natural habitat.
Moreover, although Texas is home to a few natural lakes, it is the human-made reservoirs that take the cake for their grandeur and size. These reservoirs, such as Caddo Lake, which was originally formed due to a log jam, add to the diversity of the state's water bodies. Each lake, whether natural or human-made, contributes to the overall appeal of the Lone Star State, making it a must-visit for any lakeside vacation.
Camping and Accommodation Options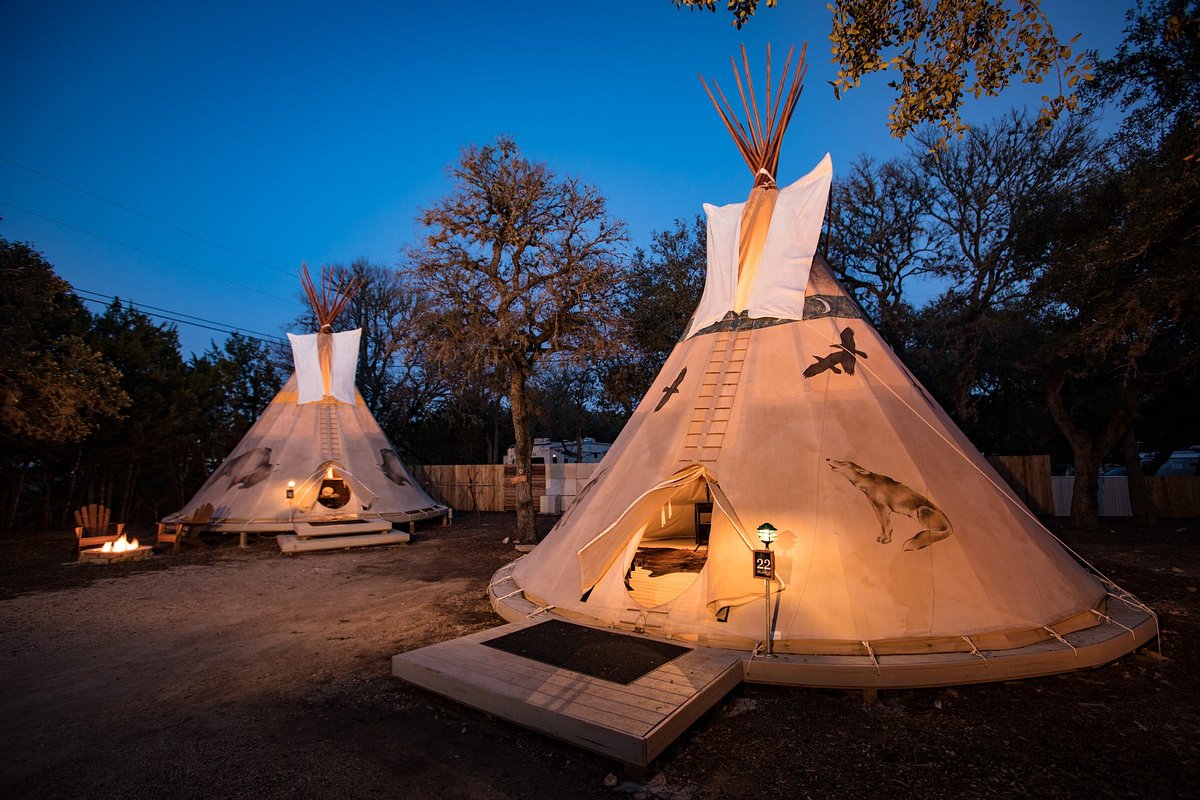 When it comes to accommodation options, Texas Lakes has a lot to offer. One notable place is the Lake Tawakoni State Park, located just fifty miles east of Dallas. It's a popular choice for nature lovers with its lovely oak forest and vast expanse of water.
The park, spanning 376 acres, is perfect for camping, featuring both developed campsites and primitive camping spots. Visitors can take advantage of the many trails for hiking or mountain biking. Additionally, there is an amphitheater available for rent, adding an extra layer of fun to your stay.
For those who prefer a bit more comfort, the park's trading post sells a variety of essentials. From snacks and cold drinks to fishing bait and tackle, you can find everything you need for a day out on the lake. Whether you're on a day trip or planning to stay a while, Lake Tawakoni State Park makes for a memorable visit.
Wrap-Up: Why Texas Lakes Should Be on Your Travel Bucket List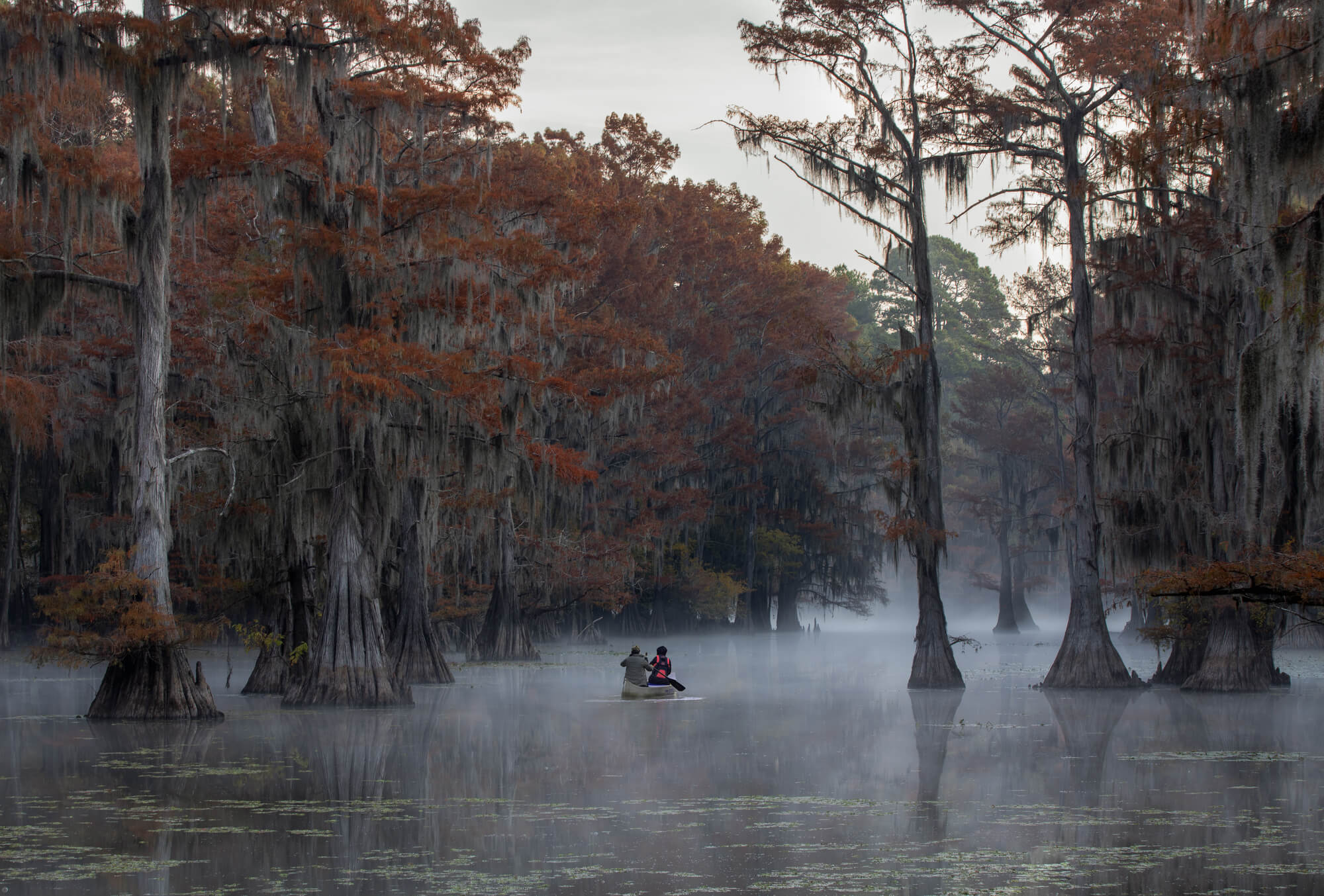 From the natural beauty of Caddo Lake to the recreational paradise of Possum Kingdom Lake, Texas lakes have something for everyone. Each lake offers a unique blend of tranquility, adventure, and stunning landscapes. Whether you're an avid angler, a nature enthusiast, or just someone in need of a peaceful retreat, these lakes are sure to impress.
Moreover, the rich wildlife around the lakes adds an extra dimension to your visit. From red and gray foxes in the forests to beavers on the waterfront, a trip to these lakes offers a chance to witness nature in its purest form. Fishing enthusiasts will also be thrilled with the variety of fish species found in these waters, including striped, largemouth, and white bass, as well as crappie and high-fin blue catfish.
Lastly, visiting Texas lakes encourages sustainable tourism. By appreciating the natural beauty and participating in nature-based activities, visitors contribute to the conservation of these precious ecosystems. So, if you're planning your next adventure, consider adding Texas lakes to your travel bucket list. You're guaranteed a unique, memorable experience, all while supporting the preservation of these natural wonders.
The Importance of Sustainable Tourism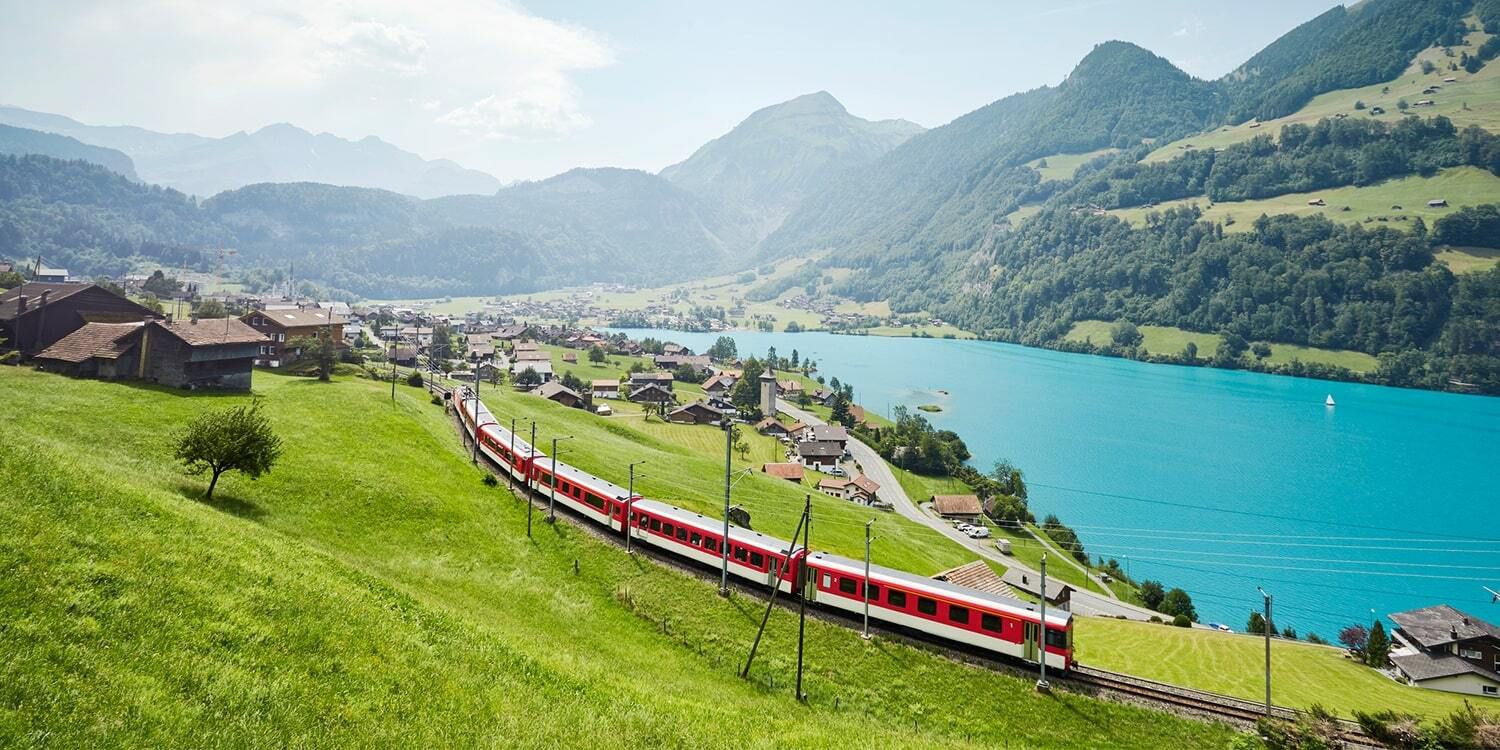 As we explore the beauty of Texas lakes, it's essential to emphasize the importance of sustainable tourism. It's not just about enjoying the splendor of these natural wonders, but also about preserving them for future generations. The stunning Lake Travis, for instance, is a man-made lake that serves as one of the largest lakes in Texas. It provides a haven for both locals and tourists, offering a range of recreational activities.
However, the popularity of such destinations can put a strain on their natural resources. This is why sustainable tourism is crucial. It involves making low-impact choices, such as picking up trash, respecting wildlife, and adhering to park rules. This also extends to supporting local businesses and considering the environmental impact of your travel.
Many of the lakes in Texas, like Lake Sam Rayburn, located north of Houston, have adopted sustainable tourism practices. These include preserving their sandy beaches, managing fish populations like the channel catfish, and working with national parks to ensure the environment is protected. The state of Texas is committed to maintaining the natural beauty of its lakes, and every visitor plays a role in this endeavor.
Planning Your Next Texas Lake Adventure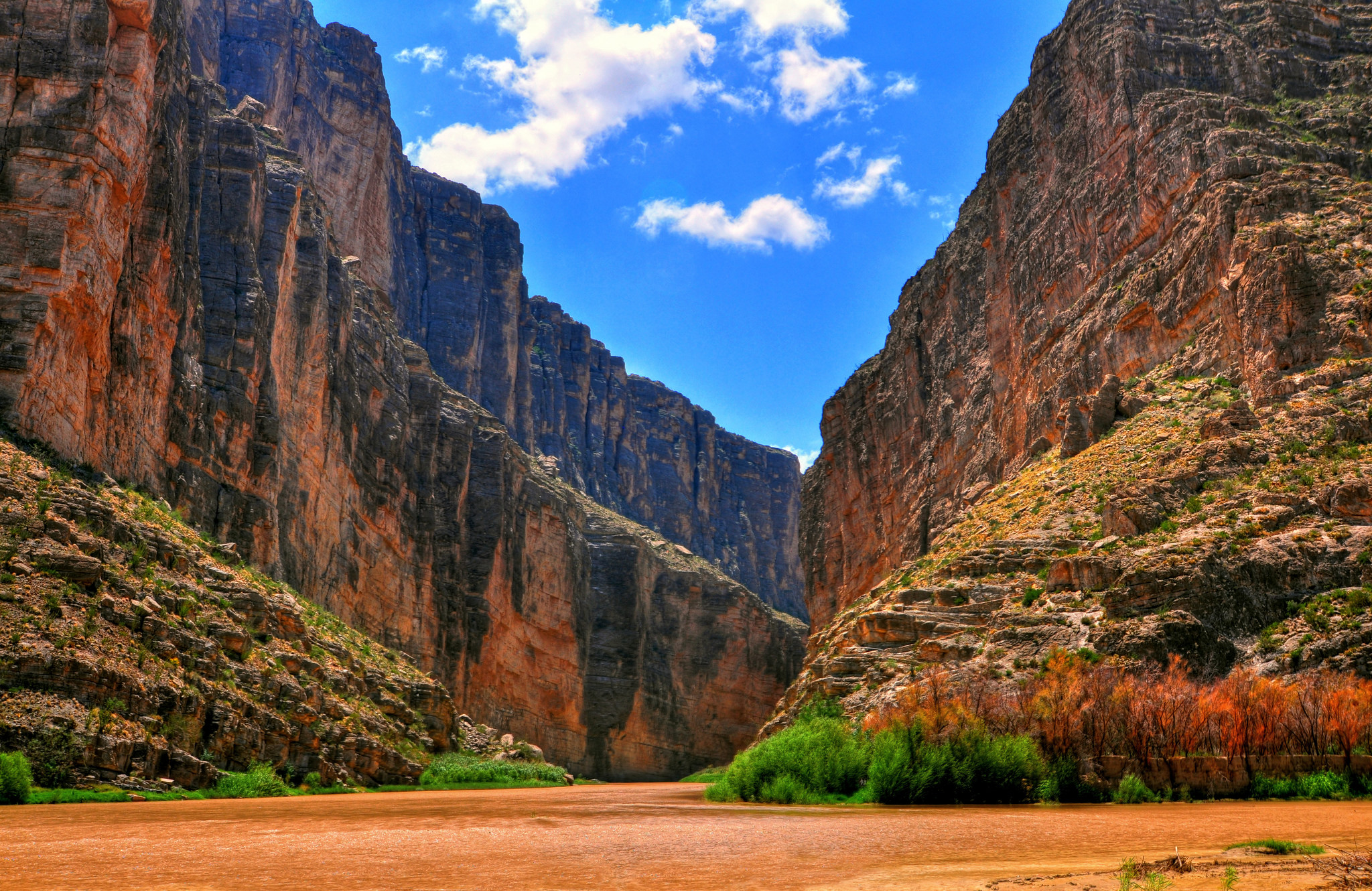 Planning your next lake adventure in Texas can be as exciting as the trip itself. There's a myriad of choices, each lake offering its distinctive allure. From the tranquil waters of Lake Whitney to the unspoiled beauty of Lake O' the Pines, there's something for every nature lover. If you're looking for a larger-scale adventure, consider visiting Lake Buchanan. Its impressive Buchanan Dam is a sight to behold.
When planning, consider what activities you enjoy the most. Whether it's boating, swimming, fishing, or just basking on the sandy beaches, Texas lakes have it all. Remember to check the local regulations of each lake. Some lakes, like Lake Travis, are well-known for their fishing opportunities, with a variety of species, including the channel catfish.
Lastly, don't forget to consider accommodation options. Many Texas lakes are near national parks with camping facilities, while others are close to towns with hotels and rentals. No matter where you choose to stay, you'll be part of the 6 million visitors who annually explore the state's lakes. So start planning your Texas lake adventure today and join the ranks of those who've discovered the charm of these natural wonders.