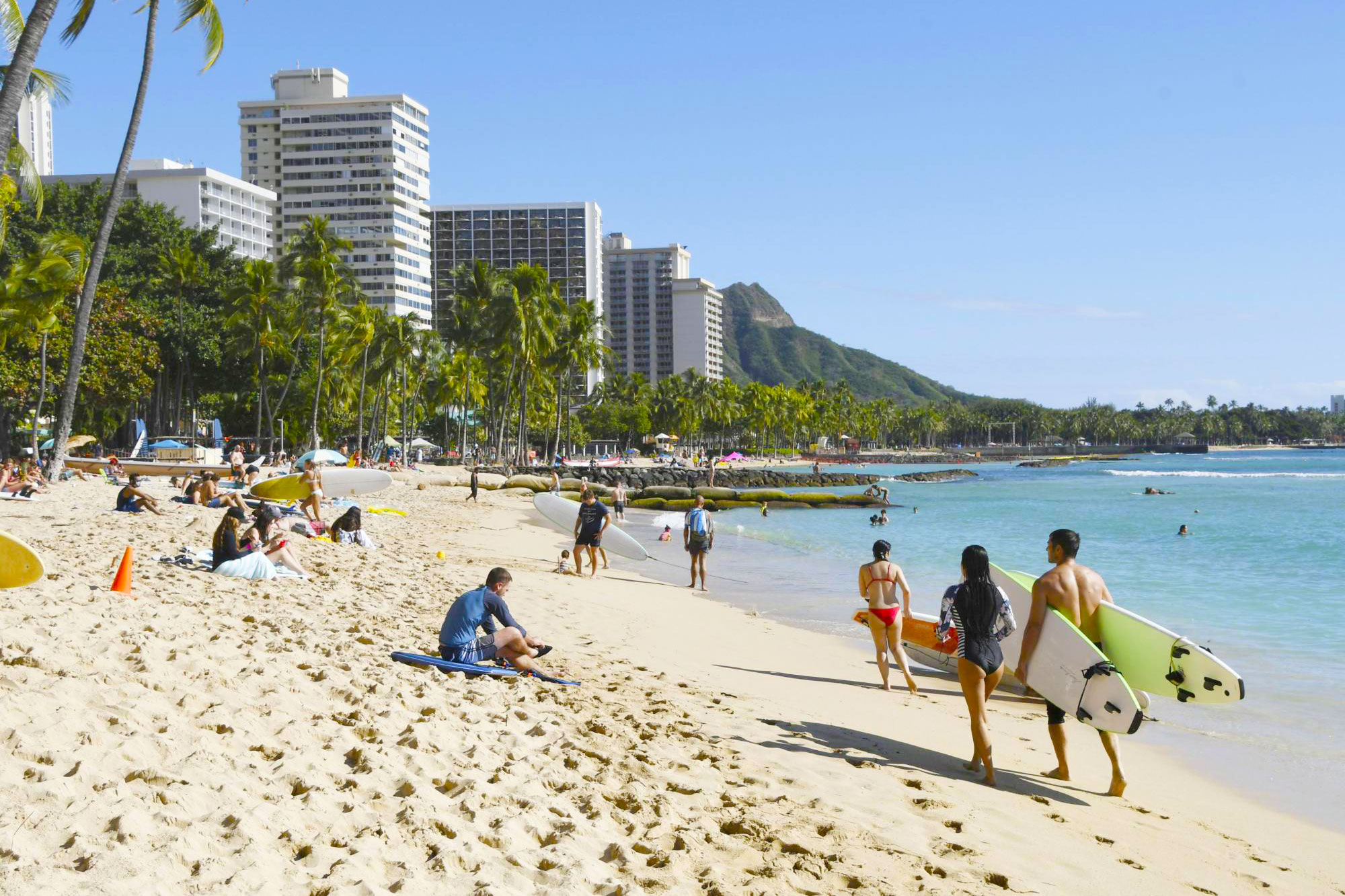 Hawaii Weather In August Travel Guide 2023/2024
This article was created by a dedicated and authentic team of passionate travelers from the PTA Team, who are not only experienced travel experts but also proud members of the World Travel & Tourism Council (WTTC). Our sole purpose is to assist and support fellow travelers in planning their tours with utmost care and precision. With exclusive information, valuable insights, and meticulous analysis, we strive to provide high-quality content that leaves no room for mistakes. Count on us to deliver comprehensive destination reports and all the necessary information to ensure an exceptional and well-planned travel experience for you. Learn More
Article Table of Content
Enchanting August: Hawaii's Tropical Paradise Unveiled
In the month of August, Hawaii blossoms into an alluring paradise, beckoning travelers with its unrivaled beauty. The islands embrace their tropical splendor, adorned with lush greenery, vibrant flowers, and majestic waterfalls that cascade into emerald pools. Crystal-clear waters invite visitors to explore a kaleidoscope of marine life while indulging in water sports or basking on golden sands.
The sun-drenched days give way to enchanting, star-studded nights, perfect for stargazing. Cultural festivities and traditional luaus add a delightful touch, immersing guests in the island's rich heritage. In August, Hawaii's mesmerizing allure reaches its zenith, promising an unforgettable and blissful escape.

The Climate of Hawaii in August Guide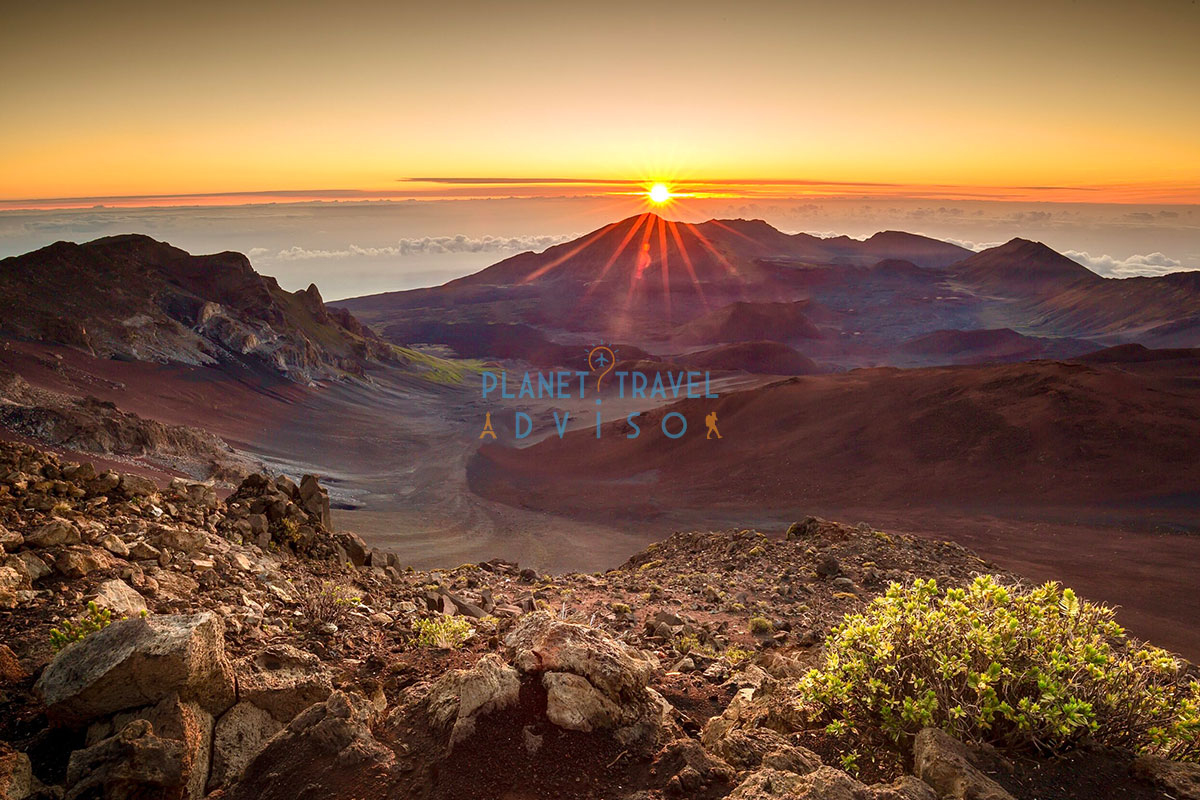 August in Hawaii brings a climate that epitomizes the essence of a tropical paradise. The islands are blessed with warm temperatures, gentle breezes, and a mix of sunshine and occasional rain showers, creating an idyllic environment for visitors seeking an unforgettable summer escape.
Temperature-wise, August is one of the hottest months in Hawaii. The average daytime temperatures hover around 82 to 88°F (28 to 31°C) across the islands, providing the perfect setting for beach activities and outdoor adventures. The evenings are pleasant, with temperatures cooling down to the mid-70s°F (24-26°C), ensuring a comfortable and relaxing atmosphere to unwind after a day of exploration.
Hawaii's unique geography contributes to its distinct microclimates, offering various weather experiences on different islands. The eastern and northeastern sides of the islands, such as Hilo on the Big Island and the Windward side of Oahu, tend to be wetter due to prevailing trade winds, which bring moisture from the ocean. Visitors to these areas can expect occasional rain showers, creating lush, green landscapes and vibrant waterfalls.
On the other hand, the western and southern coasts, including areas like Waikiki in Oahu and Lahaina in Maui, experience more arid conditions, thanks to the rain shadow effect. These regions are typically drier, with sunny days dominating the weather pattern.
August also marks the peak of hurricane season in the Pacific, and while the likelihood of a direct hit on the islands is relatively low, it's essential for travelers to stay updated on weather forecasts during their visit. Hawaii has a robust weather monitoring system, and local authorities are well-prepared to handle any potential tropical storms or hurricanes.
One of the highlights of the August climate is the ocean conditions. The waters surrounding Hawaii are warm and inviting, with sea temperatures ranging from 79 to 82°F (26 to 28°C). Snorkeling and diving enthusiasts will be delighted by the crystal-clear waters teeming with marine life, including colorful fish, sea turtles, and perhaps even the majestic humpback whales, which start arriving in Hawaii's waters in late August, kicking off their annual migration from Alaska.
Travelers should pack light, breathable clothing suitable for warm weather, such as T-shirts, shorts, sundresses, and swimsuits. It's also recommended to bring a light jacket or sweater for cooler evenings and potential rain showers. Sunscreen, sunglasses, and a wide-brimmed hat are essential to protect against the strong Hawaiian sun.
In terms of activities, August offers an abundance of options. From lounging on world-renowned beaches to hiking lush trails, from exploring active volcanoes to attending lively local festivals, there's something for every traveler to indulge in. The islands' cultural events, such as hula performances, traditional luaus, and local craft fairs, provide a glimpse into the rich Hawaiian heritage.

Why August is the Perfect Time to Visit Hawaii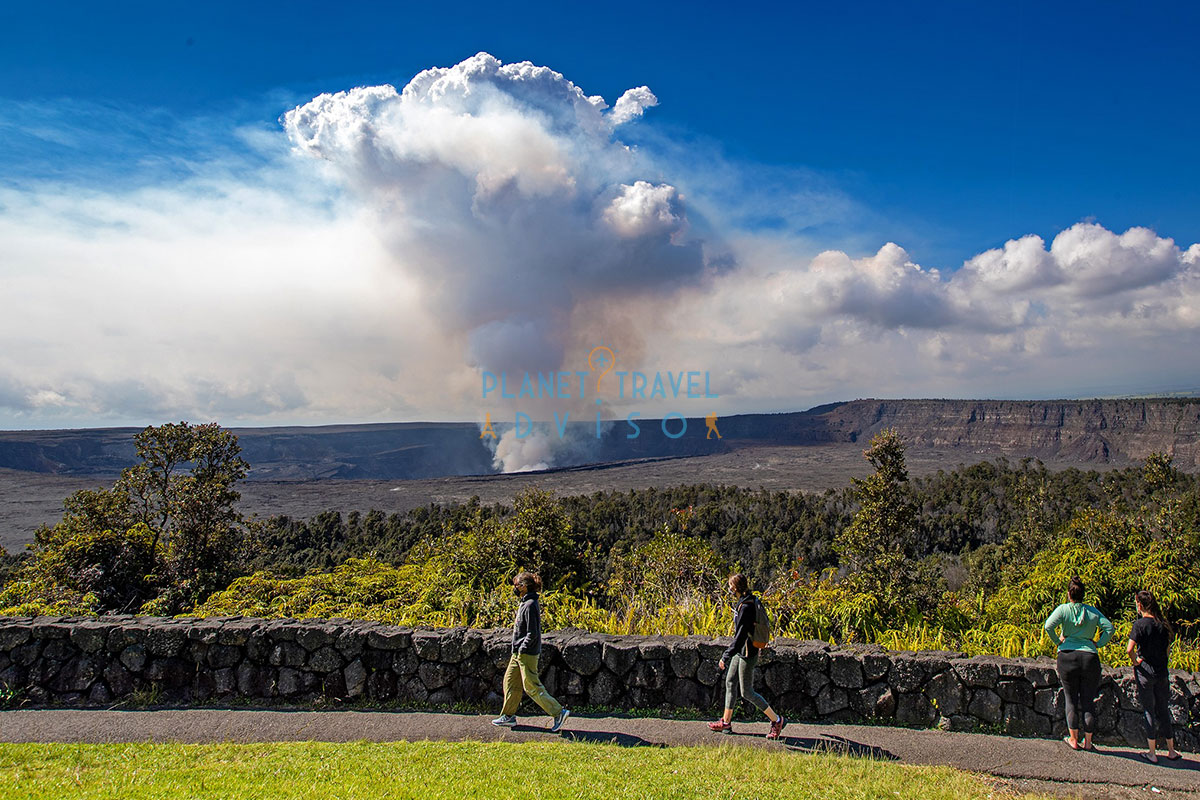 August is an ideal time to visit Hawaii, offering a plethora of reasons that make the islands even more enchanting and alluring during this summer month. Whether you're seeking adventure, relaxation, or cultural immersion, Hawaii has something to offer for every traveler's taste.
Perfect Weather: August brings some of the best weather in Hawaii, with warm temperatures and abundant sunshine. It's an excellent time for outdoor activities like hiking, snorkeling, surfing, and exploring the island's natural beauty.
Humpback Whale Season: August marks the beginning of the humpback whale season in Hawaii. These majestic creatures migrate from Alaska to the warm Hawaiian waters to breed and give birth. Whale-watching tours offer a thrilling opportunity to witness their spectacular displays.
Vibrant Ocean Life: The warm waters surrounding Hawaii in August teem with marine life. Snorkelers and divers can encounter colorful fish, sea turtles, and other fascinating sea creatures.
Lush Greenery: The islands' landscapes are lush and vibrant during August, thanks to occasional rain showers that maintain the verdant foliage and fill the waterfalls.
Cultural Festivals: August hosts several cultural events and festivals that celebrate the Hawaiian heritage. From hula performances to traditional luaus, visitors can immerse themselves in the local culture.
Fewer Crowds: While August is a popular month to visit Hawaii, it tends to be slightly less crowded than the peak tourist months of June and July. Travelers can still enjoy the best of Hawaii without dealing with overwhelming crowds.
Observe Obon: Obon, a Japanese Buddhist festival, is celebrated in August on the islands with colorful lanterns, traditional dance performances, and lively processions. It provides a unique opportunity to experience the Japanese influence in Hawaii.
Stunning Sunsets: August evenings bring breathtaking sunsets that paint the sky with a dazzling array of colors. It's the perfect time to relax on the beach and witness nature's artistic display.
Delicious Tropical Fruits: August is a prime time for enjoying a variety of fresh tropical fruits in Hawaii, including pineapples, mangoes, and papayas. Indulging in these delightful treats adds to the culinary experience.
Adventure and Exploration: Hawaii offers a plethora of thrilling adventures, from exploring active volcanoes in Hawaii Volcanoes National Park to embarking on helicopter tours for unparalleled aerial views of the islands.

The Top Activities to Experience in Hawaii during August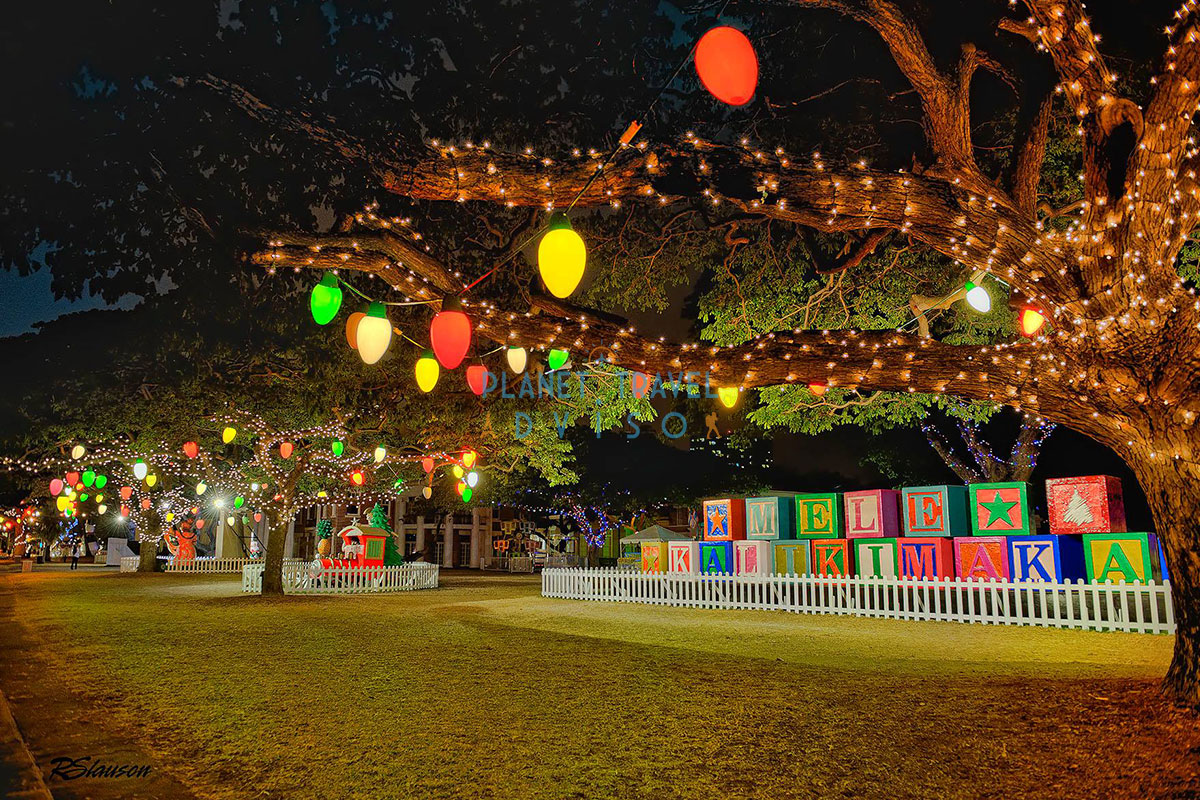 August in Hawaii offers an array of exciting activities that cater to every traveler's interests and preferences. From thrilling outdoor adventures to cultural experiences and relaxation on idyllic beaches, there's no shortage of things to do in this tropical paradise during this vibrant summer month.
Beach Activities: Hawaii's renowned beaches are a major draw for visitors, and August provides the perfect conditions for swimming, snorkeling, and sunbathing. Explore Hanauma Bay on Oahu, Molokini Crater off Maui, or the crescent-shaped Hanalei Bay on Kauai for some of the best snorkeling spots in the world.
Surfing: Hawaii is synonymous with surfing, and August offers ideal conditions for both beginners and experienced surfers. Head to the North Shore of Oahu or Honolua Bay in Maui for some of the best waves in the world.
Hiking: The islands boast an extensive network of hiking trails that lead to breathtaking vistas, lush waterfalls, and volcanic landscapes. Popular hikes include Diamond Head on Oahu, Haleakalā National Park in Maui, and Waimea Canyon in Kauai.
Whale Watching: Witnessing humpback whales in their natural habitat is a highlight of visiting Hawaii in August. Take a whale-watching tour to observe these majestic creatures as they frolic and breach in the warm Hawaiian waters.
Volcano Exploration: Hawaii's Big Island is home to active volcanoes, such as Kilauea and Mauna Loa. Explore Hawaii Volcanoes National Park to witness the raw power of nature and witness volcanic landscapes that are constantly evolving.
Cultural Experiences: Immerse yourself in the rich Hawaiian culture by attending traditional luaus, and hula performances, and exploring historical sites like the Iolani Palace on Oahu or the Puuhonua o Honaunau National Historical Park on the Big Island.
Water Sports: In addition to surfing and snorkeling, Hawaii offers a wide range of water sports to enjoy in August. Try paddleboarding, kayaking, jet skiing, or even parasailing for a unique perspective of the islands from the water.
Sunset Cruises: Experience the magic of Hawaiian sunsets by taking a relaxing sunset cruise. Enjoy breathtaking views as the sun dips below the horizon, painting the sky in stunning hues.
Ziplining: For an adrenaline-pumping adventure, try ziplining through lush forests and scenic canyons. Ziplining tours are available on several islands and provide a thrilling way to appreciate Hawaii's natural beauty.
Visit Pearl Harbor: Pay your respects to history at the Pearl Harbor National Memorial on Oahu. Learn about the events of December 7, 1941, and explore the USS Arizona Memorial, the USS Bowfin Submarine Museum, and the Battleship Missouri Memorial. Read more about the best time to visit Pearl Harbor 2023.
Golfing: Hawaii is a golfer's paradise with a range of world-class courses set against stunning backdrops. Tee off on courses like the Plantation Course at Kapalua on Maui or the Princeville Makai Golf Club on Kauai.
Enjoy Tropical Fruits: August is a fantastic time to savor a variety of fresh tropical fruits that are in season. Indulge in juicy pineapples, sweet mangoes, luscious lychees, and other delightful treats that Hawaii has to offer.
Attend Festivals: August brings a vibrant atmosphere with numerous festivals and events happening throughout the islands. Experience the excitement of the Aloha Festivals, which celebrate Hawaiian culture with parades, music, and dance.
Waterfall Adventures: Embark on a waterfall adventure by hiking to some of Hawaii's stunning cascades. Seek out the majestic Manoa Falls in Oahu or explore the picturesque Wailua Falls in Kauai.
Relax and Unwind: Lastly, don't forget to take some time to relax and soak in the laid-back atmosphere of Hawaii. Lounge on the beaches, enjoy the ocean breeze and let the island's serene ambiance rejuvenate your soul.

Packing Guide for Your August Trip to Hawaii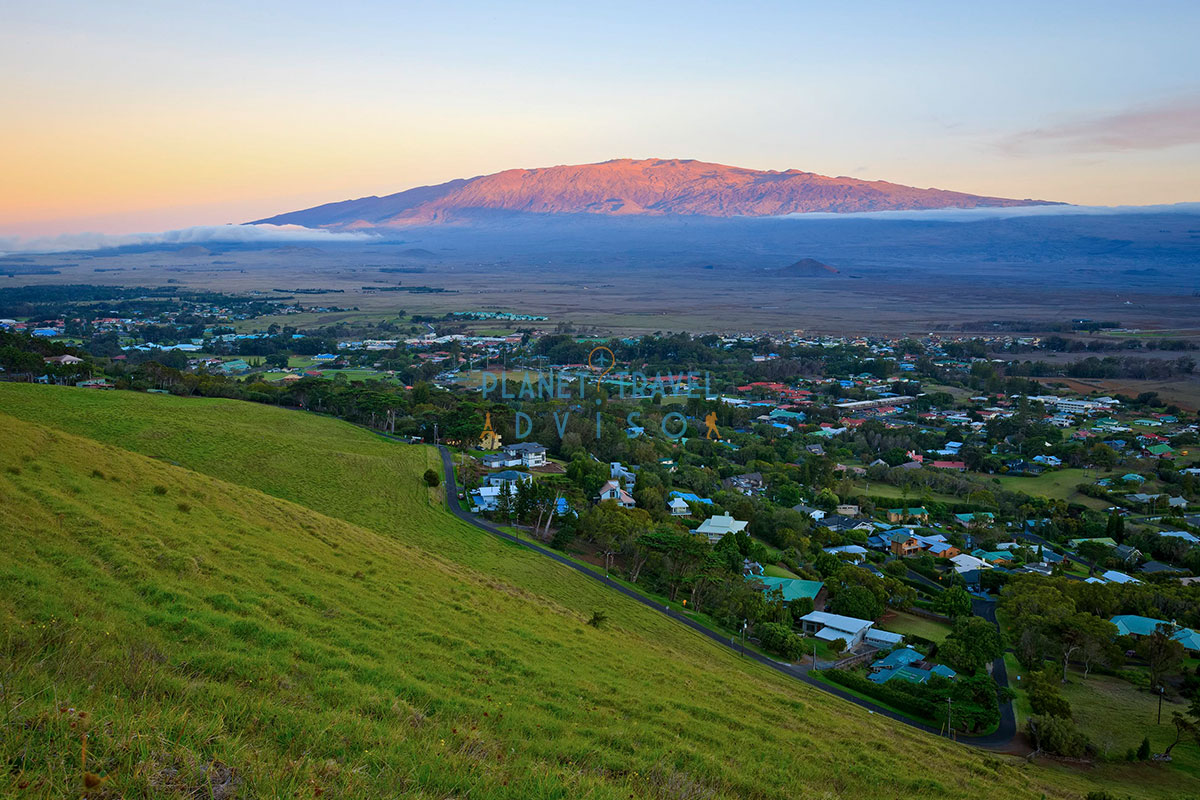 When planning a trip to Hawaii in August, keep in mind that the islands experience warm and sunny weather during this time of year. Focus on lightweight and breathable clothing such as shorts, tank tops, T-shirts, and sundresses made from cotton or linen. Don't forget your swimwear, as you'll likely spend a lot of time at the beautiful beaches and snorkeling spots. Sun protection is essential, so bring high-SPF sunscreen, sunglasses, and a wide-brimmed hat to shield yourself from the intense tropical sun. Comfortable footwear like sandals or flip-flops will keep your feet cool and relaxed during casual outings, while a pair of sturdy closed-toe walking shoes or hiking boots will be useful for any hiking adventures you plan to embark on. Consider packing a light sweater or long-sleeve shirt for cooler evenings, and don't forget your camera and binoculars to capture the stunning landscapes and wildlife. Lastly, bring a reusable water bottle to stay hydrated throughout your adventures, and remember to pack any necessary medications, toiletries, and personal items you may need during your trip
In addition to clothing and essentials, consider bringing a daypack or beach bag to carry your belongings while exploring or spending time at the beach. Include a lightweight rain jacket or poncho for occasional rain showers that might occur, especially on the windward sides of the islands. Prioritize comfort and functionality in your packing choices to fully enjoy the beauty and adventures that Hawaii offers in August. With a well-prepared suitcase, you'll be ready to embrace the tropical paradise and create unforgettable memories on the enchanting Hawaiian islands.

Iconic August Events in the Enchanting Islands of Hawaii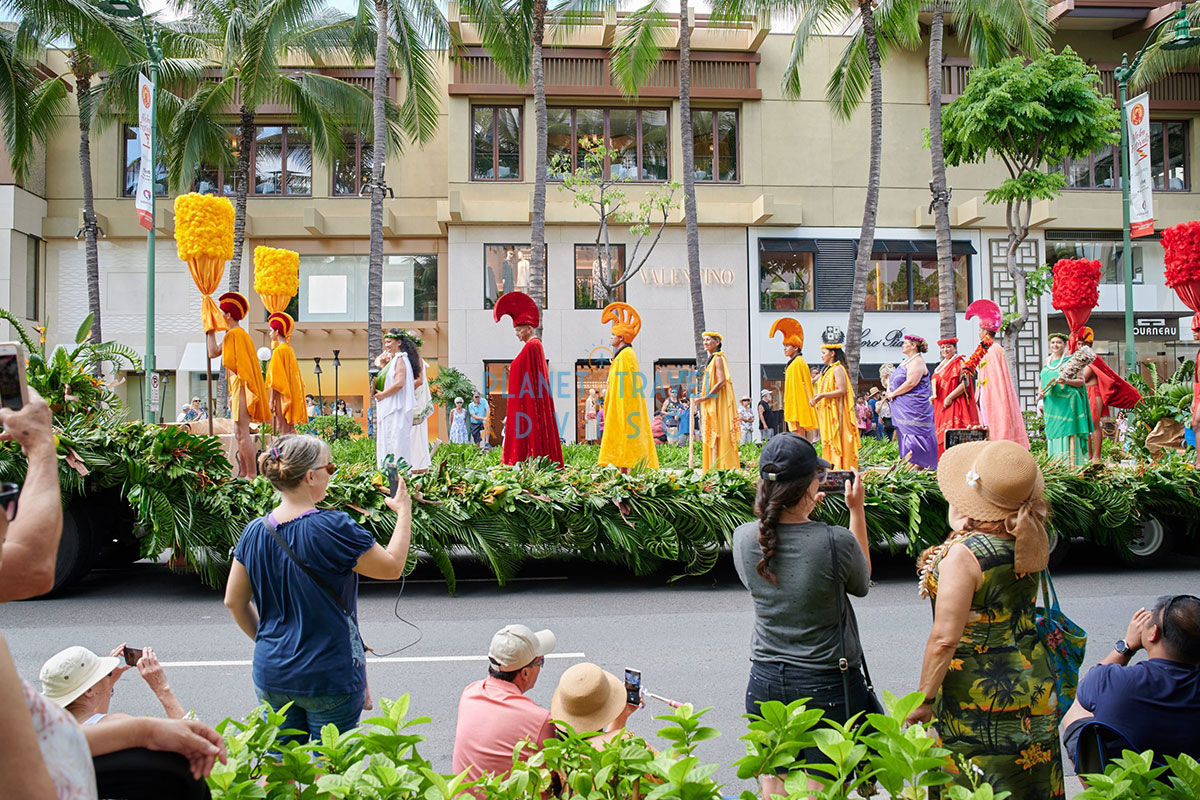 Hawaii is a place where culture, tradition, and celebration thrive, and August brings forth a host of famous events that showcase the islands' rich heritage and vibrant spirit. Travelers visiting Hawaii during this month can partake in these festivities, immersing themselves in the local culture and creating cherished memories.
Aloha Festivals: The Aloha Festivals take place annually in August, celebrating Hawaiian culture and traditions. This month-long celebration includes various events across the islands, such as parades, live music performances, hula dances, and craft fairs. The highlight is the Floral Parade, where intricately decorated floats adorned with fresh flowers parade through the streets, showcasing Hawaii's floral beauty and cultural pride.
Hawaiian Slack Key Guitar Festival: As a testament to the islands' musical heritage, the Hawaiian Slack Key Guitar Festival is a must-attend event in August. Held on Oahu, this festival pays tribute to the Hawaiian slack key guitar style, a traditional fingerpicking technique that produces soulful melodies. Visitors can enjoy performances by renowned musicians and gain insights into this captivating art form.
Obon Festivals: With a strong Japanese influence in Hawaii, Obon Festivals are celebrated across the islands in August. This Buddhist tradition honors ancestors through dance performances, lantern lighting, and festive processions. Visitors can join locals in the joyful dances, like the Bon Odori, and experience the seamless blend of Japanese culture with Hawaiian aloha.
Duke's OceanFest: This renowned annual event is dedicated to Duke Kahanamoku, a Hawaiian surfing legend and Olympic gold medalist. Held in Waikiki, Duke's OceanFest features a series of water sports competitions, including surfing, paddleboarding, and swimming. It pays tribute to Duke's legacy while promoting ocean awareness and sportsmanship.
Made in Hawaii Festival: For those looking to indulge in local crafts, culinary delights, and Hawaiian products, the Made in Hawaii Festival is a must-visit. Taking place in Honolulu, this festival showcases the creativity and craftsmanship of local artisans, offering an opportunity to purchase authentic Hawaiian souvenirs and products.
Hawaii Food & Wine Festival: Food enthusiasts will delight in the Hawaii Food & Wine Festival, where acclaimed chefs from Hawaii and around the world showcase their culinary talents. This annual event spans multiple islands and features delectable dishes, culinary demonstrations, and wine tastings that celebrate the diverse flavors of the Pacific.
Hilo Orchid Show: Orchid enthusiasts should head to the Big Island's Hilo Orchid Show, one of the largest orchid exhibitions in the state. Held in August, the show displays an astounding array of colorful and rare orchid varieties, creating a visual feast for visitors.
Heiva I Kauai Festival: The Heiva I Kauai Festival, held in the Garden Isle of Kauai, celebrates Tahitian culture with dance competitions, music performances, and traditional games. Visitors can witness the beauty of Polynesian culture through captivating dance routines and authentic Tahitian performances.
These famous events in August offer a glimpse into the heart and soul of Hawaii's unique cultural tapestry. Whether attending lively festivals, enjoying musical performances, or celebrating the islands' culinary prowess, visitors will find themselves immersed in the aloha spirit and the captivating charm of the Hawaiian archipelago.

Conclusion
In conclusion, August is a magical time to experience the beauty and cultural richness of Hawaii. With warm weather, vibrant festivals, and an abundance of outdoor activities, the islands come alive with endless possibilities. From dancing in the Aloha Festivals to witnessing majestic humpback whales and savoring delicious tropical fruits, there's something for every traveler to cherish. Whether you seek adventure, relaxation, or a deeper connection with the islands' heritage, Hawaii in August promises an unforgettable journey filled with warm aloha and unforgettable memories.
Source of Video: Living in Hawaii Youtube
FAQ
What is the weather like in Hawaii in August?
In August, Hawaii experiences warm and generally pleasant weather. It is considered to be one of the hottest months of the year for the islands. The temperatures can vary depending on the specific island and location within the islands, but in general, you can expect daytime temperatures to range from the mid-80s to the low 90s Fahrenheit (around 29-34 degrees Celsius). The evenings tend to be slightly cooler, with temperatures dropping into the mid-70s Fahrenheit (around 24-26 degrees Celsius).
Does it rain a lot in Hawaii in August?
While August is generally a drier month in Hawaii compared to the winter months, some rainfall is still possible. The trade winds that sweep across the islands often bring brief showers to the windward (northeastern) sides of the islands. These showers are typically short-lived and followed by sunshine, so they don't usually disrupt travel plans significantly. The leeward (southwestern) sides of the islands tend to be drier and see less rainfall during August.
Are hurricanes a concern in Hawaii during August?
August is the peak of the hurricane season in the Central Pacific, which includes Hawaii. While the islands are occasionally affected by hurricanes or tropical storms during this time, it's important to note that Hawaii's vast ocean geography often helps to weaken these storms before they make landfall. The state has a well-developed hurricane preparedness and monitoring system in place to keep residents and visitors safe. If you plan to visit Hawaii during hurricane season, it's advisable to stay informed about weather updates and follow any advisories issued by local authorities.
Are there any special activities or events in Hawaii during August?
August is a lively month in Hawaii, with several cultural events and festivals taking place. One of the significant events is the "Aloha Festivals," which are held on various islands and celebrate Hawaiian culture, music, dance, and cuisine. Visitors can enjoy hula performances, music concerts, craft fairs, and traditional Hawaiian feasts during these festivals. Additionally, August is an excellent time for water-based activities such as snorkeling, surfing, and swimming, as the ocean waters are warm and inviting.