Summary
Time-Honored Customs: Christmas in England is marked by cherished traditions passed down through generations, including the decorating of homes with festive lights, ornaments, and evergreen trees, a symbol that dates back to Victorian times.
Crackers and Crowns: A unique English tradition involves the pulling of Christmas crackers at the dinner table, resulting in a festive "pop" and the discovery of small trinkets, jokes, and paper crowns inside, adding a touch of whimsy to the holiday meal.
Queen's Speech: A longstanding tradition on Christmas Day is the broadcast of the Queen's Speech. Queen Elizabeth II addresses the nation, reflecting on the year and imparting messages of hope and unity, becoming a focal point for many families.
Boxing Day Festivities: December 26th, known as Boxing Day, is a time for charitable acts and socializing. Traditionally, employers give "Christmas boxes" to their staff, and families engage in sports, attend horse races, or participate in sales, creating a festive atmosphere.
Pantomimes and Carol Singing: Christmas entertainment in England often includes attending pantomimes, lighthearted theatrical productions enjoyed by families. Carol singing is also a cherished tradition, with communities coming together to sing festive tunes and share the joy of the season.
Christmas in England is a very important festival that is celebrated on December 25th each year. It is a time when families and friends come together to exchange gifts, enjoy a traditional British meal, and participate in various activities.
One of the most iconic symbols of Christmas in England is the Christmas tree, which is usually decorated with lights, tinsel, and ornaments. Many families also hang stockings on the fireplace or at the foot of their bed, which are traditionally filled with small gifts and treats on Christmas morning.
Another popular tradition in England is the Christmas pudding, a rich, fruit-based dessert that is typically served with brandy sauce. The pudding is often made several weeks in advance and is left to mature, giving it a deeper, richer flavor. In the weeks leading up to Christmas, many towns and places in England hold Christmas markets, where vendors sell handmade gifts, food, and decorations. Carol singing is also a popular activity during the Christmas season, with many churches and choirs performing in public places.
On Christmas Day itself, many families enjoy a traditional roast dinner with turkey, stuffing, vegetables, and gravy. In the afternoon, it's common to watch the Queen's Christmas speech on television, which is a long-standing tradition in England.
Christmas is one of the most important Christian holidays in Britain and worldwide, with an official holiday for two consecutive days, each country celebrates this event in its own traditions and own way. Christmas traditions in England are very filled with amazing things to do and enjoy. Christmas traditions in England are not much different from the rest of the world that celebrates Christmas, but England has a special taste in celebrations, which makes it one of the best countries in the world in cultures, customs, traditions, and travel. 
One of the best things during this event is the Christmas tree, which is decorated with ornaments, lights, and other forms of ornaments are placed in houses and public squares, as well as in the streets, especially on Oxford and Regent Streets, in the heart of London, Hundreds of thousands of Britons and tourists of different nationalities watch the light of Christmas lights adorn trees and shops about a month before the feast to celebrate this happy occasion. A huge Christmas tree adorning Trafalgar Square, an annual gift from Norway to Britain to express its gratitude for the assistance provided by the United Kingdom in liberating Norway from the Nazi occupation in 1945, the chorus of music wanders through the streets, songs, some religious, and the other secular. In this essay, we will explain the most famous Christmas traditions in England, so prepare your coffee and let´s get started: Most Famous 9 Christmas Celebrations in England:
1- Christmas or Santa Claus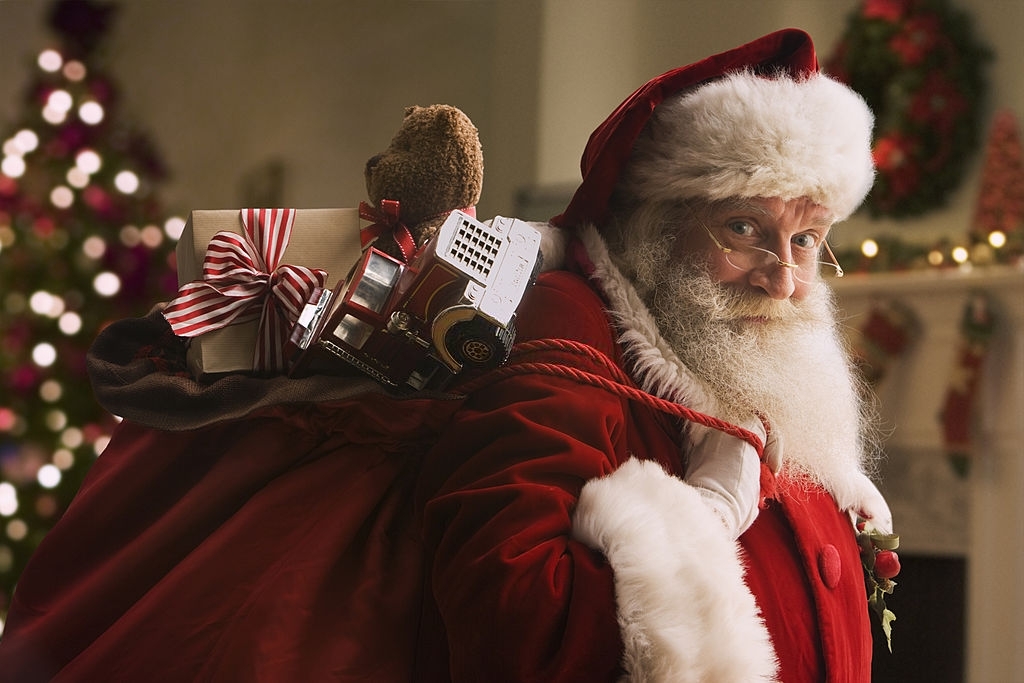 The origins of Father Christmas (also known as Santa Claus or Saint Nick) date back to the third century, about 280 when the Bishop of Mira, who will be Turkey today, was first arrested and given a secret gift, this was Bishop of St. Nicholas which later became Santa Claus.
Most English family members gather together during Christmas for a meal usually made up of Turkey and some vegetables, as well as exchanging gifts, which is a main part of the celebration, especially for children waiting for the legendary character of Baba Noel to leave them some gifts on their bed or under the Christmas tree.
Parents find it difficult to convince their children to go to sleep that night to wake up early to find their gifts. There is also another tradition that appeared in the 1930s, which is to broadcast the Queen's speech to the nation at 3 pm, this is a pre-recorded speech, in which the British Queen congratulates her on her wishes for a happy life and a bright future.
For 61 years, the annual royal speech on Christmas was the most important of Queen Elizabeth, although it distanced itself from political conflicts, abides by neutrality, and did not deal with thorny issues in her speeches. 
Sometime in the third century, he was discovered by a heavily indebted father who gave a dowry to his daughters so they could marry, St. Nicholas gave gifts in hiding because this was his personality. Every night (not at Christmastime) he dropped a bag of gold under the girls' home chimney.
The third time, the girl's father was determined to grab St. Nicholas and wait for the mysterious person to throw gold into the chimney. When he discovered that it was the word of Nicolas Bishop of Mira, it soon spread, and anyone who received mysterious gifts would assume that she came from Nicholas.
2- Christmas Tree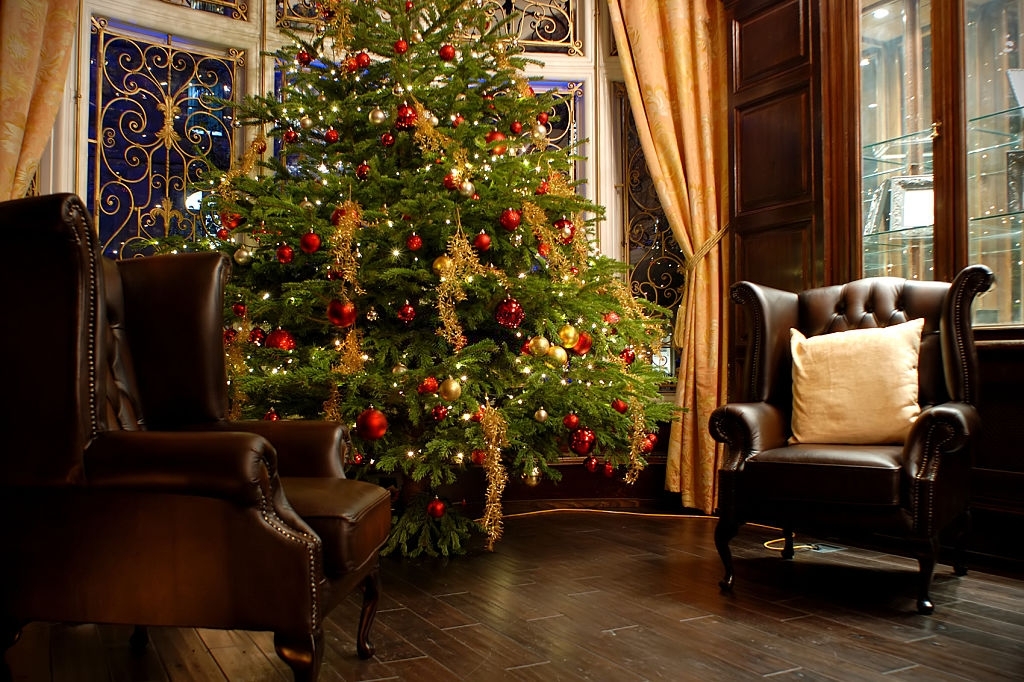 The Christmas tree is a Christmas tradition in England used on December 25 each year, a reflection of the joy of Christmas, this green tree inside the house is adorned to reflect the symbol of life and light, installed several days before the feast, and remains until Epiphany.
The idea of a Christmas tree began in the Middle Ages in Germany, rich in evergreen coniferous forests, where some of the Pagan tribes that worship the God (Thor) the God of the woods and the thunder were used to decorate the trees. Then one of the participating tribes celebrated the human sacrifice of their sons. 
In 727, Pope Bonifacius was sent to them, seeing them as they celebrated under a tree and tied the son of one of the princes, who wanted to be slaughtered as a victim of their God (Thor), and Pope Bonifacius attacked them, The son of the prince was saved from their hands. He stood between them to address them and it is clear to them that the living God is the God of peace and of tenderness and love that came to be saved is not to perish.
He then cut that tree and moved it to a house and decorated it, usually later symbolizing their celebration of Christ's birthday, and then moved from Germany to France, England, then America, and finally to the rest of the regions, where people used ornaments in their many known forms. The first to use the Christmas tree were Germans long before Christianity, who regarded the green tree as a symbol of lasting life and survival.
Britain did not know about the Christmas tree before Prince (Albert), a German and Queen Victory's husband in 1841, and America knew it in 1776, indicating that the Christmas tree tradition is not related to a text from the new era, but to Roman feasts and traditions that Christianity gave new meanings.
On December 25, the Christmas tree became a part of the Christmas ornamental and its forks were seen as a symbol of the wreath of Christ, The fruit of the Red Tree is a symbol of its burnished blood so a tradition has evolved around this tree from the event of the Holy Family's escape to Egypt. 
The first trees were adorned with red apples, flowers, and cloth tapes, and the first tree mentioned in a document preserved today was in Strasbourg in 1605, but the first colossal tree was the one that was established in the Royal Palace in England in 1840, Under Queen Victoria, the tree was rapidly spread as a key part of the Christmas ornamental.
3- The Queen's Speech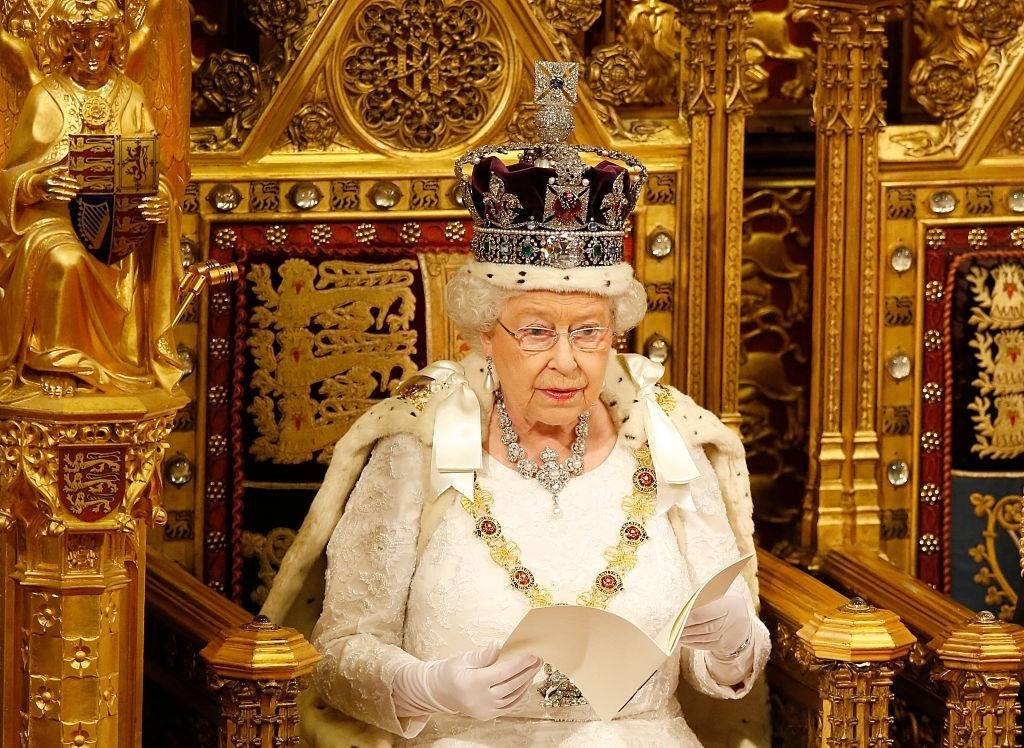 The Queen's Speech is a long-standing Christmas tradition in the United Kingdom and other Commonwealth realms. It involves a televised address by the reigning monarch on Christmas Day. Here are some critical aspects of this tradition:
Historical Background: The tradition of the Christmas broadcast by the reigning monarch dates back to 1932 when King George V delivered the first-ever Royal Christmas Message on the radio. This was a way to connect with the public during the festive season and provide a sense of unity and hope during challenging times.
Television Broadcast: The Christmas broadcast transitioned from radio to television with Queen Elizabeth II's first televised Christmas message in 1957. Since then, it has become a widely watched event in the UK and other Commonwealth countries.
Content and Theme: The Queen's Speech typically reflects on significant events of the year, offers words of encouragement, and focuses on themes of unity, goodwill, and hope. It often includes references to the Christmas story and the Christian faith. The monarch may also highlight charitable causes and emphasize the importance of family and community.
Pre-recording: The Queen's Speech is pre-recorded before Christmas Day and is usually filmed at one of the royal residences, such as Buckingham Palace or Windsor Castle. This allows the broadcast to be edited and prepared for broadcast at the desired time.
National Broadcast: The speech is traditionally aired on Christmas Day, typically at 3:00 PM GMT. It is broadcast on television and radio networks in the UK and is widely viewed by the public.
Public Reception: The Queen's Speech is an opportunity for the monarch to connect with the people, and it is generally well-received by the public. Many people consider it an essential part of their Christmas Day traditions.
Commonwealth Broadcast: In addition to being broadcast in the UK, the Christmas message is also made available to other Commonwealth countries, reinforcing the sense of unity among nations in the Commonwealth.
Evolving Medium: In recent years, the Queen's Christmas Message has been made available on digital platforms and social media, allowing people worldwide to access it online.
4- Boxing Day in England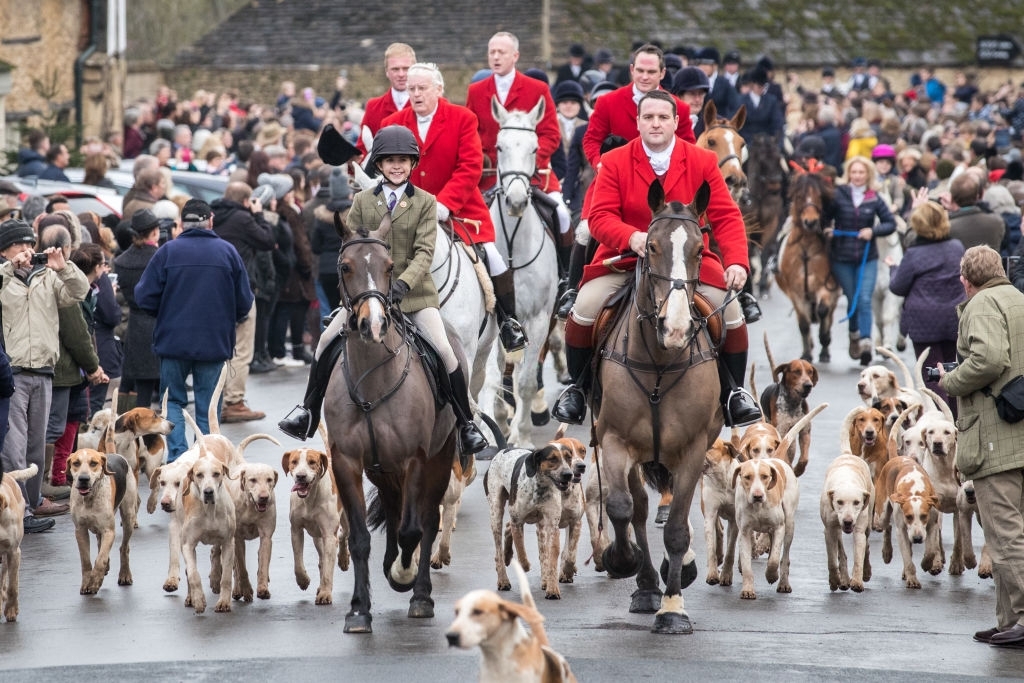 December 26, Boxing Day in England is a special day for the UK royal family every year in Christmas traditions in England and is a public holiday throughout England, Boxing day matches are held every week on the day after the Christmas holidays, which are celebrated on December 25 each year, and which becomes a spherical feast throughout the UK.
A very special day for Queen Elizabeth II called "Royal Boxing Day", breakfast is very different today, including a traditional Indian feast of fried fish, eggs, and curry powder, served with pork. Breakfast is usually required on this day from Sandringham hotel, As everyone prepares to celebrate Christmas, the queen enjoys the breakfast as she has been every year.
Boxing Day has been named since 1871 in the United Kingdom, where it was named the following day for Christmas as "Boxing Day" or the day of the boxes, and came from the time when the owners gave the servants boxes of money, gifts, and sometimes food to take them to their families after Christmas, The name was used in sports that are very active in various fields throughout the Kingdom, whether in cricket or horse and rugby races alongside football.
5- The Best Christmas Markets and Winter Activities in England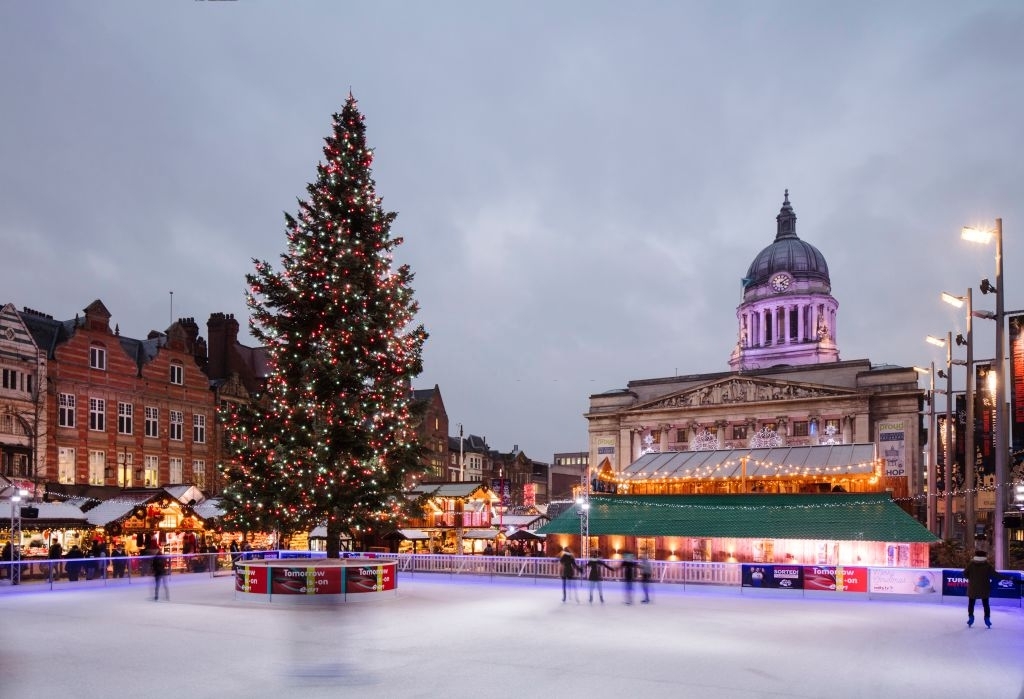 England boasts various of the best Christmas shops in Europe and winter activities that help create a festive atmosphere during the holiday season. Here are some of the best Christmas markets and winter activities in England:
1. Manchester Christmas Markets (Manchester): The Manchester Christmas Markets are among the most famous in the country. They feature numerous wooden stalls offering various gifts, crafts, and delicious food and drinks. The markets are spread across several locations in the city, creating a magical atmosphere.
2. Bath Christmas Market (Bath): Set against the stunning backdrop of Bath's historic architecture, this Christmas market is known for its charming chalet-style stalls. Visitors can shop for unique gifts, sip mulled wine, and enjoy the festive ambiance.
3. Winter Wonderland (Hyde Park, London): Winter Wonderland in London's Hyde Park is a massive winter festival featuring an ice skating rink, a Christmas market with over 200 stalls, circus shows, fairground rides, and a glistening ice sculpture kingdom. It's a must-visit for those in the capital.
4. Birmingham Frankfurt Christmas Market (Birmingham): Birmingham hosts the largest authentic German Christmas market outside Germany and Austria. Visitors can enjoy traditional German food, crafts, and festive entertainment.
5. York Christmas Market (York): Nestled within the medieval streets of York, this market offers unique gifts, crafts, and seasonal food. The backdrop of the historic York Minster adds to the enchanting experience.
6. Ice Skating at Somerset House (London): Skate on the beautiful ice rink at Somerset House, which is surrounded by neoclassical architecture and lit up with festive lights. It's a quintessential London winter activity.
7. Christmas at Kew Gardens (London): Kew Gardens in London hosts a spectacular light trail during the holiday season. Visitors can stroll through the illuminated gardens, enjoy the themed light displays, and warm up with seasonal treats.
8. Durham Christmas Festival (Durham): The UNESCO World Heritage site of Durham Cathedral provides a stunning backdrop for this festive market. It features craft stalls, carol singers, and a traditional Christmas atmosphere.
9. Winchester Cathedral Christmas Market (Winchester): This Christmas market is set close to Winchester Cathedral and offers a unique shopping experience with high-quality gifts, food, and entertainment.
10. Ice Skating at the Natural History Museum (London): Skate under the shadow of the iconic London museum while admiring the beautiful Christmas tree. It's a magical experience for all ages.
11. Beamish Museum's Christmas at Beamish (County Durham): Beamish, the Living Museum of the North, transforms into a winter wonderland during the Christmas season. Visitors can experience traditional Christmas celebrations and activities from the past.
12. Santa's Grottos: Many places across England, including shopping centers and historic sites, offer Santa's Grottos where children can meet Father Christmas and share their wishes.
6- South Bank Winter Festival in London (Nov 9 - Dec 27)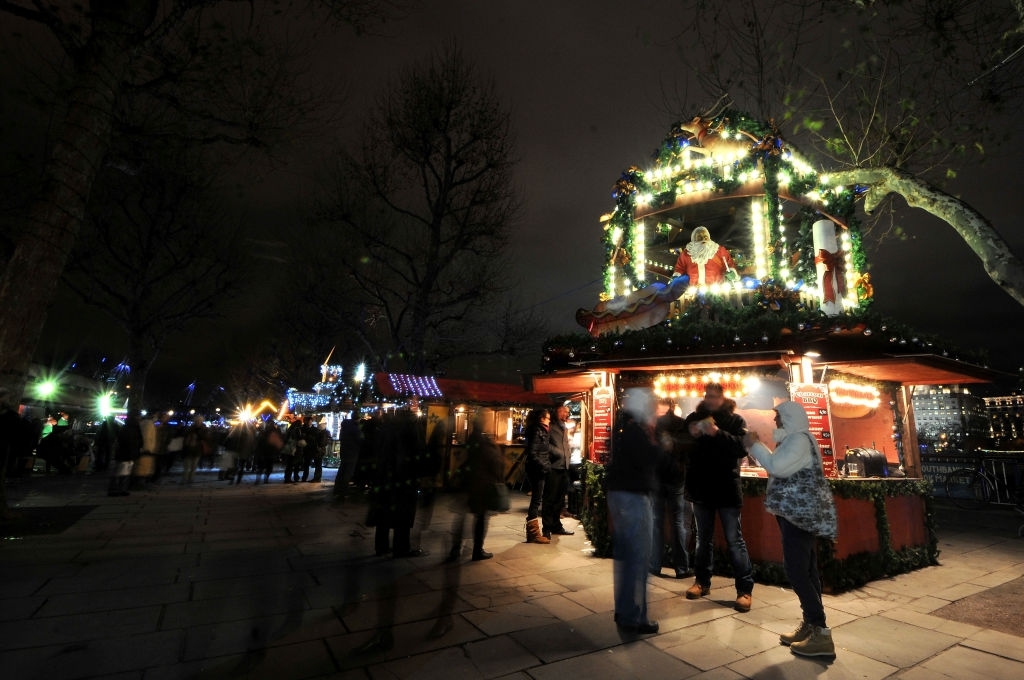 The South Bank Winter Festival in London is a delightful annual event that takes place along the South Bank of the River Thames, typically from early November to late December. It's a celebration of the holiday season, offering a wide range of festive activities, entertainment, and attractions. Here's what you can expect at the South Bank Winter Festival:
1. Christmas Market Stalls: The festival features a charming Christmas market with numerous stalls selling handmade crafts, gifts, and seasonal treats. It's an ideal place to find unique presents for your loved ones.
2. Riverside Ice Skating: One of the highlights of the South Bank Winter Festival is the open-air ice skating rink. Skating against the backdrop of iconic London landmarks, such as the London Eye and the Houses of Parliament, is a magical experience. Skating sessions are available for all ages and skill levels.
3. Food and Drink: Visitors can indulge in various festive foods and drinks, including mulled wine, hot chocolate, roasted chestnuts, and international street food. The festival often hosts pop-up bars and dining experiences with seasonal menus.
4. Entertainment: The festival offers a diverse lineup of live entertainment, including musical performances, comedy shows, and family-friendly theater productions. Street performers and buskers also add to the festive atmosphere.
5. Christmas Tree Maze: One of the unique attractions at the South Bank Winter Festival is the Christmas Tree Maze. This maze is usually created using Christmas trees and offers a fun and festive challenge for visitors of all ages.
6. Family Activities: Families with children can enjoy various kid-friendly activities, including Santa's Grotto, where little ones can meet Father Christmas and share their wishes. There may also be storytelling sessions and craft workshops.
7. Art Installations: The festival often features art installations and light displays that add to the overall enchanting ambiance of the South Bank during the holiday season.
8. Southbank Centre: The Southbank Centre, a major cultural institution along the South Bank, typically hosts special holiday events, including concerts, exhibitions, and theatrical performances. Be sure to check their schedule for any additional festive offerings.
9. Festive Workshops: You might have the opportunity to participate in workshops where you can create your own holiday-themed crafts, decorations, or gifts.
10. Spectacular Views: The South Bank Winter Festival offers stunning views of the River Thames and the city's skyline. The festival's location provides a picturesque backdrop for capturing memorable moments.
The South Bank Winter Festival is a fantastic way to immerse yourself in the holiday spirit while enjoying the cultural and entertainment offerings that London has to offer. Remember that event details, dates, and attractions may vary from year to year, so it's a good idea to check the official website or local listings for the most up-to-date information if you plan to attend.
7- Christmas Markets in Manchester, Northwest England ( Nov 9 - Dec 22)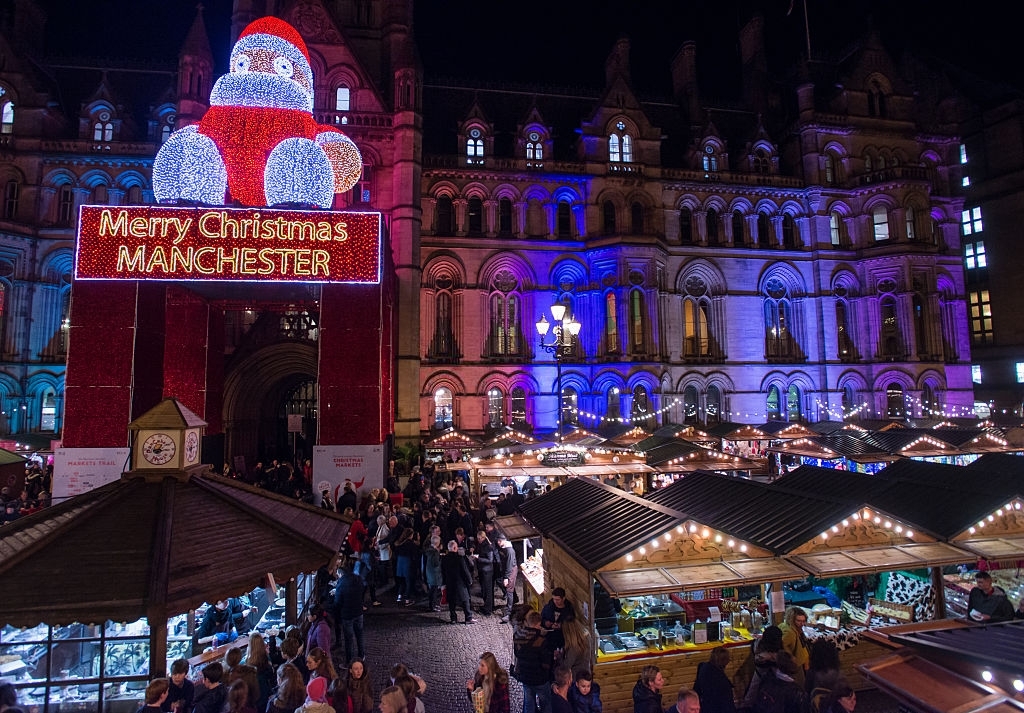 Manchester, in Northwest England, is renowned for its vibrant Christmas markets. These markets typically run from early November through December 22nd, creating a festive atmosphere in the city center. Here's what you can expect to find at the Christmas markets in Manchester:
Albert Square: The heart of Manchester's Christmas market scene is Albert Square, located in front of the iconic Manchester Town Hall. Here, you'll find a stunning Christmas tree and a variety of festively decorated stalls. This area often hosts the main Christmas market and features a large selection of food and drink vendors, as well as craft stalls offering unique gifts and decorations.
European Christmas Market: Manchester's Christmas markets have a distinctly European flair. Many stalls at Albert Square and other locations are inspired by traditional European Christmas markets. You can expect German bratwurst sausages, Spanish paella, Dutch pancakes, and other international delights.
Christmas Crafts: The markets are an excellent place to shop for handmade gifts, ornaments, jewelry, and other festive crafts. You'll find a wide range of unique and locally made items for perfect Christmas presents.
Mulled Wine and Hot Chocolate: No Christmas market would be complete without the warm, comforting beverages. Mulled wine and hot chocolate are readily available to keep you warm as you explore the market stalls.
Entertainment: Manchester's Christmas markets often feature live music, choirs, and other entertainment to get you into the holiday spirit. You may also find street performers and carol singers throughout the market areas.
Family-Friendly Activities: The markets are family-friendly, with many attractions for children. These may include a Santa's Grotto, a carousel, and other fairground rides. It's a great place to bring the kids for some festive fun.
Cathedral Gardens Market: In addition to Albert Square, you'll also find a Christmas market in Cathedral Gardens, near the beautiful Manchester Cathedral. This area typically focuses on arts, crafts, and artisanal products.
Exchange Square: Located near the Manchester Arndale shopping center, Exchange Square often hosts a separate market with additional food, drink, and shopping options.
Champagne and Prosecco Bar: For those looking to add a touch of luxury to their visit, the markets often have a Champagne and Prosecco bar where you can enjoy a glass of bubbly.
Late-Night Shopping: Some nights, the markets stay open late, allowing you to enjoy the festive atmosphere and shop for gifts well into the evening.
Remember that specific details and dates for the Christmas markets in Manchester can vary from year to year. So, it's a good idea to check the official website or local listings for the most up-to-date information if you plan to attend. Manchester's Christmas markets are a cherished tradition and a fantastic way to get into the holiday spirit while enjoying the city's culture and cuisine.
8- Christmas Market in Bath, Southwest England (Nov 22- Dec 9)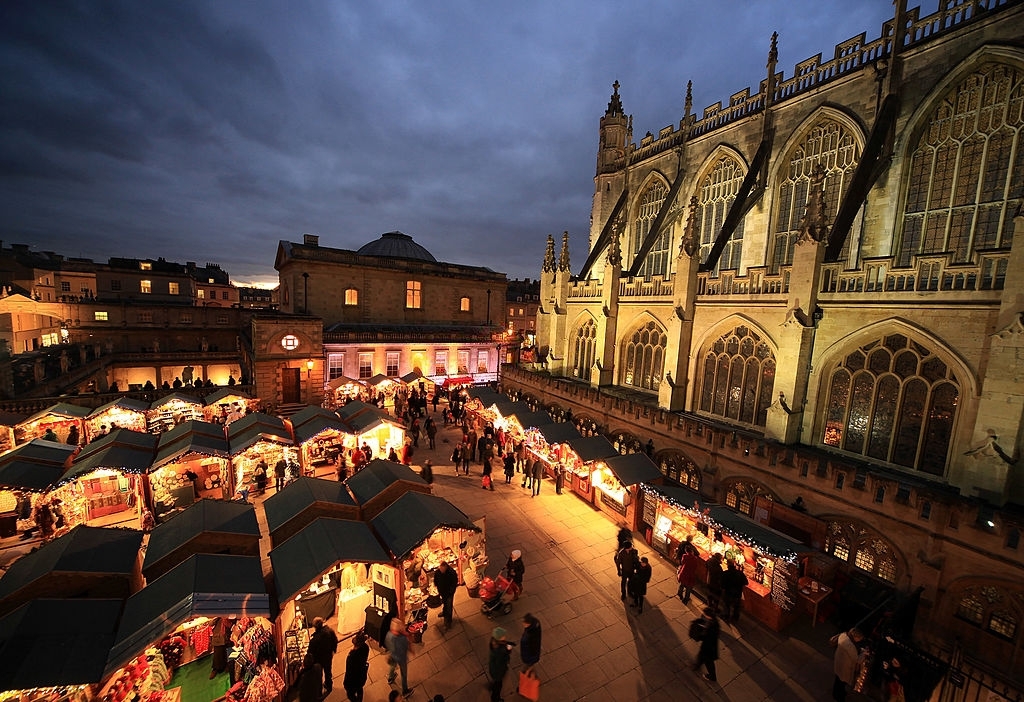 The Christmas Market in Bath, located in Southwest England, is a beloved holiday tradition known for its picturesque setting and festive atmosphere. Here's what you can expect when visiting the Bath Christmas Market, which typically runs from late November to early December:
Stunning Location: The Bath Christmas Market is set against Bath's historic Georgian architecture and the iconic Bath Abbey. The market stalls wind their way through the charming streets of Bath, creating a picturesque and festive scene.
Artisanal Stalls: The market features over 150 beautifully decorated wooden chalets selling a wide range of artisanal and handcrafted goods. You'll find unique gifts, locally made crafts, jewelry, homeware, and more.
Food and Drink: The Bath Christmas Market is renowned for its delicious festive food and drink offerings. You can savor traditional treats like roasted chestnuts, mince pies, mulled wine, hot chocolate, and various international cuisines. Don't miss the opportunity to try some of the local Bath delicacies.
Gift Shopping: Focusing on artisanal and locally made products, the market is an excellent place to find one-of-a-kind gifts and souvenirs for the holiday season. It's an excellent opportunity to support local businesses and artisans.
Live Entertainment: The festive atmosphere is enhanced by live music, carol singers, and street performers. You can enjoy the sounds of the season as you explore the market.
Bath Abbey: The Bath Abbey is often beautifully illuminated during the Christmas market, creating a stunning backdrop for your visit. You can also visit the abbey for special holiday services and concerts.
Ferris Wheel and Carousel: To add to the festive spirit, there is usually a Ferris wheel and a vintage carousel near the market. These rides offer fun for visitors of all ages and provide fantastic city views.
Santa's Grotto: Families with children will appreciate the Santa's Grotto, where kids can meet Father Christmas, share their wish lists, and receive a small gift.
Ice Skating: While the Bath Christmas Market doesn't typically have an ice skating rink, you can usually find one nearby, like the Bath on Ice outdoor ice rink, for those looking to enjoy winter sports.
Late-Night Shopping: On selected evenings, the market extends its opening hours, allowing visitors to shop and enjoy the festive atmosphere well into the evening.
Local Accommodations: Bath offers a range of accommodations, from boutique hotels to cozy bed-and-breakfasts, making it convenient for visitors to stay overnight and fully experience the market.
9- Frankfurt Christmas Market in Birmingham (Nov 15 - Dec 23)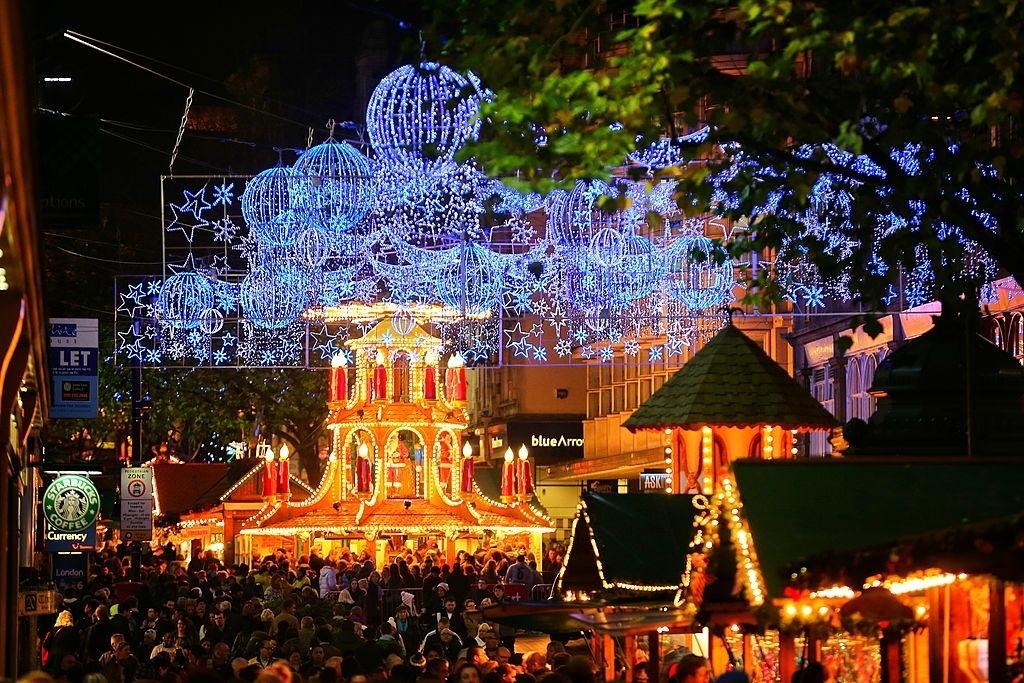 The Frankfurt Christmas Market in Birmingham, also known as the Birmingham German Christmas Market, is one of the largest and most popular Christmas markets in the United Kingdom. This annual event typically runs from mid-November to late December, bringing a touch of German festive tradition to the heart of Birmingham. Here's what you can expect when visiting the Frankfurt Christmas Market in Birmingham:
Authentic German Atmosphere: The Birmingham Frankfurt Christmas Market aims to replicate the traditional German Christmas market experience. You'll find stalls designed in the style of Bavarian chalets, festooned with festive decorations and lights.
Food and Drink: The market is renowned for its delectable German treats and beverages. You can indulge in German sausages, pretzels, schnitzels, and roasted nuts. Don't forget to try the famous glühwein (mulled wine) served in collectible mugs. Non-alcoholic alternatives like hot chocolate and fruit punches are also available.
Christmas Gifts: Explore the numerous stalls offering various gifts and crafts. You'll find handcrafted ornaments, wooden toys, jewelry, clothing, candles, and more. Many items are imported from Germany, ensuring an authentic shopping experience.
Carousel and Rides: The market usually features a traditional carousel and other fairground rides that are perfect for families and children. These rides add to the festive atmosphere.
Entertainment: Live entertainment is a key component of the Birmingham Frankfurt Christmas Market. You can enjoy performances by local choirs, brass bands, and other musicians. Carol singers often add to the festive ambiance.
Crafts and Decorations: Explore handcrafted goods, including traditional German Christmas decorations such as nutcrackers, pyramids, and hand-blown glass ornaments. You can also find beautiful Advent calendars and nativity scenes.
Kindermarkt: A section of the market, known as the Kindermarkt, is dedicated to children and families. It often includes a Santa's Grotto, children's rides, and kid-friendly activities.
Late-Night Shopping: The market typically stays open late into the evening, allowing visitors to experience the festive lights and enjoy shopping and dining after dark.
Bavarian Village: The Frankfurt Christmas Market also features a Bavarian Village area where you can enjoy traditional German food and drink, including hearty dishes like bratwurst and schnitzel.
Christmas Decor: The market is beautifully decorated with twinkling lights, trees, and seasonal decorations. The central square often features a large Christmas tree.
Market Mugs: Each year, the market offers collectible mugs featuring unique designs. Visitors often seek after these mugs as souvenirs.
It's important to note that while the Frankfurt Christmas Market in Birmingham aims to recreate the German Christmas market experience, it also has unique character and local elements. The market is a beloved holiday tradition for both locals and visitors alike, and it's advisable to check the official Birmingham Frankfurt Christmas Market website or local listings for the most up-to-date information on dates and activities if you plan to attend.
Christmas in England Traditions Video
Learn more about Christmas in England with the Traditions of the British people through this video made by the channel English Portal.