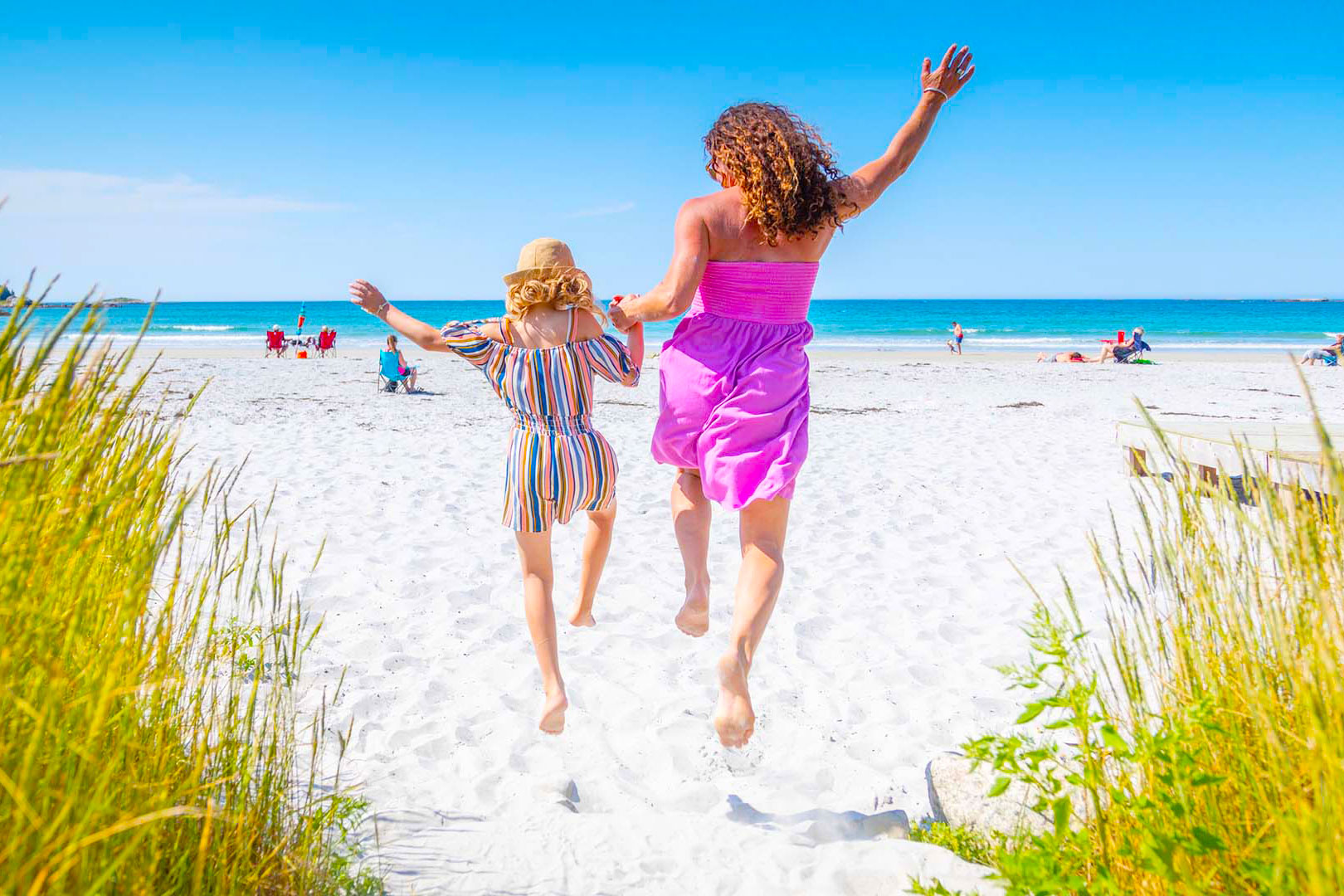 Discover Europe's Top 12 Beaches to Visit in April 2024
This article was created by a dedicated and authentic team of passionate travelers from the PTA Team, who are not only experienced travel experts but also proud members of the World Travel & Tourism Council (WTTC). Our sole purpose is to assist and support fellow travelers in planning their tours with utmost care and precision. With exclusive information, valuable insights, and meticulous analysis, we strive to provide high-quality content that leaves no room for mistakes. Count on us to deliver comprehensive destination reports and all the necessary information to ensure an exceptional and well-planned travel experience for you. Learn More
Article Table of Content
April in Europe ushers in a delightful change, as the continent's diverse coastlines awaken to the warmth of spring. For beach enthusiasts, this is an opportune time to explore Europe's coastal gems before the summer crowds descend. From the azure Mediterranean shores to the rugged Atlantic coasts, Europe boasts a plethora of pristine beaches that beckon travelers with their beauty and charm. In this article, we'll unveil the 13 best beaches in Europe 2023 that come to life in April, each with its unique character, natural wonders, and cultural allure. Get ready to uncover the sunny escapes that make Europe an irresistible destination for beach lovers.

1. Costa del Sol, Spain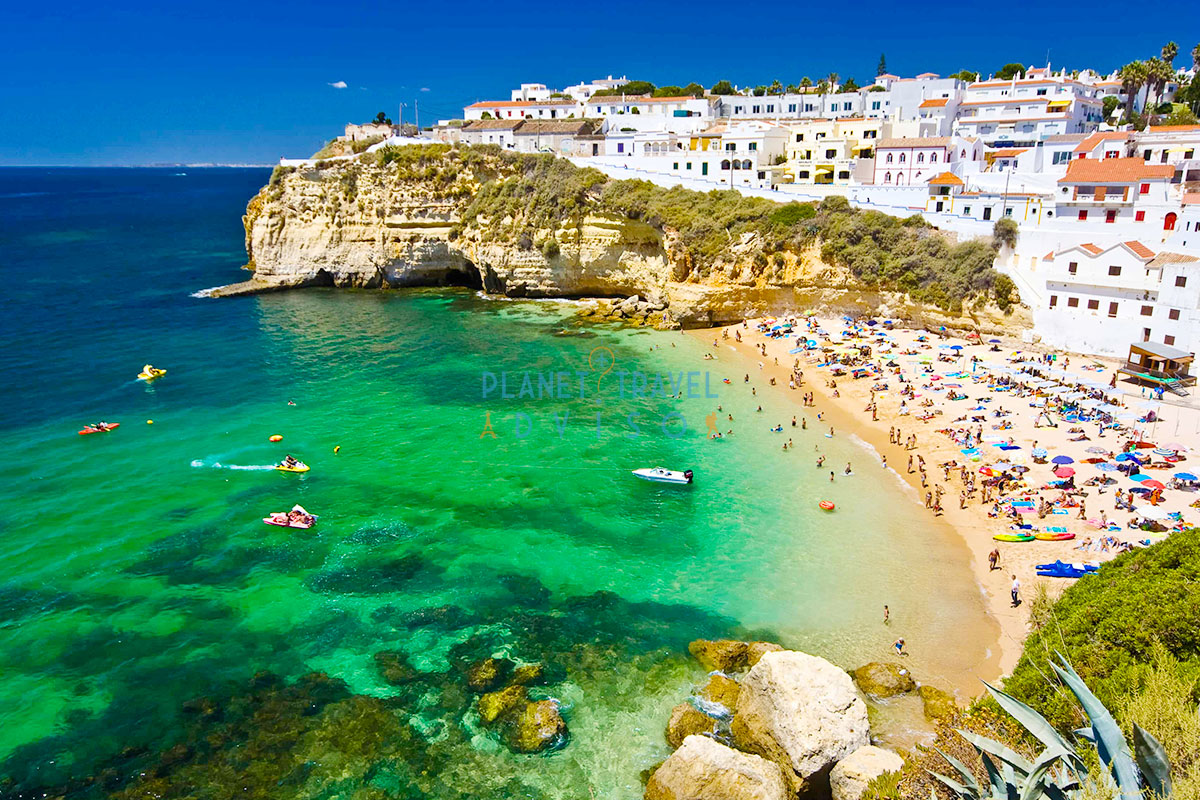 Nestled in the southern region of Andalusia, Spain, Costa del Sol is a sun-soaked paradise that truly lives up to its name. April, with its mild temperatures and blossoming landscapes, unveils the very best of this coastal gem. This renowned stretch of coastline boasts a diverse range of beaches that cater to every traveler's desires.
Playa de la Malagueta: Starting our journey in the vibrant city of Malaga, Playa de la Malagueta is a bustling urban beach just a stone's throw from the city center. Here, you can savor the perfect blend of city life and beach relaxation. Stroll along the palm-lined promenade, sample fresh seafood at beachfront chiringuitos (restaurants), or take a refreshing dip in the azure waters.
Nerja's Hidden Coves: A short drive eastward leads to the charming town of Nerja, where you'll discover hidden coves like Playa de Maro. These secluded gems are nestled beneath rugged cliffs and offer an intimate setting for sunbathing and snorkeling. The crystal-clear waters reveal a fascinating underwater world, making it a paradise for underwater enthusiasts.
Puerto Banús Luxury: For a taste of luxury and glamour, head west to Puerto Banús. This upscale marina is lined with designer boutiques, upscale restaurants, and impressive yachts. The adjacent beaches, such as Playa Puerto Banús and Playa Nueva Andalucía, offer golden sands and pristine waters, attracting jet-setters from around the world.
Natural Beauty of Estepona: Continuing westward, you'll find the picturesque town of Estepona. Its Playa del Cristo is known for its calm waters and natural beauty. Surrounded by lush greenery, this family-friendly beach is an idyllic spot for picnics and paddleboarding.
Golf and Culture: Beyond the beaches, Costa del Sol is also renowned for its world-class golf courses and cultural heritage. Explore the historic city of Ronda, perched atop a dramatic gorge, or indulge in a round of golf at one of the region's top-notch courses.
Costa del Sol in April offers an ideal balance of sunshine, culture, and relaxation, making it a must-visit destination for travelers seeking a Mediterranean escape. Whether you're a beach lover, a history enthusiast, or a foodie, Costa del Sol has something special to offer every visitor.

2. Amalfi Coast, Italy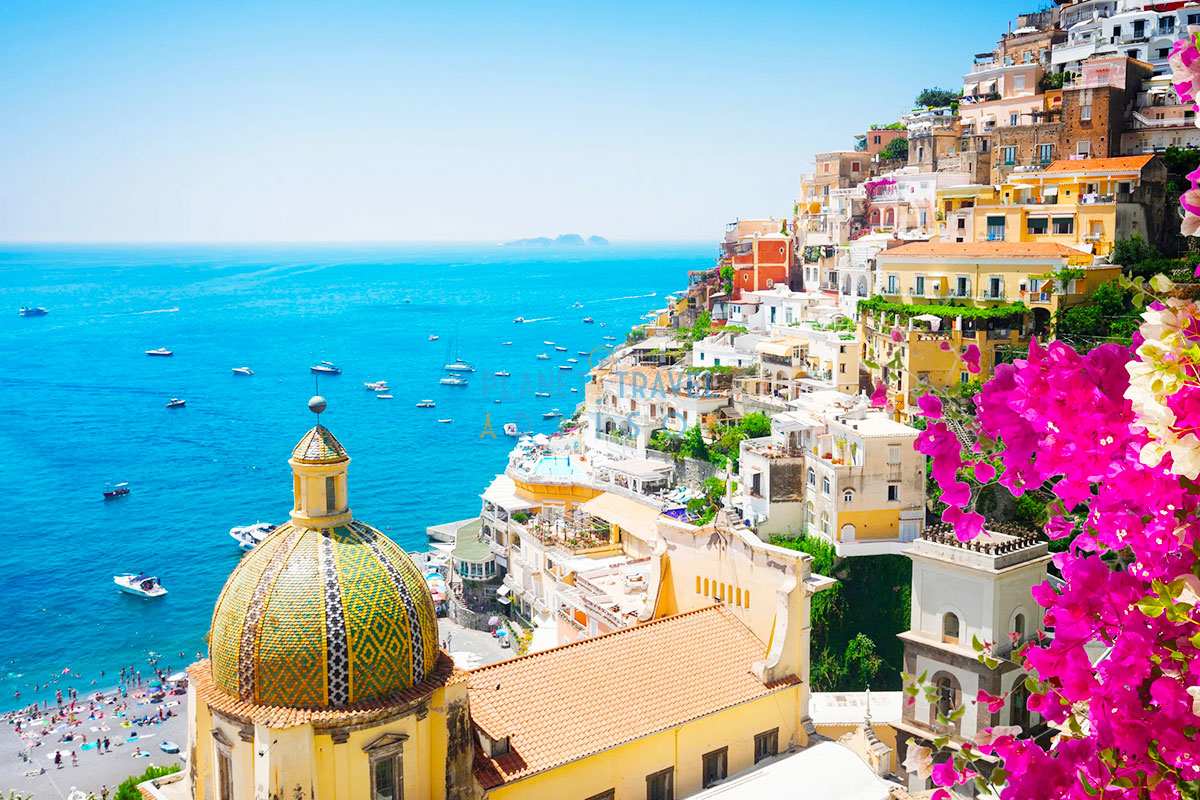 Italy's Amalfi Coast is an enchanting destination that flourishes in the gentle embrace of April. Nestled along the rugged shores of the Tyrrhenian Sea in southern Italy, this UNESCO World Heritage site is renowned for its dramatic cliffs, colorful villages, and pristine beaches. In April, as the Mediterranean climate awakens from its winter slumber, the Amalfi Coast comes alive with a burst of vibrant colors and welcoming warmth.
Positano's Pastel Beauty: Begin your journey in the iconic village of Positano, where pastel-hued buildings cascade down the cliffs like a watercolor painting. April's mild weather is perfect for exploring the labyrinthine streets, boutique shopping, and savoring fresh seafood in local trattorias. Famed beaches like Spiaggia Grande and Fornillo beckon with their turquoise waters and sun-kissed shores.
Ravello's Cultural Oasis: A short drive inland takes you to Ravello, a cultural oasis perched high above the coast. The Villa Cimbrone and Villa Rufolo gardens offer breathtaking views of the coastline. April's pleasant temperatures make it an ideal time to attend the annual Ravello Festival, featuring classical music concerts in these historic settings.
Amalfi's Maritime Charm: The town of Amalfi, after which the coast is named, exudes maritime charm. Explore the historic Duomo di Amalfi, sip limoncello at local shops, and soak in the sun at the town's small but inviting beach. April's shoulder season status means fewer crowds, allowing you to savor the atmosphere at your own pace.
Hiking Trails and Lemon Groves: Adventure seekers will relish the numerous hiking trails that wind through lemon groves and offer breathtaking panoramic vistas. The renowned Path of the Gods (Sentiero degli Dei) is a must for hikers, providing unparalleled views of the coastline.
Gastronomic Delights: April marks the beginning of the local lemon season, and you'll find fragrant lemon orchards in full bloom. Sample lemon-infused dishes, including the classic lemon risotto, and don't miss out on the region's fresh seafood and homemade pasta.

3. Greek Islands (e.g., Santorini, Mykonos)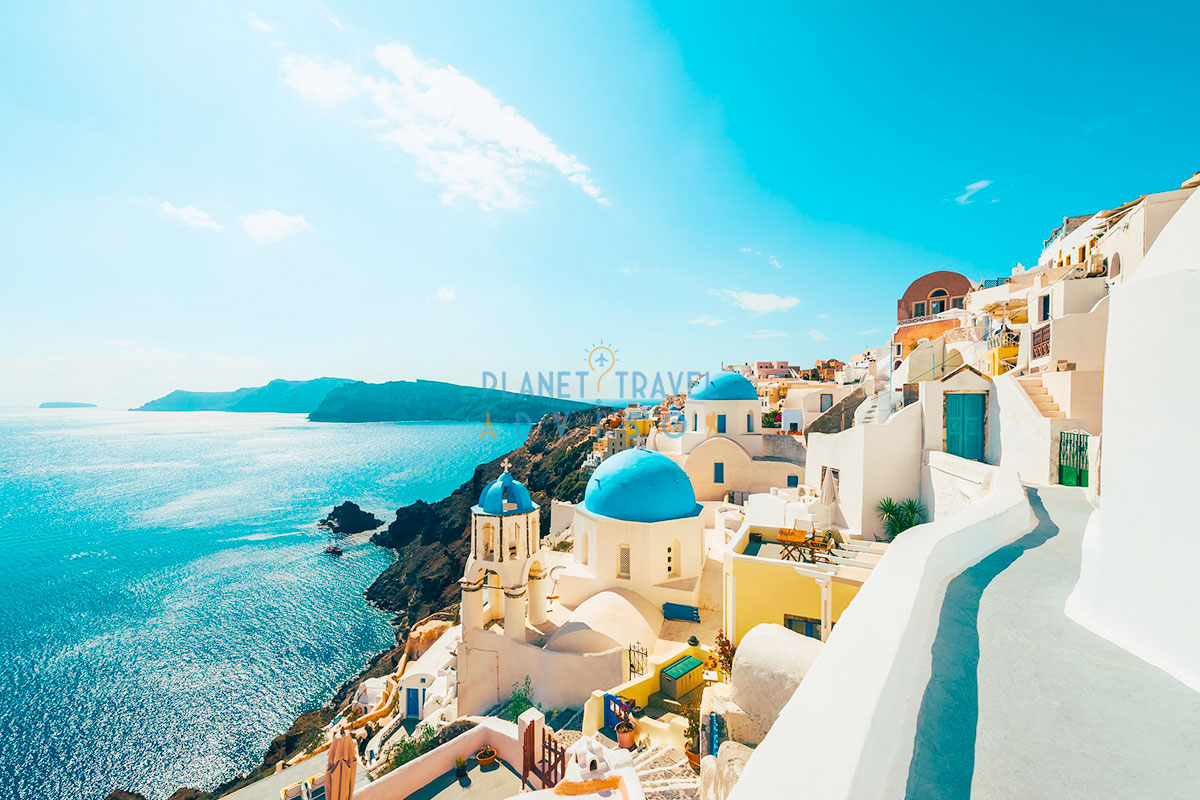 The Greek Islands, scattered like jewels across the Aegean and Ionian Seas, beckon travelers seeking sun, sea, and rich cultural experiences. In April, as winter fades and spring emerges, these islands come to life, offering a captivating blend of tranquility, natural beauty, and ancient history.
Santorini's Timeless Beauty: Begin your Greek island adventure in Santorini, the iconic crescent-shaped isle. April, with its mild temperatures, allows you to explore the charming villages of Oia and Fira without the summer crowds. Watch legendary sunsets over the caldera, visit archaeological sites, and savor the island's unique cuisine.
Mykonos' Vibrant Energy: Mykonos, famous for its vibrant nightlife, is a different world in April. The island awakens from its winter slumber, offering a more relaxed atmosphere. Stroll through Mykonos Town's labyrinthine streets, enjoy quiet beaches, and discover the island's rich maritime history.
Crete's Historical Grandeur: Greece's largest island, Crete, boasts a wealth of history and natural wonders. Explore the archaeological site of Knossos, hike the Samaria Gorge, and relax on beaches like Elafonissi and Balos. April's pleasant climate allows for outdoor adventures without the summer heat.
Rhodes' Medieval Marvel: The island of Rhodes combines stunning beaches with medieval history. Explore the UNESCO-listed Rhodes Old Town, relax on the golden sands of Tsambika Beach, and visit the ancient Acropolis of Rhodes. Spring is an ideal time for sightseeing without the intense summer sun.
Corfu's Lush Greenery: Corfu, in the Ionian Sea, is known for its lush green landscapes. April showers bring out vibrant flora, making it an excellent time for hiking and exploring the island's charming villages. Don't miss the UNESCO-listed Old Town of Corfu with its Venetian architecture.
Charming Naxos: Naxos, the largest of the Cyclades, is an island of diverse landscapes. In April, you can hike in the mountains, discover ancient ruins, and relax on pristine beaches. The island's rich agriculture also means you'll find fresh, locally sourced cuisine.
Visiting the Greek Islands in April offers a unique opportunity to experience their beauty and culture without the bustling summer crowds. Whether you seek historical treasures, natural wonders, or simply a tranquil beach escape, the Greek Islands provide a captivating springtime adventure.

4. Algarve, Portugal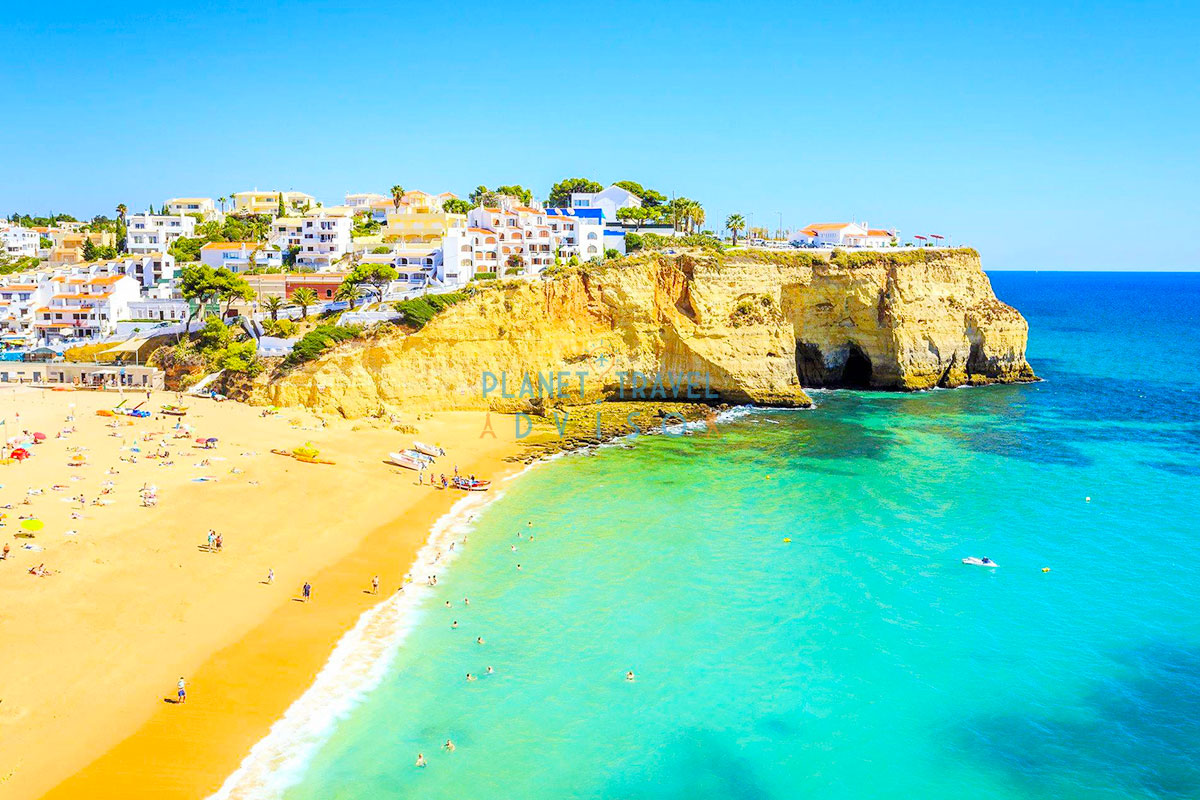 The Algarve, Portugal's southernmost region, is a coastal paradise that truly flourishes in April. The Algarve region in Portugal is renowned for its stunning beaches in Europe for swimming. With its golden beaches, dramatic cliffs, and picturesque fishing villages, the Algarve offers a perfect blend of natural beauty, culture, and outdoor adventures during this delightful season.
Albufeira's Vibrant Beaches: Start your Algarve adventure in Albufeira, known for its lively atmosphere and stunning beaches. April's mild weather is ideal for sunbathing and exploring the town's historic center. Praia da Oura and Praia dos Pescadores are two popular beach choices, offering golden sands and crystal-clear waters.
Lagos' Coastal Wonders: Lagos, with its intriguing rock formations and hidden coves, is a must-visit destination. Explore Ponta da Piedade's striking cliffs and caves, and relax on the idyllic Praia Dona Ana. The town's charming historic center boasts a rich maritime history and a vibrant dining scene.
Sagres and the Wild West Coast: Head west to Sagres, where the Algarve meets the wild Atlantic Ocean. April's pleasant temperatures make it perfect for exploring Fortaleza de Sagres and Cabo de São Vicente, Europe's southwesternmost point. Surfers flock to the challenging waves of Praia do Tonel and Praia do Beliche.
Tavira's Historic Elegance: Tavira, with its beautifully preserved historic center, is a hidden gem in the eastern Algarve. Explore the town's ancient churches, the historic Roman bridge, and the peaceful beaches of Ilha de Tavira accessible by a short boat ride.
Nature and Birdwatching in Ria Formosa: April is an excellent time for nature lovers to visit the Ria Formosa Natural Park. This coastal lagoon teems with birdlife and diverse flora. Take a boat tour, hike the nature trails, and discover the park's unique ecosystems.
Golf and Outdoor Activities: The Algarve is a renowned golf destination, and April offers ideal conditions for a round or two at world-class courses. Additionally, the region offers hiking, biking, and water sports, making it a versatile playground for outdoor enthusiasts.
The Algarve in April offers an exquisite blend of tranquil beaches, cultural treasures, and outdoor adventures. With the pleasant weather, fewer crowds, and vibrant springtime landscapes, it's the perfect season to experience the Algarve's coastal charm and natural beauty.

5. Biarritz, France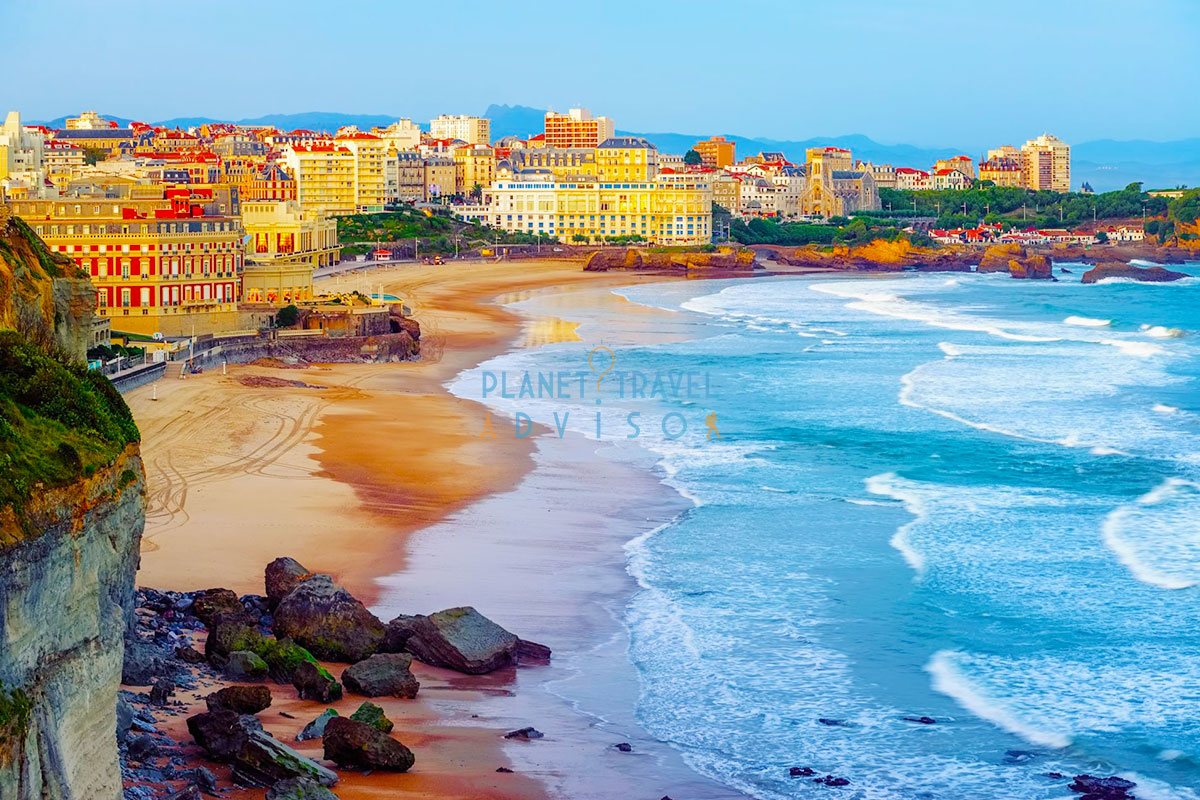 Biarritz, nestled on the Basque Coast in southwestern France, is a captivating destination that takes on a unique charm in April. Renowned for its stunning beaches, exceptional surf, and elegant ambiance, Biarritz offers a delightful combination of coastal relaxation, cultural exploration, and outdoor activities during this early spring season.
Surfing Mecca: Biarritz has earned its reputation as a world-class surfing destination, and April is an ideal time to catch some waves. With the Atlantic Ocean still cool but not too frigid, both beginners and experienced surfers can enjoy the exhilarating waters. Surf schools and rental shops are in abundance, making it easy to join in on the fun.
Beachfront Bliss: Biarritz's beaches are not only fantastic for surfing but also for sunbathing and swimming. Plage de la Côte des Basques, a long, sandy beach, is a local favorite. It's perfect for strolling along the shore, picnicking, or simply basking in the sun.
Historic Charm: The town of Biarritz itself is a charming blend of French and Basque culture. Explore the historic Old Town, Le Vieux Port, and admire the architecture of the Hôtel du Palais, once a palace for emperors. The town's relaxed atmosphere in April allows you to soak in its unique character.
Gastronomic Delights: Basque cuisine is a highlight of any visit to Biarritz. Savor fresh seafood, Basque pintxos, and hearty stews at local restaurants. April's moderate temperatures are perfect for dining al fresco and enjoying regional delicacies.
Thalassotherapy: Biarritz is famous for its thalassotherapy centers, where you can indulge in spa treatments using seawater and marine products. It's an excellent way to unwind and rejuvenate while enjoying stunning ocean views.
Day Trips to the Basque Country: Biarritz's location offers easy access to the picturesque Basque Country. Take day trips to nearby towns like Saint-Jean-de-Luz and Bayonne to explore their rich history, local markets, and Basque traditions.
Biarritz in April offers a unique blend of surf culture, elegant charm, and coastal beauty. With pleasant weather, fewer tourists, and the opportunity to experience the Basque way of life, it's an excellent time to discover why Biarritz has been a beloved destination for generations of travelers.

6. The Canary Islands, Spain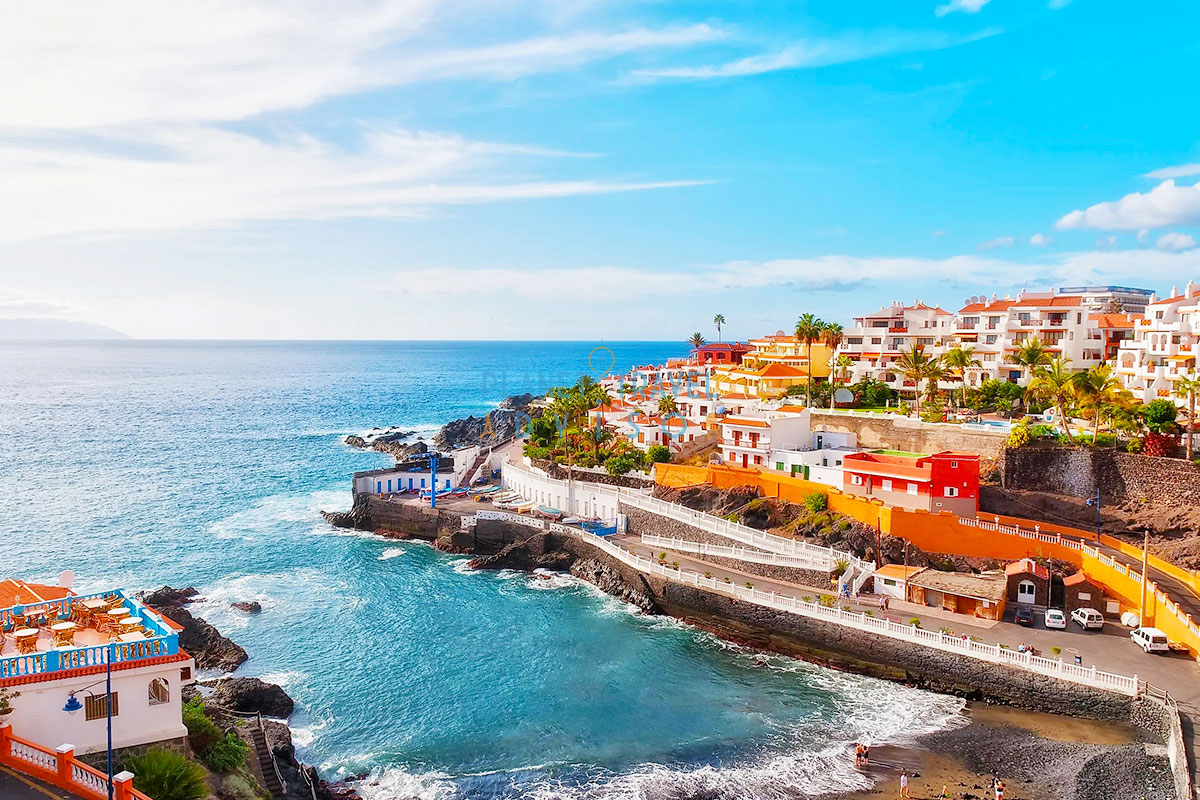 The Canary Islands, an archipelago off the northwest coast of Africa, are a haven of subtropical beauty and diverse landscapes. April is a superb time to explore this Spanish paradise, as the islands bask in warm temperatures, vibrant flora, and a relaxed atmosphere.
Tenerife's Majestic Volcanoes: Start your Canary Islands adventure in Tenerife, the largest and most diverse of the islands. April's pleasant climate makes it perfect for hiking in Teide National Park, home to Spain's highest peak, Mount Teide. The lunar-like landscapes and panoramic vistas are awe-inspiring.
Gran Canaria's Diverse Charms: Gran Canaria, often called a "miniature continent" due to its varied landscapes, offers something for everyone. Explore the sand dunes of Maspalomas, hike through lush pine forests in the interior, and wander through the historic neighborhoods of Las Palmas de Gran Canaria.
Lanzarote's Volcanic Beauty: Lanzarote's otherworldly landscapes, shaped by past volcanic activity, are truly unique. Visit Timanfaya National Park, where you can witness geothermal demonstrations and enjoy a meal cooked using volcanic heat. The island's artistic heritage, inspired by César Manrique, adds to its charm.
Fuerteventura's Endless Beaches: Fuerteventura, known for its endless stretches of sandy beaches, is a paradise for sun-seekers. In April, the sea is warming up, making it ideal for swimming and water sports. The island's tranquil atmosphere allows for relaxation and exploration in equal measure.
La Palma's Natural Beauty: La Palma, the "green island" of the Canaries, is a hiker's dream. The Caldera de Taburiente National Park, with its lush forests and starry skies, offers breathtaking trails and opportunities for stargazing.
La Gomera's Tranquil Oasis: La Gomera, the second smallest Canary Island, boasts a tranquil ambiance and pristine landscapes. Explore Garajonay National Park, a UNESCO World Heritage site filled with laurel forests, and discover the island's unique whistling language, Silbo Gomero.
El Hierro's Undisturbed Serenity: El Hierro, the smallest and least-visited Canary Island, offers pristine nature and tranquility. In April, the island's wild beauty, with hiking trails, volcanic formations, and crystal-clear waters, can be enjoyed without the crowds.
The Canary Islands in April offer a sublime blend of nature, adventure, and relaxation. With comfortable temperatures, blossoming landscapes, and fewer tourists, it's an ideal time to immerse yourself in the diverse beauty and unique culture of these subtropical islands.

7. Alabaster Coast, France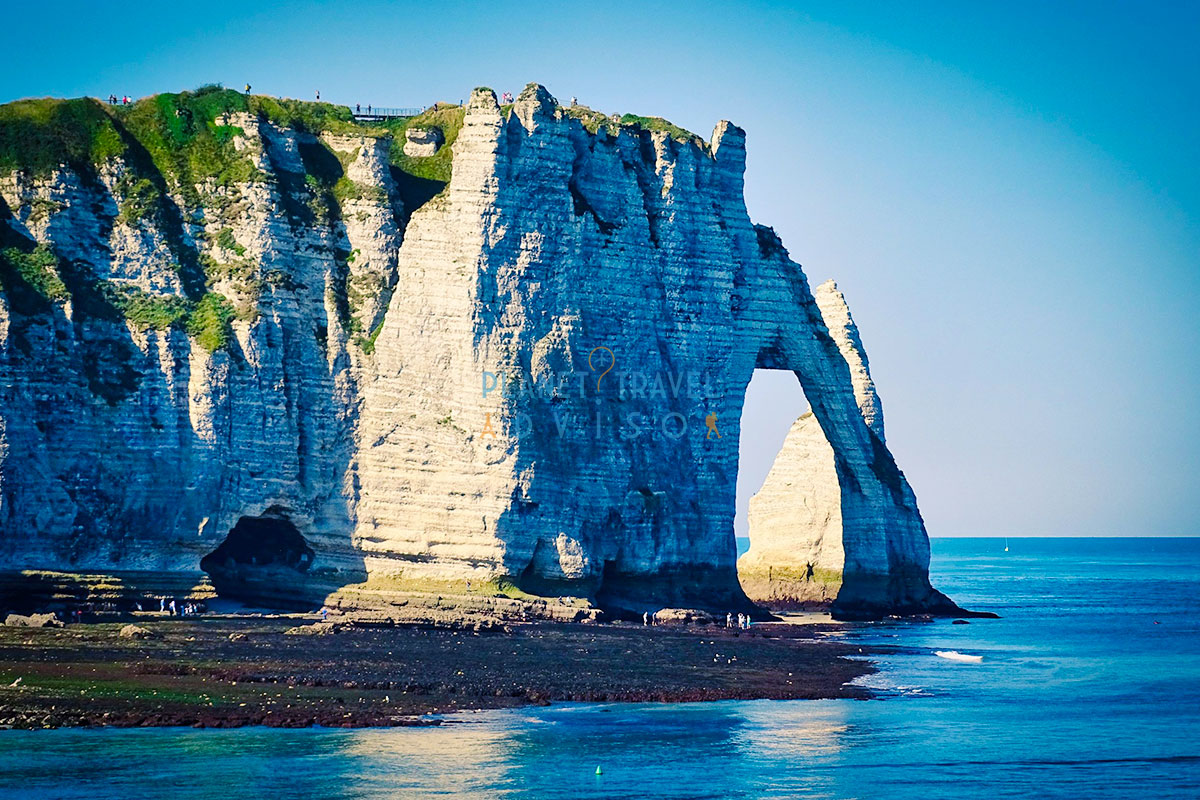 The Alabaster Coast, known locally as "Côte d'Albâtre," is a hidden gem along the Normandy coastline in northern France. In April, this stunning stretch of rugged cliffs, charming pebble beaches, and picturesque villages is at its most enchanting, offering a painter's palette of natural beauty and cultural delights.
Etretat's Iconic Cliffs: Begin your journey in Etretat, the crown jewel of the Alabaster Coast. The dramatic limestone cliffs, famously painted by Monet, are even more stunning in person. April's mild weather allows for leisurely walks along the cliff paths and visits to the charming town center. Don't miss the stunning views from the Falaise d'Amont and Falaise d'Aval.
Fécamp's Maritime Heritage: Fécamp, with its historic fishing harbor and intriguing maritime history, is a delightful stop. Visit the Benedictine Palace, home to the renowned liqueur, and explore the Fisheries Museum to learn about the town's seafaring heritage.
Yport's Coastal Charm: The small village of Yport is a hidden gem along the Alabaster Coast. Its pebble beach, colorful fishermen's houses, and relaxed atmosphere make it a perfect spot for a leisurely afternoon by the sea.
Dieppe's Seaside Retreat: Dieppe, the largest town along the Alabaster Coast, offers a mix of beaches, gardens, and a vibrant market scene. Visit the Château de Dieppe, relax on the beach, and savor fresh seafood at local restaurants.
Hiking and Nature: The Alabaster Coast is a haven for nature lovers and hikers. The cliffs and surrounding countryside are crisscrossed with hiking trails that offer breathtaking views of the sea and lush landscapes. April's moderate temperatures make it an excellent time to explore the great outdoors.
Local Gastronomy: Enjoy the region's culinary treasures, including fresh seafood, Norman cheeses, and delicious pastries. Don't forget to pair your meal with some local cider or Calvados, a traditional apple brandy.
Artistic Inspiration: Artists have been drawn to the Alabaster Coast for centuries, captivated by its ever-changing light and landscapes. Take the opportunity to sketch, paint, or simply bask in the same inspiration that inspired the likes of Monet and Courbet.
The Alabaster Coast in April is a dreamy coastal escape, offering a unique blend of natural beauty, cultural heritage, and artistic inspiration. With mild weather and fewer tourists, it's an ideal time to experience the timeless charm of this picturesque stretch of coastline.

8. Rügen Island, Germany
Rügen Island, nestled in the Baltic Sea off Germany's northeastern coast, is a picturesque destination that comes to life in April. With its diverse landscapes, historic charm, and a sense of tranquility, Rügen Island is the perfect springtime escape for those seeking natural beauty and cultural immersion.
Binz: Seaside Elegance: Begin your exploration in Binz, one of Rügen's most famous resorts. The elegant architecture along the promenade, lined with charming villas, creates a unique atmosphere. In April, the seaside town begins to stir, and you can enjoy leisurely walks along the sandy beach and take in the fresh sea air.
Jasmund National Park: Jasmund National Park, a UNESCO World Heritage site, is home to the iconic chalk cliffs known as the Königsstuhl (King's Chair). Hike the well-marked trails that wind through beech forests and lead to breathtaking viewpoints overlooking the Baltic Sea.
Prora: Nazi-era History: Visit the intriguing Prora, where remnants of a massive Nazi-era beach resort still stand. Learn about its history at the Documentation Center and reflect on its transformation into a modern holiday destination.
Kap Arkona's Northern Beauty: Explore the northern tip of the island at Kap Arkona, known for its lighthouses and rugged landscapes. April is a fantastic time to visit, with fewer tourists and the opportunity to admire the Baltic Sea from atop the historic lighthouses.
Göhren's Island Charm: The seaside town of Göhren offers a mix of sandy beaches and lush forests. Take a walk along the famous Pier and enjoy the colorful beach huts. The nearby Granitz Hunting Lodge, a historic castle, offers panoramic views of the island from its tower.
Historic Sassnitz: Discover the maritime history of Sassnitz, a port town on the island's east coast. Visit the Old Town, explore the charming harbor, and take a stroll along the beachside promenade.
Rügen's Culinary Delights: Savor the island's culinary treasures, including fresh seafood, hearty German dishes, and locally produced wines and spirits. The island's cuisine is a delightful reflection of its maritime heritage.
Nature Reserves and Birdwatching: Rügen Island is home to several nature reserves and is a haven for birdwatchers, especially in April when migratory birds visit the island. The Schmachter See Nature Reserve and the coastal wetlands are prime birdwatching spots.
Rügen Island in April offers a serene escape into nature and history, with milder weather and fewer crowds. Whether you're exploring its dramatic landscapes, strolling along sandy shores, or delving into its rich heritage, the island promises a rejuvenating springtime adventure.

9. Dubrovnik, Croatia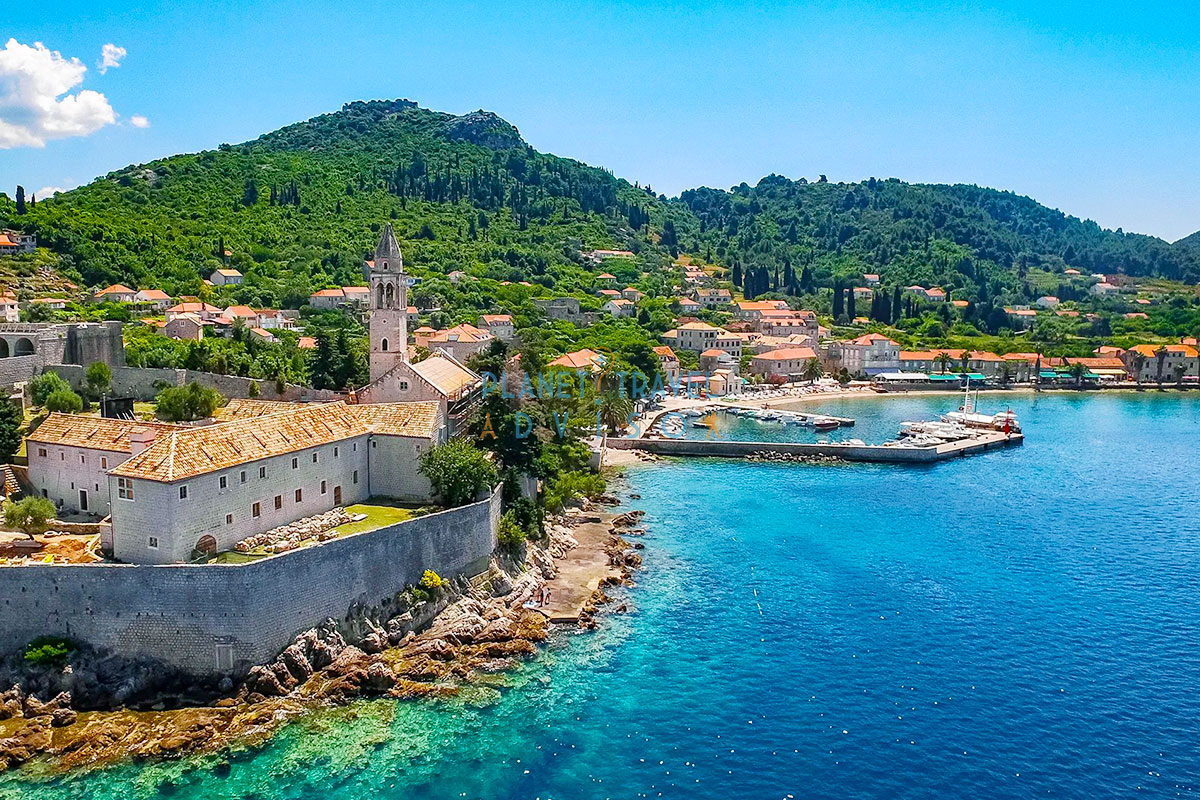 Dubrovnik, often referred to as the "Pearl of the Adriatic," is a historic coastal gem situated on Croatia's Dalmatian coast. April brings a perfect blend of pleasant weather and blooming landscapes, making it an ideal time to explore this UNESCO World Heritage-listed city and its stunning surroundings.
Dubrovnik's Old Town: Begin your Dubrovnik journey in the historic Old Town, where well-preserved medieval walls encircle a maze of narrow streets and historic buildings. In April, you can explore this architectural wonder with fewer tourists. Walk along the iconic city walls for breathtaking views of the Adriatic Sea and red-tiled rooftops.
Game of Thrones Tour: Dubrovnik served as the backdrop for King's Landing in the Game of Thrones series. Discover the filming locations and relive the show's memorable moments with guided tours.
Lokrum Island: A short ferry ride takes you to Lokrum Island, a lush nature reserve known for its botanical gardens, historic monastery, and pristine beaches. April is an excellent time to enjoy the island's natural beauty without the summer crowds.
Elaphiti Islands: Explore the nearby Elaphiti Islands, particularly Koločep, Lopud, and Šipan, with their charming villages, crystal-clear waters, and serene atmosphere. These islands offer a peaceful retreat and the opportunity for leisurely hikes.
Mount Srđ: Hike or take the cable car to the summit of Mount Srđ for panoramic views of Dubrovnik and the surrounding islands. It's a perfect spot for breathtaking sunset vistas.
Cultural Treasures: Explore Dubrovnik's rich cultural heritage by visiting historic sites like the Rector's Palace, Sponza Palace, and the Dubrovnik Cathedral. The city's museums, including the Maritime Museum and the War Photo Limited, offer fascinating insights into its history.
Island Hopping: Take day trips to nearby islands like Mljet, known for its national park with two saltwater lakes, and Korčula, the birthplace of Marco Polo.
Gastronomic Delights: Savor the local cuisine with fresh seafood, Dalmatian dishes, and Croatian wines. Konoba-style restaurants and seafood markets are a must-visit for culinary enthusiasts.
Festivals and Events: Check for local festivals and events that might coincide with your visit in April. These can include art exhibitions, music festivals, and cultural celebrations.
Dubrovnik in April is a tranquil and culturally rich destination where you can enjoy the city's beauty and heritage without the bustling summer crowds. With pleasant weather, blooming landscapes, and a sense of serenity, it's the perfect time to discover why Dubrovnik is considered one of the Adriatic's most enchanting cities.

10. Golden Sands, Bulgaria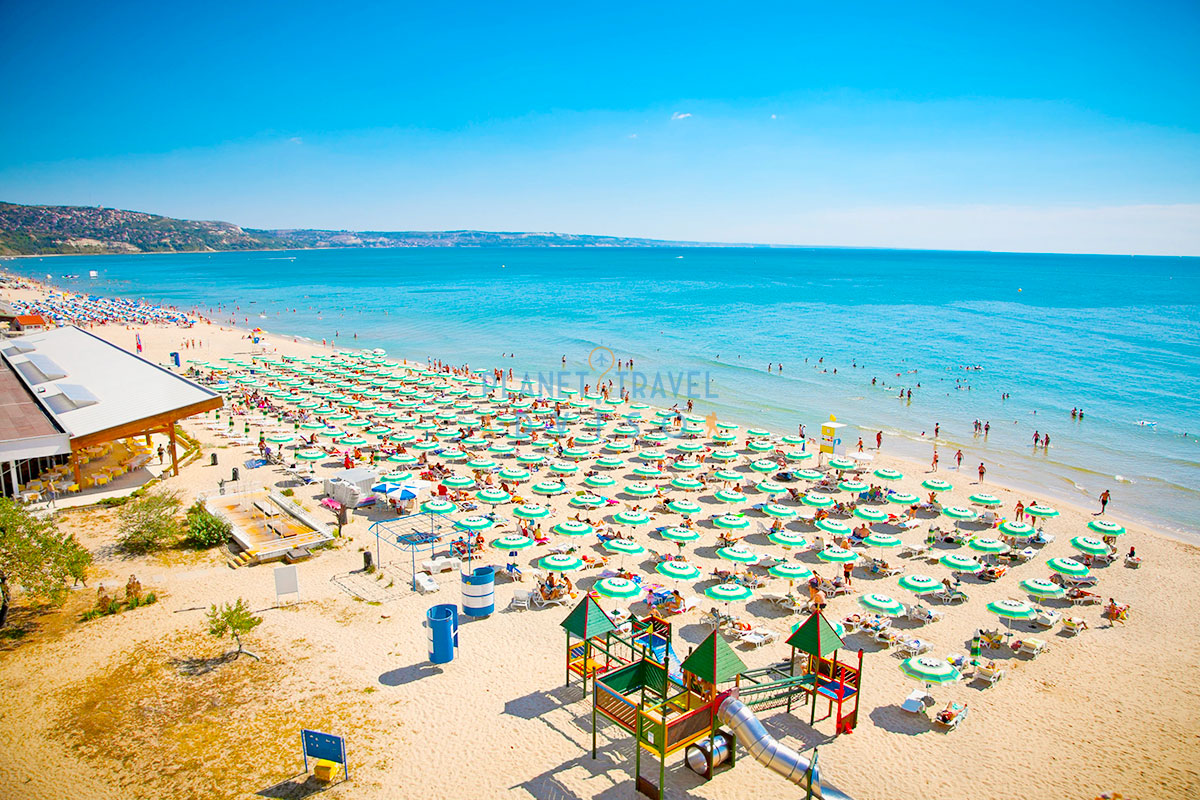 Golden Sands in Bulgaria is not only a paradise for sun-seekers but also one of the most fantastic beaches in Europe for families. Golden Sands, known as "Zlatni Pyasatsi" in Bulgarian, is a stunning beach resort nestled along the Black Sea coast. April marks the awakening of this seaside paradise, offering a serene escape with pleasant weather, uncrowded beaches, and the promise of relaxation and adventure.
Sandy Beaches: Golden Sands is famous for its long, sandy beaches that stretch for miles along the Black Sea. In April, the beaches are serene and inviting, perfect for peaceful walks, sunbathing, or even an early-season swim in the sea.
Natural Beauty: Explore the surrounding natural beauty of Golden Sands. Hike through the lush greenery of the Golden Sands Natural Park, where you can discover diverse flora and fauna, including rare plant species and various bird species.
Aladzha Monastery: Visit the nearby Aladzha Monastery, a fascinating historical and cultural site carved into the rock face. Explore the network of caves and chambers that once served as a religious retreat for monks.
Balneotherapy: Golden Sands is renowned for its therapeutic mineral springs and wellness centers. Indulge in balneotherapy treatments and spa experiences, offering relaxation and rejuvenation in the soothing mineral-rich waters.
Aquapolis Water Park: Families and thrill-seekers can enjoy a day of fun at Aquapolis Water Park, with its water slides, pools, and attractions. It's an entertaining option for all ages.
Day Trips to Varna: The vibrant city of Varna is just a short drive away. Explore its historical sites, including the Varna Archaeological Museum with its impressive Thracian treasures and Roman artifacts. Stroll along the Sea Garden, a beautiful park along the coastline.
Nightlife and Entertainment: While April is quieter than the peak summer season, Golden Sands still offers a variety of nightlife options, including beachfront bars, nightclubs, and restaurants with live music.
Bulgarian Cuisine: Savor Bulgarian cuisine at local restaurants and try traditional dishes like banitsa (a pastry filled with cheese or other fillings), kavarma (a stew), and shopska salad (a fresh vegetable salad).
Adventure Sports: April's pleasant weather makes it a great time for outdoor activities. Consider jet skiing, parasailing, or even a game of beach volleyball.
Golden Sands in April is a peaceful and rejuvenating destination on the Black Sea, offering a blend of natural beauty, cultural discoveries, and relaxation. Whether you seek beachfront tranquility or outdoor adventures, it's an ideal season to experience the charm of this Bulgarian seaside gem.

11. Sardinia, Italy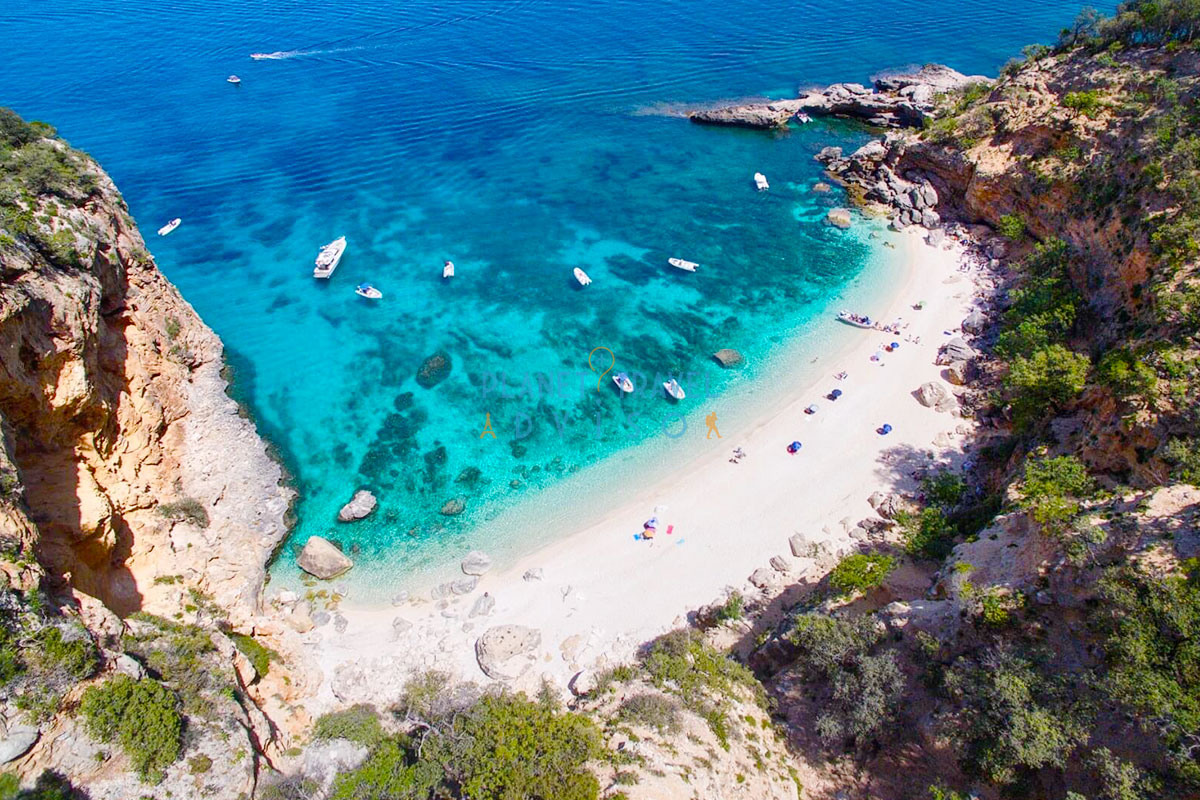 Sardinia, the second-largest island in the Mediterranean, is a natural wonderland that comes alive in April. With its pristine beaches, rugged landscapes, and unique cultural heritage, Sardinia offers an unforgettable springtime escape.
Emerald Coast (Costa Smeralda): Begin your Sardinian journey in the renowned Emerald Coast, famous for its crystal-clear waters and upscale resorts. In April, before the summer crowds arrive, you can enjoy the stunning beaches of Porto Cervo and Porto Rotondo, along with coastal hikes and water sports.
Historical Treasures: Explore Sardinia's rich history by visiting archaeological sites like the ancient Nuragic ruins and the Roman city of Nora. Discover the mysterious Nuraghe structures, stone-built towers dating back over 3,000 years, scattered across the island.
Cagliari's Mediterranean Charm: The capital city of Cagliari offers a blend of history and Mediterranean charm. Wander through the historic Castello district with its narrow streets and visit the National Archaeological Museum. Poetto Beach, just a stone's throw from the city center, is perfect for seaside relaxation.
Beaches and Nature Reserves: Sardinia is home to a plethora of stunning beaches, each with its unique character. Explore the pink sands of Spiaggia Rosa on Budelli Island, hike the dunes of Piscinas, or visit the protected marine area of Tavolara Island. April's mild temperatures make outdoor activities enjoyable.
Gennargentu National Park: For nature enthusiasts, the Gennargentu National Park offers rugged mountains, deep gorges, and hiking trails with breathtaking views. Monte Tiscali, a Nuragic village hidden in a mountain, is an intriguing archaeological site within the park.
Gastronomic Delights: Savor Sardinian cuisine with dishes like culurgiones (stuffed pasta), pane carasau (crispy flatbread), and roasted suckling pig. Pair your meal with local wines, such as Cannonau and Vermentino.
Traditional Festivals: April is the time for Sardinia's traditional festivals. Join in the celebrations of Sa Sartiglia in Oristano, a lively horse race dating back to medieval times, or experience the colorful Easter processions in Cagliari.
Water Sports and Diving: Take advantage of the clear waters and engage in water sports like snorkeling, scuba diving, and sailing. Sardinia's underwater world is a paradise for divers, with underwater caves and vibrant marine life.
Sardinia in April offers an enchanting blend of natural beauty, cultural heritage, and outdoor adventures. With moderate temperatures and fewer tourists, it's an ideal season to explore the diverse landscapes and authentic experiences that make Sardinia a Mediterranean jewel.

12. Ibiza, Spain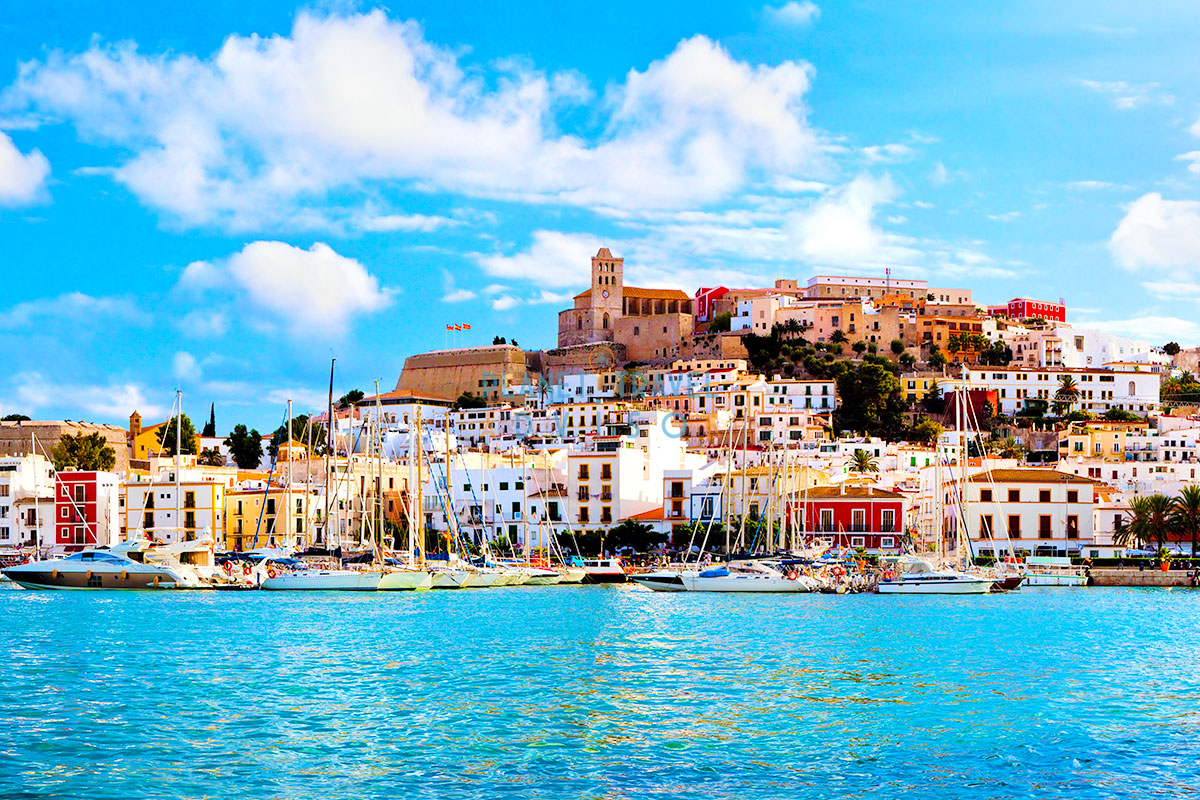 Ibiza, known worldwide for its vibrant nightlife and electronic music scene, takes on a different persona in April. During this early spring month, the island emerges as a peaceful haven with pleasant weather, lush landscapes, and a chance to explore its cultural and natural wonders before the summer party season kicks into high gear.
Explore Ibiza Town: Begin your Ibiza adventure in Ibiza Town (Eivissa), where you can explore the historic Dalt Vila (Old Town), a UNESCO World Heritage site. Meander through its winding streets, visit the 16th-century cathedral, and take in panoramic views from the fortress walls.
Beach Bliss: Ibiza boasts a variety of beautiful beaches, each with its unique charm. In April, these beaches are less crowded, making it the perfect time to relax by the sea. Playa d'en Bossa, Talamanca, and Cala Bassa are great choices.
Nature Retreat: Discover the island's natural beauty by hiking or cycling through scenic trails. The almond trees are in full bloom in April, painting the countryside in shades of white and pink. Explore Ses Salines Natural Park, home to salt flats and a diverse range of bird species.
Ibiza's Hippie Heritage: Immerse yourself in the island's bohemian heritage by visiting the famous Hippy Market in Es Canar, where you can find unique handcrafted goods, clothing, and jewelry. The market opens in April, giving you the chance to browse at a leisurely pace.
Diverse Cuisine: Savor Ibiza's culinary delights, which extend far beyond the beach clubs. Try traditional dishes like bullit de peix (fish stew) and sofrit pagès (a meat and vegetable stew). April is a great time to dine in local restaurants and sample the island's flavors.
Yacht Charter: Consider chartering a yacht or boat for a day to explore hidden coves, pristine beaches, and the neighboring island of Formentera. The calm waters and pleasant temperatures make it an ideal time for a sea excursion.
Festivals and Events: While the island is quieter in April, you might still catch local festivals and events celebrating Easter or the arrival of spring. These often feature traditional music, dance, and religious processions.
Wellness and Yoga Retreats: Ibiza is a wellness destination, and April is a perfect time to join yoga retreats, meditation workshops, and spa treatments that cater to your holistic well-being.
Sunset Views: Experience the magic of Ibiza's legendary sunsets without the summer crowds. Visit iconic spots like Café del Mar and Mambo to witness the sun sinking below the horizon.
Ibiza in April offers a tranquil and cultural experience, with the island's natural beauty and heritage taking center stage. Whether you seek relaxation, exploration, or a taste of its vibrant past, Ibiza's mellower side promises a rejuvenating and authentic springtime escape.

Conclusion
April unveils a world of beachfront beauty in Europe, free from the summer crowds. From the tranquil shores of the Alabaster Coast to the sun-kissed beaches of Golden Sands, each destination offers its unique allure. Whether you're drawn to the cultural charm of Dubrovnik, the island adventures of Sardinia, or the early springtime tranquility of Ibiza, Europe's diverse coastal treasures await your exploration.
As April ushers in milder temperatures, blooming landscapes, and cultural festivities, it's the perfect time to embark on a coastal journey that combines relaxation, adventure, and a deeper connection with Europe's coastal wonders. Whether you seek historical treasures, natural beauty, or simply a peaceful escape by the sea, Europe's best beaches in April offer a harmonious blend of serenity and discovery.
FAQ
Is April a good time to visit European beaches?
Absolutely, April is a fantastic time to explore European beaches. During this month, you can enjoy a more relaxed atmosphere compared to the summer rush. The weather is generally mild and pleasant, perfect for activities like beachcombing, hiking, and even some early-season swimming. Plus, April marks the beginning of spring, so you'll witness the stunning transformation of coastal landscapes as they burst into bloom.
Are the water temperatures suitable for swimming in April?
While water temperatures in April can vary depending on the region, they tend to be cooler, especially in northern destinations. However, in the southern Mediterranean, you can often find slightly warmer waters. It's a great time for coastal walks, beach picnics, and sunbathing. If you're an enthusiastic swimmer, you'll find the water refreshing, but it may not be as warm as in the peak summer months.
Are beachfront accommodations readily available in April?
Yes, April is considered shoulder season in many beach destinations across Europe. As a result, beachfront accommodations are typically more readily available, and you may even enjoy lower rates compared to the summer high season. It's an opportune time to secure beachfront lodgings of your choice, whether you prefer boutique hotels, resorts, or vacation rentals, without the stress of fully booked properties.
Are there any special events or festivals in these beach destinations during April?
Yes, April often brings unique cultural events and festivals to coastal regions. Many destinations celebrate Easter with colorful processions and traditional ceremonies, providing a glimpse into local culture. Additionally, you may come across local spring festivals that showcase regional traditions, music, and cuisine. Be sure to check local event calendars to see if there are any special happenings during your visit, as they can add a delightful cultural dimension to your beach getaway.