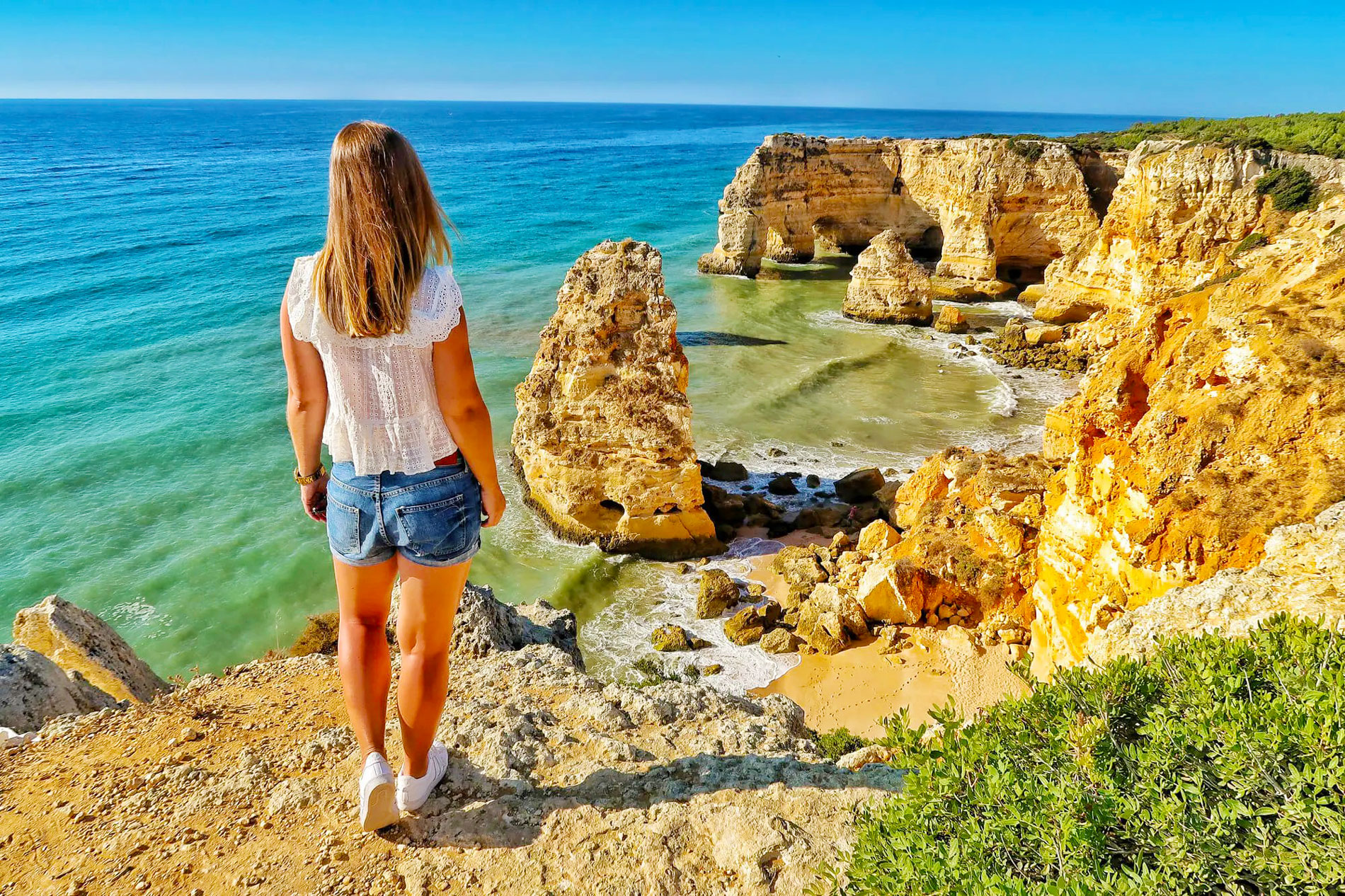 Best 15 Beaches in Europe in May 2024
This article was created by a dedicated and authentic team of passionate travelers from the PTA Team, who are not only experienced travel experts but also proud members of the World Travel & Tourism Council (WTTC). Our sole purpose is to assist and support fellow travelers in planning their tours with utmost care and precision. With exclusive information, valuable insights, and meticulous analysis, we strive to provide high-quality content that leaves no room for mistakes. Count on us to deliver comprehensive destination reports and all the necessary information to ensure an exceptional and well-planned travel experience for you. Learn More
Article Table of Content
With the arrival of May 2024, Europe awakens to a tantalizing promise of sun-soaked coastlines, warm sea breezes, and the gentle lullaby of lapping waves. It's a time when the continent's beaches come alive, shedding their winter slumber and beckoning travelers to their shores. Whether you seek secluded coves, glamorous seaside resorts, or ancient coastal towns, Europe offers a diverse array of beach destinations that are at their prime in May.
In this article, we will introduce you to ten of the most captivating beaches across Europe, each with its unique charm and allure. From the sun-drenched sands of the Algarve in Portugal to the glamorous French Riviera and the hidden gems of the Greek Islands, we will guide you through a virtual tour of these picturesque coastal havens. As the temperatures rise and the summer crowds have yet to descend, May is the perfect month to explore these European beach paradises. So, pack your swimsuit, sunscreen, and sense of adventure as we embark on a journey to discover the top 15 European beaches to visit in May 2024, promising sun, sand, and serenity.

1. Elafonisi Beach, Crete, Greece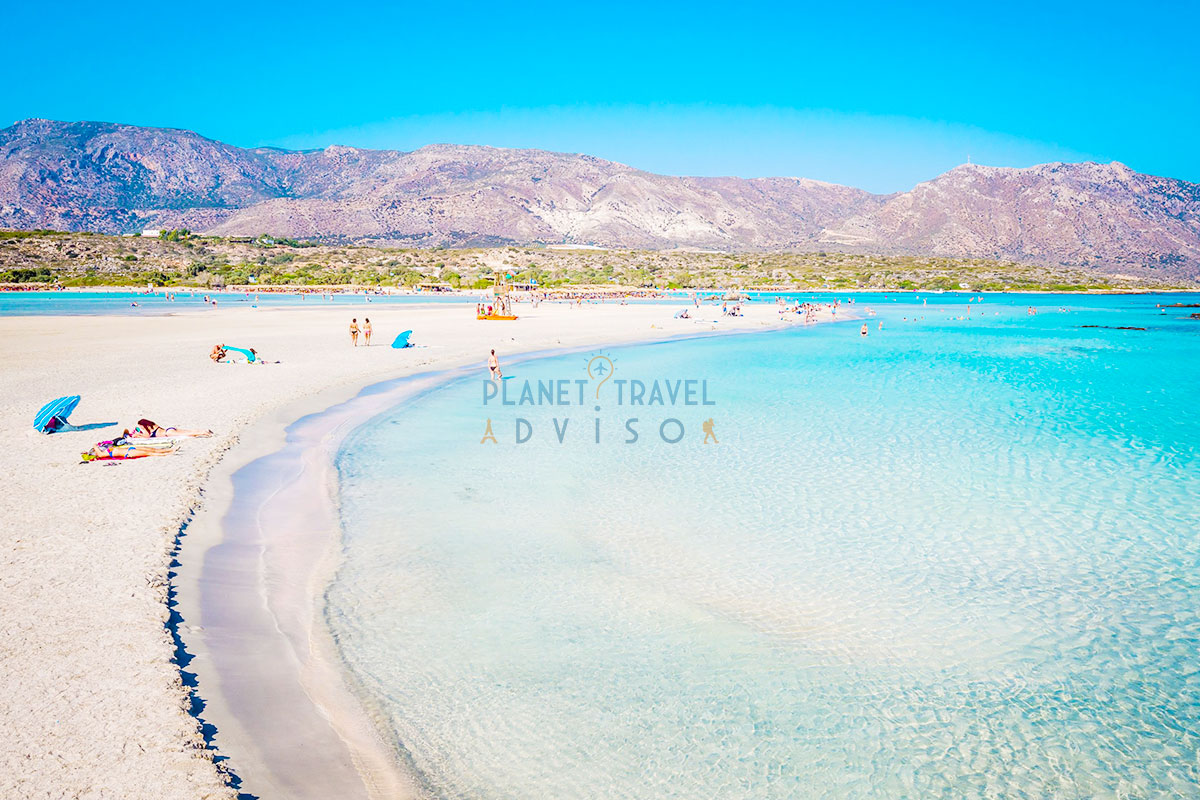 Nestled on the southwestern coast of the enchanting island of Crete, Elafonisi Beach stands as a testament to the natural wonders of Greece. Renowned for its powdery pink sands, this beach resembles a dreamscape painted in pastel hues. Elafonisi's unique rosy coloration is due to the presence of crushed seashells and pink corals, creating an otherworldly setting that feels like stepping onto the shores of a fairy tale.
In May, Elafonisi Beach awakens from its winter slumber with mild temperatures and uncrowded shores. As you stroll along the shoreline, you'll witness the crystal-clear waters gradually shifting from shades of turquoise to deeper blues. The shallow lagoon, perfect for families and snorkelers, invites you to explore its marine treasures.
Surrounded by verdant hills and wildflowers in spring, Elafonisi offers hiking opportunities and a sense of tranquility that's hard to find elsewhere. Whether you're seeking solitude, natural beauty, or an Instagram-worthy backdrop, Elafonisi Beach in May is an idyllic destination that should top your travel list.

2. Golden Bay, Malta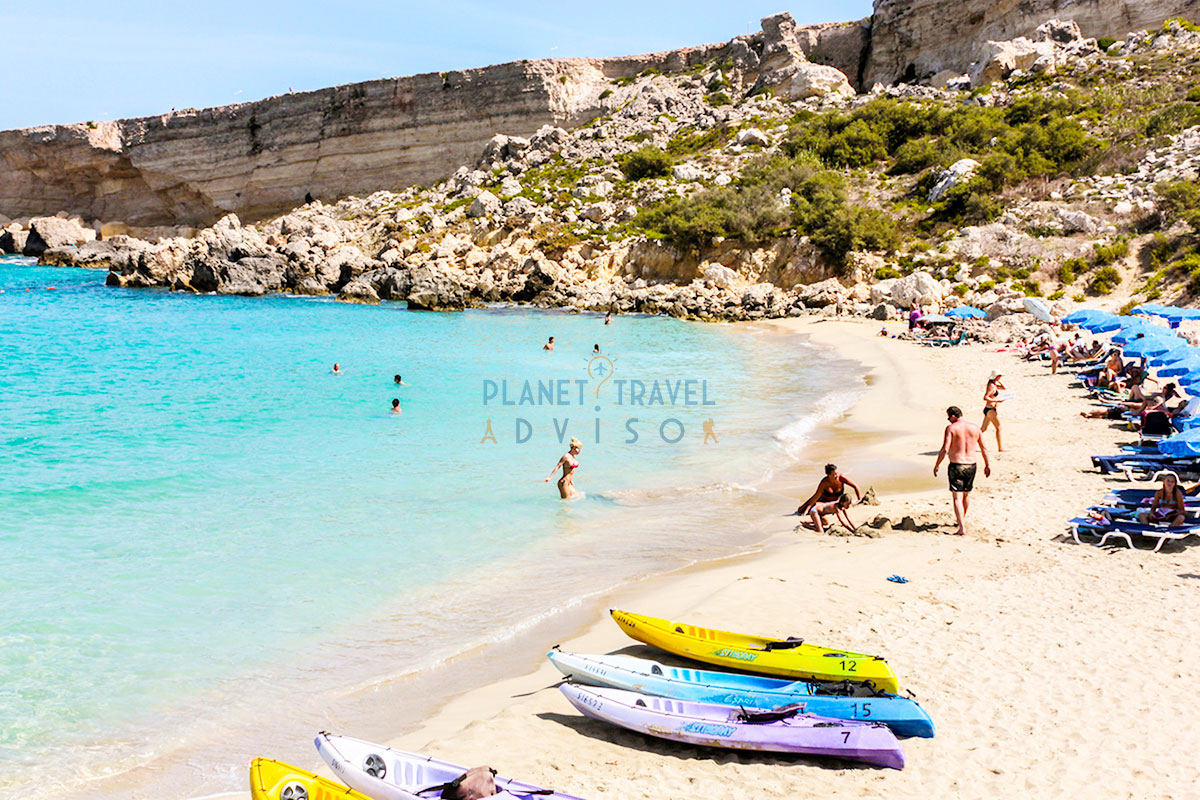 Golden Bay, located on the northwest coast of Malta, is a picturesque slice of Mediterranean paradise. This idyllic sandy beach, with its golden-hued shores, crystal-clear waters, and stunning cliffs, is a haven for sunseekers and nature enthusiasts alike. Nestled within a rugged landscape, Golden Bay offers a serene escape from the hustle and bustle of city life.
The bay is not only a sunbather's delight but also a haven for water sports enthusiasts, including snorkeling, windsurfing, and jet-skiing. The surrounding cliffs provide an excellent vantage point for breathtaking sunsets, making it a popular spot for romantic evenings.
In addition to its natural beauty, Golden Bay is home to a variety of beachside bars and restaurants serving delicious Maltese cuisine, adding to the overall charm of the location. Whether you're looking for relaxation, adventure, or simply a taste of Malta's natural splendor, Golden Bay is a destination that promises unforgettable moments and memories.

3. La Pelosa Beach, Stintino, Sardinia, Italy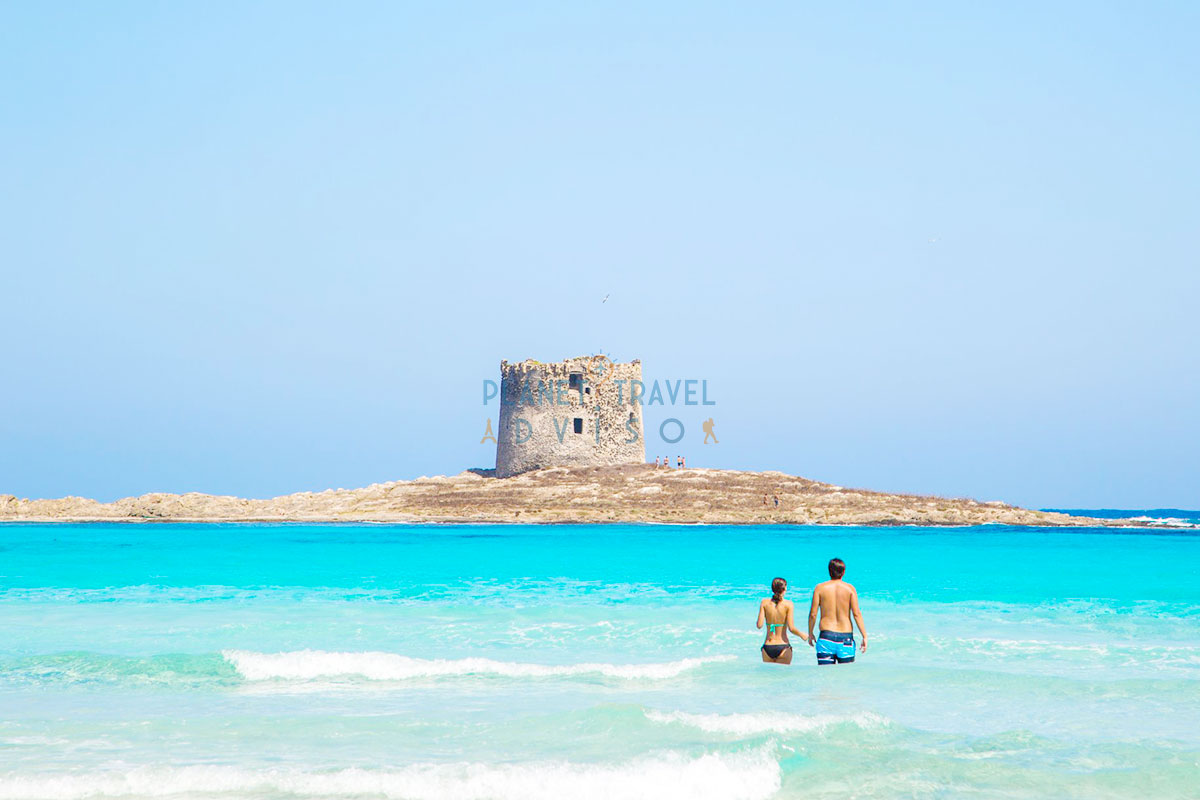 La Pelosa Beach, nestled in the enchanting town of Stintino on the island of Sardinia, Italy, is a mesmerizing gem along the Mediterranean coastline. Known for its surreal beauty, La Pelosa is a haven for beach lovers, nature enthusiasts, and sunseekers.
This stunning beach is renowned for its powdery white sands that stretch into the dazzling, crystalline waters, giving it an almost Caribbean-like ambiance. The shallow shoreline makes it one of the best beaches in Europe for families with children to paddle safely and explore the tidal pools. Moreover, the beach is adorned with a historic watchtower, Torre della Pelosa, which adds a touch of history to the natural splendor.
La Pelosa is not just about sunbathing and swimming; it's also a popular spot for snorkeling and diving due to its rich marine life and clear waters. However, its popularity means it can get crowded during the peak summer season, so visiting in the shoulder seasons is recommended for a more peaceful experience.
With its breathtaking vistas, inviting waters, and a backdrop of lush Mediterranean vegetation, La Pelosa Beach is an Italian paradise that leaves a lasting impression on all who are fortunate enough to visit.

4. Playa de las Teresitas, Tenerife, Spain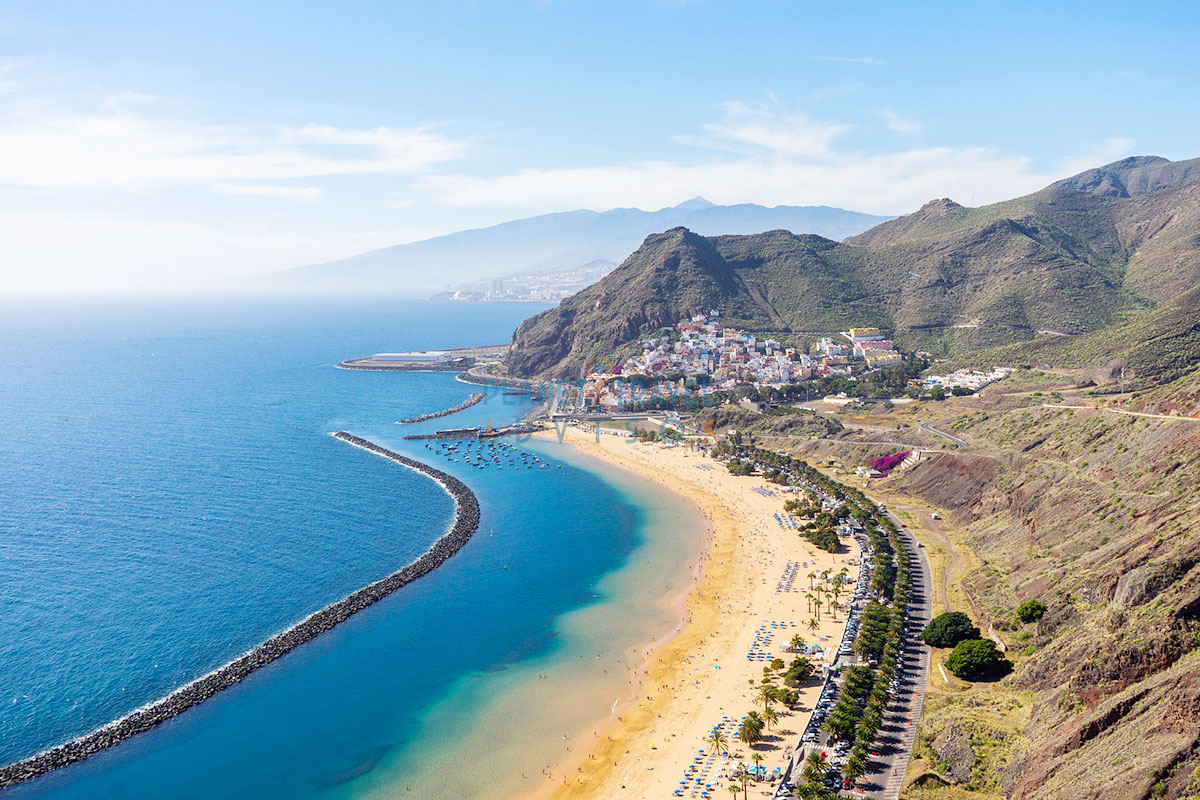 Playa de las Teresitas, nestled on the northern coast of Tenerife, Spain, is a picturesque paradise that captivates visitors with its natural beauty and golden sands. This idyllic beach stretches for about 1.5 kilometers, offering a serene escape from the hustle and bustle of everyday life.
The beach owes its enchanting appearance to the imported Saharan sand that creates a striking contrast with the surrounding lush greenery and the vibrant blue waters of the Atlantic Ocean. Palm trees gently sway in the breeze along the promenade, providing shade and a touch of tropical allure.
The calm waters of Playa de las Teresitas make it one of the ideal beaches in Europe for swimming and water sports, while the backdrop of the rugged Anaga Mountains adds a dramatic touch to the landscape. Beachgoers can indulge in delectable Canarian cuisine at nearby beachfront restaurants, savoring fresh seafood dishes.
As the sun sets, the beach takes on a romantic glow, making it a perfect spot for an evening stroll or a quiet moment of reflection. Playa de las Teresitas is a serene sanctuary that beckons travelers seeking tranquility and natural splendor on the beautiful island of Tenerife.

5. Praia da Marinha, Algarve, Portugal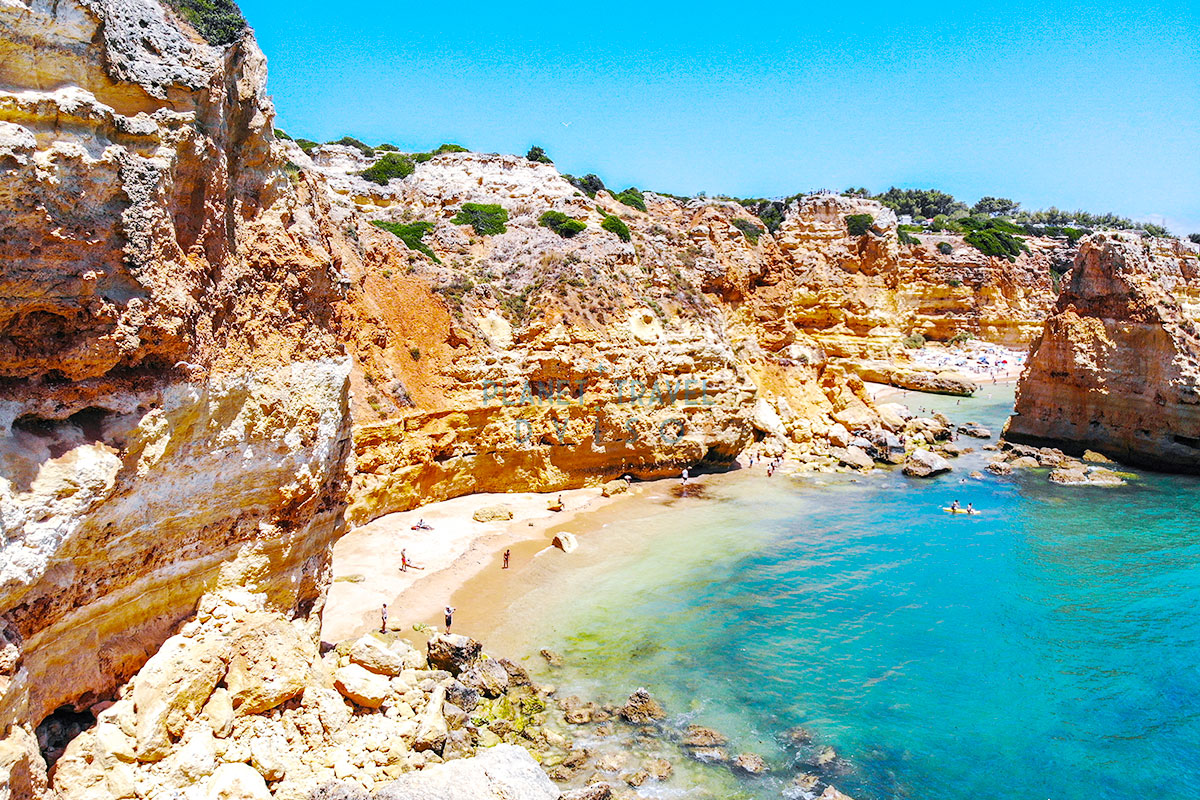 Praia da Marinha, located in the stunning Algarve region of Portugal, is a hidden gem that enchants visitors with its breathtaking beauty. This beach is often regarded as one of the most picturesque in the world, and for good reason.
Nestled between towering limestone cliffs, Praia da Marinha boasts golden sands and crystal-clear turquoise waters that invite travelers to relax and unwind. Its unique rock formations, including natural arches and caves, add a touch of mystery to its allure. Exploring these rock formations by boat or snorkeling is a popular activity for visitors.
The beach's secluded location gives it a peaceful and tranquil atmosphere, perfect for those seeking a serene escape. Surrounded by lush Mediterranean vegetation, it's also a haven for nature lovers and photographers, with captivating vistas at every turn.
Praia da Marinha is a popular spot for hiking along the scenic coastal trails, offering breathtaking panoramas of the coastline and the Atlantic Ocean. As the sun sets, the beach transforms into a romantic paradise, making it an ideal destination for couples and anyone looking to experience the magic of the Algarve. Whether you're seeking adventure, relaxation, or natural beauty, Praia da Marinha delivers an unforgettable experience in Portugal's coastal paradise.

6. Banja Beach, Dubrovnik, Croatia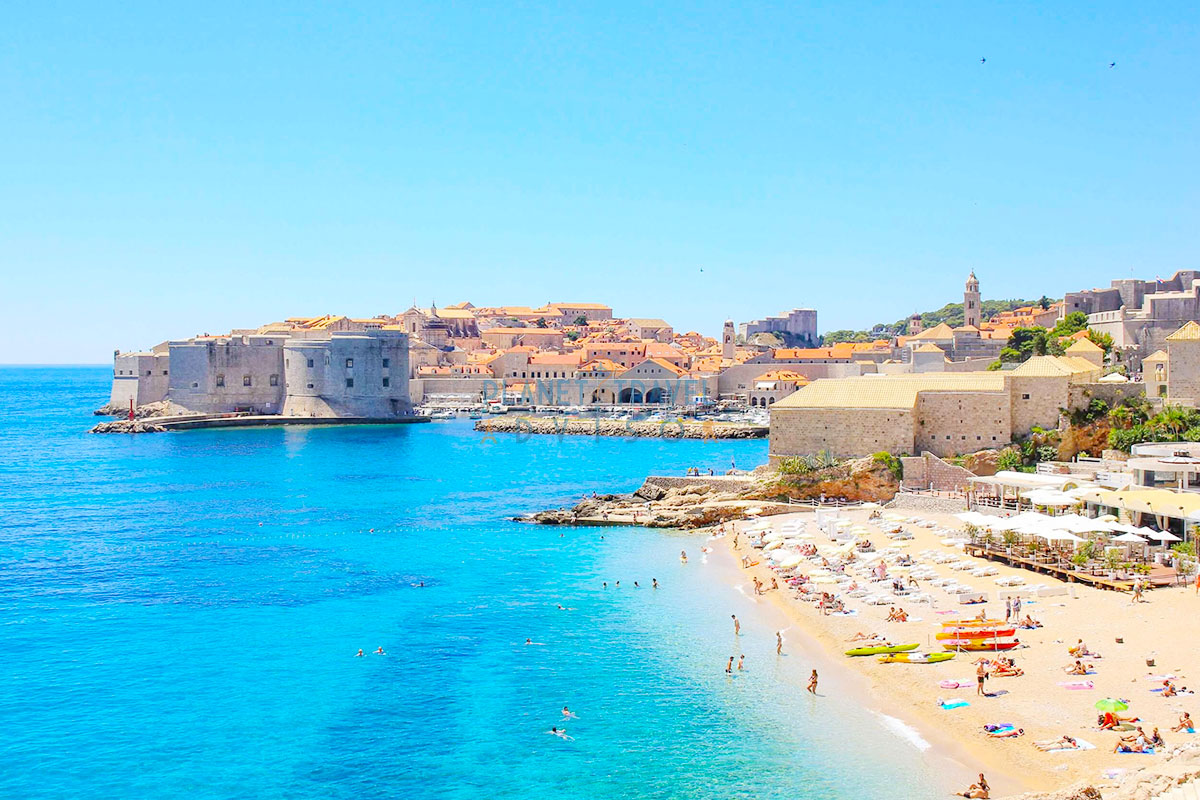 Banja Beach, located in the stunning city of Dubrovnik, Croatia, is a picturesque paradise that draws visitors from around the world. Nestled along the crystal-clear waters of the Adriatic Sea, this beach offers a perfect blend of natural beauty and historical charm.
The beach is renowned for its smooth pebble shoreline, which provides an ideal spot for sunbathing and relaxation. The inviting turquoise waters are perfect for swimming and snorkeling, making Banja Beach a haven for water enthusiasts. The beach is well-equipped with sunbeds, umbrellas, and beachside cafes, ensuring a comfortable and enjoyable experience for visitors.
One of the unique features of Banja Beach is its panoramic view of the historic Old Town of Dubrovnik, a UNESCO World Heritage site. Watching the sunset over the city walls from this beach is an unforgettable experience.
With its vibrant atmosphere and proximity to Dubrovnik's attractions, Banja Beach is a must-visit destination for travelers seeking a blend of natural beauty, history, and leisure.

7. Cala Goloritze, Sardinia, Italy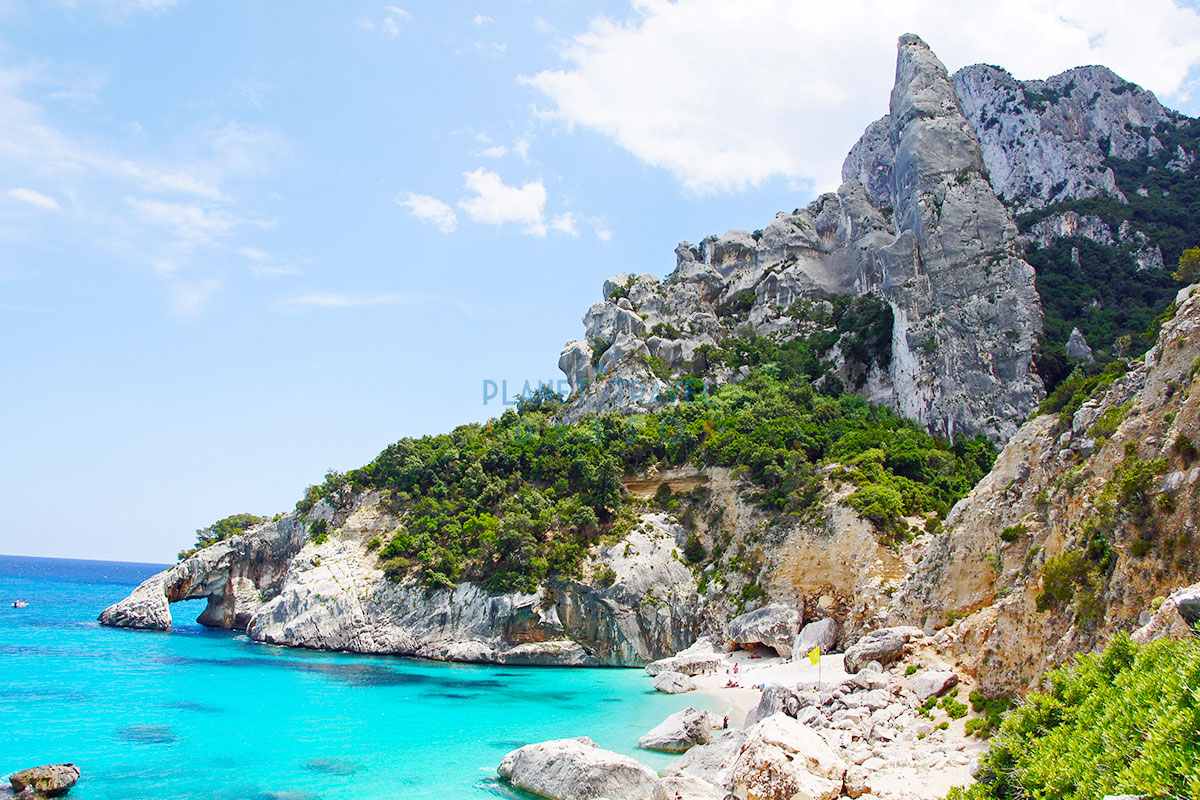 Cala Goloritze, nestled on the stunning island of Sardinia in Italy, is a hidden gem of unparalleled natural beauty. This pristine beach is a testament to the splendor of the Mediterranean coastline, with its dramatic limestone cliffs, crystal-clear waters, and fine white sand.
One of the standout features of Cala Goloritze is its unique limestone arch, which is an iconic symbol of the beach. Visitors can take a refreshing dip in the emerald waters and explore the marine life while snorkeling. The beach is surrounded by lush Mediterranean vegetation, creating a serene and secluded atmosphere.
Access to Cala Goloritze requires a hike along a scenic trail, adding to the sense of adventure and exclusivity. The effort is well-rewarded by the breathtaking views of the coast and the natural beauty that awaits at the end of the trail.
Cala Goloritze is a paradise for nature lovers, offering a peaceful retreat away from the hustle and bustle of city life. It's a testament to the raw and unspoiled beauty of Sardinia's coastline.

8. Faliraki Beach, Rhodes, Greece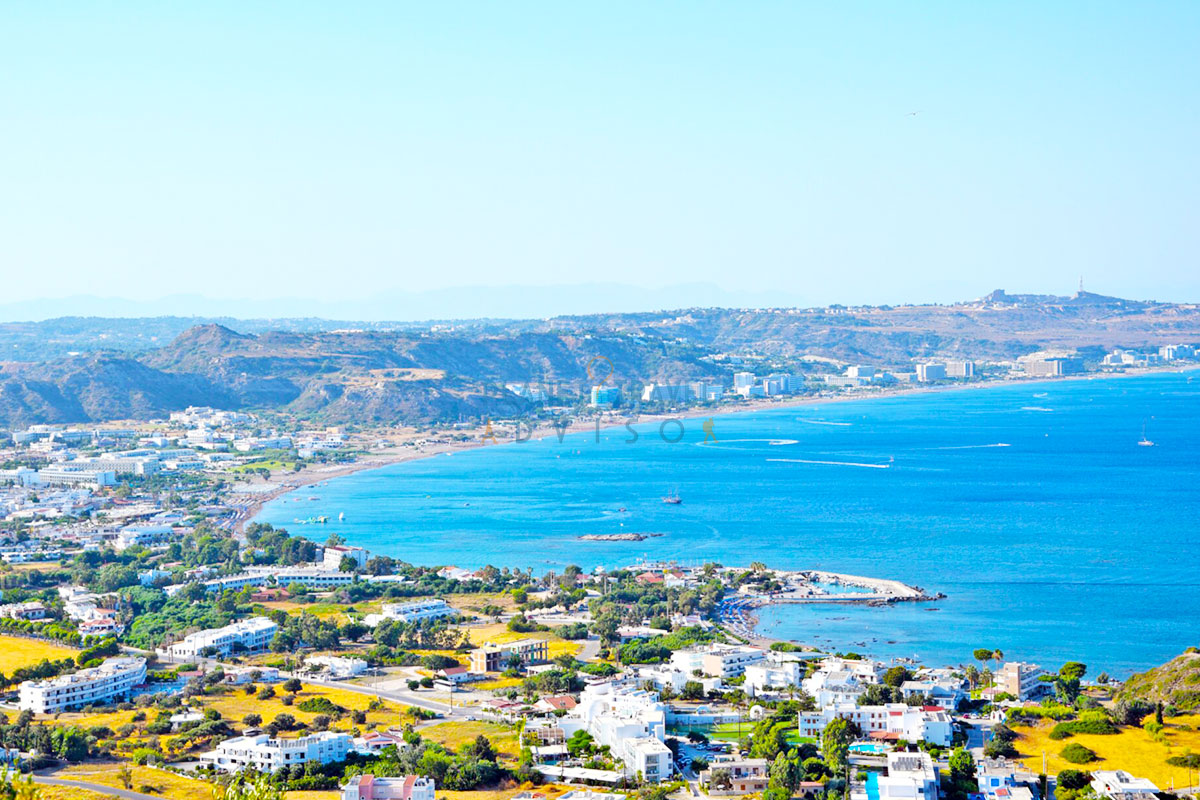 Faliraki Beach, located on the vibrant island of Rhodes in Greece, is a popular destination for beachgoers seeking a lively and energetic atmosphere. This expansive beach is known for its golden sands, crystal-clear waters, and an array of water sports and recreational activities.
Faliraki Beach caters to visitors of all ages, with a range of facilities and amenities, including beachside bars, restaurants, and water sports centers. Whether you want to soak up the sun, take a thrilling jet ski ride, or try parasailing, there's something for everyone here.
The beach is well-organized, with sunbeds and umbrellas available for rent, making it easy to relax in comfort. The shallow waters are perfect for families with children, providing a safe environment for swimming and paddling.
In the evening, Faliraki Beach comes alive with beach parties, music, and a bustling nightlife scene. It's a hub for socializing and enjoying the Greek hospitality.

9. Playa de Ses Illetes, Formentera, Spain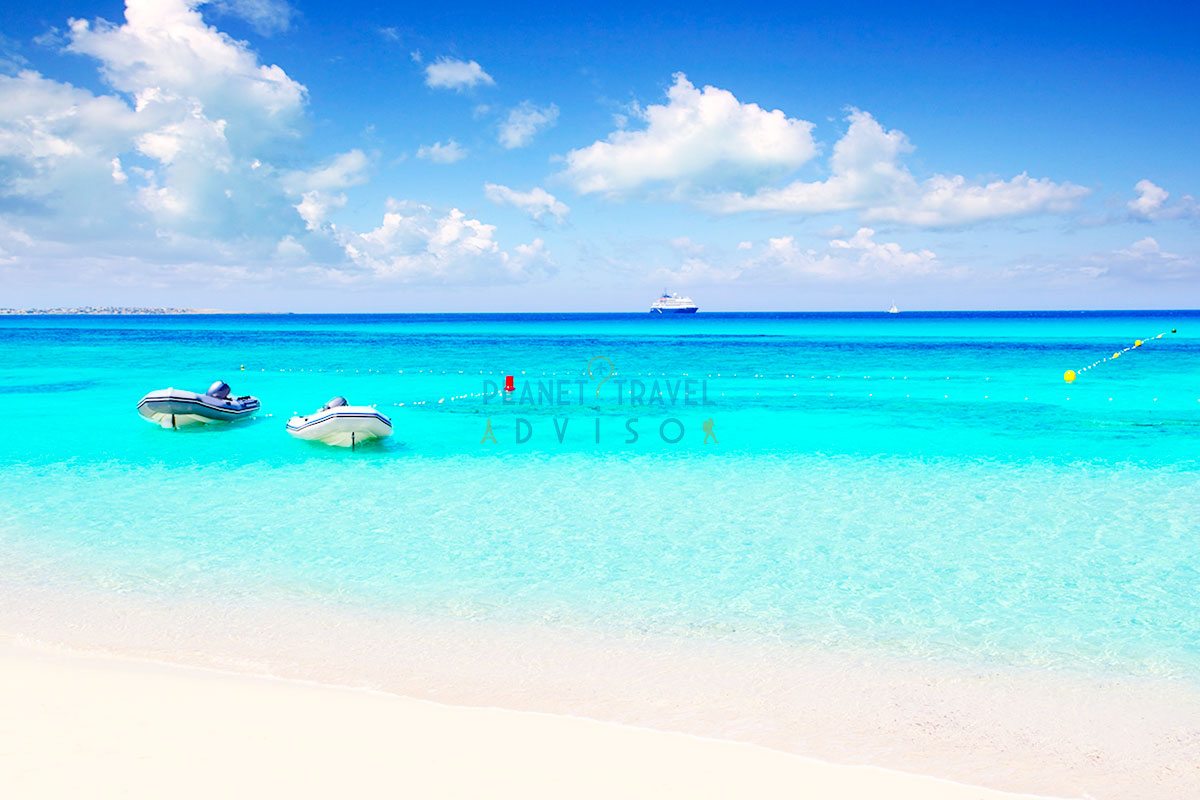 Playa de Ses Illetes is a slice of paradise nestled in the Balearic Island of Formentera, Spain. Often referred to as the "Caribbean of Europe," this beach is renowned for its pristine white sand, crystal-clear turquoise waters, and a relaxed, bohemian atmosphere. The beach stretches along the northern coast of the island and is famous for its iconic sandbars and shallow waters, making it an ideal spot for swimming, snorkeling, and wading.
The beach is backed by dunes and pine trees, offering shade and a sense of tranquility. It's a favorite destination for both locals and tourists, drawing those seeking a tranquil escape from the bustling Ibiza, just a short ferry ride away. Ses Illetes has a variety of beachside bars and restaurants serving delicious seafood and refreshing cocktails.
Sunsets at Ses Illetes are legendary, and watching the sun dip below the horizon with the backdrop of the Mediterranean is an unforgettable experience. It's a protected natural park, ensuring its pristine beauty for generations to come. Ses Illetes is a must-visit for anyone looking to bask in the sun and indulge in the Mediterranean's beauty.

10. Zlatni Rat Beach, Bol, Croatia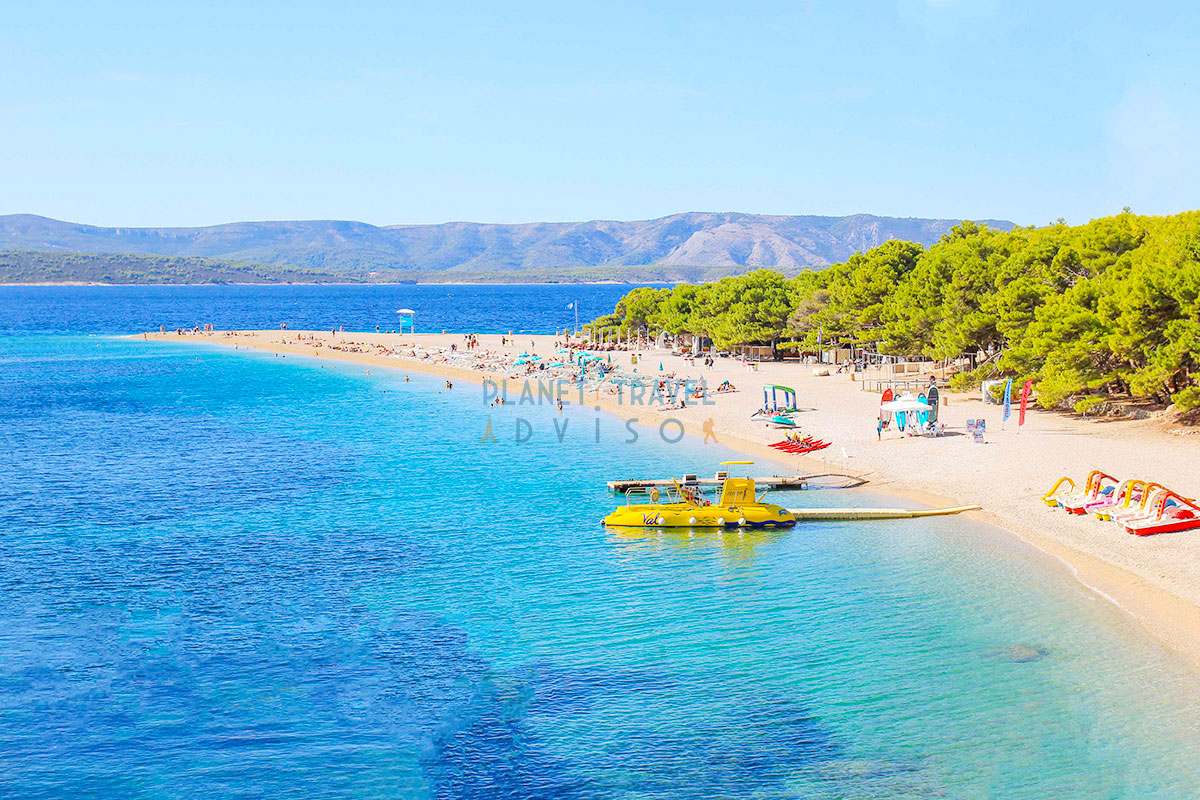 Zlatni Rat Beach, also known as the Golden Horn or Golden Cape, is one of Croatia's most iconic and photogenic beaches. Located near the charming town of Bol on the island of Brač, this beach is famous for its unique V-shaped sandbar that extends into the clear waters of the Adriatic Sea. The shape of Zlatni Rat constantly changes with the tides and winds, making it a dynamic natural wonder.
The beach is a magnet for sun worshippers, water sports enthusiasts, and nature lovers. Visitors can soak up the Mediterranean sun, swim in the refreshing waters, or try their hand at windsurfing and kiteboarding due to the consistent breeze. The surrounding pine forests provide a welcome shade for those seeking respite from the sun.
Zlatni Rat offers a range of amenities, including restaurants, cafes, and water sports rentals, making it an ideal spot for a day of relaxation and adventure. It's easily accessible from Bol, with a pleasant walk or a short water taxi ride.
With its stunning beauty and natural allure, Zlatni Rat Beach has rightfully earned its place as one of Croatia's top tourist destinations and a must-visit spot for travelers exploring the Dalmatian coast.

11. Navagio Beach, Zakynthos, Greece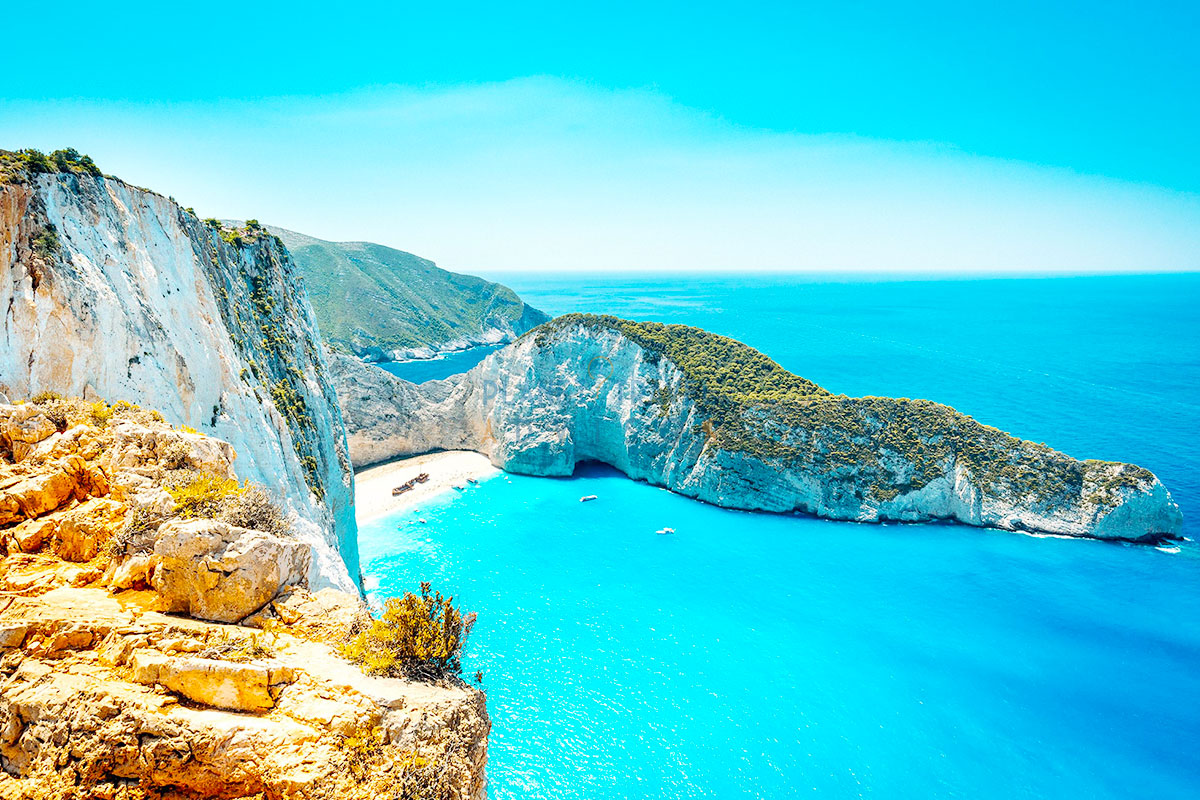 Navagio Beach, also known as Shipwreck Beach, is an iconic gem nestled on the Greek island of Zakynthos. This pristine paradise boasts cerulean waters framed by towering limestone cliffs, creating a postcard-perfect scene. What makes Navagio Beach truly extraordinary is the rusty wreck of the MV Panagiotis, which ran aground here in 1980, adding an eerie allure to the landscape. Accessible only by boat, the journey to Navagio is an adventure itself.
As you set foot on this secluded shore, the fine golden sand and crystalline waves beckon you to relax and unwind. The beach's remote location lends an untouched charm, making it a haven for nature lovers and photographers alike. Visitors can also explore the caves nearby and enjoy stunning panoramic views from the cliffs.

12. Spiaggia dei Conigli, Lampedusa, Italy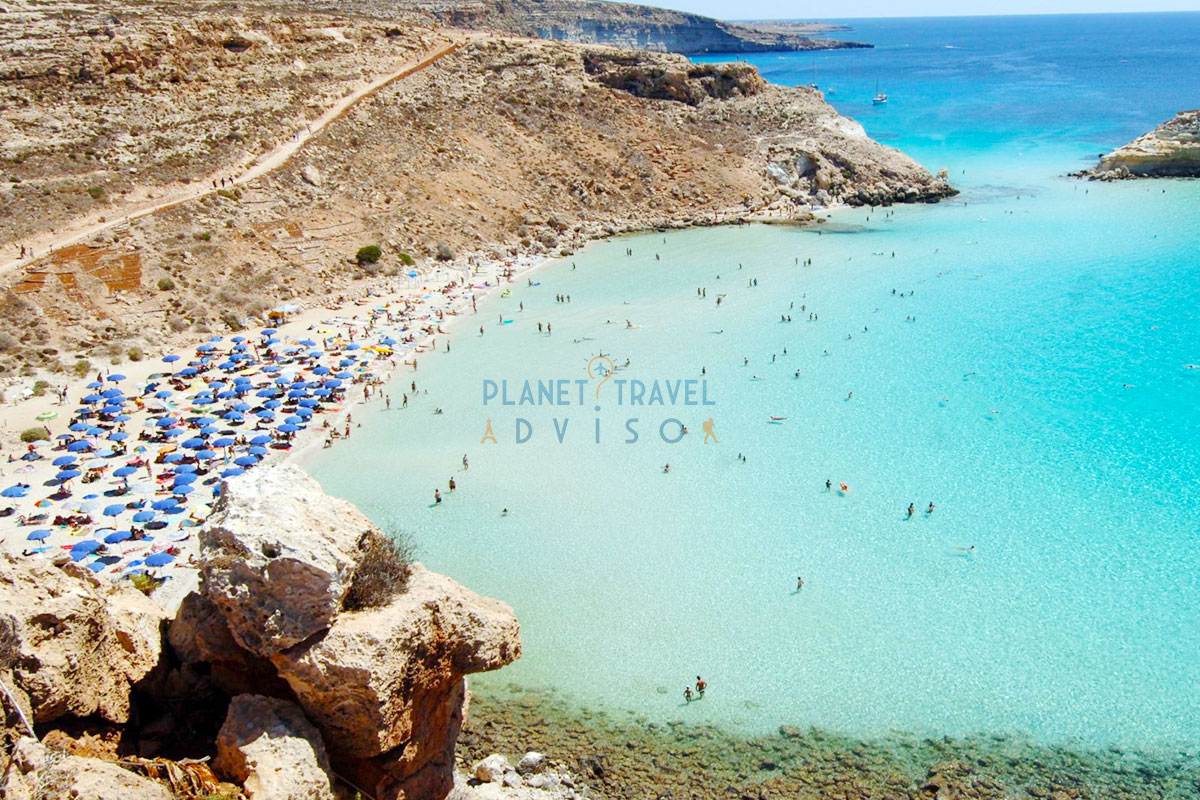 Spiaggia dei Conigli, also known as Rabbit Beach, is a pristine slice of paradise on the Italian island of Lampedusa. This idyllic beach consistently ranks among the world's best due to its unspoiled beauty and crystal-clear waters.
Named after the local Mediterranean monk seals that sometimes visit, Rabbit Beach is a haven for wildlife enthusiasts. Its soft, golden sands and turquoise waters create a picture-perfect setting for sunbathing and swimming. The surrounding cliffs offer breathtaking views of the Mediterranean Sea.
Access to Rabbit Beach is limited, preserving its tranquility. Whether you're snorkeling in its clear waters, sunbathing on its warm sands, or simply strolling along its shoreline, Spiaggia dei Conigli promises an unforgettable Mediterranean escape.

13. Praia da Falésia, Olhos de Agua, Portugal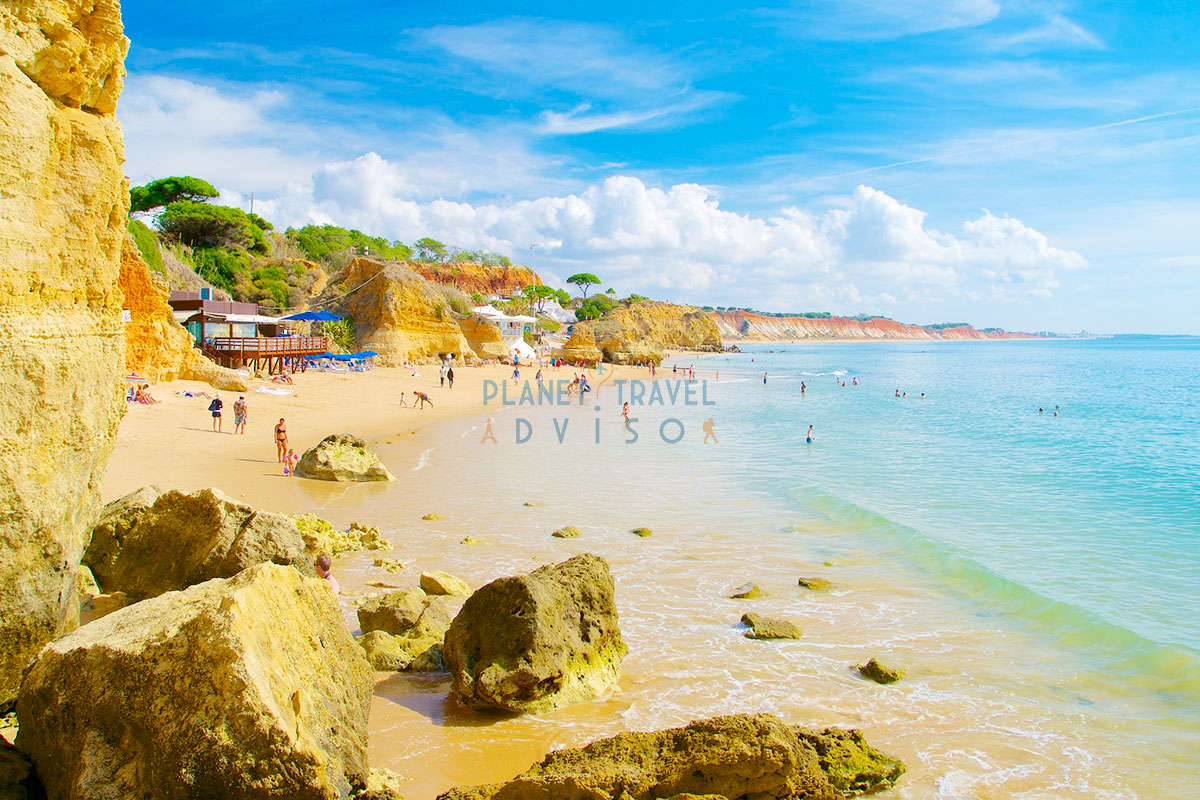 Praia da Falésia in Olhos de Agua, Portugal, is a stunning Algarve beach known for its dramatic red cliffs, golden sands, and crystal-clear waters. This beach stretches for miles, making it a paradise for beachgoers and nature lovers.
The vibrant colors of the cliffs contrast beautifully with the blue skies and sea, creating a picturesque backdrop for relaxation and outdoor activities. Whether you're lounging under the sun, taking leisurely walks along the shoreline, or enjoying water sports like paddleboarding and snorkeling, Praia da Falésia has something for everyone.
As the sun sets over the Atlantic Ocean, the beach takes on a magical ambiance, making it a romantic destination for couples. Praia da Falésia offers a serene and rejuvenating escape for those seeking natural beauty and tranquility.

14. Playa de Muro Beach, Playa de Muro, Majorca, Spain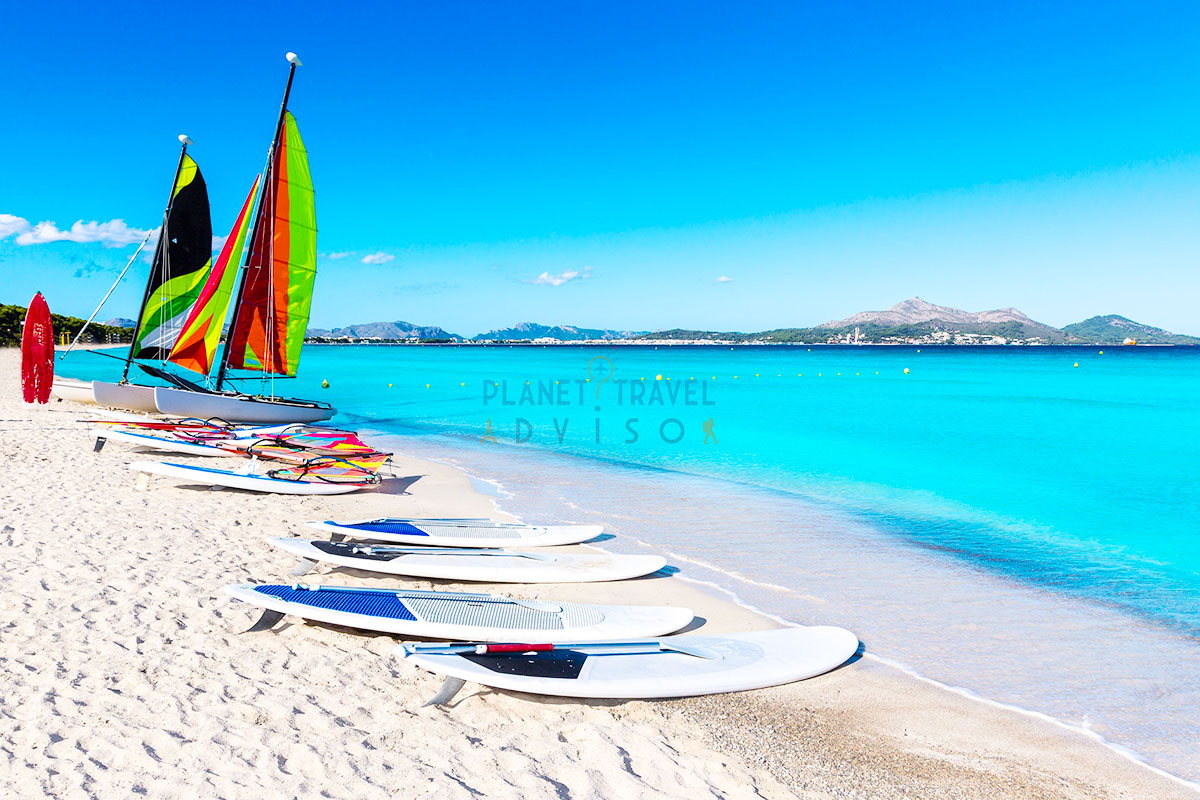 Playa de Muro Beach in Majorca, Spain, is a pristine Mediterranean haven. With its powdery white sand and crystal-clear waters, it's no wonder this beach is a top destination for sun seekers and water enthusiasts.
The shallow, calm waters make Playa de Muro Beach ideal for families with children. You can relax on the soft sand, swim in the gentle sea, or explore the nearby nature reserve of S'Albufera, home to various bird species and lush wetlands.
The beach promenade is lined with restaurants, bars, and shops, offering a delightful mix of local cuisine and international flavors. Whether you're looking for a peaceful day in the sun or a vibrant beachside experience, Playa de Muro Beach has it all.

15. Nissi Beach, Ayia Napa, Cyprus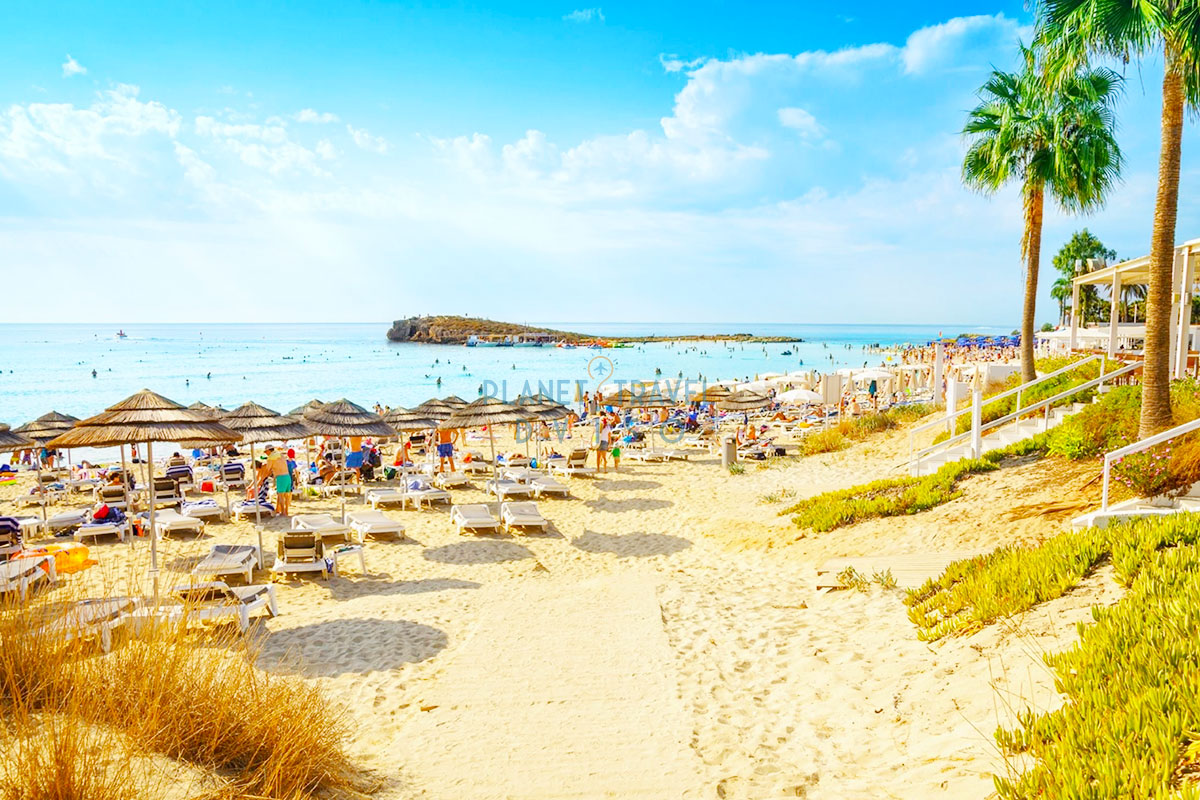 Nissi Beach in Ayia Napa, Cyprus, is a sun-drenched paradise renowned for its lively atmosphere and breathtaking beauty. This stunning stretch of coastline is famous for its crystal-clear waters and powdery white sands.
Nissi Beach is a hub of activity, with beach bars and water sports galore. You can try your hand at jet skiing, parasailing, or simply soak up the Mediterranean sun while sipping cocktails at one of the beachfront lounges.
For those seeking a more tranquil experience, the beach offers quieter spots where you can unwind and admire the azure sea. The island of Nissi, accessible by foot through shallow waters, adds a unique touch to this already enchanting destination. Whether you seek excitement or relaxation, Nissi Beach offers a memorable Mediterranean experience.

Conclusion
In conclusion, May in Europe unveils a treasury of coastal gems, each offering its unique blend of natural beauty, culture, and adventure. Whether you yearn for the glamour of the French Riviera, the tranquility of secluded coves, or the allure of historic coastal towns, this continent has it all. As May arrives, temperatures rise, and summer crowds remain distant, it's the perfect time to explore these European beach paradises. Whichever destination you choose, the promise of sun, sand, and serenity awaits, making May the ideal month for a coastal escape in Europe. So, pack your bags and let the allure of European beaches in May lead you on your next adventure.
FAQ
What makes May an ideal time to visit European beaches?
May in Europe offers a delightful combination of warm weather and fewer crowds, making it a perfect month to enjoy the beaches without the summer hustle and bustle.
What water activities can I enjoy on these European beaches in May?
May is a great time for water sports like swimming, snorkeling, and kayaking due to pleasant water temperatures. Some locations may also offer opportunities for surfing or windsurfing.
Can I find budget-friendly options for accommodations and activities in these beach destinations?
While some European beach destinations can be luxurious, there are often budget-friendly accommodations and activities available, especially if you plan and book in advance. Exploring local markets and eateries can also help keep costs down while experiencing the culture.
What are some lesser-known European beach destinations to explore in May?
While the popular beaches are stunning, there are hidden gems like Vama Veche in Romania, Berchida Beach in Sardinia, and Bolonia Beach in Spain that offer tranquility and natural beauty without the crowds. These off-the-beaten-path destinations can provide a unique and peaceful beach experience in May.