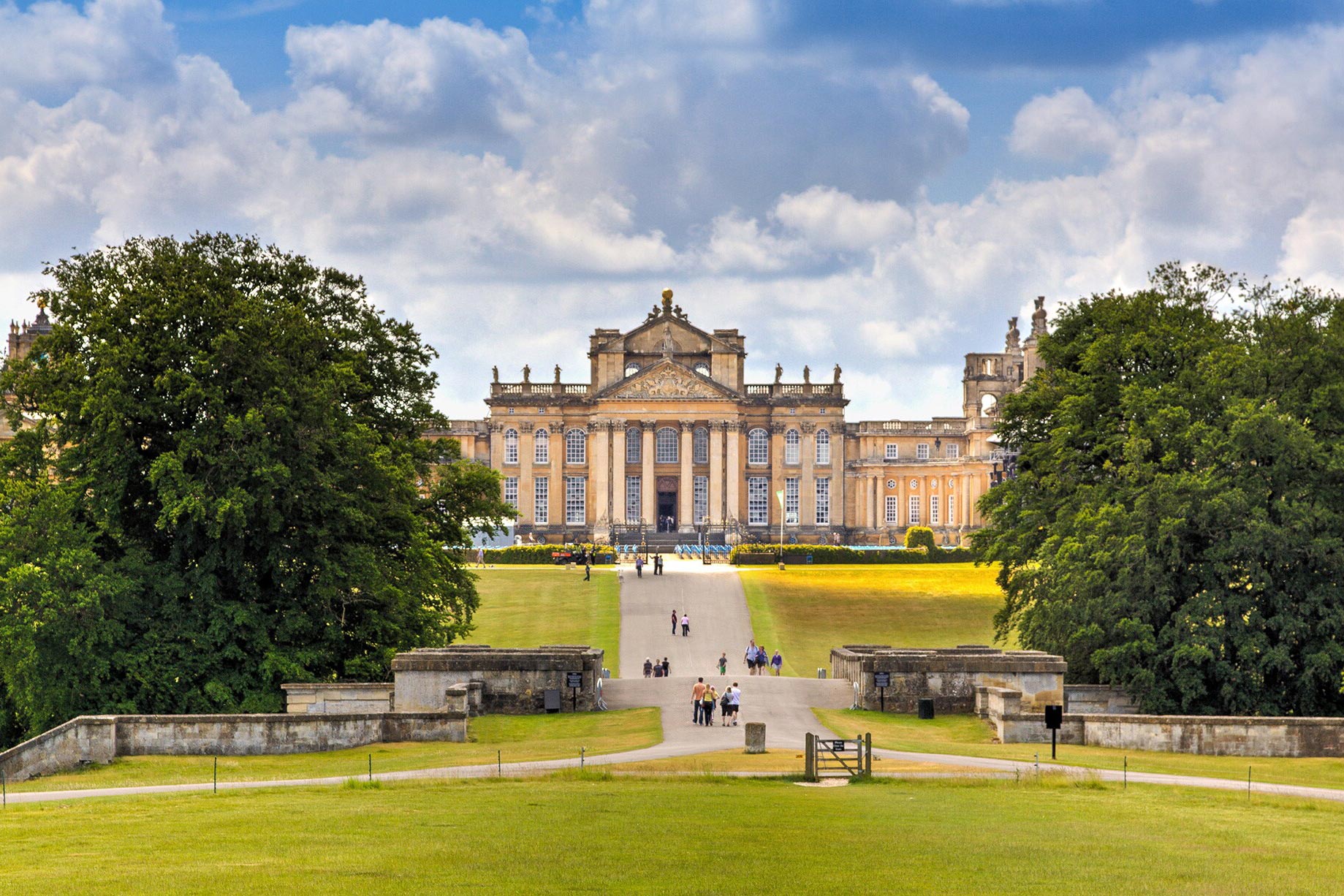 Blenheim Palace Travel Guide 2023/2024
This article was created by a dedicated and authentic team of passionate travelers from the PTA Team, who are not only experienced travel experts but also proud members of the World Travel & Tourism Council (WTTC). Our sole purpose is to assist and support fellow travelers in planning their tours with utmost care and precision. With exclusive information, valuable insights, and meticulous analysis, we strive to provide high-quality content that leaves no room for mistakes. Count on us to deliver comprehensive destination reports and all the necessary information to ensure an exceptional and well-planned travel experience for you. Learn More
Article Table of Content
Nestled amidst the idyllic English countryside, Blenheim Palace stands alongside other magnificent palaces in England, as a testament to architectural splendor and natural beauty. Its majestic façade, crafted with meticulous precision, captivates the eye with its symmetrical elegance and ornate flourishes. As one ventures inside, a world of opulence unfolds. Intricately carved ceilings, gilded accents, and exquisite marble sculptures adorn the lavish interiors, each space offering a glimpse into the grandeur of a bygone era.
The palace's sprawling gardens, meticulously landscaped and thoughtfully designed, enchant with their vibrant floral displays, tranquil water features, and secret pathways that lead to hidden treasures. The air is filled with the fragrance of blooming flowers, and the soft sound of birdsong creates a symphony of serenity. Blenheim Palace is a harmonious fusion of architectural brilliance and natural grace, a place where time stands still and visitors are transported to a realm of enchantment and awe.

How to Get and Location of Blenheim Palace
Blenheim Palace is nestled in the charming town of Woodstock, Oxfordshire, England. It enjoys a picturesque location amidst the lush greenery of the Oxfordshire countryside, providing a serene and idyllic setting for visitors. The palace is conveniently located just eight miles northwest of Oxford, making it easily accessible for travelers.
To reach Blenheim Palace, several transportation options are available. If arriving by car, the palace is well-connected via the A44 and A34 roads, with ample parking facilities available on-site. For those preferring public transportation, regular bus services operate from Oxford city center to Woodstock, where the palace is a short walk away.
Visitors can also opt for a scenic train journey to Oxford, followed by a short bus or taxi ride to Woodstock. Trains from London to Oxford run regularly, making it a popular route for those traveling from the capital.
Additionally, guided tours and organized day trips from London are available, providing a hassle-free way to visit Blenheim Palace. These tours typically include transportation from London, admission to the palace, and the services of a knowledgeable guide.
Whether traveling by car, bus, train, or joining a guided tour, reaching Blenheim Palace is a straightforward and rewarding experience. The journey itself offers glimpses of the captivating English countryside, setting the stage for the grandeur and beauty that awaits visitors at this remarkable UNESCO World Heritage Site.

History of Blenheim Palace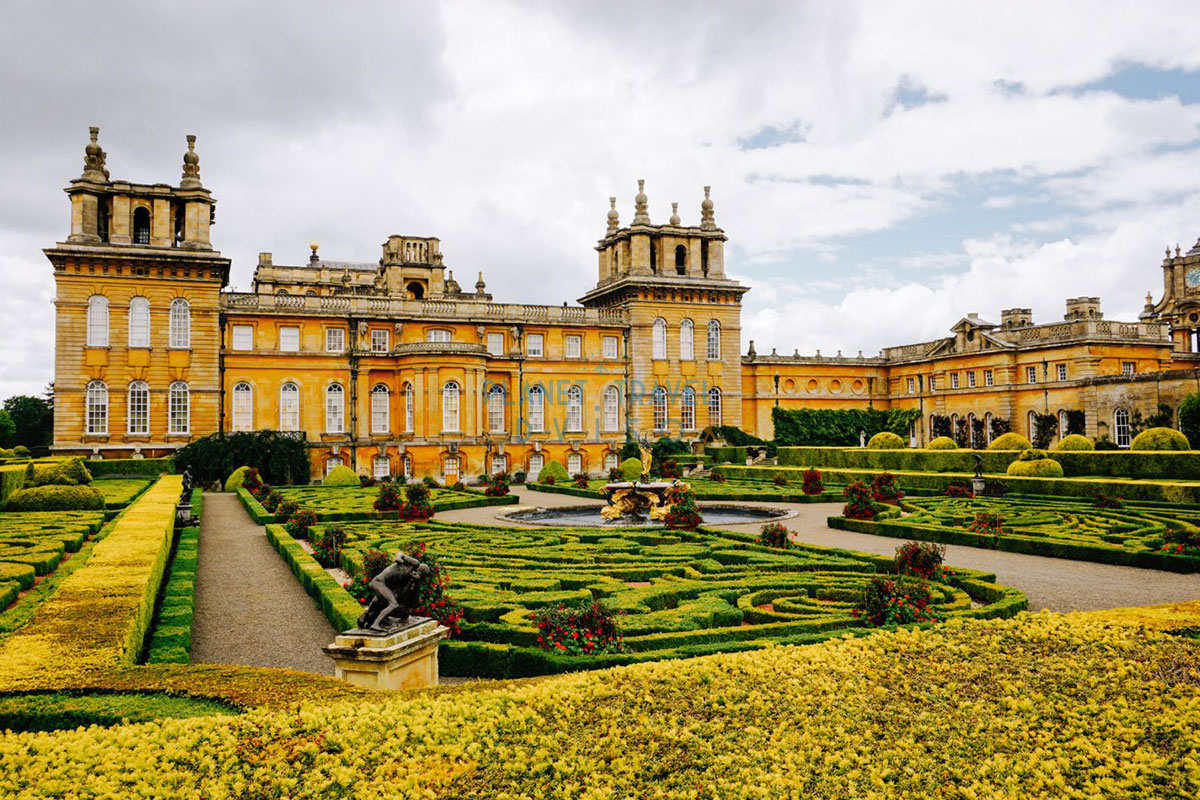 Blenheim Palace, a UNESCO World Heritage Site, has a rich and storied history. It was built in the early 18th century as a gift to John Churchill, the 1st Duke of Marlborough, for his victory in the Battle of Blenheim. Designed by renowned architect Sir John Vanbrugh, the palace stands as a symbol of national pride and political influence.
Over the years, it served as a residence for the Churchill family, including Sir Winston Churchill, who was born there. Blenheim Palace has witnessed significant events, hosted important figures, and continues to be a cultural landmark that showcases the grandeur of English architecture and the legacy of the Churchill dynasty.

Who Owns Blenheim Palace Now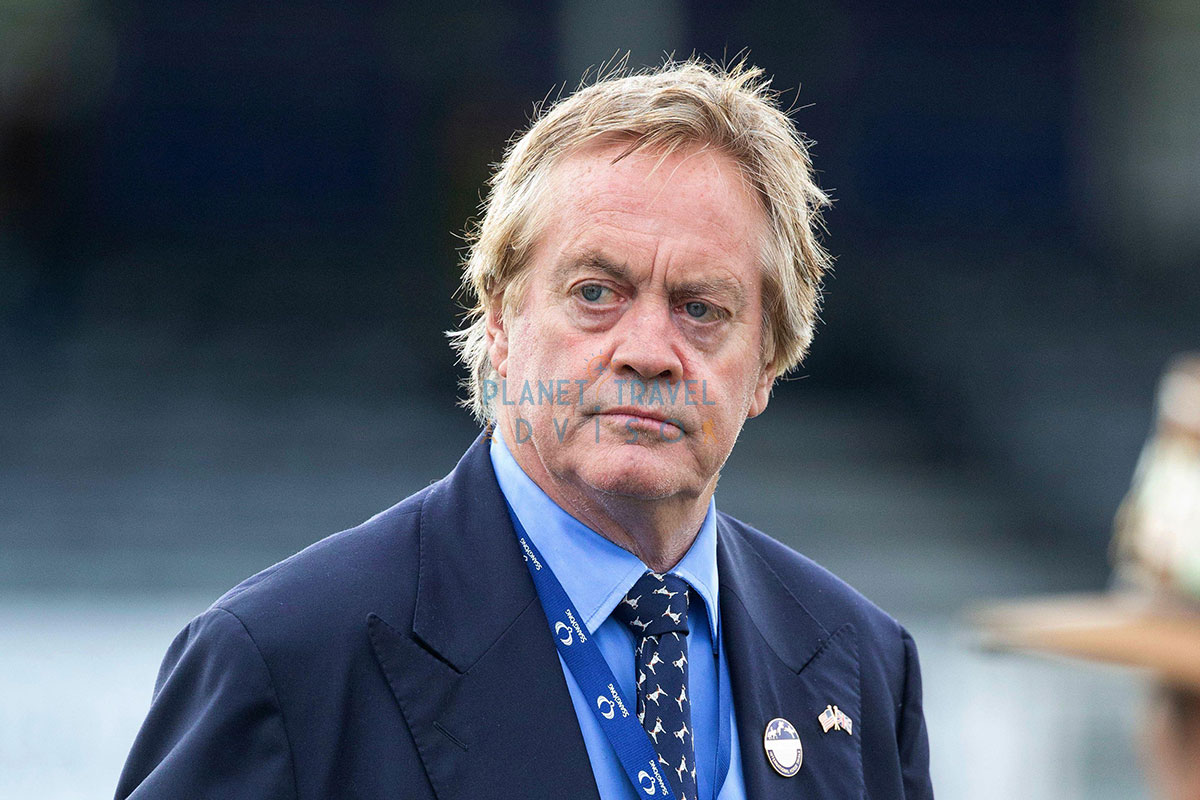 Blenheim Palace is currently owned by the 12th Duke of Marlborough, Charles James Spencer-Churchill. As a direct descendant of the palace's original recipient, the 1st Duke of Marlborough, the title and ownership of the estate have been passed down through generations of the Churchill family. The present Duke and his family reside in a private wing of the palace, while other areas of the estate are open to the public for tours and events. The Duke and Duchess actively maintain and preserve the palace, gardens, and grounds, ensuring that Blenheim remains a cherished historical and cultural landmark for visitors to enjoy.
About Charles James Spencer-Churchill "Blenheim Palace Owner"
Charles James Spencer-Churchill, the 12th Duke of Marlborough, leads a remarkable life as the owner of Blenheim Palace. Born on November 24, 1955, he is the eldest son of the 11th Duke of Marlborough. In addition to managing the estate, the Duke is involved in various philanthropic endeavors and serves on the board of several charitable organizations. He is passionate about the preservation of Blenheim Palace and works tirelessly to ensure its maintenance and conservation. With a deep appreciation for history and a commitment to the legacy of his family, the Duke of Marlborough continues to be a steward of Blenheim's cultural heritage.

What to Visit Inside Blenheim Palace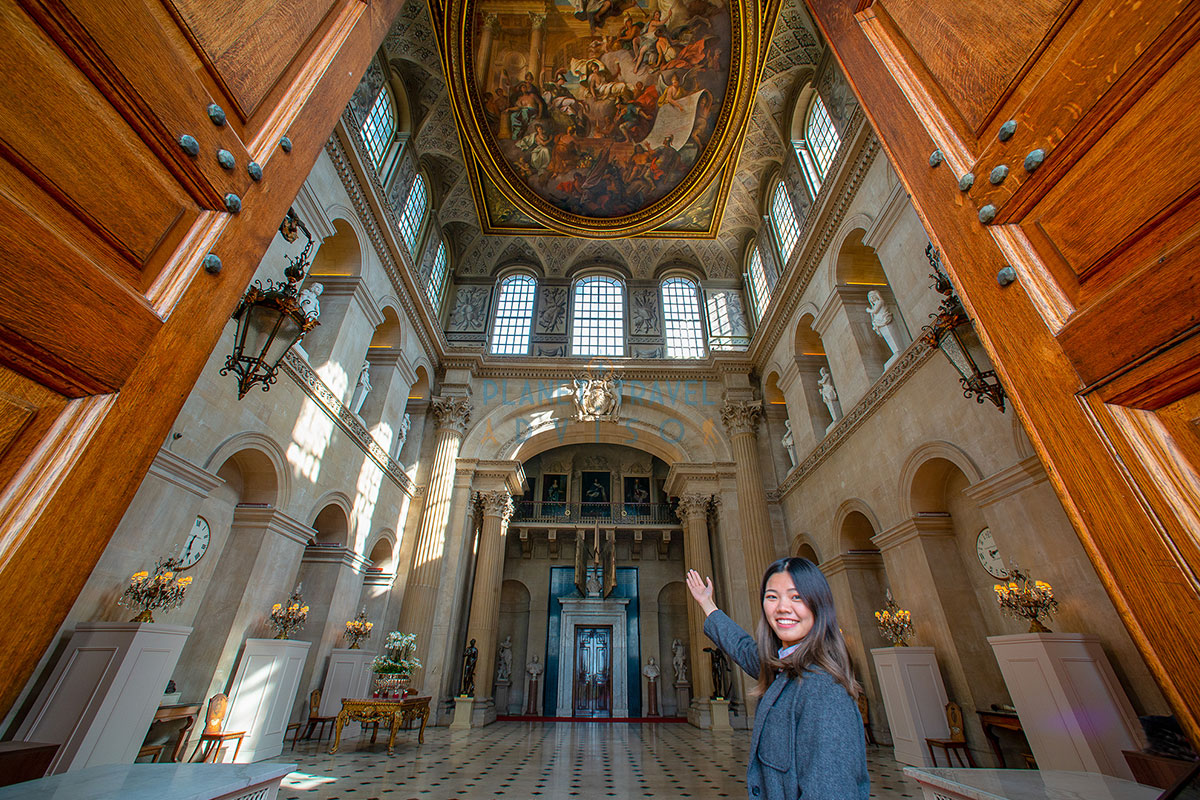 Inside Blenheim Palace, visitors have the opportunity to explore a myriad of captivating rooms that showcase the palace's architectural splendor and historical significance. Here are some of the key attractions to visit:
- The Great Hall: Step into the grand entrance of the palace, adorned with towering marble columns and a stunning ceiling. The Great Hall sets the tone for the palace's majestic interiors.
- State Rooms: The palace is home to a series of lavish state rooms, including the Saloon, Green Writing Room, and the Long Library. Admire the exquisite art collections, intricate tapestries, and fine furnishings that adorn these opulent spaces.
- Churchill Exhibition: Delve into the life and legacy of Sir Winston Churchill, the renowned British statesman, in the dedicated Churchill Exhibition. Discover personal artifacts, photographs, and interactive displays that shed light on his extraordinary achievements.
- The Chapel: Marvel at the beautiful Blenheim Palace Chapel, a place of worship that features intricate stained glass windows, ornate woodwork, and stunning architectural details.
- Gardens and Parkland: Step outside and explore the magnificent gardens and parkland surrounding the palace. Stroll through the formal gardens, wander along serene lakes, and take in the beauty of the landscaped grounds, which span over 2,000 acres.
- Pleasure Gardens: A treat for families, the Pleasure Gardens offer a range of activities including a butterfly house, a maze, an adventure playground, and a miniature train ride.
Visiting Blenheim Palace provides an immersive experience of grandeur, history, and natural beauty, allowing visitors to appreciate the extraordinary craftsmanship and cultural significance of this iconic British landmark.

Famous Blenheim Palace Events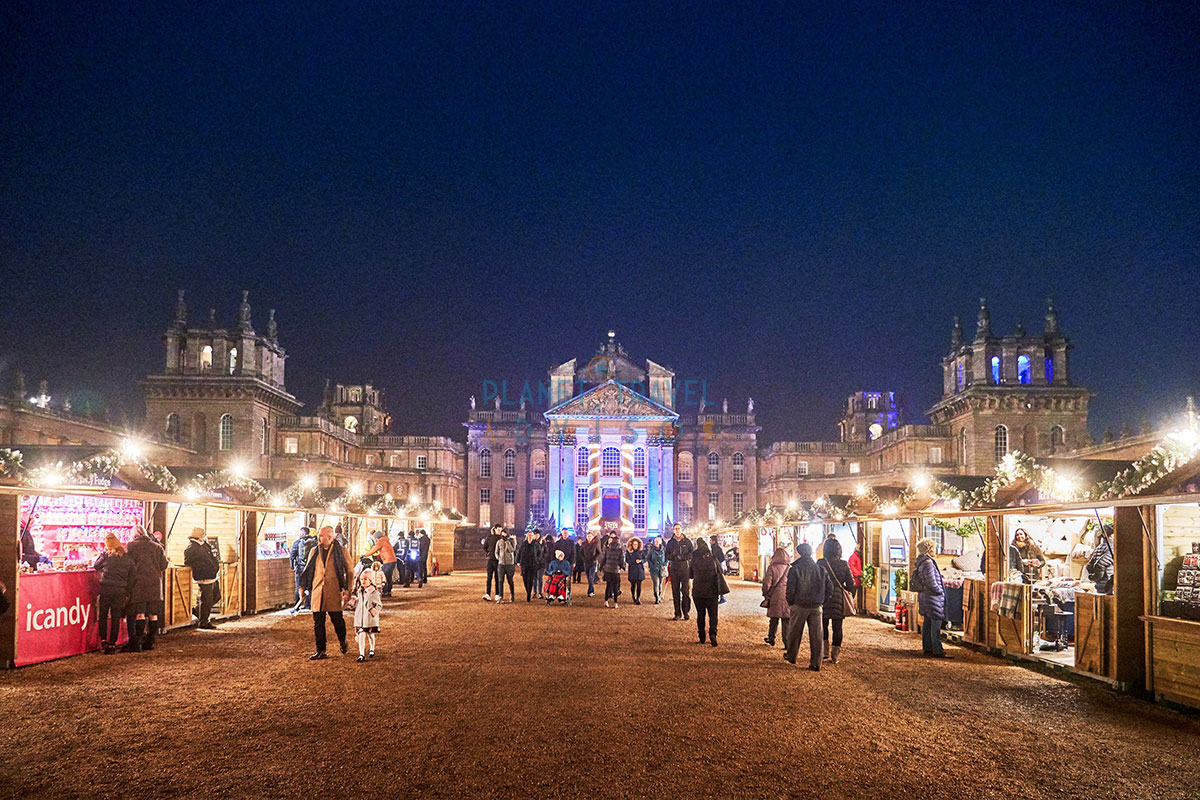 Blenheim Palace hosts a wide range of events throughout the year, creating a vibrant and dynamic atmosphere for visitors. Here are some of the notable events that take place at the palace:
Concerts and Music Events: The palace's picturesque grounds provide an enchanting setting for outdoor concerts and music events. From classical performances by renowned orchestras to popular contemporary artists, the palace attracts a diverse range of musical talents. Visitors can enjoy live music while surrounded by the grandeur of the palace and its stunning landscapes.

Exhibitions and Art Installations: Blenheim Palace regularly curates exhibitions and art installations that showcase a variety of artistic expressions. These exhibits highlight the work of both contemporary artists and historical collections, providing visitors with a unique opportunity to appreciate art in a regal setting. From paintings and sculptures to multimedia installations, the palace's exhibition spaces offer a captivating journey through the world of art.

Seasonal Festivals and Celebrations: Blenheim Palace hosts a plethora of seasonal events and celebrations that cater to all ages. During Christmas, the palace is adorned with festive decorations, and a magical Christmas market takes place, offering unique gifts and treats. In the summer, visitors can enjoy garden parties, outdoor theater performances, and family-friendly activities. Easter celebrations include egg hunts and themed events, delighting young and old alike.

Literary and Cultural Festivals: Blenheim Palace hosts literary festivals and cultural events that celebrate the written word, bringing together renowned authors, poets, and thinkers. These events often feature readings, book signings, panel discussions, and workshops, providing a platform for intellectual engagement and creative exchange.

Sporting Events and Country Shows: The palace grounds serve as a backdrop for a range of sporting events and country shows. From horse trials and dog shows to classic car rallies and countryside exhibitions, Blenheim Palace embraces the rural heritage of the region, offering entertainment and education on various aspects of country life.
Attending these events at Blenheim Palace provides a unique and immersive experience, allowing visitors to indulge in the grandeur of the palace while enjoying diverse cultural, artistic, and recreational offerings. With its enchanting ambiance and historical significance, Blenheim Palace truly becomes a vibrant hub of activity and celebration throughout the year.

Blenheim Palace Ticket Prices and Opening Times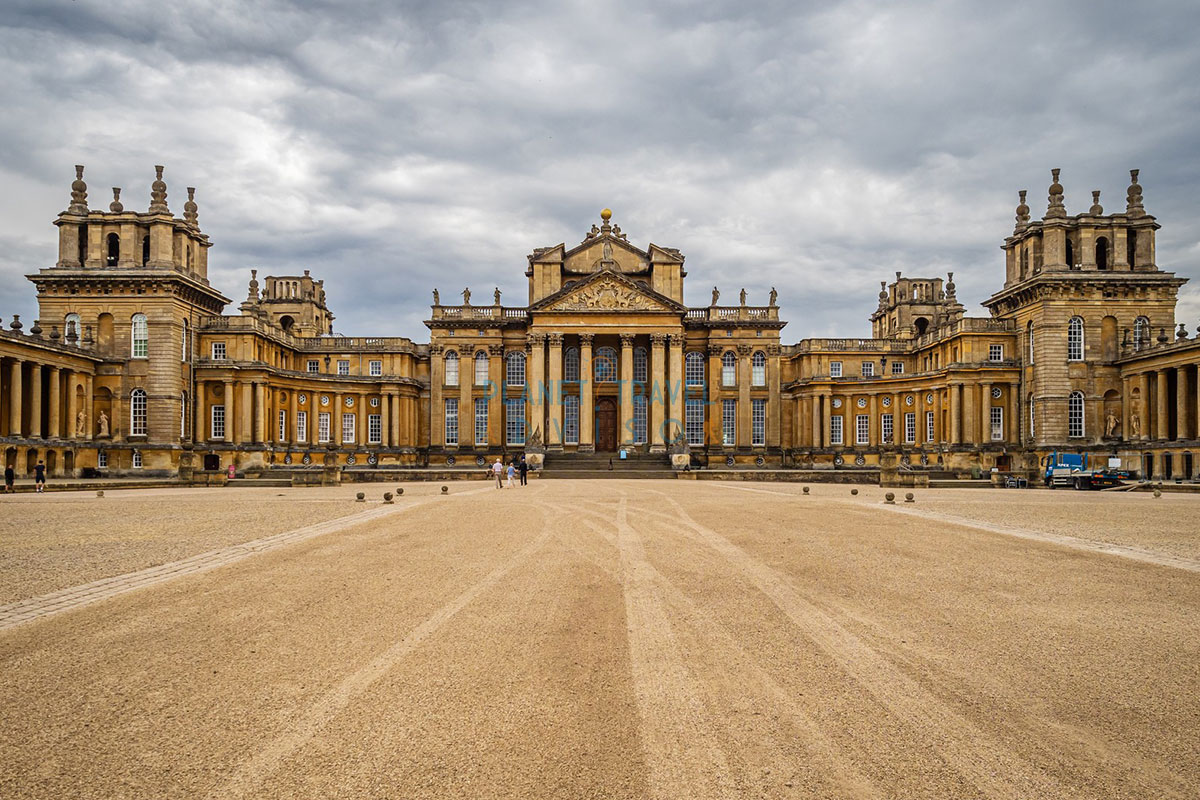 The ticket prices and opening times for Blenheim Palace can vary, so it is always advisable to check the official website or contact the palace directly for the most up-to-date information. However, here is a general overview:
Opening Times: Blenheim Palace is typically open to the public from late morning to early evening. The palace and gardens usually open around 10:30 or 11:00 AM and close around 5:30 or 6:00 PM. However, please note that these times may vary depending on the season and any special events taking place.

Ticket Prices: The ticket prices for Blenheim Palace can vary depending on the type of ticket and the activities or areas you wish to access. There are usually options for admission to the palace itself, the gardens, and the parkland. Additional charges may apply for special exhibitions or events. Discounts may be available for children, seniors, students, and groups. It is recommended to check the official website or contact the palace for specific pricing details.

Online Booking: It is often possible to purchase tickets online in advance, which can save time and guarantee entry, especially during peak tourist seasons or popular events. The official website of Blenheim Palace usually provides an online booking facility for convenience.

Special Tours and Experiences: Blenheim Palace may offer additional guided tours, behind-the-scenes experiences, or access to restricted areas for an enhanced visit. These specialized tours and experiences may have separate pricing and availability, and it is advisable to check the palace's website or inquire directly for more information.
Remember, the opening times and ticket prices can be subject to change, so it is best to confirm the details before planning your visit to Blenheim Palace.

Best Time to Visit Blenheim Palace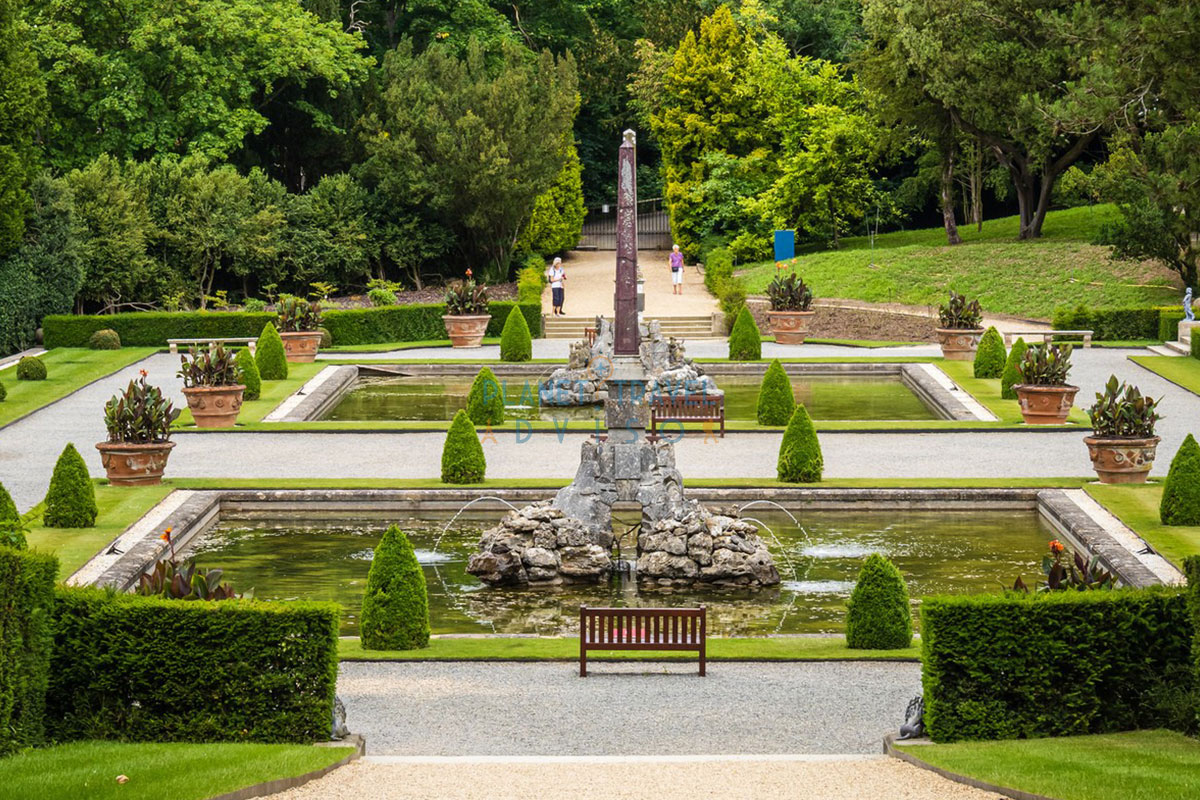 The best time to visit Blenheim Palace is during the summer months, from June to August. This period offers the most favorable weather with longer daylight hours, providing ample time to explore the palace's expansive grounds and gardens. The English summer showcases Blenheim's landscaped beauty at its best, with vibrant flowers, blooming roses, and manicured lawns.
Additionally, visiting during this time allows you to take advantage of outdoor events, concerts, and festivals that are often organized at the palace. However, it's important to note that the palace is open to visitors throughout the year, and each season brings its own unique charm, from the colorful foliage of autumn to the festive decorations during the winter holiday season.

Hotels Near Blenheim Palace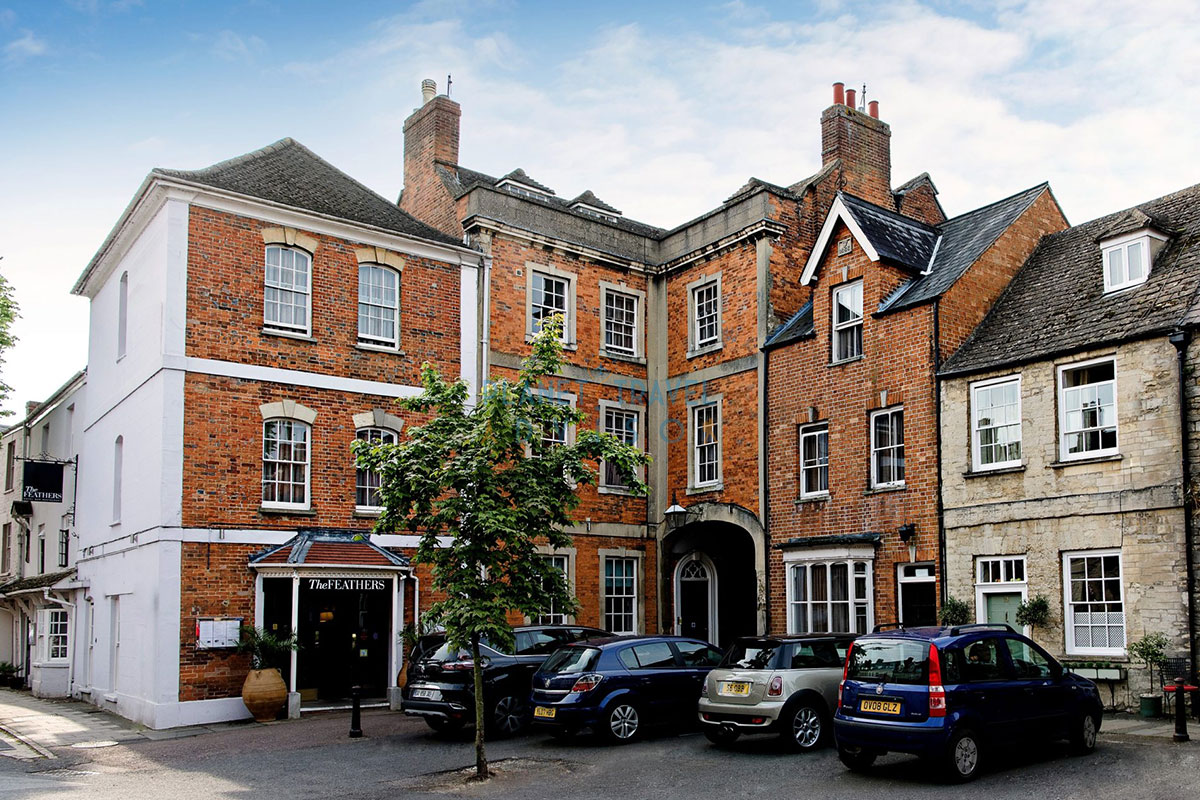 There are several hotels and accommodations available near Blenheim Palace, offering convenient access to this iconic landmark. Here are a few options:
The Feathers Hotel: Located in the heart of Woodstock, just a short walk from Blenheim Palace, The Feathers Hotel is a historic coaching inn with elegant rooms, a restaurant, and a cozy bar. It provides a charming and comfortable stay in close proximity to the palace.

Macdonald Bear Hotel: Situated in the picturesque town of Woodstock, the Macdonald Bear Hotel is a luxury hotel with stylish rooms, a restaurant, and a bar. It offers a tranquil setting and is within walking distance of Blenheim Palace.

The Crown: A boutique hotel located in Woodstock, The Crown features beautifully designed rooms, a restaurant, and a bar. It provides a cozy and intimate atmosphere for guests, just a short distance from the palace.

Marlborough Arms Hotel: Positioned in the center of Woodstock, the Marlborough Arms Hotel offers comfortable rooms, a traditional pub, and a restaurant. It is conveniently located for exploring Blenheim Palace and the surrounding area.

The Blenheim Buttery: Situated in the heart of Woodstock, The Blenheim Buttery is a charming bed and breakfast with cozy rooms and a welcoming atmosphere. It provides a convenient base for visiting the palace and enjoying the town's amenities.
These are just a few examples of the accommodations available near Blenheim Palace. There are other hotels, bed and breakfasts, and guesthouses in Woodstock and the surrounding area to suit different preferences and budgets. It is recommended to check availability, amenities, and reviews, and make reservations in advance to secure your preferred accommodation.

Restaurants Near Blenheim Palace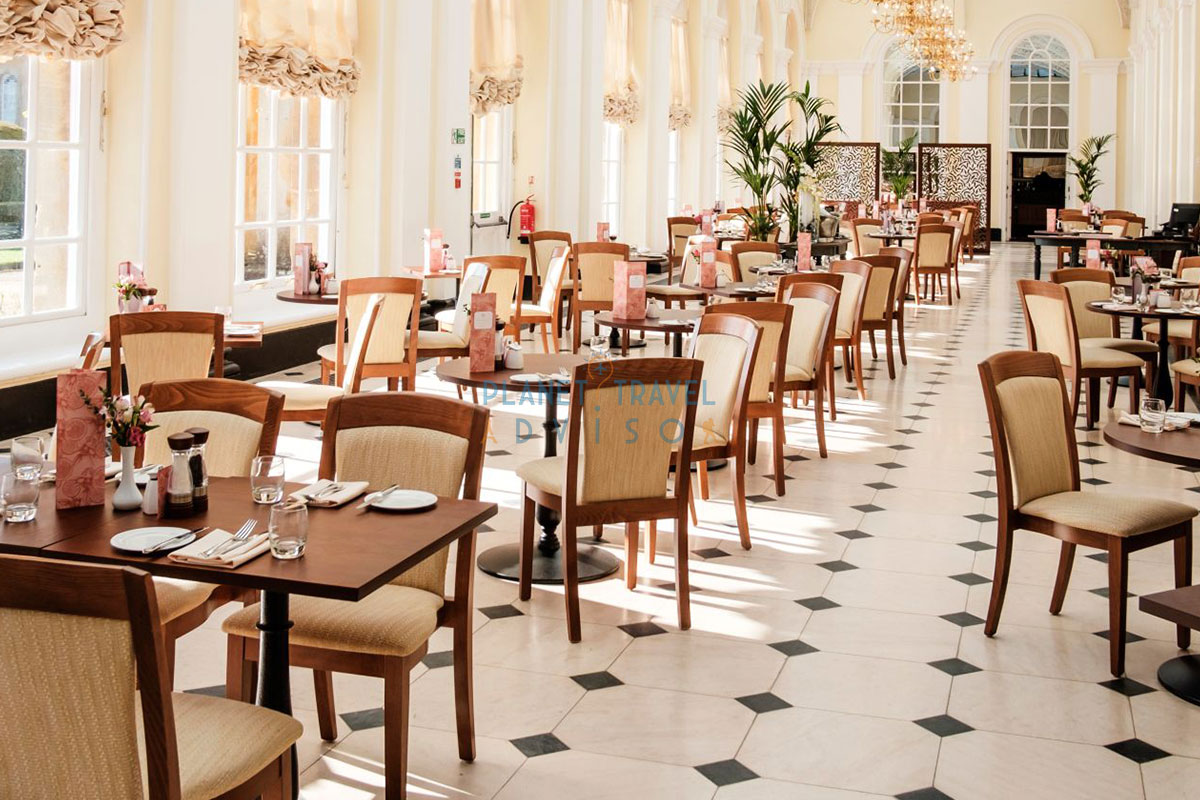 There are several restaurants and dining options in the vicinity of Blenheim Palace, offering a range of cuisines and atmospheres. Here are a few establishments located near the palace:
The Orangery Restaurant: Located within the grounds of Blenheim Palace, The Orangery offers a stunning setting with views of the palace's formal gardens. It serves a variety of dishes using locally sourced ingredients and offers a delightful dining experience.

The Woodstock Arms: Situated in the charming town of Woodstock, just a short walk from Blenheim Palace, The Woodstock Arms is a traditional pub that serves classic British pub fare and a selection of drinks. It provides a relaxed atmosphere for a casual meal or a refreshing drink.

The Kings Arms: Another pub located in Woodstock, The Kings Arms offers a warm and welcoming ambiance along with a menu featuring British pub classics and seasonal dishes. It is a popular spot for a hearty meal or a relaxing drink after exploring the palace.

The Bear Hotel: Situated in the heart of Woodstock, The Bear Hotel is a historic coaching inn with a restaurant that serves a variety of dishes, including modern British cuisine. It offers a charming and characterful setting for a meal.

The Black Prince: Located near the palace in Woodstock, The Black Prince is a gastropub that serves a range of dishes, including pub favorites and contemporary British cuisine. It has a relaxed and friendly atmosphere, perfect for a meal with friends or family.
These are just a few examples of the dining options available near Blenheim Palace. Visitors can explore further to discover additional restaurants, cafes, and eateries in Woodstock and the surrounding area, catering to various tastes and preferences.

Conclsion
In conclusion, Blenheim Palace stands as a magnificent testament to architectural grandeur and historical significance. From its stunning design to its rich heritage, the palace offers visitors a captivating journey through time. Whether exploring its opulent rooms or strolling through the picturesque gardens, Blenheim Palace is a treasure to be cherished.