12 Must-Visit European Beaches in March 2024
This article was created by a dedicated and authentic team of passionate travelers from the PTA Team, who are not only experienced travel experts but also proud members of the World Travel & Tourism Council (WTTC). Our sole purpose is to assist and support fellow travelers in planning their tours with utmost care and precision. With exclusive information, valuable insights, and meticulous analysis, we strive to provide high-quality content that leaves no room for mistakes. Count on us to deliver comprehensive destination reports and all the necessary information to ensure an exceptional and well-planned travel experience for you. Learn More
Article Table of Content
March in Europe might not be the first month that springs to mind for a beach vacation, but it's a well-kept secret among savvy travelers. As winter loosens its grip, and the promise of spring looms, many European places offer a unique blend of mild weather, fewer crowds, and an alluring tranquility along their pristine coastlines. In March 2024, the continent's beaches beckon with a diverse array of experiences, from Mediterranean paradises with their sunny shores to Atlantic escapes surrounded by natural wonders.
Discover the warmth of Spain's Costa del Sol, where golden beaches and lively culture await. Or venture to Italy's enchanting Amalfi Coast, where cliffside villages and delectable cuisine enchant the senses. Portugal's Algarve boasts rugged cliffs, charming fishing villages, and mouthwatering seafood. As we explore these Mediterranean gems, let's not forget the Atlantic's allure, with Portugal's Madeira and the Canary Islands offering diverse landscapes and exciting adventures. And for those seeking northern European charms, Greece's idyllic islands and France's Nice beckon with their unique allure. We'll also take you off the beaten path to Montenegro's Budva, Spain's Valencia, and Italy's Sardinia, where hidden treasures await discovery. It's time to set your sights on Europe's best beaches in March 2024 for an unforgettable early spring getaway.

1. Costa del Sol, Spain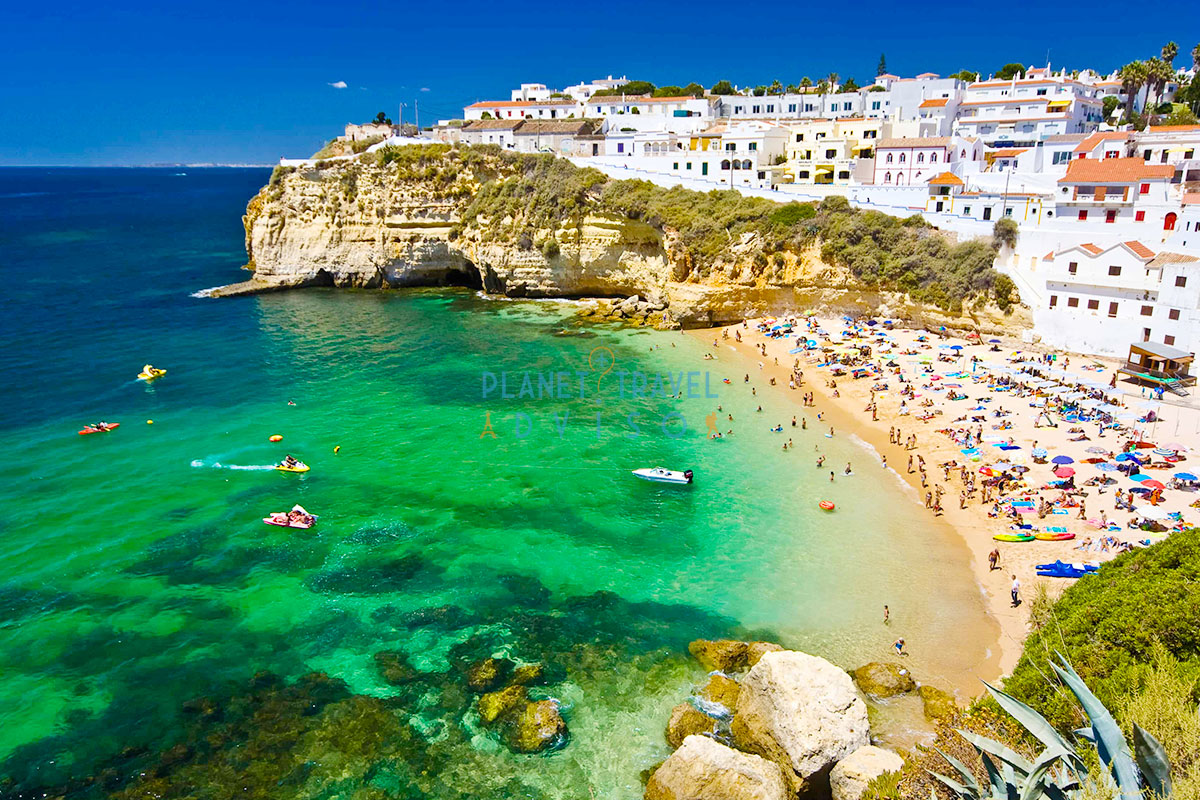 Costa del Sol, Spain named the "Sun Coast" is a coastal haven in southern Spain renowned for its year-round sunshine, stunning beaches, and rich Andalusian culture. In March 2024, this beloved destination offers an ideal escape, where you can relish the pleasant weather, explore charming towns, and bask in the Mediterranean glow.
Beach Highlights:
Playa de la Malagueta, Malaga: Located in Malaga's city center, this urban beach boasts golden sands, a palm-fringed promenade, and beachfront bars serving delicious seafood.

Playa de la Carihuela, Torremolinos: A family-friendly favorite, this long sandy beach offers calm waters and a lively atmosphere. It's perfect for strolls along the promenade and sampling traditional Chiringuitos (beach bars).

Playa de Burriana, Nerja: In the picturesque town of Nerja, Burriana Beach is a Blue Flag gem with clear waters and a range of water sports and dining options.
Exploring Beyond the Beaches:
Málaga's Historic Center: Explore Málaga's historic heart, home to landmarks like the Alcazaba, Gibralfaro Castle, and the birthplace of Pablo Picasso.

Ronda: Embark on a day trip to Ronda, a stunning hilltop town known for its dramatic gorge, Puente Nuevo bridge, and historic bullring.

Marbella's Old Town: Discover the charming streets and squares of Marbella's Old Town, with its Andalusian-whitewashed buildings and vibrant Orange Square.
Local Cuisine: Indulge in Andalusian cuisine, featuring dishes like gazpacho, pescaíto frito (fried fish), and traditional paella. Pair your meal with local wines and finish with a sweet treat like churros dipped in chocolate.

2. Amalfi Coast, Italy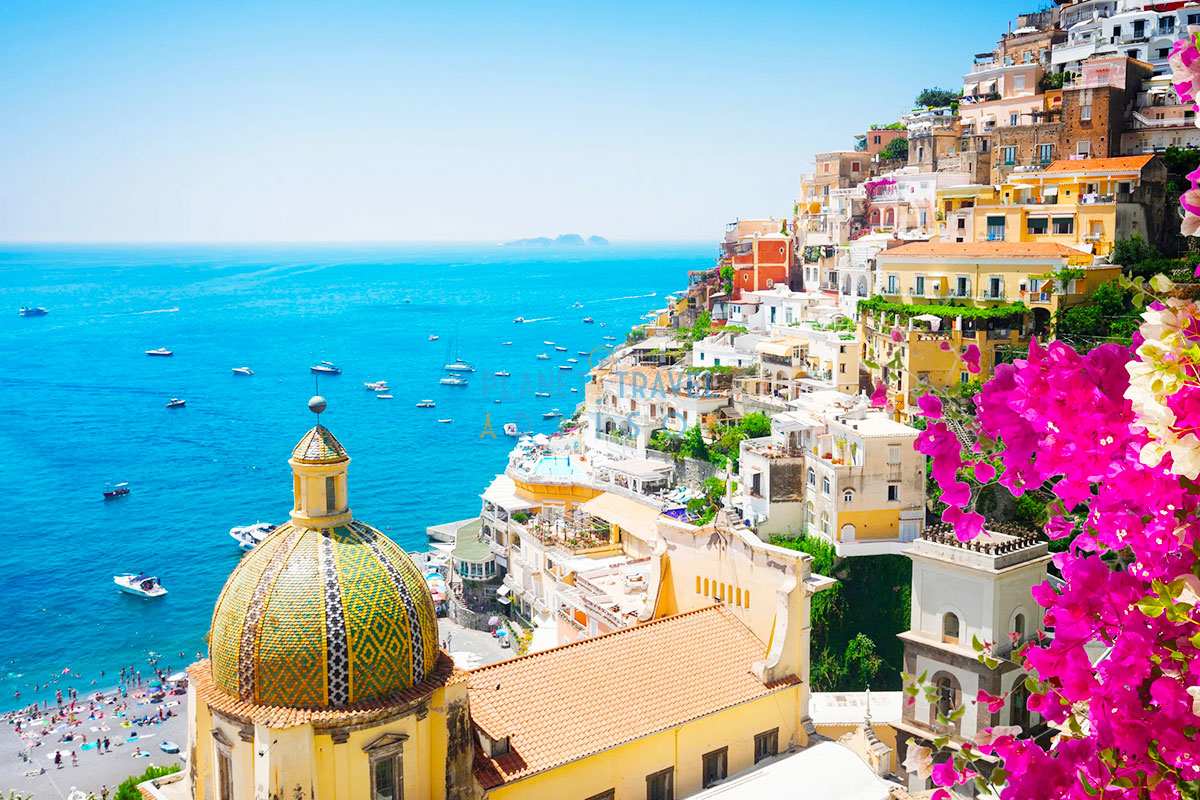 The Amalfi Coast, perched along the southern edge of the Sorrentine Peninsula in Italy, is nothing short of a Mediterranean dream. In March, this UNESCO World Heritage site reveals a different, more tranquil side, making it an ideal escape for those seeking breathtaking landscapes and Italian charm without the summer crowds.
Beach Highlights:
Spiaggia Grande, Positano: The most famous beach on the coast, Spiaggia Grande, is a lively spot even in March. Its colorful umbrellas and crystal-clear waters set against the backdrop of Positano's pastel buildings create a postcard-worthy scene.

Fornillo Beach: Just a short walk from Positano's bustling center, Fornillo Beach offers a quieter ambiance with its serene cove and laid-back beach clubs.

Atrani Beach: This charming, pebble-strewn beach is located in the picturesque village of Atrani, offering a more local and tranquil experience compared to its more famous neighbors.
Exploring Beyond the Beaches:
Amalfi Town: Explore the historical heart of the coast in Amalfi, known for its impressive Duomo di Sant'Andrea and narrow alleys lined with artisan shops and cafes.

Ravello: Perched high above the coast, Ravello offers stunning panoramic views and the iconic Villa Cimbrone and Villa Rufolo gardens.

Path of the Gods (Sentiero degli Dei): March is an excellent time to hike this scenic trail, offering awe-inspiring vistas of the coastline and the Tyrrhenian Sea.
Local Cuisine: Indulge in the culinary delights of the region. Try fresh seafood dishes like spaghetti alle vongole (clams) and local specialties like limoncello, made from the Amalfi Coast's famed lemons.

3. Algarve, Portugal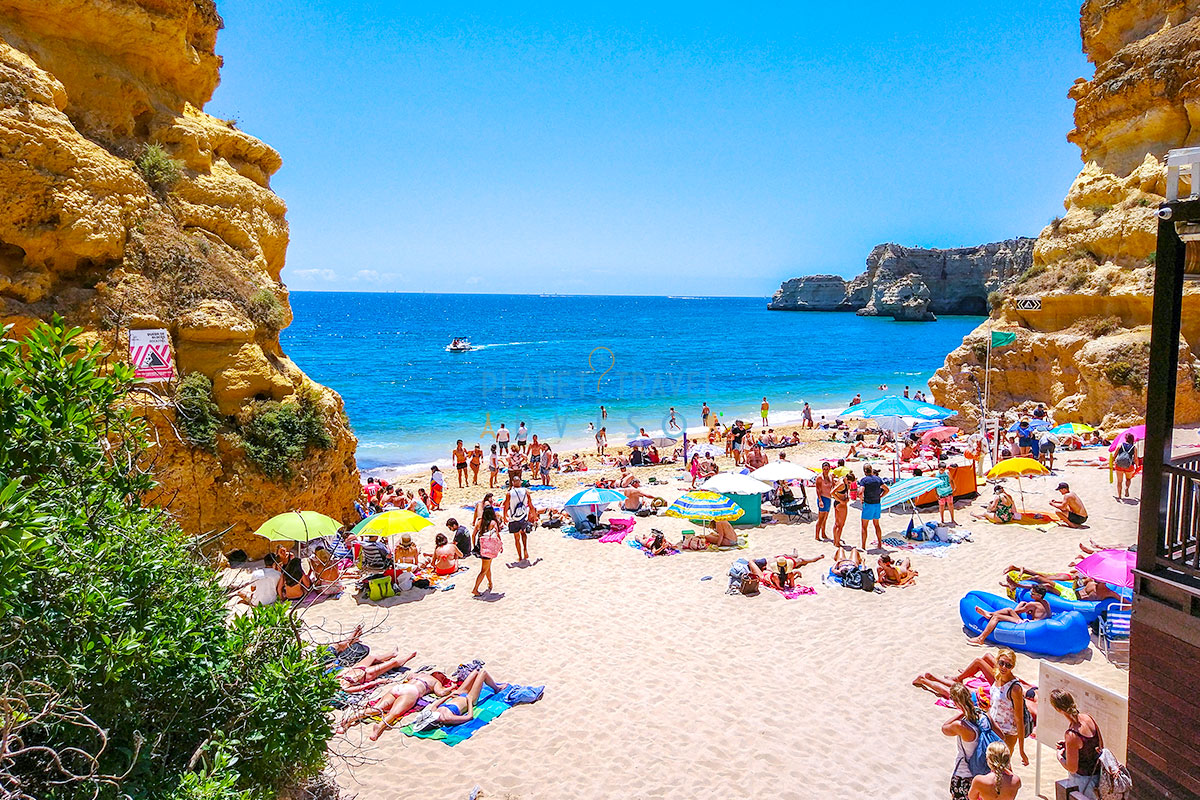 The Algarve region in Portugal is a slice of paradise where stunning cliffs, golden beaches, and abundant sunshine come together in perfect harmony. March offers an enticing escape to this coastal haven, as the weather begins to warm up, making it an ideal time to explore the natural wonders and cultural treasures of Algarve.
Beach Highlights:
Praia da Marinha: Often regarded as one of Europe's most beautiful beaches, Praia da Marinha boasts dramatic limestone cliffs, hidden caves, and clear turquoise waters. It's a photographer's dream.

Praia Dona Ana: Located near Lagos, this beach is known for its intricate rock formations and secluded coves. It's a fantastic spot for snorkeling and sunbathing.

Meia Praia: Stretching for several kilometers near Lagos, Meia Praia offers ample space for beachgoers. Its long, wide shoreline is perfect for beachcombing and water sports.
Exploring Beyond the Beaches:
Lagos: This charming coastal town is a gateway to the Algarve's wonders. Stroll through its historic center, visit the Ponta da Piedade cliffs, and embark on boat tours to explore sea caves and grottoes.

Albufeira: Known for its lively nightlife, Albufeira also offers a historic old town with narrow streets and a picturesque marina.

Silves: Delve into the region's history by visiting the medieval town of Silves, with its Moorish castle and cathedral.
Local Cuisine: Savor the flavors of the Algarve by indulging in fresh seafood, including grilled sardines and cataplana (a traditional seafood stew). Don't forget to try the region's famous orange-infused desserts and local wines.

4. Madeira, Portugal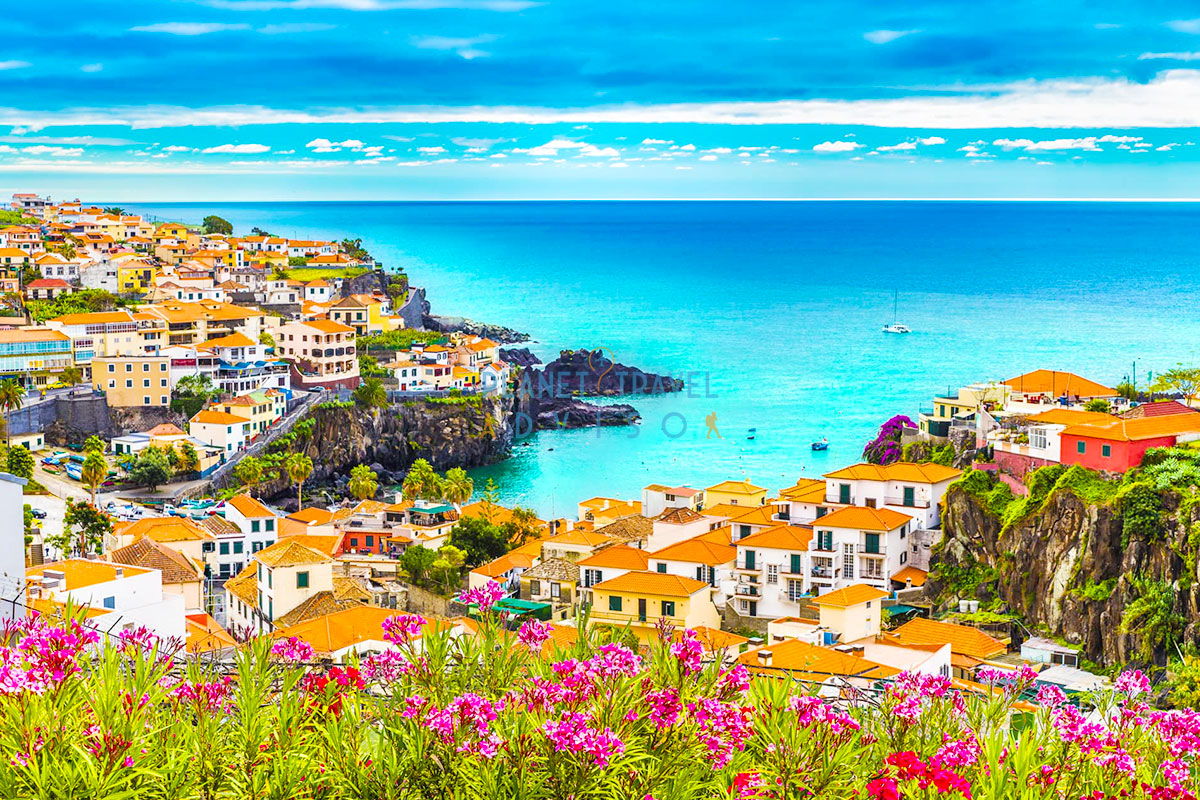 In March, the Portuguese island of Madeira emerges as a tranquil and enchanting escape in the vast Atlantic Ocean. Known as the "Pearl of the Atlantic," Madeira offers a blend of lush landscapes, mild climate, and vibrant culture that beckons travelers seeking an off-the-beaten-path paradise.
Beach Highlights:
Praia Formosa: Located in Funchal, Praia Formosa is Madeira's largest public beach. It offers a long, pebble-lined shoreline and stunning views of the ocean. It's a great spot for a leisurely stroll or a dip in the Atlantic waters.

Praia da Calheta: For those who prefer sandy beaches, Praia da Calheta features imported golden sand and a marina where you can explore water sports or simply relax under the sun.

Ponta de São Lourenço: Although not a traditional beach, this easternmost point of the island offers rugged coastal cliffs and breathtaking vistas. Hike along its trails for stunning panoramas.
Exploring Beyond the Beaches:
Levada Walks: Madeira is renowned for its network of levadas, or irrigation channels turned hiking trails. These paths wind through lush forests, and terraced hillsides, and offer a unique way to explore the island's interior.

Funchal: The capital city of Madeira, Funchal, is a charming mix of historic streets, botanical gardens, and vibrant markets. Don't miss the iconic Mercado dos Lavradores for local produce and crafts.

Monte: Take a cable car ride to Monte, where you can visit the beautiful Monte Palace Tropical Garden and experience the exhilarating wicker toboggan rides back down to Funchal.
Local Cuisine: Indulge in Madeira's gastronomic delights, including espetada (grilled skewers of marinated meat), black scabbardfish, and the island's unique Madeira wine.

5. Tenerife, Spain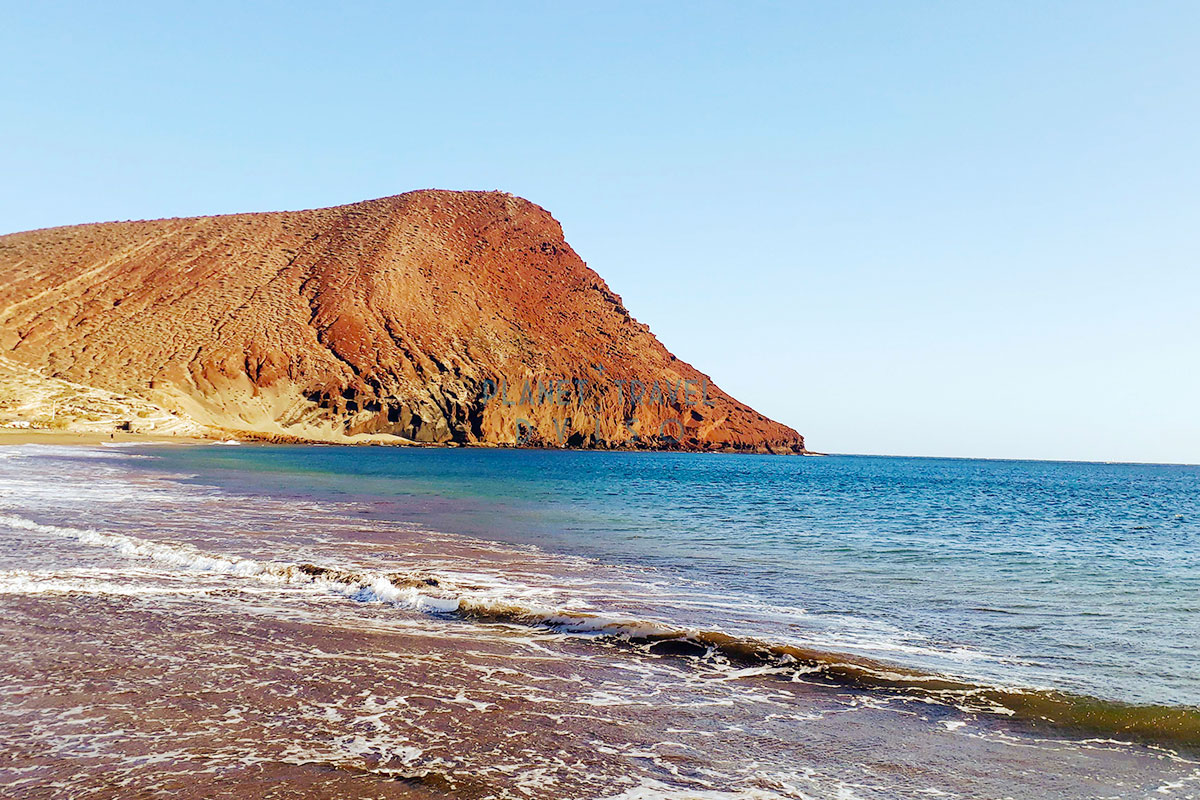 Tenerife, the largest of the Canary Islands, beckons travelers in March with its unique blend of volcanic landscapes, stunning black sand beaches, and a mild climate that offers respite from the colder temperatures elsewhere in Europe.
Beach Highlights:
Playa de las Teresitas: Nestled in the north, this artificial golden sand beach is a stark contrast to the island's natural black sand shores. It's framed by palm trees and protected from the Atlantic's waves by a breakwater.

Playa de Benijo: Located on the rugged north coast, this beach is known for its dramatic setting with black sand, towering cliffs, and crashing waves. It's a favorite spot among surfers and nature enthusiasts.

Playa de las Américas: In the vibrant south, this bustling resort town offers a range of beaches. It's a hub for water sports, nightlife, and entertainment, making it perfect for those seeking an active vacation.
Exploring Beyond the Beaches:
Teide National Park: Tenerife's crown jewel, this UNESCO World Heritage site boasts Mount Teide, Spain's highest peak, and a lunar-like landscape of volcanic craters. It's a paradise for hikers and stargazers.

Loro Parque: A world-renowned zoo and conservation center, Loro Parque is home to an impressive array of animals, including killer whales, dolphins, and vibrant parrots.

Santa Cruz de Tenerife: The island's capital city offers a lively Carnival, stunning architecture, and a vibrant arts and culture scene.
Local Cuisine: Sample traditional Canarian dishes such as papas Arrugadas (wrinkled potatoes), mojo sauces, fresh seafood, and the famous dessert Bienmesabe.

6. Azores, Portugal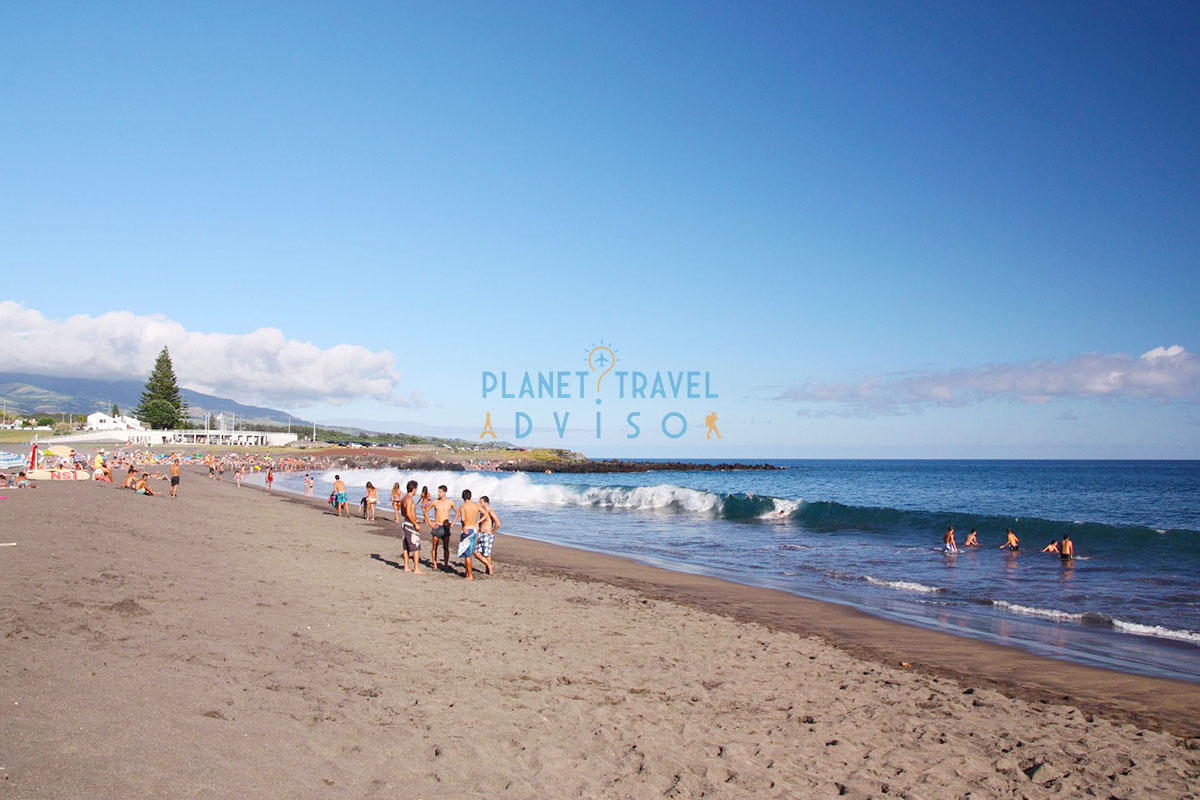 Nestled in the middle of the Atlantic Ocean, the Azores archipelago is a hidden gem waiting to be explored. In March, these Portuguese islands offer a unique escape for travelers seeking unspoiled nature, diverse landscapes, and a sense of adventure.
Beach Highlights:
Praia do Populo, São Miguel: Located on São Miguel, the largest island, this beach features dark volcanic sand and calm waters. It's a popular spot for swimming and sunbathing.

Praia da Viola, Santa Maria: This secluded beach on Santa Maria Island offers tranquility and beautiful surroundings, perfect for a peaceful day by the sea.

Praia da Formosa, Santa Maria: Another gem on Santa Maria, this beach has fine white sand and crystal-clear waters, providing excellent conditions for swimming and snorkeling.
Exploring Beyond the Beaches:
Sete Cidades: Visit the iconic twin lakes, one blue and one green, nestled within a volcanic crater. Hiking around the rim offers breathtaking views.

Whale Watching: The Azores are a prime location for whale and dolphin watching. Numerous tour operators offer excursions to observe these majestic creatures in their natural habitat.

Furnas: Experience the unique geothermal activity in Furnas, where you can see bubbling hot springs and enjoy a traditional Cozido das Furnas meal, cooked using the Earth's natural heat.
Local Cuisine: Don't miss the opportunity to savor local Azorean dishes such as seafood stews, cozido (meat and vegetable stew), and the delicious sweet treat known as queijadas.

7. The Greek Islands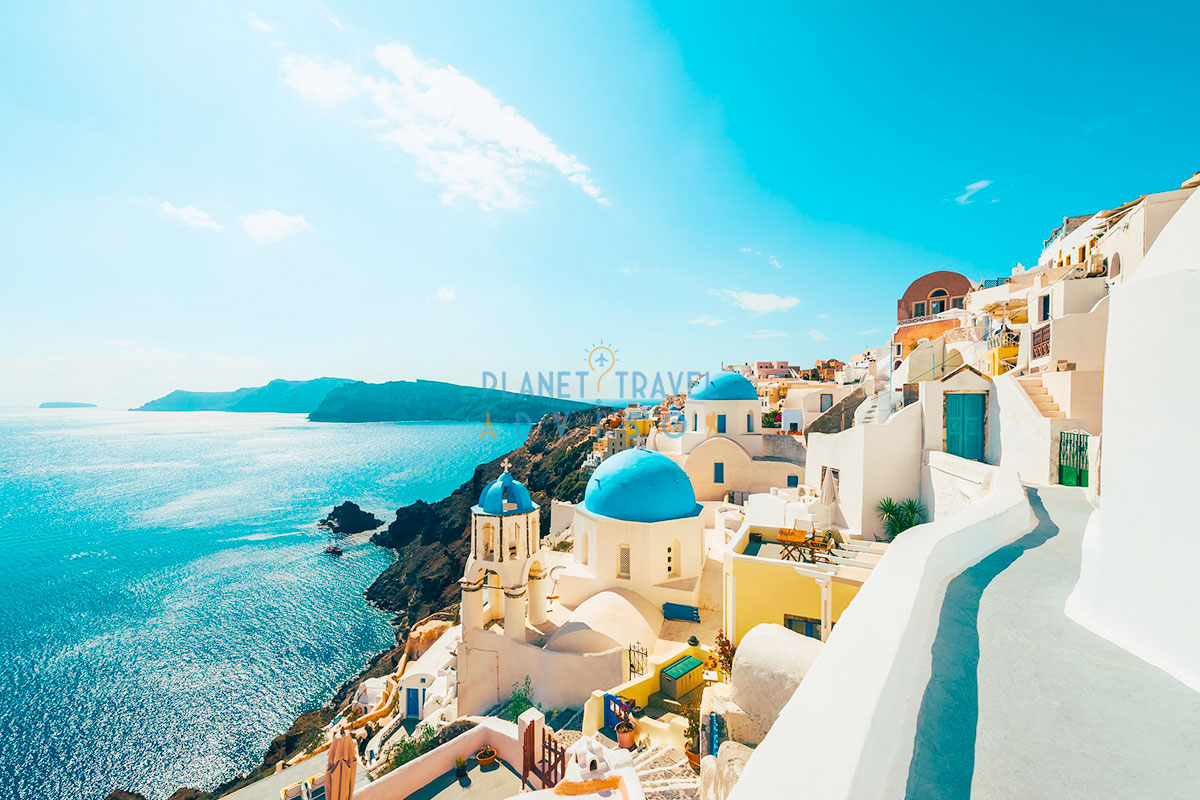 The Greek Islands, an archipelago of over 6,000 islands and islets scattered across the Aegean and Ionian Seas, are synonymous with dreamy vacations. In March 2024, these Mediterranean gems beckon with their iconic white-washed villages, crystal-clear waters, and a tranquility that makes them an ideal destination for early spring getaways.
Beach Highlights:
Santorini's Red Beach: Known for its striking red-hued cliffs and sands, this unique beach on Santorini offers a one-of-a-kind backdrop for relaxation and exploration.

Mykonos' Psarou Beach: A magnet for the fashionable crowd, Psarou Beach boasts pristine sands, crystal waters, and upscale beach clubs.

Crete's Elafonissi Beach: With its soft pink sands and shallow turquoise waters, Elafonissi Beach on Crete is a paradise for beachcombers and families.
Exploring Beyond the Beaches:
Santorini's Caldera: Marvel at the stunning sunset views from Oia and explore the island's archaeological sites, including the ancient city of Akrotiri.

Mykonos Town: Wander through the charming streets of Mykonos Town, where you'll discover Cycladic architecture, boutique shops, and vibrant nightlife.

Knossos Palace, Crete: Delve into ancient history at the legendary Knossos Palace, Europe's oldest city, and explore the intriguing Minoan civilization.
Local Cuisine: Savor the delectable Greek cuisine, from fresh seafood and grilled octopus to moussaka and baklava. Don't forget to accompany your meal with a glass of local wine or ouzo.

8. Albena Beach, Bulgaria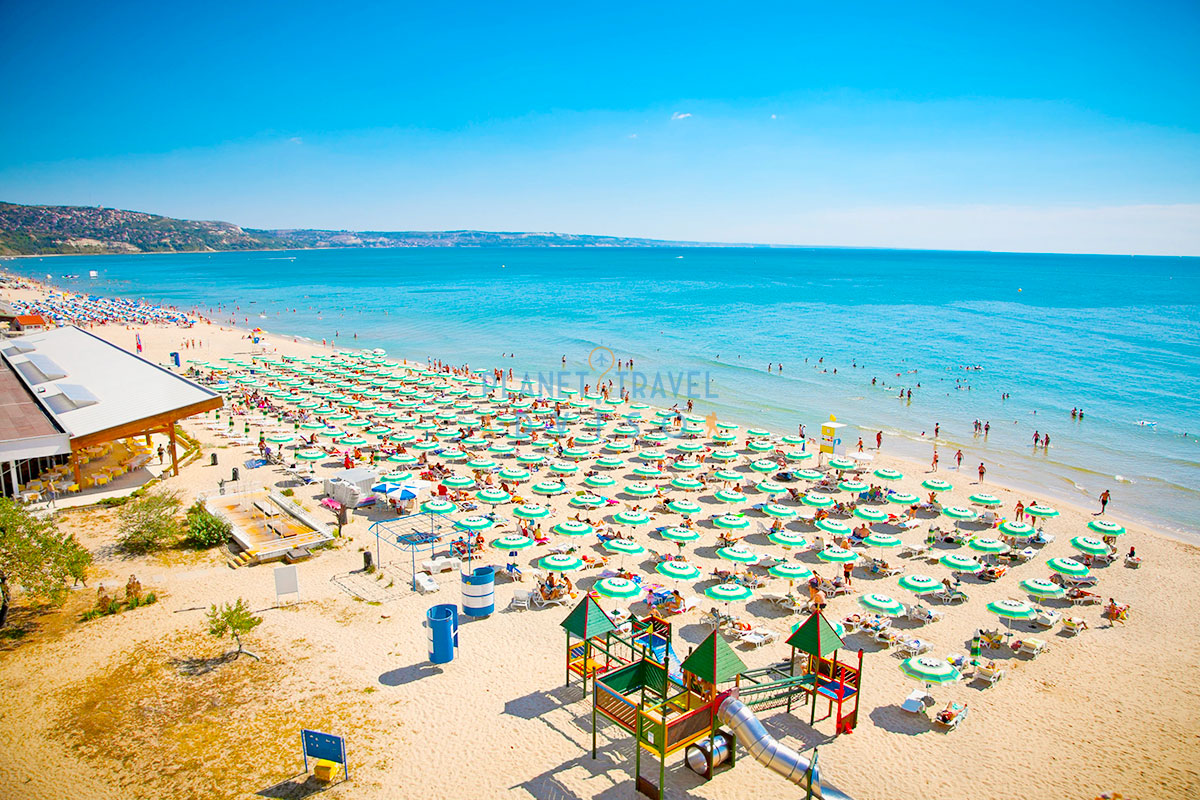 Albena Beach, situated on Bulgaria's picturesque Black Sea coast, is a hidden gem that beckons travelers seeking a serene seaside retreat. In March, this coastal haven awakens from its winter slumber, offering a tranquil escape marked by pristine beaches, a peaceful atmosphere, and budget-friendly options.
Beach Highlights:
Golden Sands and Crystal Waters: Albena Beach boasts fine golden sands that stretch for 5 kilometers along the Black Sea's shoreline. The gentle, shallow waters make it perfect for swimming, especially for families.

Blue Flag Recognition: Albena Beach has earned the prestigious Blue Flag designation, ensuring clean and safe bathing conditions for visitors.

Water Sports: While March might not be peak beach season, Albena still offers activities like windsurfing, paddleboarding, and jet skiing for those seeking adventure.
Exploring Beyond the Beach:
Balchik: Nearby Balchik is a charming coastal town with a stunning botanical garden, Balchik Palace, and the intriguing Palace of the Romanian Queen.

Kaliakra Cape: A short drive from Albena, this dramatic cape offers breathtaking cliffside views, ancient ruins, and a glimpse into Bulgaria's rich history.

Nature Reserves: Explore the nearby Baltata Nature Reserve, home to diverse flora and fauna, including water lilies and rare bird species.
Local Cuisine: Sample Bulgarian cuisine at local taverns and restaurants, where you can enjoy dishes like banitsa (savory pastry), kebapche (grilled minced meat), and shopska salad.

9. Nice, France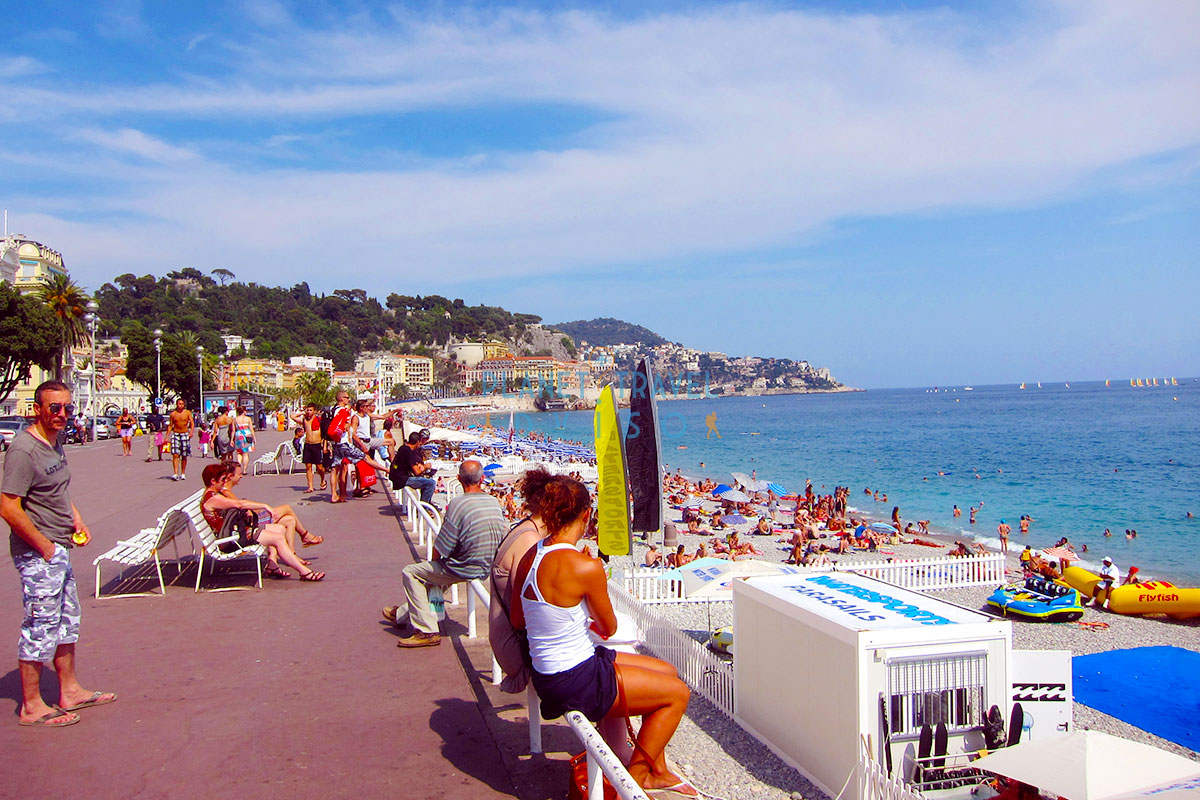 Nice, the jewel of the French Riviera, presents an irresistible blend of timeless elegance and Mediterranean allure. In March 2024, this coastal city offers a delightful escape, combining mild weather, stunning seaside landscapes, and a vibrant cultural scene.
Beach Highlights:
Promenade des Anglais: The iconic Promenade des Anglais is a palm-lined boulevard that stretches along the azure waters of the Mediterranean. Its pebbled beaches provide the perfect spot for sunbathing and people-watching.

Castel Plage: Nestled beneath Castle Hill, this private beach club offers a tranquil escape with soft sands, crystal-clear waters, and exceptional dining options.

Blue Beach: Located near the Old Town, Blue Beach offers a convenient location for beachgoers, complete with water sports and restaurants.
Exploring Beyond the Beaches:
Vieux Nice (Old Town): Wander through the charming narrow streets of Old Town, where you'll discover colorful facades, bustling markets, and historic landmarks like the Nice Cathedral.

Matisse Museum: Explore the artistic legacy of Henri Matisse at this museum housed in a stunning 17th-century villa.

Colline du Château (Castle Hill): Climb the hill for panoramic views of Nice and the surrounding coastline. The park offers a peaceful oasis with lush gardens and waterfalls.
Local Cuisine: Indulge in the flavors of the French Riviera, with dishes like Salade Niçoise, Socca (chickpea pancake), and Ratatouille. Pair your meal with a glass of local rosé wine.

10. Budva, Montenegro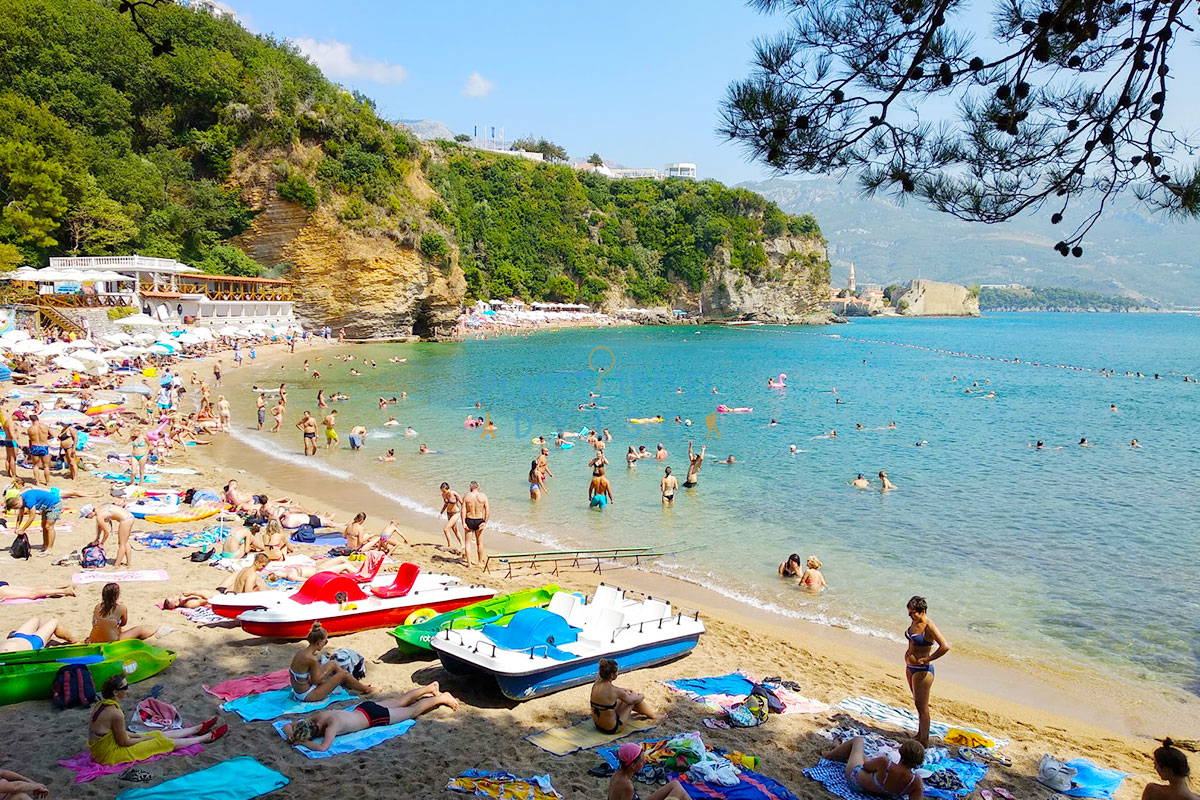 Nestled along the picturesque Adriatic coast, Budva in Montenegro is a charming blend of history, natural beauty, and vibrant nightlife. In March 2024, this coastal gem offers a peaceful escape, where you can explore its historic old town, relax on stunning beaches, and discover nearby natural wonders.
Beach Highlights:
Mogren Beach: Located just steps away from Budva's medieval old town, Mogren Beach offers soft sands and crystal-clear waters, framed by rocky cliffs. It's a perfect spot for both sunbathing and swimming.

Jaz Beach: A short drive from Budva, Jaz Beach is one of Montenegro's longest beaches, known for its lively atmosphere and water sports, making it a great place to soak up the sun and enjoy beachside activities.

Sveti Stefan: While not a traditional beach, the islet of Sveti Stefan is a postcard-worthy sight. Connected to the mainland by a narrow causeway, this former fishing village is now a luxury resort.
Exploring Beyond the Beaches:
Budva Old Town: Stroll through the well-preserved medieval old town, enclosed by ancient walls. Discover charming squares, historic churches, and a lively café culture.

Bay of Kotor: Take a scenic drive along the stunning Bay of Kotor, a UNESCO World Heritage site, and explore the charming towns of Perast and Kotor, each with its own unique charm and historic architecture.

Sveti Nikola Island: Known as Hawaii in the Adriatic, this island just off the coast of Budva offers hiking trails, lush vegetation, and secluded beaches.
Local Cuisine: Savor Montenegrin cuisine, featuring fresh seafood, grilled meats, local cheeses, and hearty stews. Be sure to pair your meal with a glass of Vranac, Montenegro's famous red wine.

11. Valencia, Spain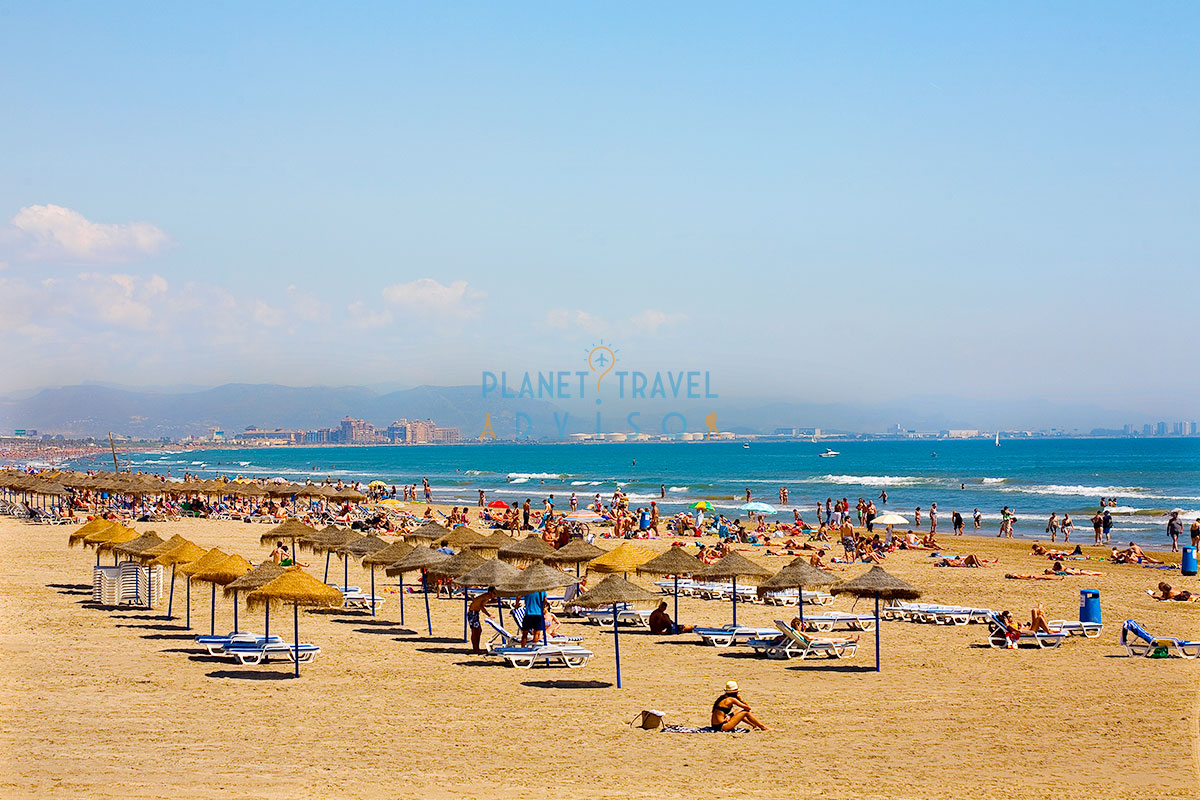 Nestled along Spain's eastern coast, Valencia is a captivating blend of history, natural beauty, and vibrant culture. In March 2024, this coastal gem invites you to embark on a memorable journey where you can explore its historic treasures, unwind on beautiful beaches, and immerse yourself in its lively atmosphere.
Beach Highlights:
Malvarrosa Beach: Located just minutes from the city center, Malvarrosa Beach boasts wide stretches of golden sand and calm Mediterranean waters. It's an ideal spot for a leisurely beach day or a refreshing swim.

El Cabanyal: This historic fishing district features its urban beach, Playa del Cabanyal. Stroll along the colorful promenade and savor fresh seafood at beachfront restaurants.
Exploring Beyond the Beaches:
City of Arts and Sciences: Marvel at the architectural wonders of the City of Arts and Sciences, including the futuristic Hemisfèric and the awe-inspiring Oceanogràfic. Check out the cultural events and exhibitions taking place in March.

Valencia's Old Town: Lose yourself in the enchanting streets of the historic center. Admire landmarks such as the Valencia Cathedral and Lonja de la Seda (Silk Exchange) and enjoy the city's vibrant café culture.

Gastronomic Delights: Delve into the world of Valencian cuisine. Try the city's signature dish, paella, at local restaurants, and explore lively markets like Mercado Central for fresh produce and local specialties.
Natural Escapes:
Turia Gardens: Wander through the lush Turia Gardens, a unique urban park created in a former riverbed. Enjoy scenic walks, cycling, and picnicking amidst greenery and fountains.

Albufera Natural Park: A short drive from Valencia, this park offers a tranquil escape. Take a boat ride on the Albufera lagoon and enjoy the serene natural surroundings.
Valencia in March promises a perfect blend of relaxation, culture, and outdoor adventures. Whether you're lounging on the beach, exploring historic sites, or indulging in local cuisine, Valencia invites you to experience the best of Spain's coastal charm.

12. Sardinia, Italy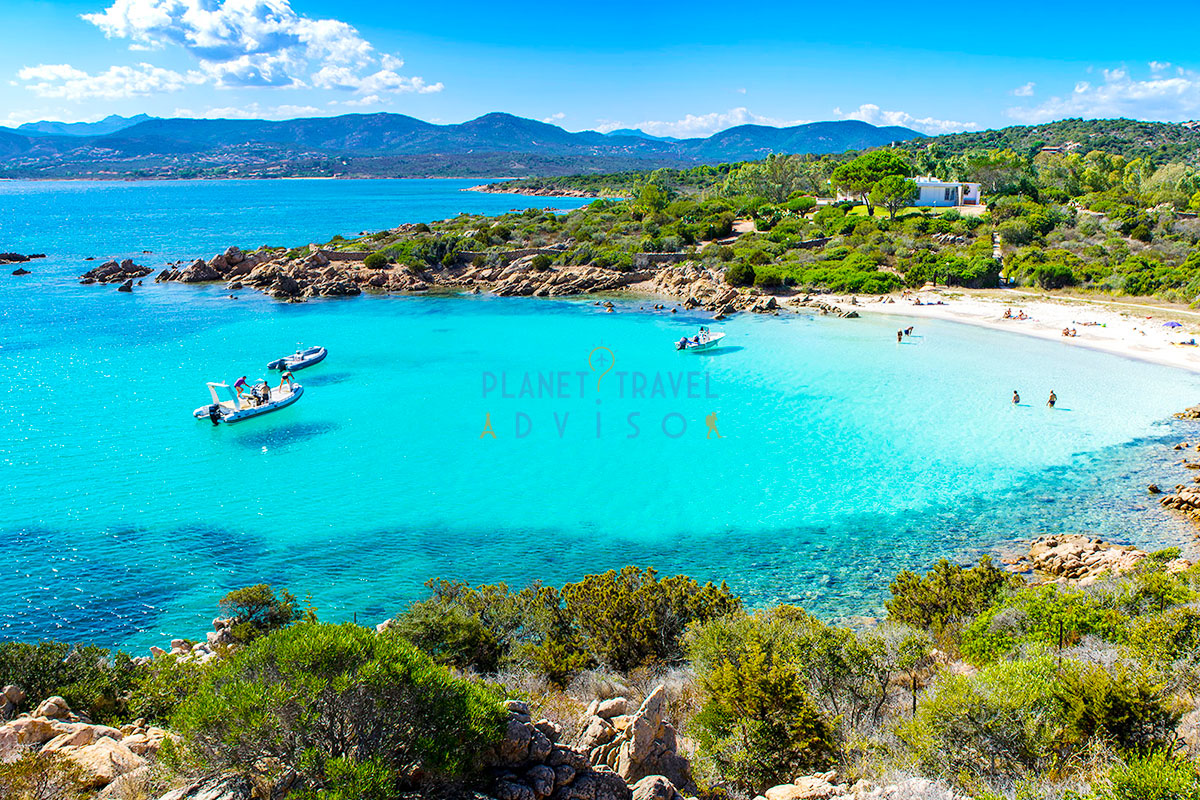 Sardinia, Italy's second-largest island, is a Mediterranean paradise known for its rugged landscapes, pristine beaches, and rich cultural heritage. In March 2024, Sardinia emerges as an idyllic destination, offering travelers a peaceful retreat amidst its natural wonders and historical treasures.
Beach Highlights:
Costa Smeralda: Explore the stunning Emerald Coast, renowned for its turquoise waters and glamorous resorts. While March may be quieter than the summer months, it's the perfect time for peaceful walks along the shore.

Cala Luna: Accessible by boat or a scenic hike, Cala Luna is a crescent-shaped beach framed by limestone cliffs. In March, you can enjoy its beauty without the usual crowds.

Spiaggia di Chia: Located in the south, Chia Beach is known for its fine sands and crystal-clear waters. It's an excellent spot for a tranquil seaside escape.
Exploring Beyond the Beaches:
Nuragic Archaeological Sites: Discover Sardinia's ancient history by visiting Nuragic ruins, including the fascinating Su Nuraxi di Barumini, a UNESCO World Heritage site.

Cagliari: Explore the island's capital city, Cagliari, with its historic old town, Roman amphitheater, and panoramic views from the Bastione di Saint Remy.

Gola Su Gorropu: Hike through Europe's deepest canyon, Gola Su Gorropu, surrounded by towering limestone walls and rugged terrain.
Local Cuisine: Savor the island's culinary delights, from fresh seafood dishes like bottarga and fregola with clams to hearty specialties like Malloreddus (Sardinian gnocchi) and seadas (deep-fried pastries with cheese and honey).

Conclusion
March 2024 unveils a treasure trove of European coastal destinations, each offering its unique charm and allure. From the tranquil shores of Albena Beach in Bulgaria to the historical riches of Valencia, Spain, and the unspoiled beauty of Sardinia, Italy, these 12 beach destinations promise a diverse array of experiences for travelers seeking a March escape.
Whether you're yearning for a quiet retreat along the Black Sea, a cultural journey through Spanish history, or a tranquil exploration of Mediterranean paradises, these coastal gems invite you to embrace the serenity and beauty of March along their shores. As you plan your springtime getaways, consider the unique delights each destination offers, promising memories that will last a lifetime. So pack your bags, set your course, and embark on a coastal adventure to remember in March 2024.
FAQ
Is March a good time to visit European beaches?
March can be a great time to visit European beaches if you prefer milder weather and fewer crowds. While it may not be ideal for swimming, it offers pleasant temperatures for exploring the coast.
What is the weather like at European beaches in March?
In March, European beach destinations typically experience cooler temperatures, ranging from 10°C to 20°C (50°F to 68°F). It's a transition period from winter to spring, so expect some variability.
Can I swim in the sea in March at European beaches?
Swimming in the sea in March may be possible in some southern European destinations with milder climates, but it can still be quite chilly. Northern European beaches are generally too cold for swimming in March.
What are the best European beach destinations to visit in March?
Some popular European beach destinations in March include the Canary Islands, Algarve in Portugal, Costa del Sol in Spain, and parts of the Mediterranean coast.