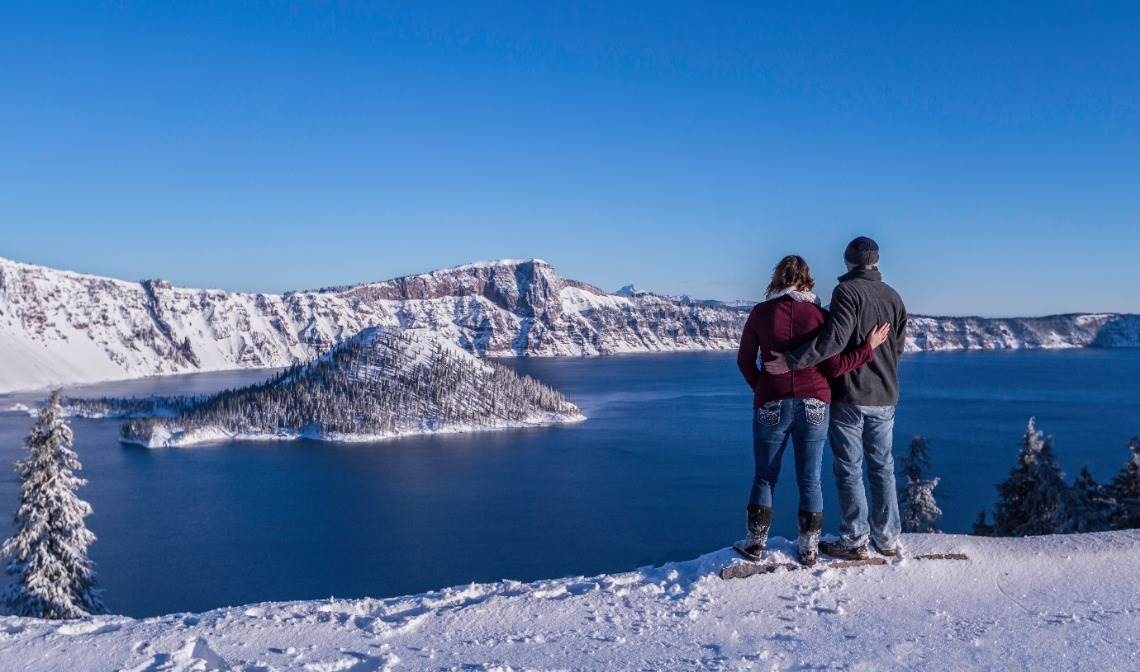 Best Places to Visit & Things to Do in Medford, Oregon
This article was created by a dedicated and authentic team of passionate travelers from the PTA Team, who are not only experienced travel experts but also proud members of the World Travel & Tourism Council (WTTC). Our sole purpose is to assist and support fellow travelers in planning their tours with utmost care and precision. With exclusive information, valuable insights, and meticulous analysis, we strive to provide high-quality content that leaves no room for mistakes. Count on us to deliver comprehensive destination reports and all the necessary information to ensure an exceptional and well-planned travel experience for you. Learn More
Article Table of Content
What to do in Medford, Oregon
Welcome to Oregon, a state brimming with natural wonders and vibrant cities! In Medford, Oregon, discover a treasure trove of places to visit and things to do. Begin your journey by exploring the enchanting Columbia River Gorge, where majestic waterfalls cascade down moss-covered cliffs. Continue your adventure by venturing to the iconic Crater Lake National Park, home to the deepest lake in the United States, where the sapphire-blue waters will leave you spellbound.
Explore the picturesque coastline along the Pacific Ocean, where rugged cliffs, sandy beaches, and charming seaside towns await. In Medford itself, immerse yourself in the local culture by visiting the Rogue Valley's award-winning wineries, where you can savor exquisite wines and take in the breathtaking vineyard landscapes. Enjoy outdoor activities like hiking, fishing, and rafting in the nearby Rogue River, or soak up the beauty of the region's numerous parks and nature reserves. For a taste of city life, explore Medford's vibrant downtown area, where you'll find a variety of shops, restaurants, and cultural attractions. Whatever your interests may be, Medford, Oregon offers a delightful blend of natural beauty, recreational opportunities, and urban charm that will make your visit truly memorable.

List of Places to Visit & Things to Do in Medford, Oregon
The Rogue River
Higher and Lower Table Rock
Downtown Medford Searching and Eating
Prescott Park Medford, Oregon
Medford Railroad Park
Crater Lake Park
Jacksonville
Applegate Lake
Craterian Theater, Medford, Oregon
Oregon Caves National Monument & Preserve
The Children's Museum of Southern Oregon
The Natural Bridge Loop Medford, Oregon

Watch This Video for a Road Trip Driving Tour in Medford, Oregon Created by Oregon Tropics YouTube Channel
1. The Rogue River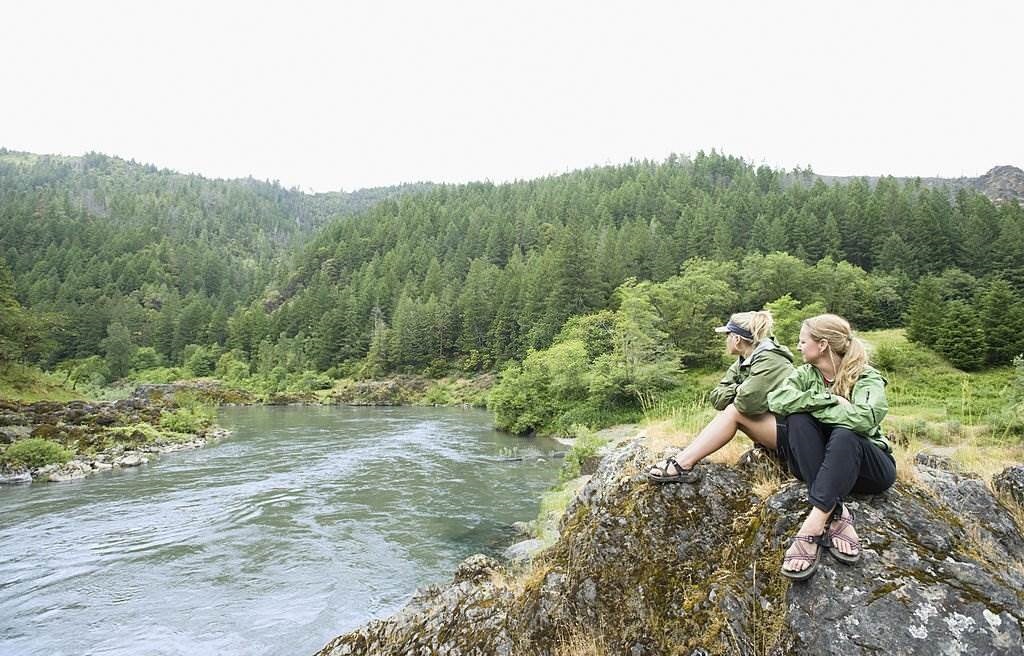 The Rogue River, located near Medford, Oregon, is a magnificent natural gem that offers a plethora of activities and breathtaking scenery. Flowing through lush forests, deep canyons, and picturesque valleys, the Rogue River provides an idyllic setting for outdoor enthusiasts.
One of the most popular activities on the Rogue River is whitewater rafting. The river's rapids range from gentle stretches perfect for beginners to thrilling Class IV rapids that will challenge even the most experienced rafters. Embark on a guided rafting trip and navigate the exhilarating rapids while enjoying the stunning views of the surrounding wilderness.
Fishing is another highlight of the Rogue River. It is renowned for its excellent salmon and steelhead runs, attracting anglers from far and wide. Cast your line into the river and try your luck at catching these prized fish, or simply enjoy a peaceful day of fly fishing in the tranquil waters.
If you prefer a more relaxed experience, take a leisurely float trip down the Rogue River. Drift along the calm stretches of the river, taking in the beauty of the scenery and keeping an eye out for wildlife such as otters, eagles, and deer that often make appearances along the riverbanks.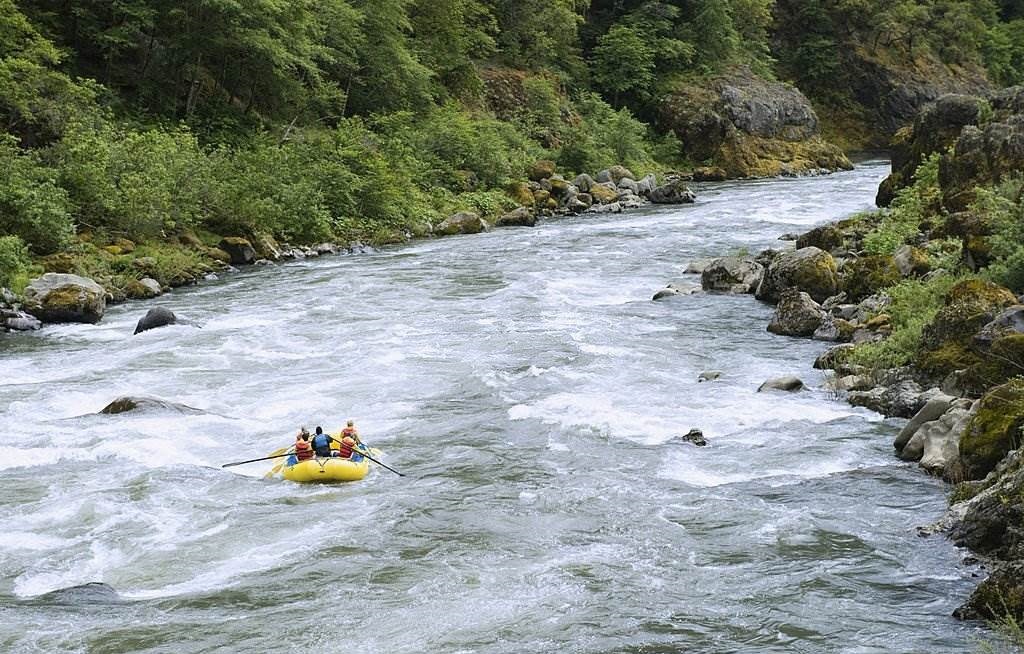 For those who appreciate nature's beauty on foot, the Rogue River offers stunning hiking trails. The Rogue River Trail, stretching for over 40 miles, meanders alongside the river, providing opportunities to explore lush forests, cascading waterfalls, and hidden swimming holes. Hike a section of the trail and immerse yourself in the serenity of nature.
Lastly, don't miss the opportunity to experience a scenic jet boat tour on the Rogue River. Sit back and relax as a knowledgeable guide navigates the river's twists and turns, sharing fascinating stories about the area's history, geology, and wildlife. Marvel at the towering cliffs, emerald-green waters, and remote wilderness that make the Rogue River truly remarkable.
Whether you're seeking adventure, tranquility, or a connection with nature, the Rogue River near Medford, Oregon, is a must-visit destination that offers an unforgettable outdoor experience.

2. Higher and Lower Table Rock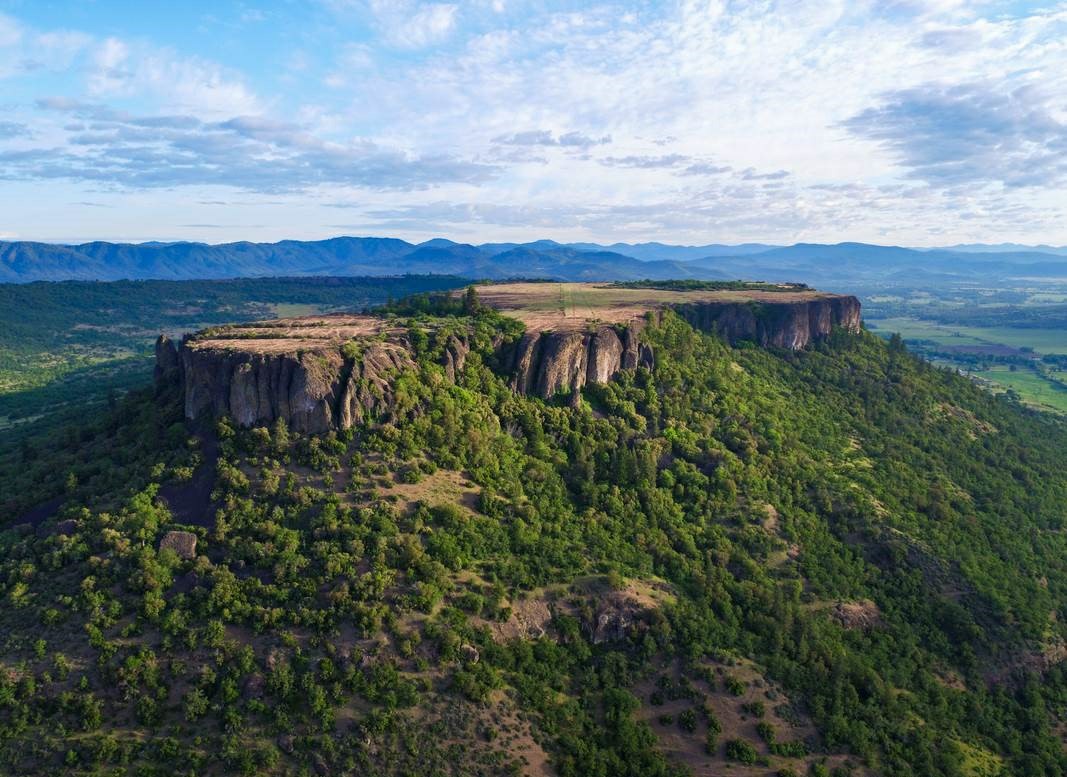 Located near Medford, Oregon, the iconic Table Rocks—Higher Table Rock and Lower Table Rock—are natural landmarks that offer breathtaking views and unique outdoor experiences. Rising above the Rogue Valley, these table-like plateaus are remnants of ancient lava flows and provide opportunities for hiking, wildlife viewing, and botanical exploration.
Higher Table Rock, the larger of the two formations, stands at an elevation of approximately 2,060 feet (628 meters). A moderately challenging hike takes you to the summit, rewarding you with panoramic vistas of the surrounding valley and distant mountain ranges. As you ascend, you'll encounter diverse plant life, including wildflowers in the spring, and you might spot various bird species, such as hawks and eagles, soaring above.
Lower Table Rock, slightly smaller but equally captivating, offers a more accessible hike suitable for visitors of various fitness levels. The trail to Lower Table Rock provides an immersive experience through oak woodlands and chaparral habitats. Along the way, keep an eye out for interesting rock formations, such as the "The Waffle" and "The Honeycombs." Reaching the top unveils splendid views of the valley and the unique tabletop landscape.
Both Higher and Lower Table Rock are home to an array of plant and animal species, including many rare and endemic plants found only in this region. The rich biodiversity makes these areas ideal for nature enthusiasts and botany enthusiasts alike. Marvel at the colorful wildflowers, such as the purple larkspur and the orange fritillaria, that blanket the hillsides during the springtime.
The Table Rocks are not only natural wonders but also hold cultural significance for Native American tribes. The Confederated Tribes of the Grand Ronde and the Confederated Tribes of Siletz Indians consider these formations as ancestral lands. They provide opportunities for visitors to learn about the cultural heritage and traditional uses of the land.

3. Downtown Medford Searching and Eating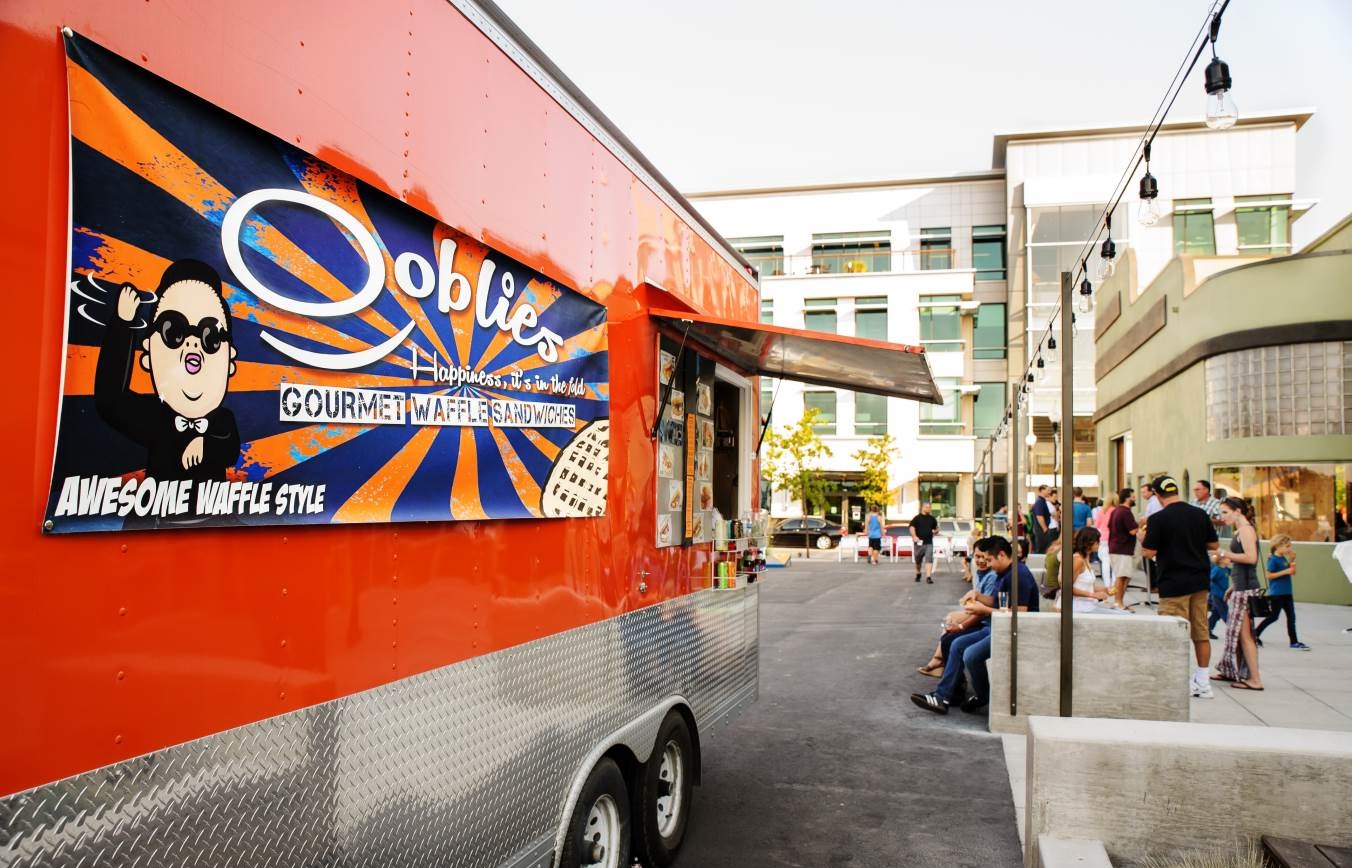 Downtown Medford offers a vibrant and inviting atmosphere with a variety of options for shopping and dining. Whether you're looking for unique boutiques, local artisans, or delicious eateries, downtown Medford has something for everyone.
When it comes to shopping, explore the charming streets and discover a range of boutique shops and specialty stores. You'll find locally owned businesses offering a curated selection of clothing, accessories, home decor, and gifts. Take your time to browse through the shops and uncover hidden treasures while supporting local businesses.
As for dining, downtown Medford boasts an eclectic culinary scene with a diverse range of cuisines to satisfy any craving. From cozy cafes to upscale restaurants, you'll find options for breakfast, lunch, and dinner. Sample farm-to-table dishes, indulge in international flavors, or savor classic American fare prepared with a twist. Many establishments emphasize using fresh, locally sourced ingredients, ensuring a memorable dining experience.
In addition to traditional restaurants, downtown Medford also offers food carts and food truck pods. These mobile culinary options provide a unique and casual dining experience, with a variety of cuisines and flavors to choose from. Explore the different food carts and indulge in anything from gourmet burgers and artisan pizza to ethnic street food and sweet treats.
When you're ready for a break or a change of pace, downtown Medford has numerous cafes and coffee shops where you can relax and enjoy a cup of expertly brewed coffee or a delicious pastry. These cozy spots provide the perfect setting to unwind, catch up with friends, or simply take a break from exploring.
To make the most of your downtown Medford experience, consider visiting during special events or farmers' markets. Downtown often hosts art walks, live music performances, and seasonal celebrations, creating a lively and festive atmosphere.
So, whether you're on the hunt for unique finds, satisfying your culinary cravings, or simply enjoying the ambiance, downtown Medford offers a delightful blend of shopping and dining experiences that are sure to leave you with wonderful memories of your visit.

4. Prescott Park Medford, Oregon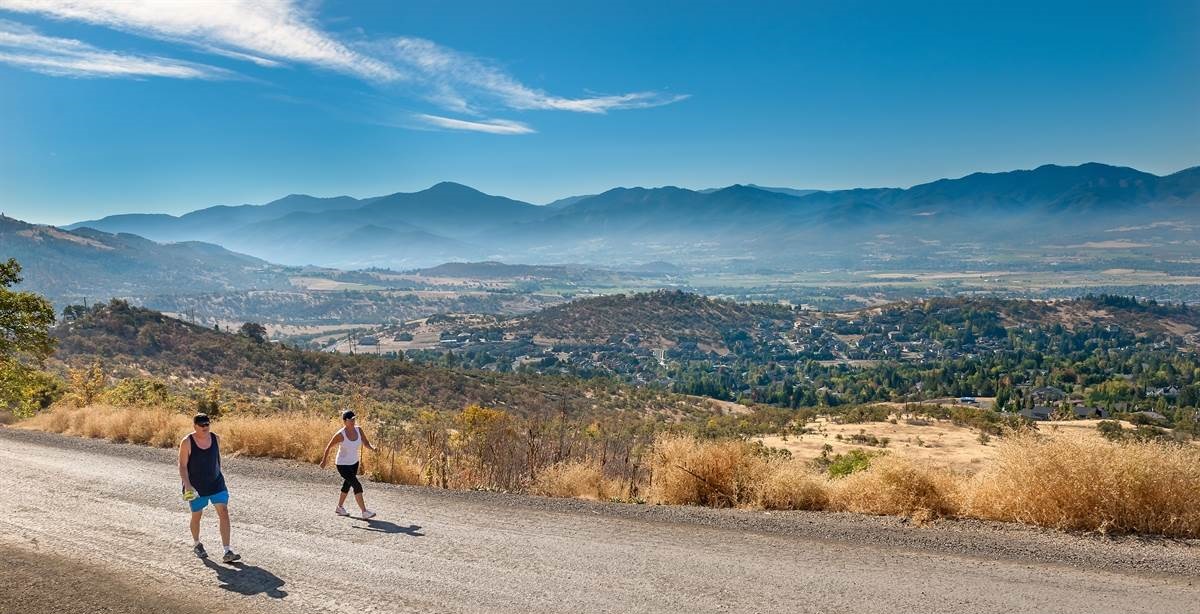 Prescott Park is a 1,740-acre park in Medford, Oregon. It is the second largest municipal park holding in the state of Oregon. The park is home to a variety of hiking and mountain biking trails, as well as picnic areas, restrooms, and a playground. The park's most prominent feature is Roxy Ann Peak, which offers stunning views of the Rogue Valley and surrounding mountains. 
Here are some of the activities you can do in Prescott Park:
Hiking: There are over 20 miles of hiking trails in the park, ranging from easy to challenging.
Mountain biking: There are also several miles of mountain biking trails in the park.
Picnicking: There are several picnic areas in the park, with tables, grills, and restrooms.
Wildlife viewing: The park is home to a variety of wildlife, including deer, coyotes, and birds.
Fishing: There is a small fishing pond in the park.
Off-leash dog park: There is an off-leash dog park in the park.
Prescott Park is a great place to enjoy the outdoors and get some exercise. It is open year-round, but the best time to visit is during the spring and fall when the weather is mild.

5. Medford Railroad Park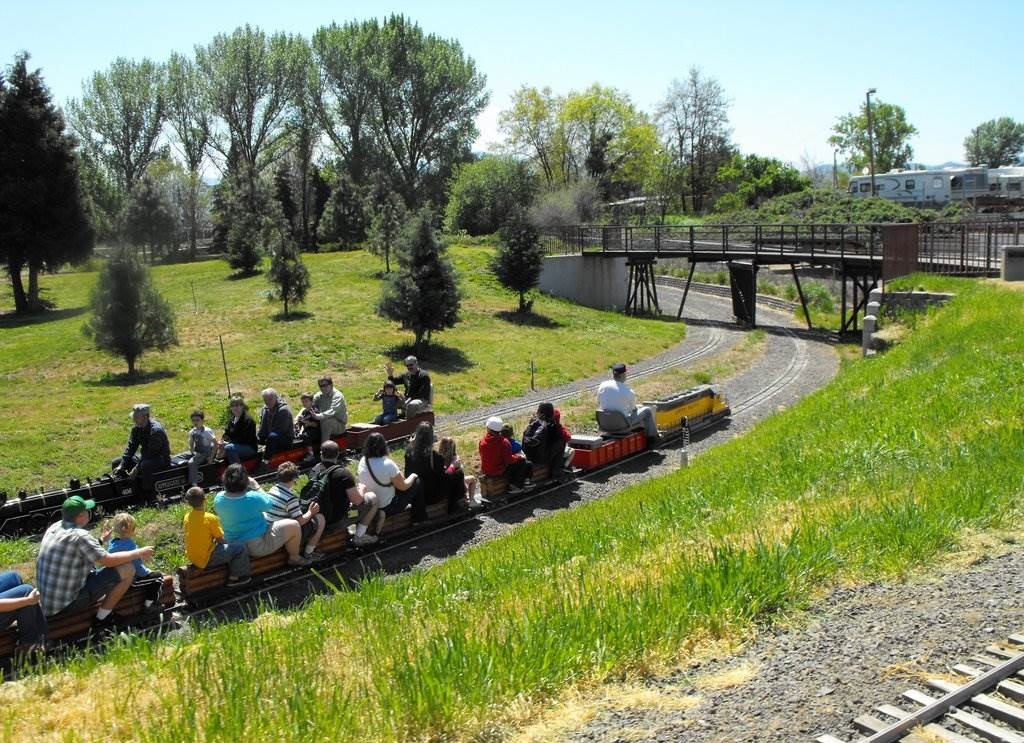 Medford Railroad Park is a 49-acre park in Medford, Oregon, that is home to a variety of train exhibits. The park is operated by the Southern Oregon Chapter of the National Railway Historical Society, the Southern Oregon Live Steamers, the Morse Telegraph Club, the Rogue Valley Model Railroad Club, and the Medford Garden Railroaders.
The park features a roundhouse that houses several locomotives and cars, as well as a garden railroad, a live steam train, and a Morse telegraph exhibit. There are also picnic areas, restrooms, and a playground in the park.
Medford Railroad Park is open from 11:00 AM to 3:00 PM on Sundays. Admission is free, but donations are appreciated.
Here are some of the things you can do at Medford Railroad Park:
See the roundhouse and its locomotives and cars.
Ride the live steam train.
Explore the garden railroad.
Learn about Morse telegraphy.
Have a picnic in the park.
Play on the playground.
Medford Railroad Park is a great place to learn about trains and to have a fun day with the family.

6. Crater Lake Park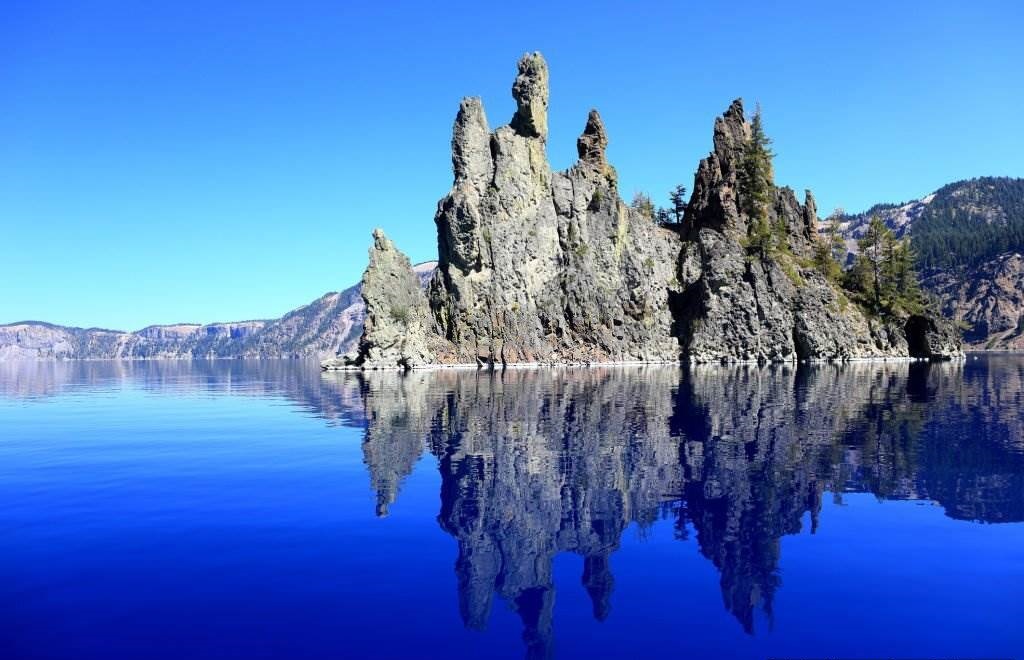 Crater Lake National Park is a breathtaking natural wonder located in southern Oregon, near the city of Medford. It is renowned for its stunning beauty and boasts the title of being one of the oldest national parks in the United States. The park's centerpiece is the awe-inspiring Crater Lake, which is famous for its deep blue color and pristine clarity.
Formed by the collapse of an ancient volcano, Crater Lake is the deepest lake in the United States and one of the deepest in the world. Its serene waters are surrounded by towering cliffs, creating a mesmerizing sight that leaves visitors in awe. The lake's intense blue hue is a result of its exceptional depth and the purity of the water, which is sourced solely from rain and snowfall.
One of the most popular activities in Crater Lake National Park is taking in the panoramic vistas from the Rim Drive. This 33-mile scenic road encircles the lake and offers numerous viewpoints where visitors can stop, marvel at the breathtaking scenery, and capture memorable photographs. Each viewpoint provides a unique perspective of the lake and its surroundings, showcasing the park's natural grandeur.
Hiking is another fantastic way to explore Crater Lake National Park. The park offers a variety of trails suitable for different skill levels, ranging from leisurely strolls to challenging hikes. The Cleetwood Cove Trail leads to the lake's shoreline, where visitors can take boat tours or even swim in the cool, crystalline waters. For more adventurous hikers, the Garfield Peak Trail offers panoramic views from a higher elevation.
During the winter months, Crater Lake National Park transforms into a winter wonderland. Visitors can partake in activities such as cross-country skiing, snowshoeing, and snowboarding in the park's snowy landscapes. The park's scenic beauty takes on a whole new dimension when blanketed in snow, offering a serene and peaceful experience.
Crater Lake National Park is not just a visual delight; it also provides opportunities for educational experiences. The Steele Visitor Center offers exhibits and information about the park's geology, wildlife, and history. Ranger-led programs and guided tours are available to enhance visitors' understanding and appreciation of this natural gem.
In summary, Crater Lake National Park near Medford, Oregon, is a must-visit destination for nature enthusiasts, outdoor adventurers, and those seeking awe-inspiring landscapes. Whether you're driving along the rim, embarking on a hike, exploring the park's winter wonders, or delving into its educational offerings, a visit to Crater Lake will leave you with unforgettable memories and a profound appreciation for the natural wonders of Oregon.

7. Jacksonville
Jacksonville is a historic and charming small town located in southern Oregon, just a short drive from Medford. Known for its well-preserved 19th-century buildings and rich history, Jacksonville offers a delightful blend of small-town charm, cultural attractions, and natural beauty.
One of the highlights of visiting Jacksonville is exploring its historic district. The town's Main Street is lined with beautifully restored buildings from the Gold Rush era, housing a variety of unique shops, art galleries, boutiques, and restaurants. Take a leisurely stroll through the streets and immerse yourself in the town's rich history and architectural beauty.
The Jacksonville Museum of Southern Oregon History provides an opportunity to delve deeper into the area's past. Housed in the historic 1883 Jackson County Courthouse, the museum showcases exhibits that chronicle the town's pioneer heritage and the region's historical significance. Learn about the Gold Rush, early settlers, Native American history, and more through engaging displays and artifacts.
Nature enthusiasts will appreciate the proximity of Jacksonville to the stunning natural landscapes of southern Oregon. Just a short drive from town, you can explore the beautiful Applegate Valley, known for its vineyards, wineries, and scenic beauty. The nearby Jacksonville Woodlands Trail System offers a network of hiking trails that wind through oak woodlands, offering opportunities for outdoor recreation and wildlife spotting.
For music lovers, the Britt Music & Arts Festival is a must-visit attraction. This renowned outdoor amphitheater hosts a variety of concerts and performances throughout the summer, featuring a diverse range of musical genres, including classical, jazz, folk, rock, and pop. Enjoy live music while surrounded by the natural beauty of the Rogue Valley.
During the summer months, Jacksonville hosts various festivals and events that attract locals and visitors alike. The popular Britt Festivals presents a series of outdoor concerts, while the Jacksonville Balloon Rally features colorful hot air balloons filling the sky. The Victorian Christmas celebration in December brings the town to life with festive lights, holiday decorations, and joyful activities.
Culinary enthusiasts will find a range of dining options in Jacksonville, from cozy cafes and bistros to elegant restaurants. Many establishments highlight local ingredients, offering farm-to-table cuisine and showcasing the flavors of the region. Indulge in a delicious meal while enjoying the town's quaint ambiance.
Jacksonville, Oregon, invites visitors to step back in time and experience its rich history, picturesque streets, and small-town charm. From exploring the well-preserved historic district to enjoying outdoor adventures in the surrounding natural landscapes, Jacksonville offers a delightful escape for those seeking a blend of culture, history, and natural beauty.

8. Applegate Lake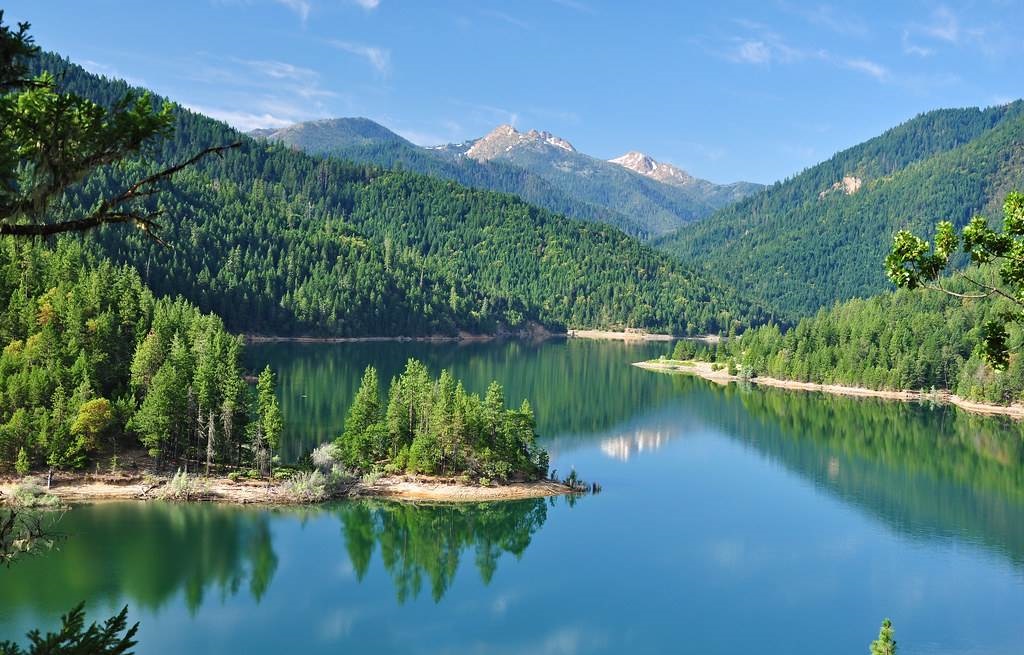 Applegate Lake is a scenic reservoir located in the Siskiyou National Forest of southwestern Oregon, near the town of Jacksonville. Nestled amidst picturesque mountains and lush forests, Applegate Lake offers a tranquil and picturesque setting for outdoor enthusiasts and nature lovers.
The lake itself is a man-made reservoir created by the Applegate Dam on the Applegate River. It spans over 10 miles and provides ample opportunities for various recreational activities. One of the most popular activities at Applegate Lake is fishing. The lake is well-known for its abundance of bass, trout, and salmon, making it a favorite spot for anglers. Cast your line from the shore or rent a boat and venture out onto the serene waters in search of the perfect catch.
If you prefer to be on the water, kayaking, and canoeing are great ways to explore Applegate Lake. Paddle along the peaceful lake, taking in the surrounding natural beauty and enjoying the tranquility of the surroundings. There are several designated boat launch areas for easy access.
Hiking enthusiasts will find a range of trails in the Applegate Lake area, offering opportunities to immerse themselves in the stunning scenery. The Applegate Lake Trail is a 17-mile loop that meanders around the lake, providing scenic views and access to hidden coves and beaches. The trails are suitable for various skill levels, from leisurely strolls to more challenging hikes, ensuring there's something for everyone to enjoy.
Picnic areas and campgrounds are available along the lake's shoreline, providing ideal spots to relax, enjoy a meal, or spend a night under the stars. Campgrounds offer amenities such as picnic tables, fire pits, and restroom facilities, allowing visitors to fully immerse themselves in the beauty of the natural surroundings.
Nature enthusiasts will appreciate the diverse wildlife that calls the Applegate Lake area home. Keep an eye out for bald eagles soaring overhead, deer grazing in the meadows, and various bird species flitting through the trees. The peacefulness of the lake and its surroundings make it an excellent location for birdwatching and wildlife observation.
Whether you're seeking a day of fishing, a leisurely paddle on the lake, a scenic hike, or a peaceful picnic in nature, Applegate Lake provides a serene and captivating setting to unwind and connect with the outdoors. The natural beauty and recreational opportunities make it a destination that shouldn't be missed for those exploring the Jacksonville area.

9. Craterian Theater, Medford, Oregon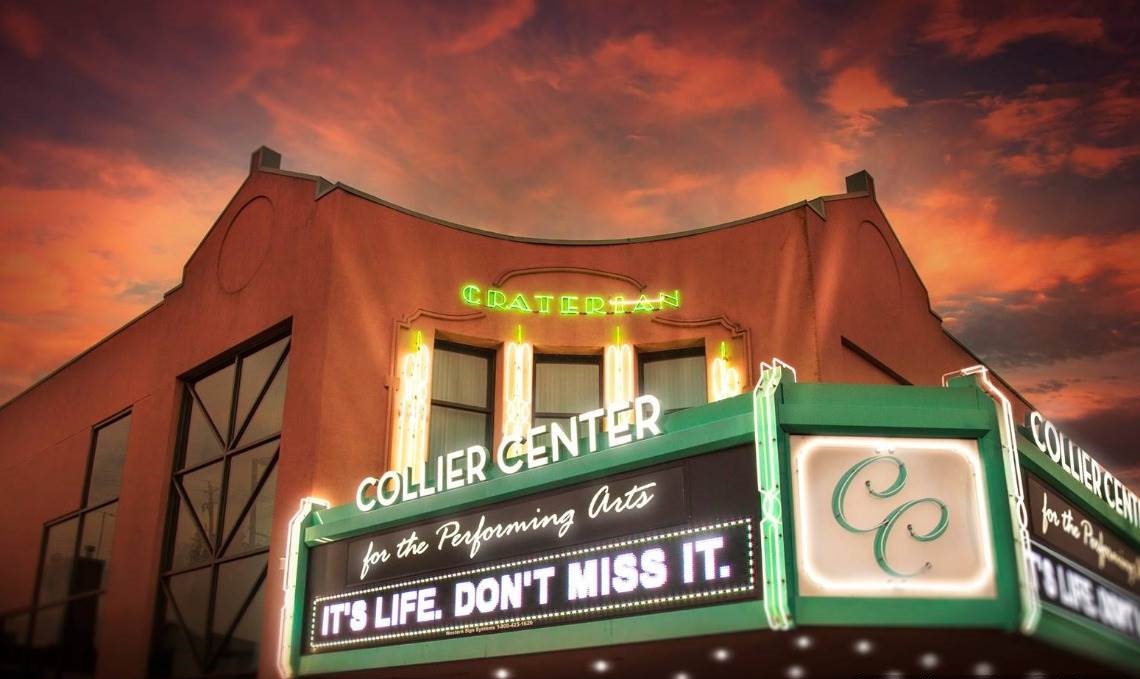 The Craterian Theater, located in Medford, Oregon, is a prominent performing arts venue that offers a diverse range of entertainment and cultural experiences. Situated in downtown Medford, the Craterian Theater is known for its elegant architecture and top-notch productions.
The theater hosts a variety of performances throughout the year, including Broadway shows, musical concerts, dance performances, comedy acts, and community productions. It provides a platform for both local and touring artists to showcase their talents and entertain audiences of all ages.
Attending a show at the Craterian Theater offers a unique and immersive experience. The theater boasts comfortable seating, excellent acoustics, and state-of-the-art lighting and sound systems, ensuring an enjoyable viewing experience for all attendees. The intimate atmosphere allows for a close connection between performers and the audience, creating memorable moments on stage.
In addition to its regular performances, the Craterian Theater also offers educational programs and workshops. These programs provide opportunities for aspiring artists, students, and community members to learn, develop their skills, and engage in the performing arts.
Located in the heart of downtown Medford, the theater is surrounded by a vibrant and lively atmosphere. Visitors can explore the nearby shops, restaurants, and art galleries, making it a perfect destination for a night out on the town.
Whether you are a theater enthusiast, music lover, or simply looking for a memorable entertainment experience, the Craterian Theater in Medford, Oregon, offers a fantastic venue to enjoy a wide array of performances in a welcoming and vibrant setting.

10. Oregon Caves National Monument & Preserve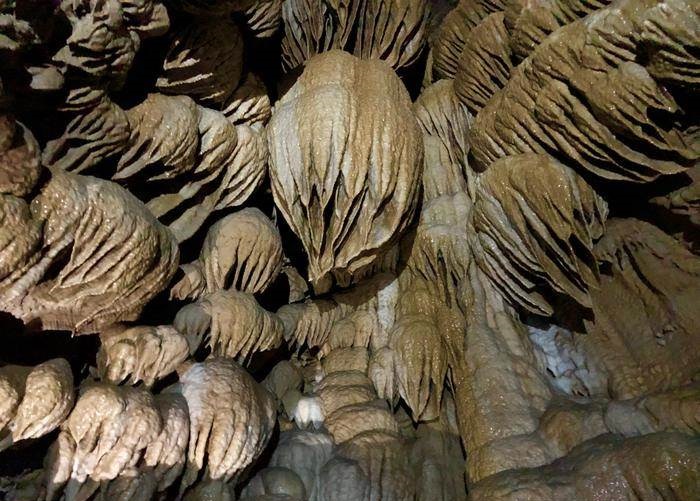 The Oregon Caves National Monument and Preserve is a unique and captivating natural attraction located in the Siskiyou Mountains of southwestern Oregon. This protected area encompasses a system of marble caves that have been formed over thousands of years, offering visitors an incredible underground adventure.
The caves themselves are the main highlight of the Oregon Caves National Monument and Preserve. Guided tours are available to explore the labyrinth of chambers, passages, and stunning geological formations. As you venture deeper into the caves, you'll be surrounded by the beauty of intricate stalactites, stalagmites, and flowstones, creating a mesmerizing subterranean landscape. The knowledgeable guides provide fascinating insights into the geology, history, and ecology of the caves, making the tour both educational and awe-inspiring.
Beyond the caves, the monument and preserve also boast a diverse natural environment. The surrounding forests provide opportunities for outdoor activities such as hiking, wildlife viewing, and nature photography. Several trails wind through the lush greenery, allowing visitors to immerse themselves in the beauty of the area.
For those interested in learning more about the caves and the surrounding ecosystem, the monument features a visitor center. Here, you can find exhibits, displays, and interactive materials that provide further information about the geology, history, and biodiversity of the region.
The Oregon Caves National Monument and Preserve offers a unique and memorable experience for visitors of all ages. Whether you're exploring the intricate cave formations, hiking through the forested trails, or discovering more about the natural wonders at the visitor center, a visit to this remarkable destination is sure to leave you with a deep appreciation for the fascinating geological processes and the importance of conservation.

11. The Children's Museum of Southern Oregon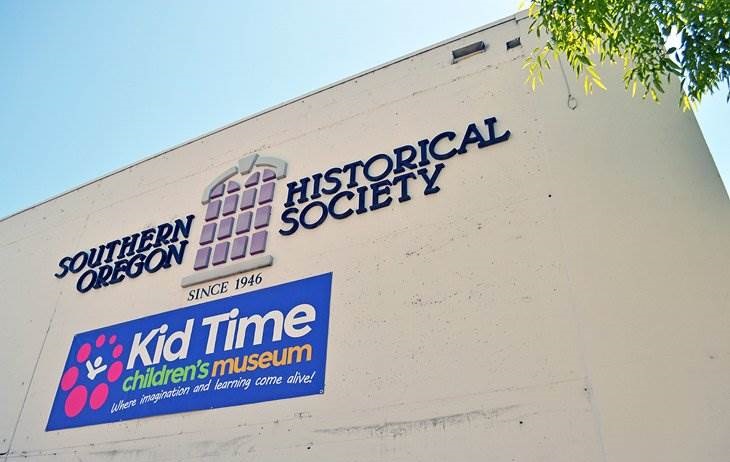 The Children's Museum of Southern Oregon is a vibrant and interactive educational institution located in Medford, Oregon. Designed specifically for children, the museum provides a hands-on learning experience that engages young minds through play, exploration, and discovery.
Visitors to the Children's Museum of Southern Oregon can expect a wide range of exhibits and activities that cater to various interests and age groups. The museum features interactive displays that cover topics such as science, technology, engineering, art, and math (STEAM). Children can engage in imaginative play, problem-solving challenges, artistic creations, and scientific experiments, all while having fun and learning at the same time.
One of the highlights of the museum is its emphasis on interactive learning. Children are encouraged to touch, manipulate, and explore the exhibits, fostering a sense of curiosity and active participation. Whether it's building structures, conducting science experiments, or engaging in pretend play, the museum offers a stimulating environment where children can learn through hands-on experiences.
In addition to the exhibits, the Children's Museum of Southern Oregon often hosts special events, workshops, and educational programs. These activities may include storytelling sessions, art classes, science demonstrations, and themed events that further enhance the educational experience for children and their families.
The museum's staff and volunteers are knowledgeable and passionate about creating a positive learning environment for children. They are available to assist and guide visitors, ensuring a safe and enriching experience for everyone.
The Children's Museum of Southern Oregon serves as a valuable resource for families, schools, and the community at large. It provides a supportive and engaging space for children to explore, discover, and learn while fostering creativity, critical thinking, and social interaction.
A visit to the Children's Museum of Southern Oregon is an opportunity for children to expand their knowledge, develop skills, and cultivate a lifelong love for learning. It is a place where education meets fun, making it a cherished destination for families and an asset to the community as a whole.

12. The Natural Bridge Loop Medford, Oregon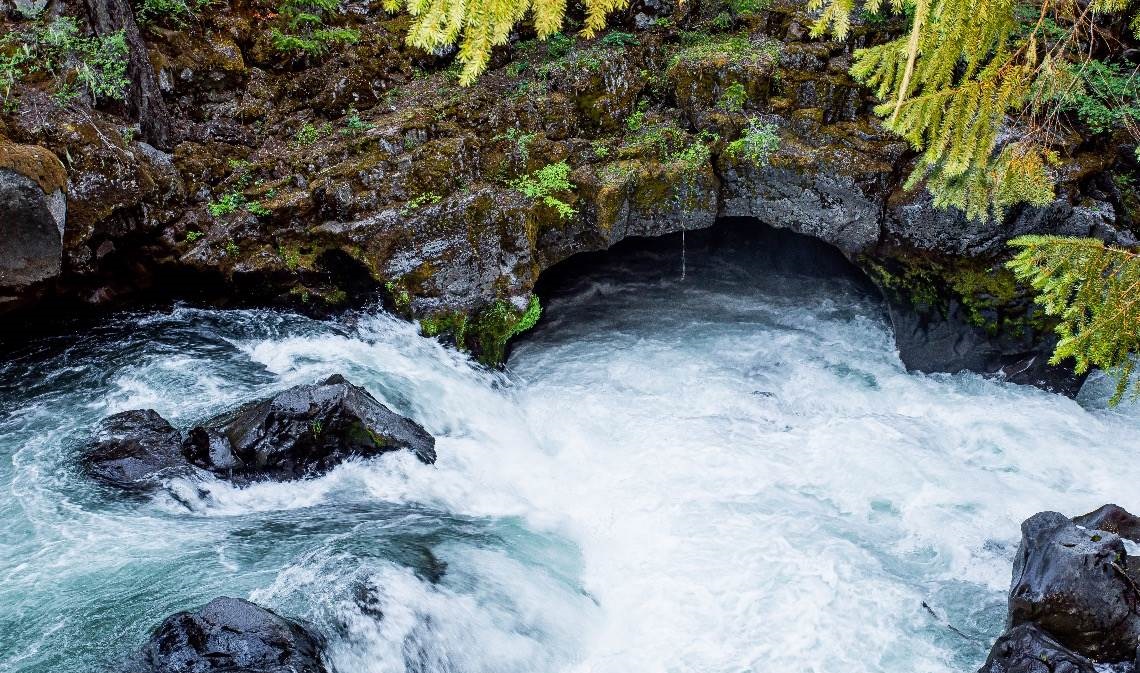 The Natural Bridge, located in Medford, Oregon, is a fascinating natural wonder that showcases the power and beauty of the Rogue River. This geological formation is a must-visit destination for nature enthusiasts and those seeking a unique outdoor experience.
The Natural Bridge is formed by the Rogue River carving its way through solid basalt lava flows, creating a spectacular rock formation with a natural bridge-like arch. The river flows through a narrow channel, sculpting the rocks and creating a series of small cascades and pools along the way.
Visitors to the Natural Bridge can witness the mesmerizing sight of the Rogue River flowing through the narrow channel, disappearing under the natural bridge, and then reemerging further downstream. The rushing water creates a picturesque scene as it crashes against the rocks, creating a symphony of sounds and a visual spectacle.
Exploring the Natural Bridge provides opportunities for hiking, photography, and simply immersing oneself in the serene beauty of nature. There are viewing platforms and trails that allow visitors to observe the river's powerful flow and capture stunning photographs of the natural rock formation.
The area surrounding the Natural Bridge is also known for its diverse flora and fauna. Keep an eye out for various bird species, including herons and eagles, as well as other wildlife that may frequent the riverbanks and surrounding forests.
It's important to note that while the Natural Bridge is a captivating natural attraction, swimming or wading in the river can be dangerous due to the powerful current and submerged rocks. It's advisable to exercise caution and follow any safety guidelines or warnings provided at the site.
Whether you're a nature lover, a photographer, or simply seeking a peaceful spot to connect with the outdoors, the Natural Bridge in Medford, Oregon, offers a unique and awe-inspiring experience. Witnessing the power of the Rogue River as it flows through the natural arch and admiring the surrounding natural beauty makes for a memorable visit.

Another Video About Medford, Oregon
Watch this video about Medford, Oregon, the video explains things to know about the city before traveling or living in, the video was created by Rockwell Real Estate Group | Southern Oregon YouTub Channel.

Conclusion
In conclusion, Medford, Oregon, is a hidden gem for travelers seeking a diverse range of experiences in a picturesque setting. From the enchanting Rogue River and its captivating Natural Bridge to the awe-inspiring Table Rocks offering panoramic views, Medford boasts natural wonders that will leave visitors in awe. The vibrant downtown area provides opportunities for shopping, dining, and immersing oneself in the local culture, while the Craterian Theater offers unforgettable performances that ignite the imagination.
For those seeking tranquility, Prescott Park and Applegate Lake offer serene landscapes and outdoor adventures. Meanwhile, history enthusiasts can explore the charming town of Jacksonville, while nature lovers can marvel at the breathtaking beauty of Crater Lake National Park. With its blend of outdoor splendor, cultural attractions, and warm hospitality, Medford, Oregon, truly deserves a spot on any traveler's itinerary. So pack your bags, embrace the beauty of this remarkable destination, and create unforgettable memories in Medford, where adventure, relaxation, and exploration await at every turn.

FAQ
Medford is famous for its stunning natural beauty, including the Rogue River and nearby attractions such as Crater Lake National Park. It is also known for its thriving arts and culture scene, with the Craterian Theater being a prominent venue.
Medford is not considered a small town. It is the largest city in southern Oregon and serves as a regional hub for commerce, education, and healthcare.
Which country is Medford located?
Medford is located in the United States, specifically in the state of Oregon.
Medford has a relatively low crime rate compared to other cities in the United States. However, it is always recommended to exercise caution and take common-sense safety precautions.
How expensive is Medford?
Medford has a relatively lower cost of living compared to many other cities in Oregon and the United States. Housing, groceries, and transportation are generally more affordable in Medford than in larger metropolitan areas.
Does it snow in Medford, Oregon?
While Medford does experience occasional snowfall during the winter months, it is not as common or heavy as in other parts of Oregon. Snowfall in Medford is usually light and does not typically cause significant disruptions.
What is the best place to live in Medford?
Medford has several desirable neighborhoods and communities to consider, such as East Medford, Jacksonville, and Phoenix. The best place to live in Medford ultimately depends on personal preferences and needs.
Is Medford a good area to live?
Medford is generally considered a good area to live, offering a high quality of life, beautiful natural surroundings, a strong sense of community, and access to amenities and services.
Is Medford a big airport?
Medford is served by the Rogue Valley International-Medford Airport (MFR), which is the third-largest airport in Oregon. It provides convenient air travel options for residents and visitors.
Is Medford expensive to live?
Medford has a relatively affordable cost of living compared to many other cities in Oregon and the United States. Housing, utilities, and daily expenses are generally more reasonable in Medford.
How much does it cost to live in Medford?
The cost of living in Medford varies depending on factors such as housing, lifestyle choices, and personal preferences. However, overall, Medford is considered to have a lower cost of living compared to larger cities in Oregon.
What is the coldest month in Oregon?
The coldest month in Oregon varies by region, but generally, January is considered the coldest month statewide.
How many months does it snow in Oregon?
The duration and frequency of snowfall in Oregon vary by region. In higher elevations and mountainous areas, snow can be present for several months during the winter season.
What kind of town is Medford, Oregon?
Medford is a vibrant city with a mix of urban amenities and natural beauty. It is known for its outdoor recreational opportunities, arts and culture scene, and friendly community atmosphere.
Where is the best place to live in Oregon?
Oregon has many desirable places to live, depending on individual preferences. Some popular choices include Portland, Bend, Eugene, Corvallis, and Ashland.
What is the most expensive place to live in Oregon?
The city of Lake Oswego, located near Portland, is often considered one of the most expensive places to live in Oregon due to its upscale neighborhoods, amenities, and proximity to the city.
Is it cheaper to live in California or Oregon?
Generally, Oregon has a lower cost of living compared to many parts of California, particularly in terms of housing prices. However, cost comparisons can vary depending on specific locations within each state.
What is the most beautiful city in Oregon?
Oregon is known for its natural beauty, and there are many cities that are considered visually stunning. Some of the most beautiful cities in Oregon include Ashland, Bend, Cannon Beach, and Hood River.