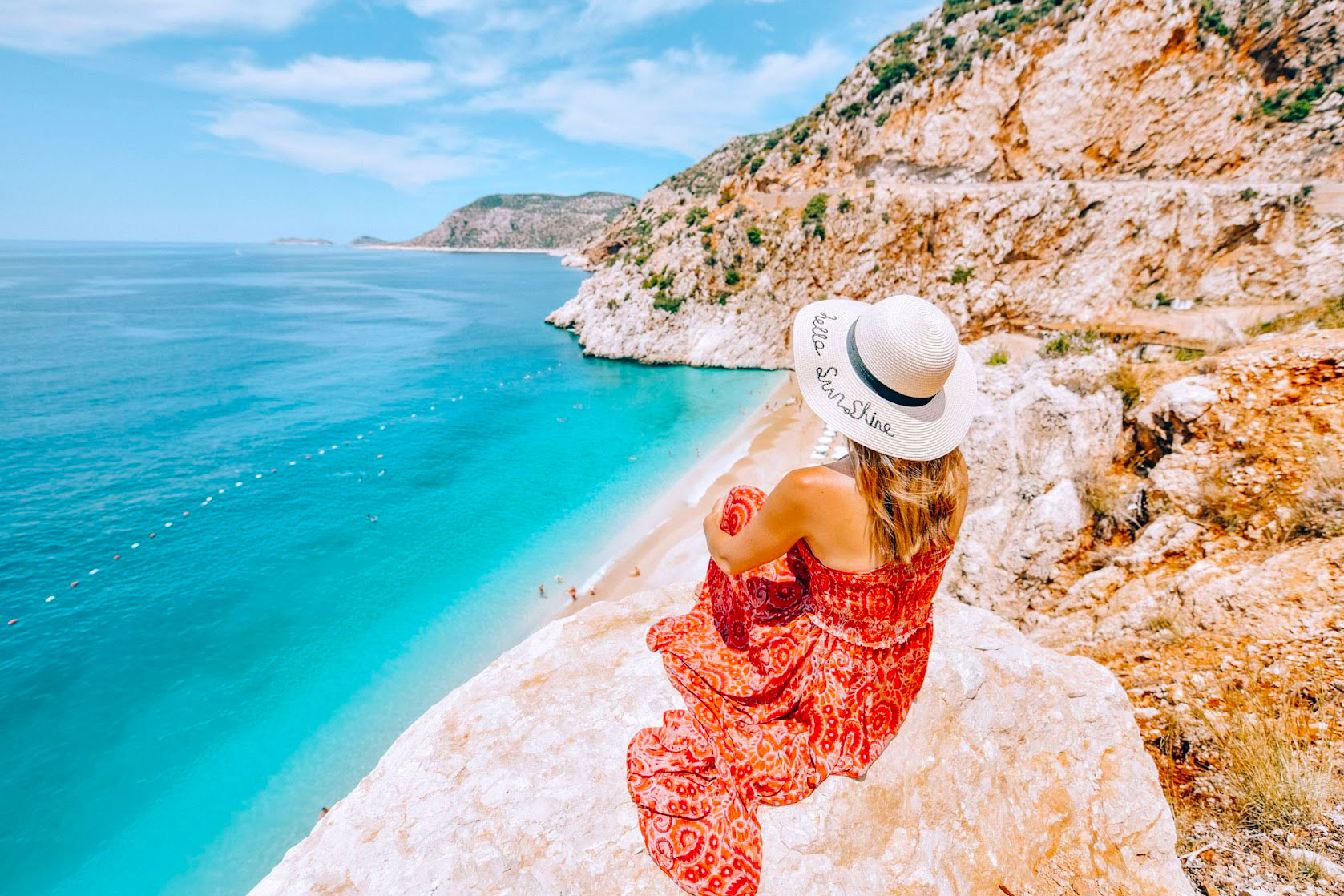 13 Must-Visit Beaches in Europe in June 2024
This article was created by a dedicated and authentic team of passionate travelers from the PTA Team, who are not only experienced travel experts but also proud members of the World Travel & Tourism Council (WTTC). Our sole purpose is to assist and support fellow travelers in planning their tours with utmost care and precision. With exclusive information, valuable insights, and meticulous analysis, we strive to provide high-quality content that leaves no room for mistakes. Count on us to deliver comprehensive destination reports and all the necessary information to ensure an exceptional and well-planned travel experience for you. Learn More
Article Table of Content
Europe in June offers a splendid invitation to beach lovers, where the continent's diverse coastline comes alive with vibrant colors, warm sunshine, and a refreshing sea breeze. From the rocky coves of the Mediterranean to the sandy stretches along the Atlantic, Europe's beaches are a tapestry of beauty and adventure.
Join us on a journey to discover the 13 must-visit beaches that promise unforgettable experiences, whether you seek relaxation on golden shores, water sports in azure waters, or cultural immersion along the coastlines. June is the perfect time to dive into the azure waters of the European beaches, and we've curated a list that will inspire your summer travel plans. So, grab your sunscreen and your sense of adventure as we explore the best beaches in Europe have to offer this June.

1. Navagio Beach, Zakynthos, Greece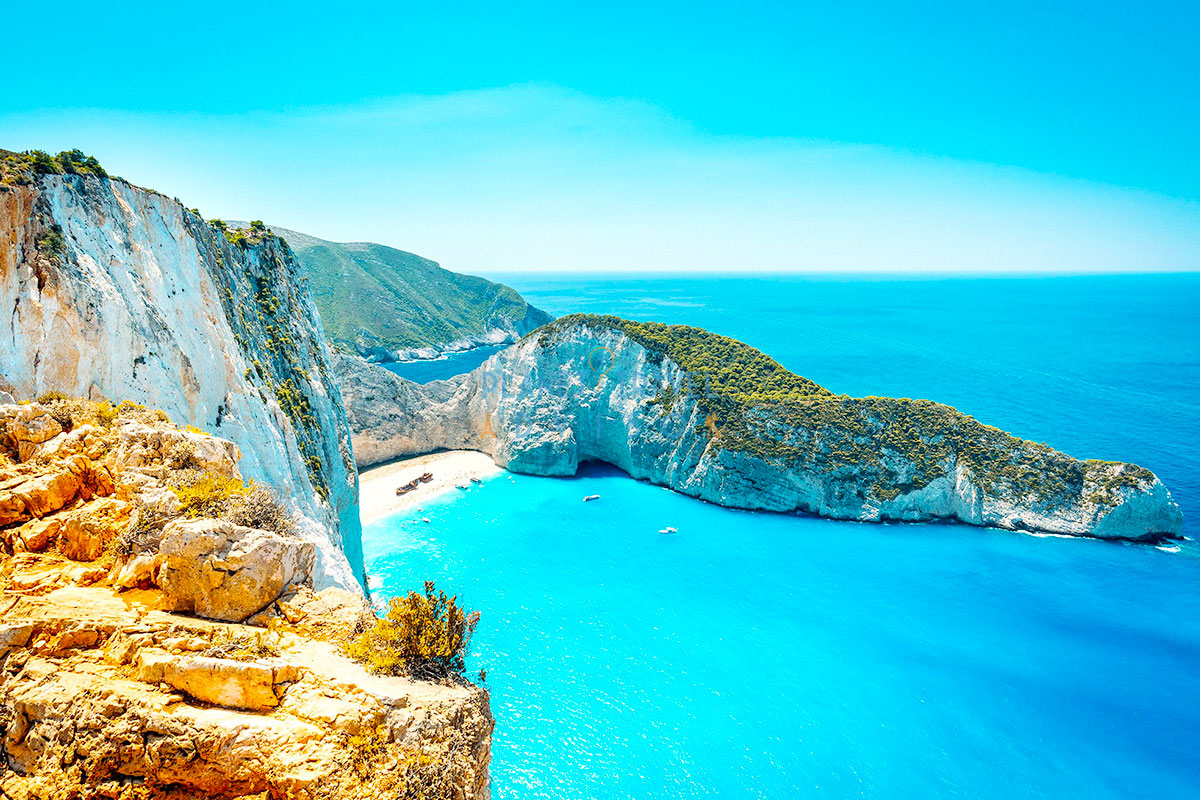 Navagio Beach, also known as Shipwreck Beach, is a mesmerizing coastal gem located on the Greek island of Zakynthos in the Ionian Sea. This pristine paradise is renowned worldwide for its breathtaking beauty, featuring crystal-clear turquoise waters, a crescent-shaped bay, and a captivating limestone cliff backdrop that conceals a fascinating secret.
One of the most iconic elements of Navagio Beach is the shipwreck itself. In 1980, a freighter called the MV Panagiotis ran aground on the beach while allegedly smuggling contraband cigarettes. The rusted and decaying wreck adds an eerie yet intriguing element to the already stunning landscape, making it a photographer's dream and a unique tourist attraction.
Visitors to Navagio Beach are greeted with a sense of awe as they approach via boat, taking in the sheer, towering cliffs covered in lush greenery. The beach's powdery white sand invites travelers to relax and soak in the Mediterranean sun. Swimming in the azure waters is a must, as they are clear and refreshingly cool. Snorkeling enthusiasts can explore the vibrant underwater world teeming with marine life and submerged caves.
The best time to visit Navagio Beach is during the summer months when the weather is warm, and the sea is calm, making boat trips more enjoyable. Due to its popularity, the beach can get crowded during peak season, so arriving early is advisable for those seeking a more tranquil experience.
Beyond the beach, Navagio offers numerous hiking opportunities. Adventurous souls can trek up to the cliff's edge for panoramic views that capture the essence of Zakynthos' natural beauty.

2. Cala Macarelleta, Menorca, Spain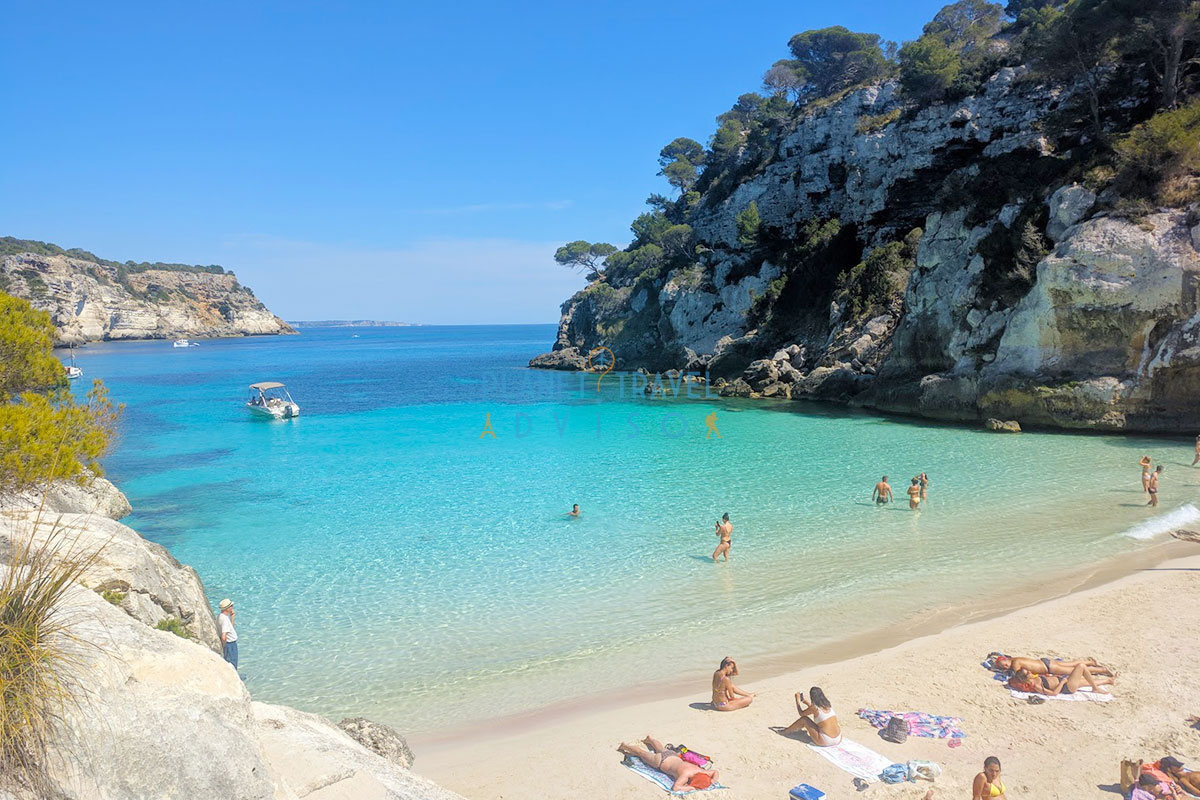 Cala Macarelleta is a hidden jewel tucked away on the idyllic Spanish island of Menorca, part of the Balearic archipelago. This beach, often described as a slice of paradise, boasts a remarkable blend of natural beauty and tranquility that has earned it a reputation as one of the Mediterranean's finest.
Located on the southern coast of Menorca, Cala Macarelleta is characterized by its soft, powdery white sands that meet the crystal-clear turquoise waters of the Mediterranean Sea. The beach is nestled between two small cliffs, providing a sense of seclusion and intimacy that appeals to couples seeking a romantic escape or anyone desiring a peaceful getaway.
One of the beach's defining features is the pristine waters, perfect for swimming and snorkeling. The underwater world is teeming with colorful marine life, making it a popular spot for underwater exploration. Snorkelers can discover hidden coves, sea caves, and a vibrant array of fish species in the calm, transparent waters.
Cala Macarelleta can be reached via a short hike from the larger and more well-known Cala Galdana. The journey involves walking through a pine forest, offering a refreshing escape from the heat during the summer months. As you approach Cala Macarelleta, the anticipation builds, and the reward is nothing short of spectacular.
The beach is relatively small, which contributes to its tranquil atmosphere. However, it can get crowded during the peak summer season, so visiting early in the morning or during the shoulder seasons is advisable for those seeking a quieter experience.

3. Praia da Marinha, Algarve, Portugal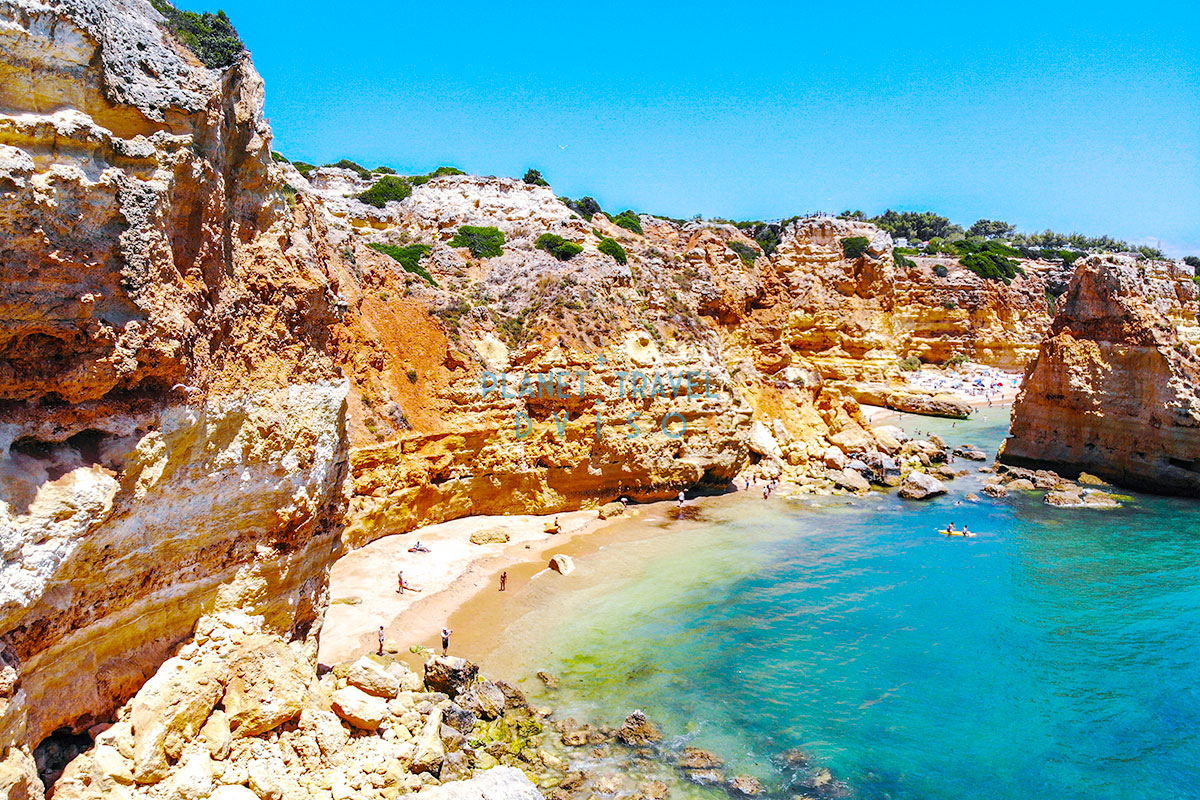 Praia da Marinha, located in the Algarve region of southern Portugal, is a captivating coastal destination celebrated for its rugged cliffs, golden sands, and crystal-clear waters. Often regarded as one of Europe's most beautiful beaches, it offers a picturesque and idyllic escape for travelers seeking natural beauty.
This pristine beach is nestled among limestone cliffs adorned with lush greenery, creating a dramatic backdrop that sets it apart from other coastal destinations. The beach's golden sands are gently lapped by the turquoise waters of the Atlantic Ocean, making it an ideal spot for sunbathing, swimming, and water sports.
Praia da Marinha is renowned for its natural rock formations, including sea caves and towering arches carved by centuries of erosion. Visitors can explore these geological wonders by taking boat tours or by hiking along the cliffside trails, which offer stunning vistas of the coastline and the surrounding marine environment.
The waters of Praia da Marinha are exceptionally clear, making it a fantastic location for snorkeling and diving. Beneath the surface, you'll discover a vibrant underwater world teeming with colorful fish and marine flora. Snorkelers can explore the sea caves and hidden grottoes that dot the coastline.
Visiting Praia da Marinha during the off-peak seasons, such as spring or early autumn, is recommended for those looking to avoid the crowds and enjoy a more serene experience. However, regardless of the time of year, the beach's natural beauty remains awe-inspiring.

4. Plage de Palombaggia, Corsica, France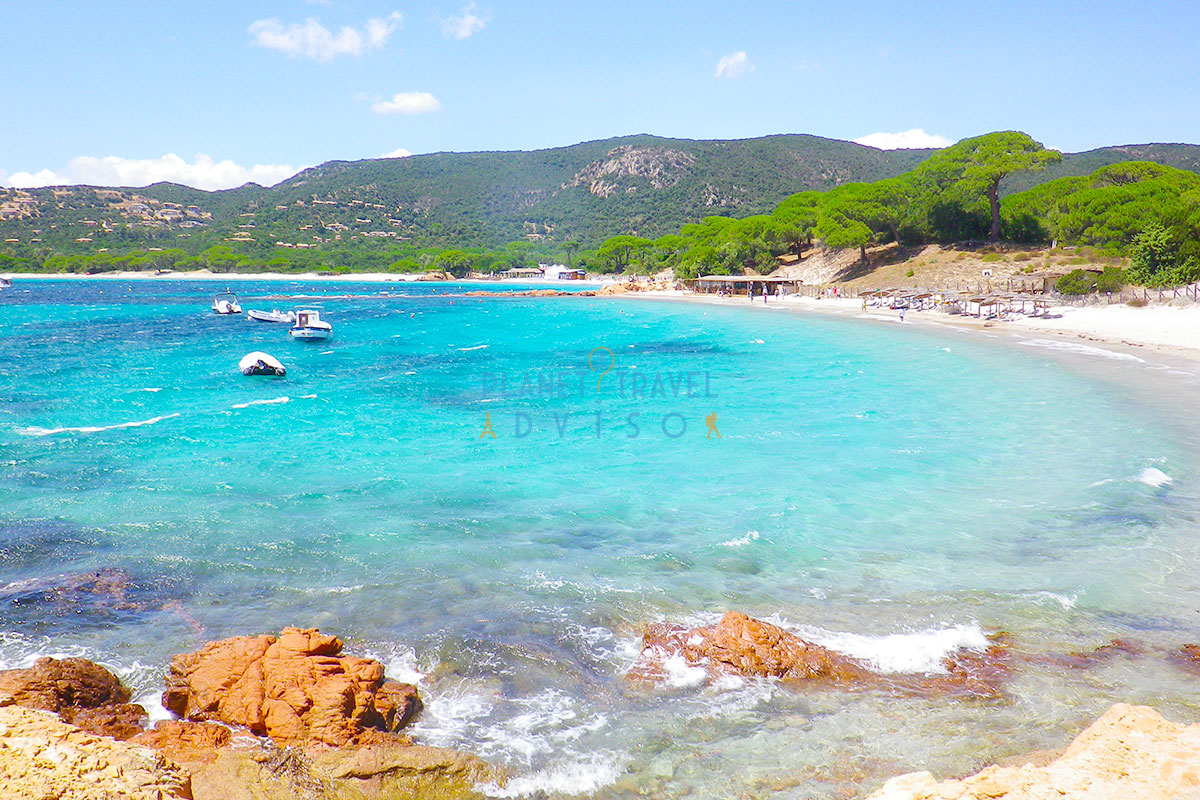 Plage de Palombaggia, nestled on the stunning Mediterranean island of Corsica, France, is a true paradise on Earth. With its powdery white sands, crystal-clear turquoise waters, and dramatic granite rock formations, this beach is a magnet for travelers seeking sun, sea, and natural beauty.
The beach stretches for about 2 kilometers along the coast, offering ample space for visitors to relax, sunbathe, or indulge in water sports. The soft sands invite you to stroll barefoot while the gentle waves lap at the shore. Palombaggia is a family-friendly destination, with shallow waters near the shore making it safe for children to swim and play.
One of the most distinctive features of Palombaggia Beach is its iconic pink granite rocks, which are scattered along the coastline. These unique formations create picturesque backdrops for photos and provide shade and privacy for sunbathers. They also add an element of rugged beauty to the otherwise pristine beachscape.
For those seeking adventure, there are opportunities for jet skiing, paddleboarding, and snorkeling to explore the vibrant marine life beneath the surface. Nearby restaurants and beach clubs offer a chance to savor delectable Mediterranean cuisine with stunning sea views.
As the sun sets over Palombaggia, the beach takes on a magical ambiance. The warm hues of the setting sun, combined with the soft rustling of the palm trees, create a romantic atmosphere perfect for couples. It's no wonder that Palombaggia Beach is one of the most popular beaches in Europe for weddings and honeymooners.

5. Reynisfjara Beach, Iceland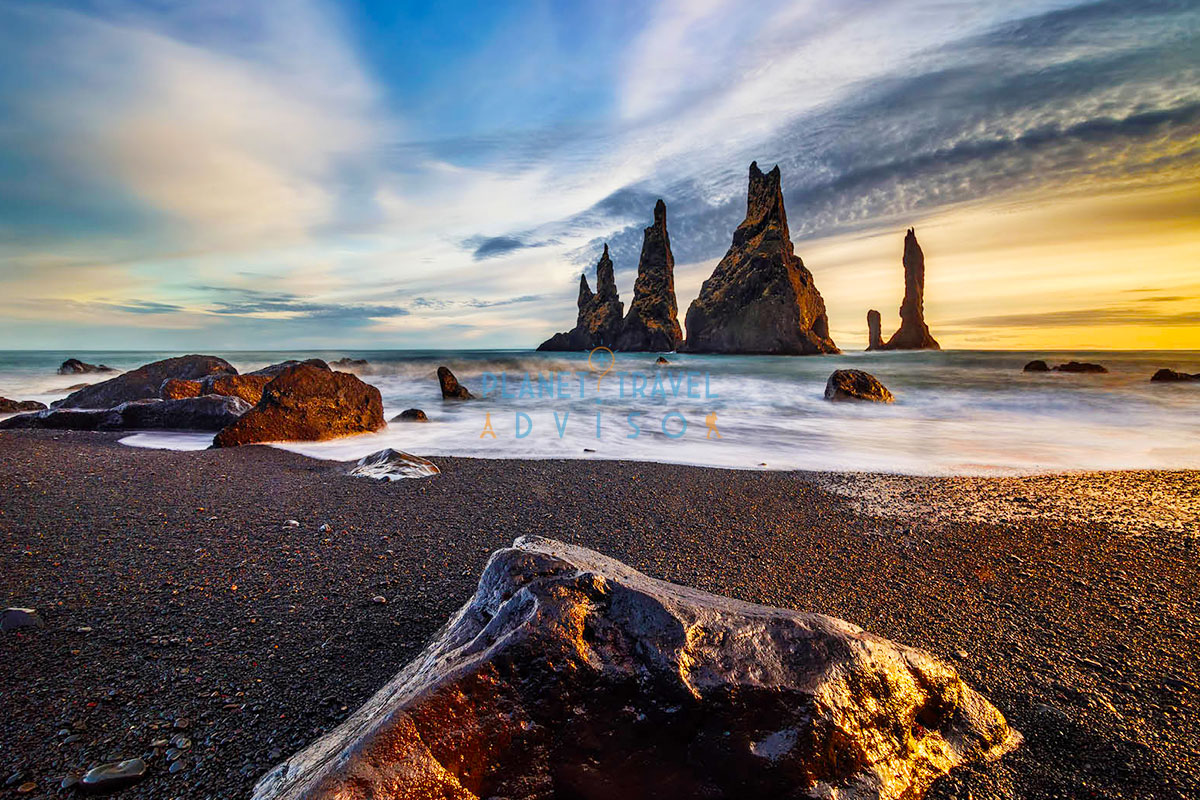 Reynisfjara Beach, located on the south coast of Iceland near the village of Vík, is a unique and otherworldly destination that offers a striking contrast to the typical image of a beach. Instead of soft sands, visitors are greeted by a landscape of dark, volcanic pebbles, dramatic basalt columns, and towering sea stacks.
The black sand beach at Reynisfjara is the result of volcanic activity in the region, creating an eerie and captivating setting. The crashing waves of the North Atlantic Ocean provide a powerful soundtrack as they collide with the black shoreline, making it a popular spot for photographers and nature enthusiasts.
One of the most recognizable features of Reynisfjara Beach is the basalt columns, known as Reynisdrangar, which rise dramatically from the sea. Local folklore tells of these stacks being trolls who were turned to stone when caught in the daylight, adding a mystical element to the beach's allure.
However, it's essential to exercise caution while exploring Reynisfjara Beach, as the powerful waves and unpredictable tides can be dangerous. Visitors should adhere to safety warnings and stay a safe distance from the water's edge.
Reynisfjara Beach is also a haven for birdwatchers, with puffins and other seabirds frequently spotted along the cliffs and stacks. The nearby Dyrhólaey promontory offers panoramic views of the beach and the surrounding coastline, making it an ideal spot for birdwatching and photography.
Though swimming is not recommended due to the cold waters and strong currents, Reynisfjara Beach's wild and rugged beauty, combined with its geological marvels, make it a must-visit destination for anyone exploring Iceland's natural wonders.

6. Bournemouth Beach, England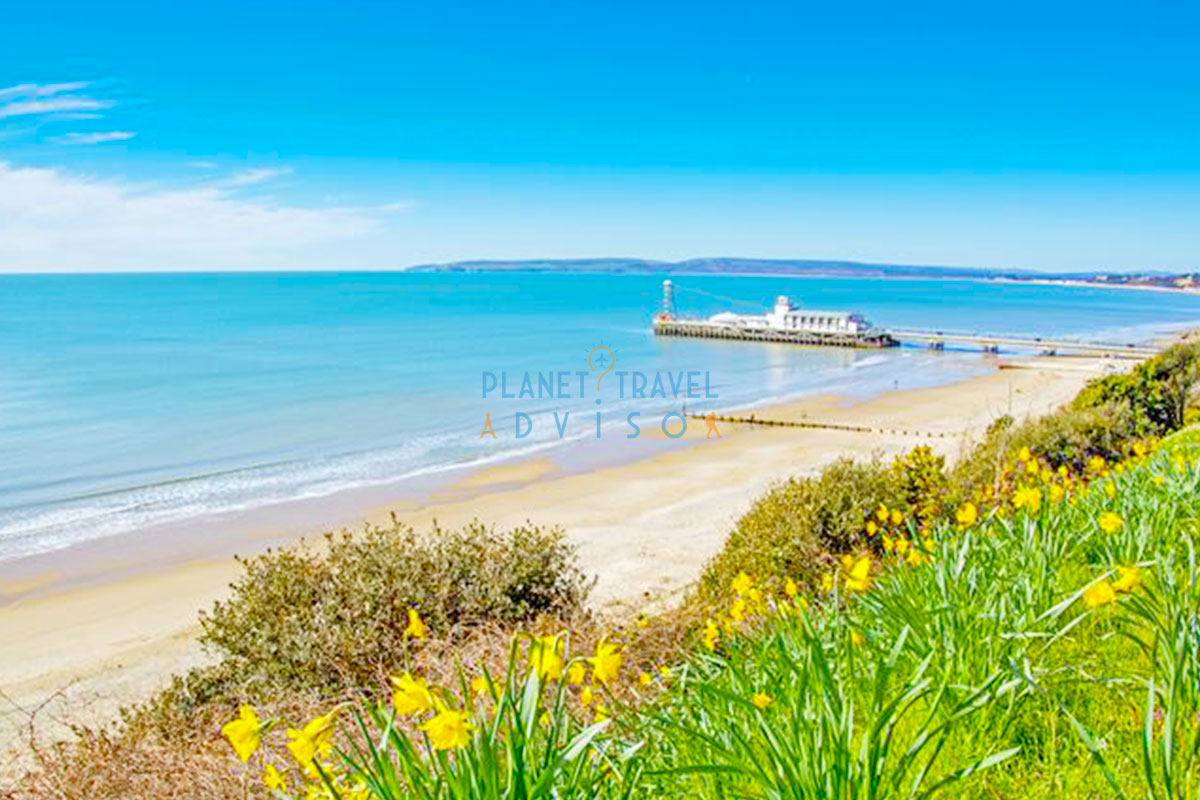 Bournemouth Beach, situated on the southern coast of England, is a classic seaside destination that offers a blend of natural beauty, Victorian charm, and modern amenities. Stretching for approximately 7 miles along the Dorset coastline, it's one of the most popular and accessible beaches in the United Kingdom.
With its wide expanse of golden sands and stunning views of the Isle of Wight, Bournemouth Beach is a magnet for sun-seekers and families alike. The beach is known for its clean and safe bathing waters, making it an ideal beach in Europe for swimming, paddleboarding, or simply relaxing by the sea.
Bournemouth's iconic pier, complete with amusement arcades and attractions, is a focal point for entertainment and provides picturesque views of the coastline. Visitors can take leisurely strolls along the promenade, lined with cafes, restaurants, and shops, offering an array of culinary delights and souvenirs.
The town of Bournemouth itself is known for its vibrant arts and cultural scene, with regular events, concerts, and festivals held throughout the year. The beautifully landscaped Lower Gardens, adjacent to the beach, offer a peaceful escape from the hustle and bustle, with winding paths, flower beds, and art installations.
Bournemouth Beach is also a gateway to the Jurassic Coast, a UNESCO World Heritage Site known for its unique geological features and fossil discoveries. Visitors can explore the nearby chalk cliffs, sea stacks, and natural arches, providing an opportunity for educational and scenic hikes.
As the sun sets over the English Channel, Bournemouth Beach transforms into a magical twilight destination. The beachfront bars and restaurants come alive with live music and entertainment, making it a perfect spot for a relaxed evening with friends or a romantic date night.
Bournemouth Beach's combination of natural beauty, recreational activities, and cultural offerings makes it a quintessential British seaside destination that appeals to a wide range of travelers. Whether you're seeking relaxation, adventure, or cultural experiences, Bournemouth Beach has it all.

7. Golden Sands Beach, Bulgaria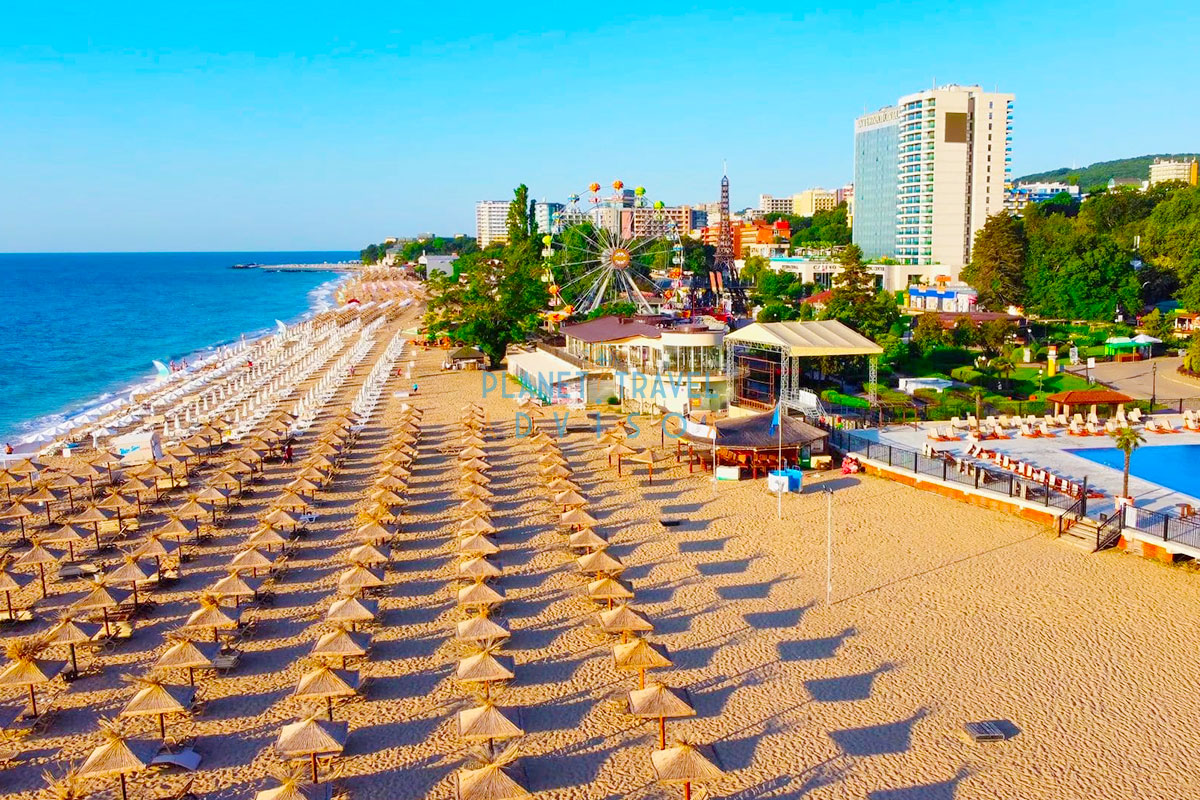 Golden Sands Beach, located on the Bulgarian Black Sea coast, is a stunning stretch of coastline renowned for its pristine golden sands and vibrant atmosphere. This coastal gem, often referred to as "Zlatni Piasaci" in Bulgarian, is a popular destination for both locals and tourists alike, offering a wide array of activities and natural beauty.
The beach itself boasts miles of soft, powdery sand that gently slopes into the azure waters of the Black Sea. The calm, crystal-clear waters make it an ideal spot for swimming, snorkeling, and various water sports. The beachfront is lined with an array of hotels, resorts, and restaurants, ensuring visitors have easy access to accommodations and dining options.
One of the highlights of Golden Sands Beach is the vibrant nightlife scene. The area is known for its numerous beach bars and clubs that come alive after sunset. Visitors can enjoy cocktails, and live music, and dance the night away under the starry sky.
For those seeking a break from the sun and sea, the nearby Golden Sands Nature Park provides a beautiful backdrop for hiking and exploring. The park is home to diverse flora and fauna, making it a perfect escape for nature enthusiasts.
Golden Sands Beach also offers a variety of water-based activities such as jet skiing, parasailing, and banana boat rides. Additionally, the nearby Aladzha Monastery, a rock-hewn medieval Christian cave complex, adds a touch of history and culture to the area.

8. Kaputas Beach, Turkey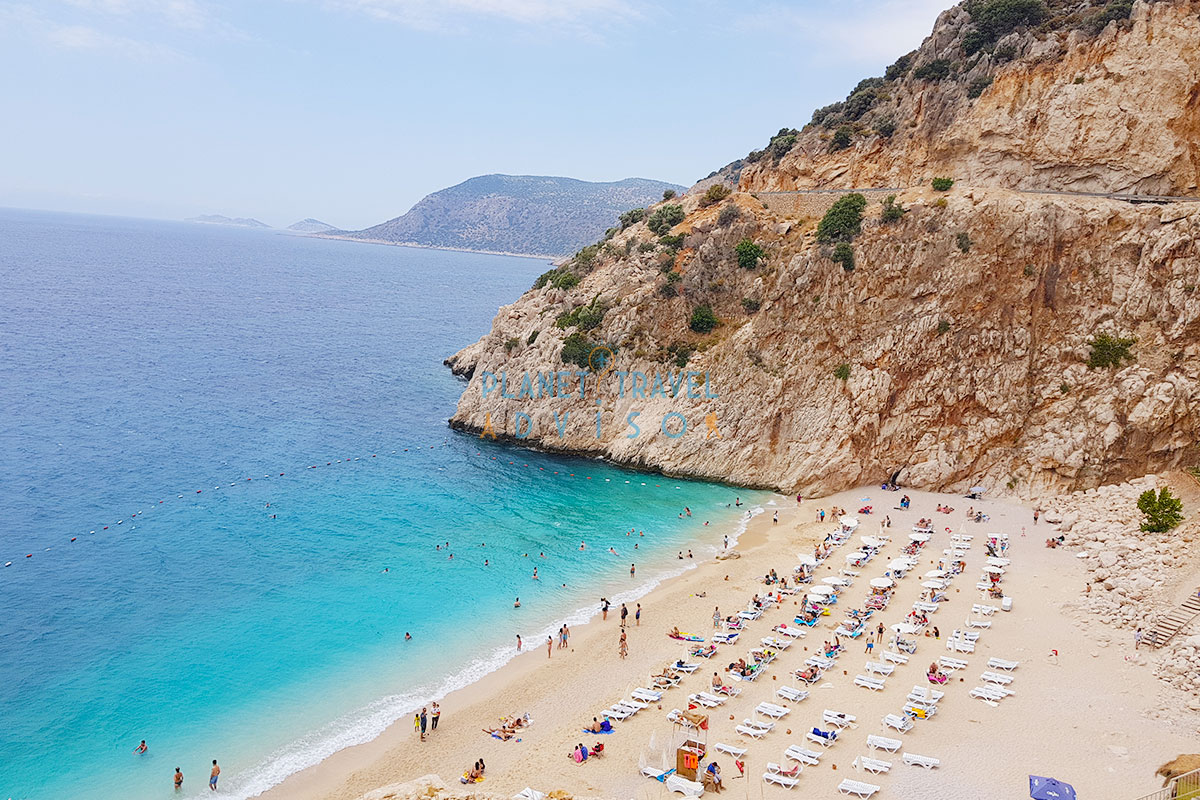 Nestled along the stunning Mediterranean coastline of Turkey, Kaputas Beach is a hidden gem that captivates visitors with its breathtaking beauty and tranquil ambiance. Located between the popular tourist destinations of Kas and Kalkan, this secluded cove is a paradise for those seeking a peaceful escape.
Kaputas Beach is renowned for its striking turquoise waters and pristine white pebble shoreline. To reach the beach, visitors must descend a steep and winding staircase carved into the cliffs, which adds an element of adventure to the experience. Once at the bottom, they are rewarded with the sight of a small, secluded bay surrounded by towering cliffs.
The clear, shallow waters of Kaputas Beach are ideal for swimming and snorkeling, making it a haven for water sports enthusiasts. Sunbathers can relax on the pebble beach and soak in the warm Mediterranean sun, while the more adventurous can explore the underwater world teeming with marine life.
Despite its remote location, Kaputas Beach has basic facilities like sunbeds, umbrellas, and a small café where visitors can grab refreshments and snacks. However, it's advisable to bring your own supplies as options are limited.
The rugged natural beauty of the surrounding cliffs and the absence of large crowds give Kaputas Beach a serene atmosphere. It's the perfect spot for couples seeking a romantic getaway or individuals looking to escape the hustle and bustle of busier tourist destinations.
Kaputas Beach truly exemplifies the unspoiled beauty of the Mediterranean coast in Turkey, offering a tranquil retreat for those who appreciate nature's wonders and the simplicity of a pristine beach.

9. Spiaggia Rosa, Budelli, Italy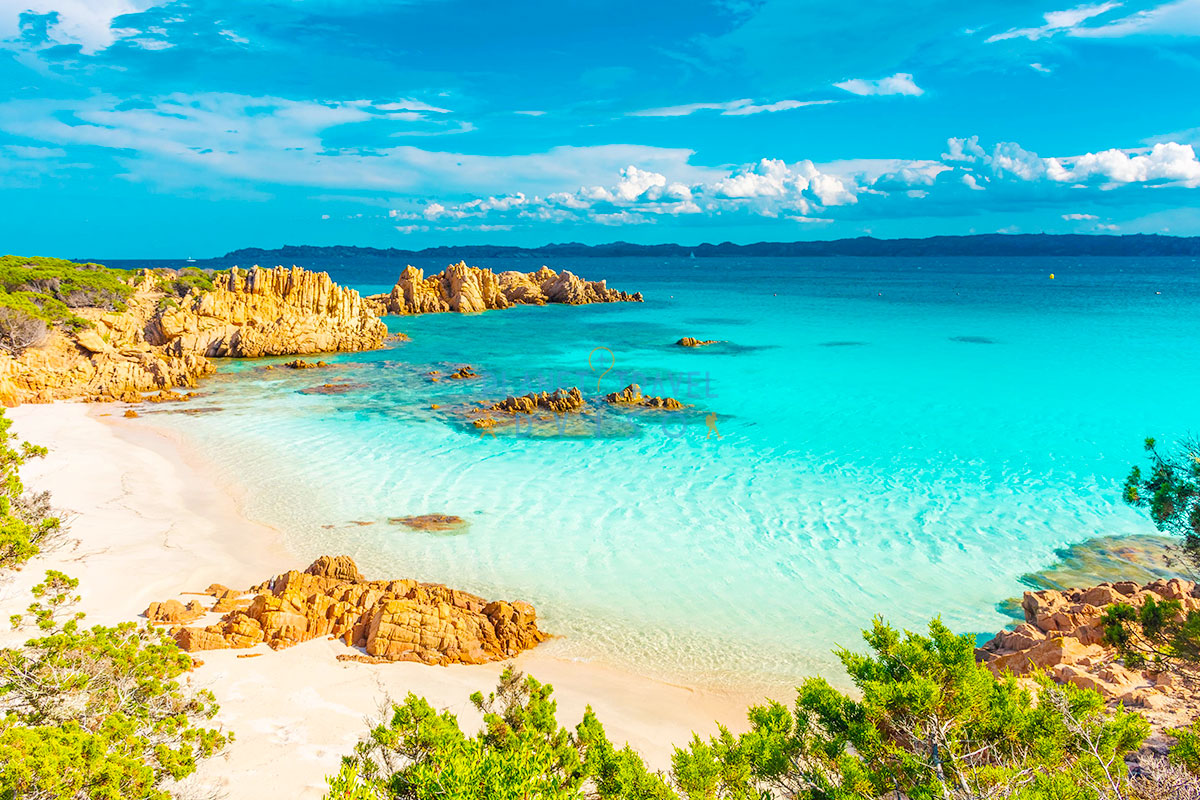 Spiaggia Rosa, or Pink Beach, on the island of Budelli in Italy, is a rare and enchanting natural wonder. This unique beach is famous for its soft, rose-colored sand, which creates a surreal and captivating coastal landscape.
The pink hue of Spiaggia Rosa's sand is a result of the microscopic organisms and crushed pink coral fragments present in the sand. This phenomenon, combined with the crystal-clear waters of the surrounding Mediterranean Sea, creates an otherworldly and picturesque setting.
Access to Spiaggia Rosa is restricted to protect the fragile ecosystem, and visitors are not allowed to set foot on the beach itself. However, several boat tours and excursions from nearby islands like La Maddalena offer the opportunity to admire the beach's beauty from a distance.
The surrounding waters are perfect for snorkeling and swimming, and the unique landscape makes Spiaggia Rosa a photographer's dream. The shallow waters near the beach are home to an array of marine life, making it an excellent spot for underwater exploration.
While Budelli Island is uninhabited and lacks facilities, neighboring islands like La Maddalena offer amenities for tourists, including accommodations, dining options, and boat tours to Spiaggia Rosa.
Spiaggia Rosa is not just a beach; it's a natural wonder that showcases the stunning diversity of Italy's coastal landscapes. Its distinctive pink sands and pristine waters make it a must-see destination for nature lovers and those seeking a unique and unforgettable beach experience.

10. Rhossili Bay, Wales, UK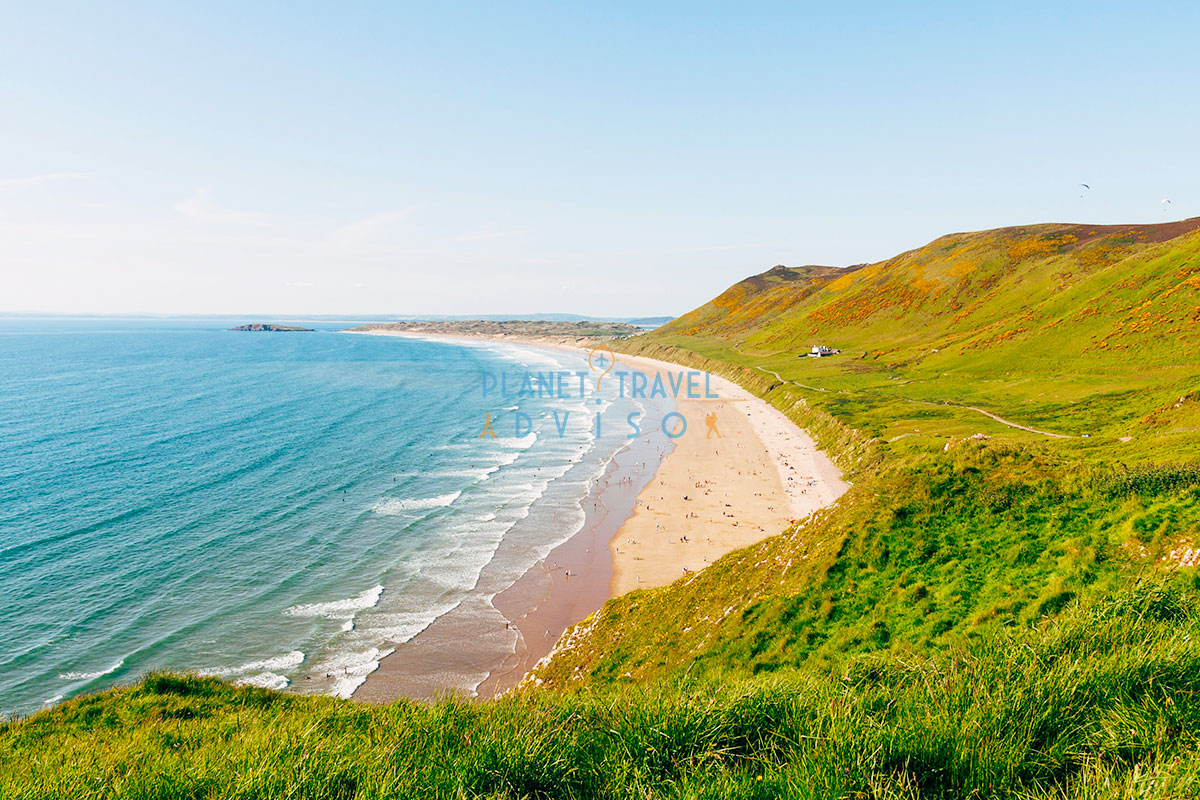 Rhossili Bay, located on the Gower Peninsula in Wales, UK, is a captivating coastal gem that has earned its reputation as one of the most breathtaking beaches in the world. With its expansive golden sands stretching for three miles along the rugged coastline, Rhossili Bay offers visitors a sublime fusion of natural beauty, history, and tranquility.
The beach is renowned for its pristine environment and awe-inspiring vistas. Towering cliffs and verdant hills provide a stunning backdrop, while the endless horizon of the Atlantic Ocean stretches before you. Rhossili Bay is a haven for nature enthusiasts, with the opportunity to spot seabirds, seals, and even dolphins playing in the waves.
One of the bay's most iconic features is the Worm's Head promontory, a serpent-like rocky outcrop that extends into the sea. At low tide, you can walk across the causeway to explore this fascinating geological formation. From the summit, you'll be rewarded with panoramic views that are nothing short of spectacular.
Rhossili Bay is also steeped in history, with the ruins of the 16th-century Old Rectory perched on the clifftops and the poignant reminders of shipwrecks scattered along the shoreline. This combination of natural beauty and historical intrigue makes the bay a haven for photographers, hikers, and history buffs alike.
Whether you're seeking solitude or adventure, Rhossili Bay has it all. You can take leisurely strolls along the beach, surf the rolling waves, or embark on coastal hikes that lead to hidden coves and secluded viewpoints. And when you've worked up an appetite, the charming village of Rhossili awaits, offering cozy pubs and local eateries serving delicious Welsh cuisine.
Visiting Rhossili Bay is not just a day at the beach; it's an immersion in the majesty of the natural world and a chance to connect with the rich tapestry of Welsh history. Whether you're a sunbather, a hiker, a history enthusiast, or simply someone seeking serenity by the sea, Rhossili Bay is sure to leave an indelible mark on your heart.

11. Balos Lagoon, Crete, Greece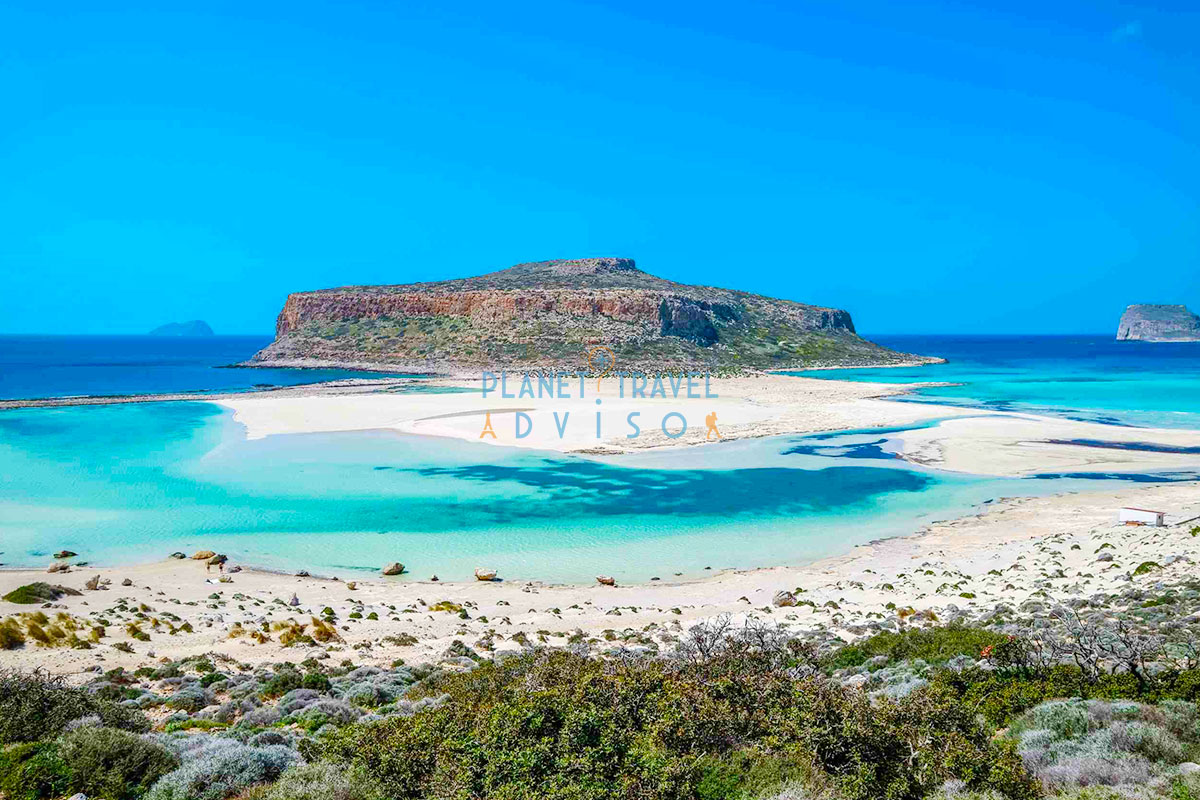 Nestled on the northwest coast of the Greek island of Crete, Balos Lagoon is a paradisiacal destination that seems like it was plucked straight from a dream. With its surreal turquoise waters, powdery white sand, and dramatic rocky terrain, Balos Lagoon is an emblem of Mediterranean beauty and tranquility.
What sets Balos Lagoon apart is its unique geography. The lagoon is formed by the embrace of two rugged peninsulas, creating a natural barrier from the open sea. As a result, the waters inside the lagoon are extraordinarily calm, making it an ideal spot for swimming and snorkeling.
Arriving at Balos Lagoon can be an adventure in itself. While there are hiking trails that offer panoramic views of the lagoon, many visitors opt for a boat trip from nearby Kissamos or Chania. As you approach the lagoon by boat, the sight of the shallow, crystal-clear waters and the island of Gramvousa rising like a fortress from the sea will take your breath away.
Once ashore, you'll be greeted by a vast expanse of white sand that seems to stretch endlessly. The shallow waters are ideal for wading, and the gradual increase in depth makes it perfect for families with children. Snorkelers can explore the vibrant marine life just beneath the surface, including colorful fish and sea urchins.
The surrounding landscape is equally enchanting, with arid hillsides and a unique ecosystem of plants adapted to the harsh coastal conditions. The contrast of the vibrant blue waters against the earthy tones of the rocks and flora creates a visual masterpiece.
While Balos Lagoon is a haven for sunbathers and water enthusiasts, it's also a place to savor the simple pleasures of life. Pack a picnic and relax under the shade of an umbrella, or indulge in fresh seafood at one of the beachside tavernas. The sense of serenity and natural beauty found here is a testament to the unspoiled treasures that Crete has to offer.
For those seeking a true escape from the ordinary, Balos Lagoon is a slice of paradise where the harmony of nature and the allure of the Mediterranean come together in a breathtaking display of beauty and tranquility.

12. Rondinara Beach, Corsica, France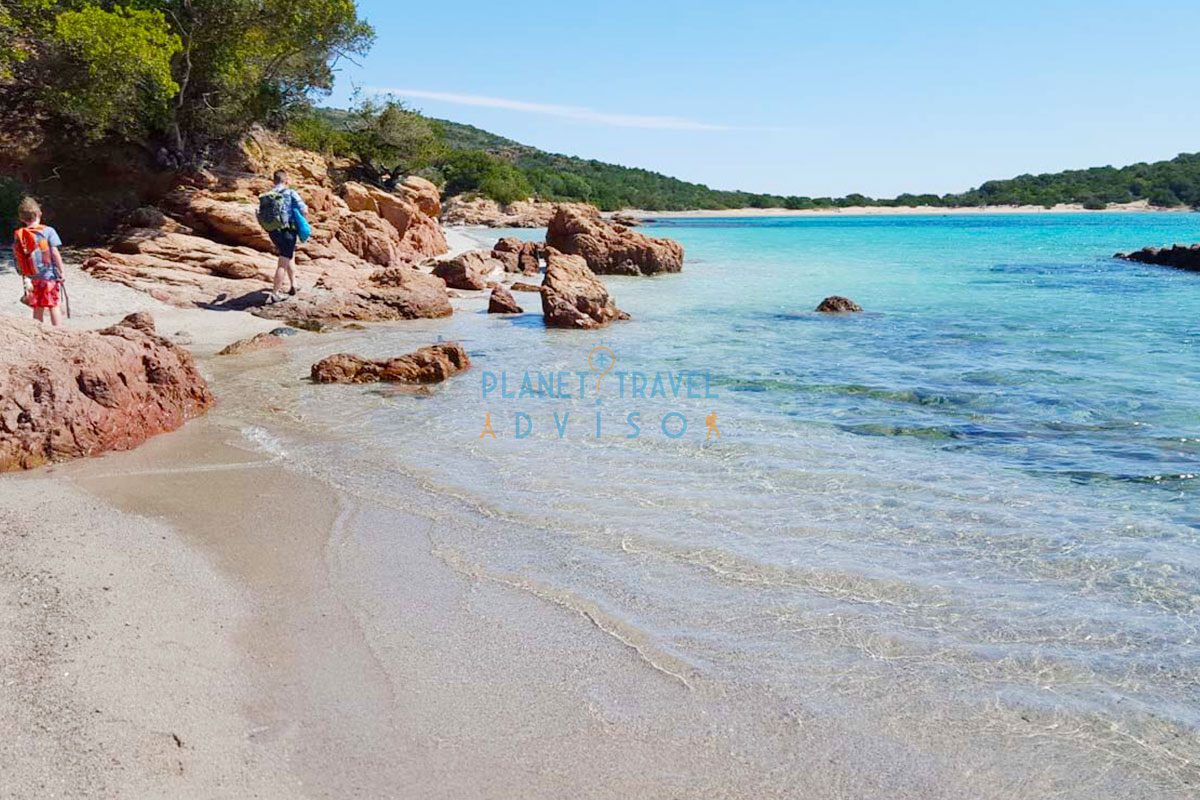 Nestled on the southern coast of Corsica, France, Rondinara Beach is a true gem of the Mediterranean. With its crescent-shaped bay, crystalline waters, and surrounding hills blanketed in maquis vegetation, Rondinara embodies the essence of natural beauty and serenity.
What immediately strikes visitors to Rondinara Beach is its picture-perfect horseshoe shape. The bay is sheltered by gently sloping hills covered in fragrant maquis, a mix of Mediterranean shrubs and herbs. The calm and shallow waters within the bay are remarkably clear, allowing for excellent visibility of the seabed, and making it a paradise for snorkelers and swimmers.
The fine, white sand that lines the shore is incredibly soft underfoot, inviting you to stroll along the water's edge or simply bask in the sun. Rondinara's waters are usually calm, making it an ideal beach in Europe for families with young children. However, the beach also attracts water sports enthusiasts, who can try their hand at kayaking, paddleboarding, or even parasailing.
As you lie on the beach, the scent of the maquis carried on the breeze will envelop you in Corsica's unique aromatic blend, creating a sensory experience that's truly unforgettable. While the beach itself is relatively undeveloped, there are a few beachside restaurants where you can savor Corsican cuisine, including fresh seafood and local wines.
Rondinara Beach also holds historical significance. In the 18th century, it was used as a shelter for corsairs, and pirates who frequented the Mediterranean. Today, the only visitors you'll likely encounter are sunbathers and nature enthusiasts, as Rondinara remains one of Corsica's best-kept secrets.
For those looking to explore beyond the beach, hiking trails wind through the maquis-covered hills, offering panoramic views of the coastline and the surrounding countryside. The bay is also within easy reach of the picturesque towns of Bonifacio and Porto-Vecchio, where you can explore charming streets, dine at local restaurants, and soak in the island's rich culture.
In the embrace of Rondinara Beach, you'll discover a tranquil oasis that captures the essence of Corsica's natural beauty. With its stunning scenery, inviting waters, and a sense of seclusion, Rondinara is a Mediterranean paradise waiting to be explored.

13. Zlatni Rat Beach, Brac, Croatia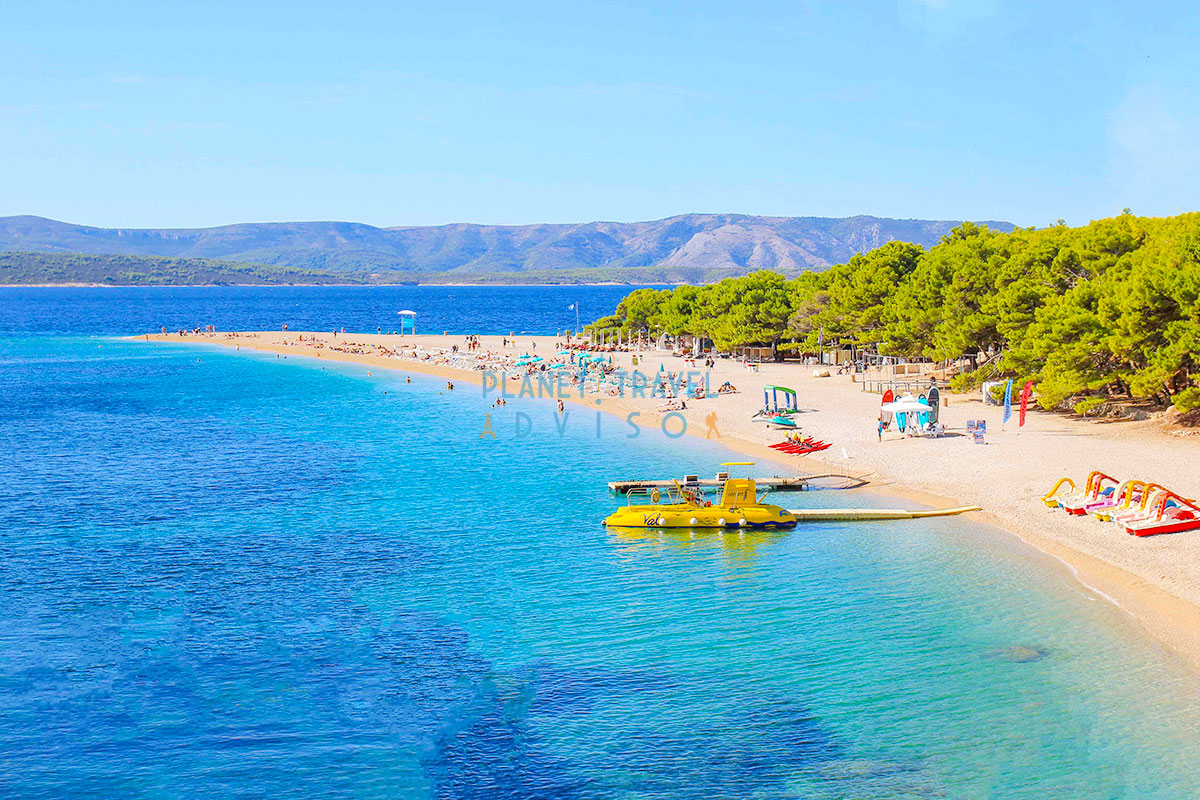 Croatia's Zlatni Rat Beach, also known as the Golden Horn or Golden Cape Beach, is a remarkable natural wonder that graces the island of Brac in the Adriatic Sea. Renowned for its ever-changing shape, stunning crystal-clear waters, and vibrant surroundings, Zlatni Rat is a true gem of the Croatian coast.
What immediately sets Zlatni Rat apart is its unique shape. This stunning beach extends like a long, narrow tongue into the azure waters of the Adriatic, constantly shifting its form with the tides and currents. The tip of the beach seems to stretch toward the open sea, creating a mesmerizing display of nature's dynamic beauty.
The fine pebble beach is fringed by fragrant pine trees, providing natural shade and a serene atmosphere. The transparent waters that surround Zlatni Rat beckon swimmers, snorkelers, and windsurfers alike. The gradual slope into the sea ensures that the beach is family-friendly, catering to visitors of all ages.
Zlatni Rat is not just a place for water-based activities; it also offers excellent opportunities for sunbathing and relaxation. Whether you prefer to spread out on the pebbles or rent a sunbed, you'll find a comfortable spot to soak up the sun and take in the picturesque surroundings.
Beyond the beach, the island of Brac itself offers a wealth of attractions. The town of Bol, located nearby, is a charming Croatian village with a picturesque harbor, local eateries serving delicious seafood, and a historic charm that's hard to resist. Exploring the island further, you'll find rugged landscapes, quaint villages, and cultural sites that provide insight into Croatia's rich history.
Zlatni Rat is not just a beach; it's an ever-evolving natural masterpiece that captivates all who visit. Its combination of natural beauty, recreational opportunities, and nearby cultural attractions make it a must-visit destination for travelers seeking a quintessential Croatian experience. Whether you're drawn by the allure of the crystal-clear waters or the fascinating shape-shifting beach, Zlatni Rat promises an unforgettable Adriatic adventure.

Conclusion
As we bid farewell to our tour of Europe's 13 must-visit beaches in June, we've embarked on a sun-kissed adventure that has taken us from the Mediterranean's turquoise coves to the Atlantic's golden sands. June, with its pleasant weather and fewer crowds, truly provides the ideal backdrop for exploring these coastal wonders. Whether you're a sun worshipper, an adventure seeker, or a culture enthusiast, Europe's beaches in June beckon you with open arms. Europe's beaches are calling, and June is the perfect time to answer that call. So, until we meet again on these sun-soaked shores, may your travels be filled with sunshine and the soothing sound of the sea.
FAQ
What should I pack for a June beach vacation in Europe?
When packing for a June beach vacation in Europe, consider bringing lightweight clothing, swimwear, sunscreen, sunglasses, a sunhat, and comfortable walking shoes for exploring the coastal towns. Don't forget a reusable water bottle to stay hydrated and a beach towel for lounging.
Which European beaches offer the best opportunities for water sports in June?
In June, several European beaches are perfect for water sports enthusiasts. Destinations like Tarifa in Spain are renowned for windsurfing and kitesurfing, while the Greek islands, such as Rhodes, offer excellent conditions for sailing and snorkeling. Croatia's Adriatic coast is also popular for kayaking and paddleboarding.
Are there any lesser-known, hidden gem beaches in Europe that are perfect for a June getaway?
Yes, Europe boasts many hidden gem beaches that are ideal for a quieter June getaway. Consider visiting Puglia in Italy, where you can discover secluded coves and pristine beaches. The Azores in Portugal offer unique volcanic landscapes and uncrowded shorelines. Bulgaria's Black Sea coast also has charming beaches that are less crowded compared to some more famous destinations.
What cultural experiences can I combine with my beach vacation in Europe in June?
Europe offers a wealth of cultural experiences to complement your beach vacation. For instance, while in Barcelona, Spain, you can explore Gaudi's architectural masterpieces like Sagrada Familia. On the Amalfi Coast in Italy, you can savor authentic Italian cuisine and visit ancient ruins in Pompeii. In Croatia, explore historic towns like Dubrovnik and Split before or after your beach time. June is an ideal month for cultural exploration since the weather is usually pleasant, and many festivals and events take place.