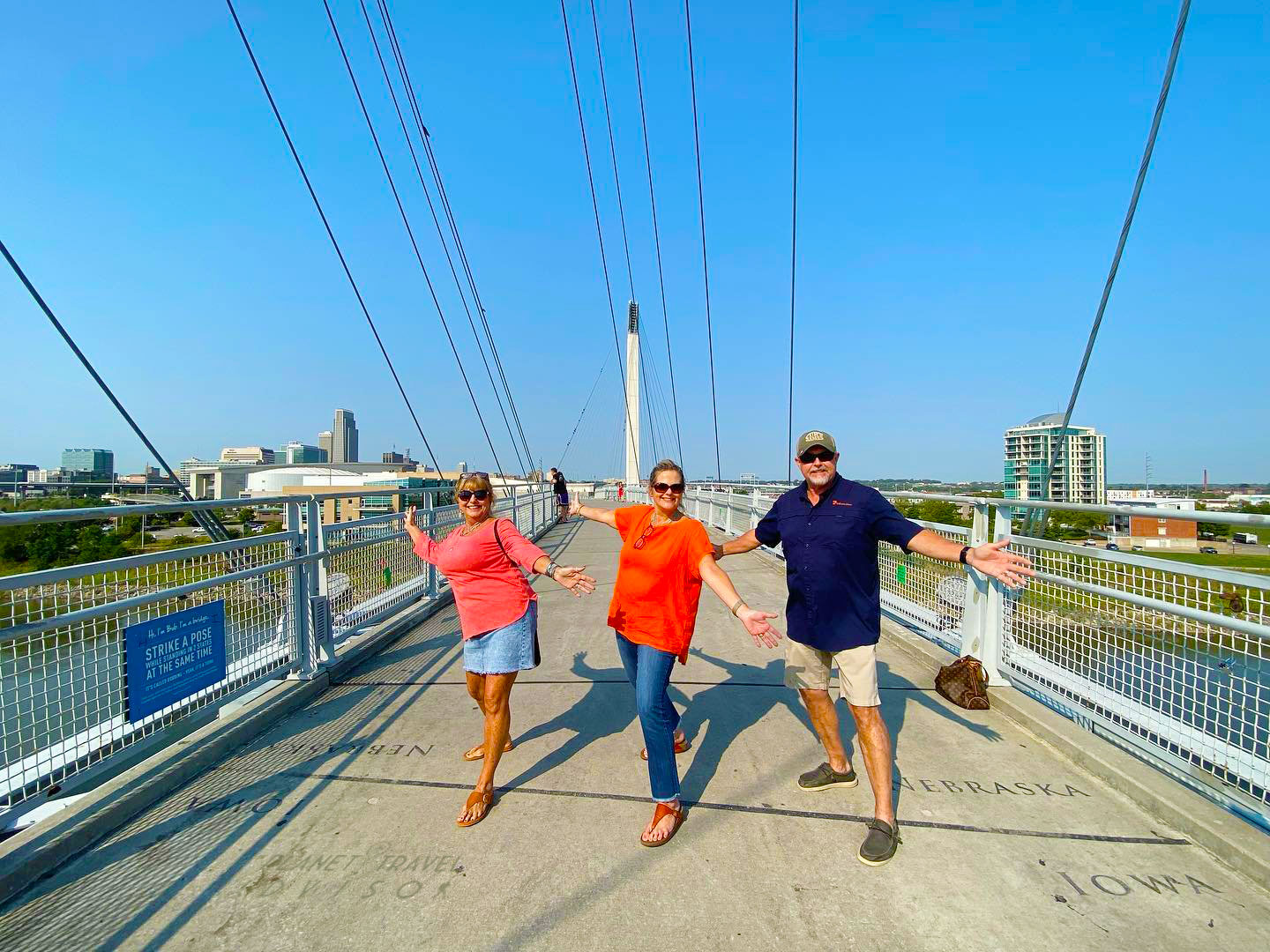 Best Places to Go in Omaha in 2023/2024
This article was created by a dedicated and authentic team of passionate travelers from the PTA Team, who are not only experienced travel experts but also proud members of the World Travel & Tourism Council (WTTC). Our sole purpose is to assist and support fellow travelers in planning their tours with utmost care and precision. With exclusive information, valuable insights, and meticulous analysis, we strive to provide high-quality content that leaves no room for mistakes. Count on us to deliver comprehensive destination reports and all the necessary information to ensure an exceptional and well-planned travel experience for you. Learn More
Article Table of Content

List of the Top Ten Places to Go in Omaha in 2023/2024
Unveiling the hidden treasures of Omaha, a city that captivates with its distinctive allure and Midwestern charm. Nestled along the meandering banks of the Missouri River, Omaha embraces visitors with its breathtaking beauty and a vibrant tapestry of experiences. From the vibrant streets of the historic Old Market District to the verdant parks and botanical gardens that dot the landscape, this city seamlessly blends natural splendor with cultural delights. Immerse yourself in the rich tapestry of Omaha's history, indulge in delectable culinary delights, and explore a thriving arts scene that pulses with creativity. In this article, we invite you to embark on an unforgettable journey, where you'll discover the best places to go for 2023 and the hidden gems that make Omaha an enchanting destination.

1. Henry Doorly Zoo and Aquarium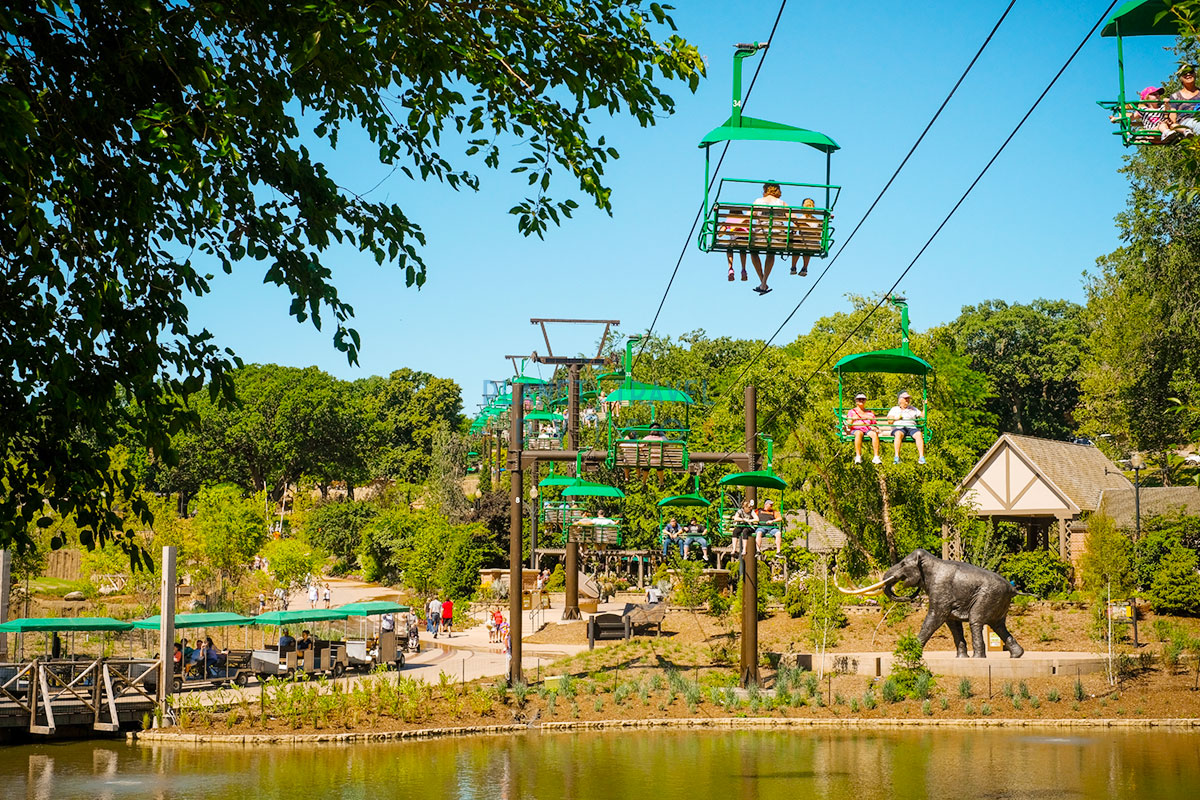 Henry Doorly Zoo and Aquarium, located in Omaha, Nebraska, is a world-class destination that offers an exceptional wildlife experience. Spanning over 130 acres, the zoo is renowned for its extensive exhibits and diverse animal collection. Visiting the Henry Doorly Zoo and Aquarium is undoubtedly one of the best things to do in Omaha for kids in 2023. With its vast array of exhibits and diverse animal collection, the zoo provides an enriching and exciting experience for young visitors.
One of the zoo's standout attractions is the Desert Dome, the world's largest indoor desert. As visitors enter this massive geodesic dome, they are transported to different desert environments, including the Namib Desert, the Red Center of Australia, and the Sonoran Desert. Here, they can encounter fascinating creatures like meerkats, camels, and various species of reptiles.
Another popular exhibit is the Lied Jungle, a lush indoor rainforest that immerses visitors in a tropical paradise. As they navigate through winding paths and across suspension bridges, they encounter a vibrant array of flora and fauna, including monkeys, birds, and even a crocodile. The sounds of chirping birds and the sight of cascading waterfalls create an enchanting ambiance.
The Henry Doorly Zoo is also home to the Scott Aquarium, which houses an impressive collection of marine life. Visitors can marvel at the colorful coral reef displays, observe majestic sharks and rays swimming in the giant shark tunnel, and even touch stingrays in a special interactive exhibit.
Additionally, the zoo boasts an expansive African Grasslands exhibit, where visitors can observe herds of elephants, giraffes, zebras, and other iconic African animals. The Kingdoms of the Night exhibit takes visitors on a journey into the nocturnal world, featuring creatures like bats, owls, and other nighttime inhabitants.
Beyond its exceptional exhibits, the zoo is dedicated to conservation efforts and animal welfare. It actively participates in breeding programs for endangered species and supports numerous research initiatives.
If you're interested in learning more about the best time to visit the Omaha Zoo in 2023 and make the most of your experience, we invite you to delve deeper into this topic. Discovering the optimal time to plan your visit can enhance your overall enjoyment and ensure you have a memorable time exploring the zoo's wonders.

2. Old Market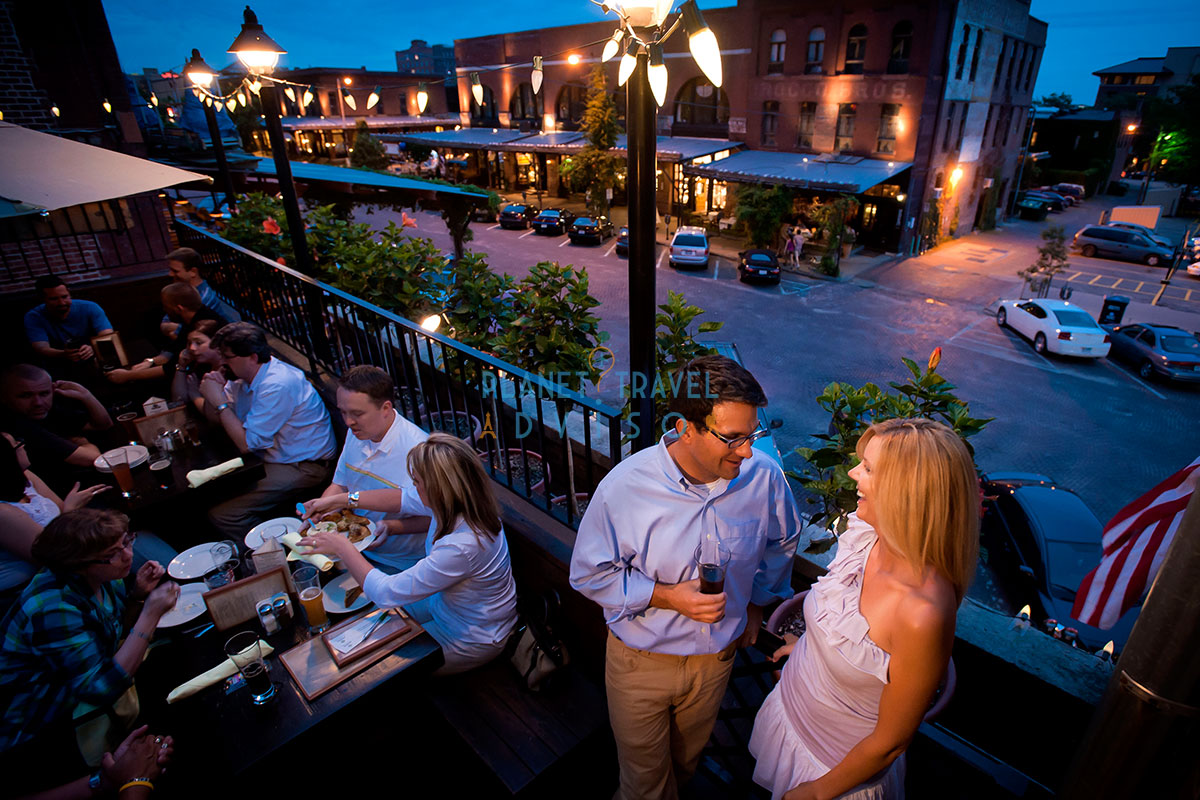 Nestled in the heart of Omaha, Nebraska, the Old Market district is a captivating fusion of history, culture, and entertainment. Its cobblestone streets, lined with beautifully restored brick buildings, transport visitors to a bygone era while offering a vibrant and contemporary atmosphere. This charming neighborhood has become a beloved destination for locals and tourists alike, with its diverse array of shops, art galleries, delectable restaurants, and lively entertainment options.
Wandering through the Old Market is like stepping into a living museum. The architecture reflects the area's rich heritage, showcasing stunning examples of 19th-century warehouses and storefronts. As you explore the district, you'll discover an eclectic mix of boutiques, offering everything from fashion and jewelry to unique gifts and home decor. Art enthusiasts will find themselves captivated by the numerous galleries that showcase local and international works, ranging from traditional to contemporary.
The Old Market truly comes alive when it's time to dine. The district is a food lover's paradise, with a plethora of restaurants and eateries to satisfy every palate. From fine dining establishments serving exquisite cuisine to casual cafes and bistros offering a more laid-back experience, the Old Market has something for every taste and occasion. Enjoy a romantic candlelit dinner, sample international flavors, or savor a comforting meal at a cozy pub.
When the sun sets, the Old Market transforms into a vibrant hub of entertainment. Live music fills the air, with jazz clubs, piano bars, and music venues offering a diverse range of performances. The district also boasts theaters, comedy clubs, and art house cinemas, providing a cultural haven for those seeking a dose of entertainment.
Whether you're a history buff, a food enthusiast, an art lover, or simply looking for a unique and charming experience, the Old Market district in Omaha is a must-visit destination. Lose yourself in its timeless ambiance, savor the flavors, immerse yourself in the arts, and create lasting memories in this captivating corner of the city.

3. Joslyn Art Museum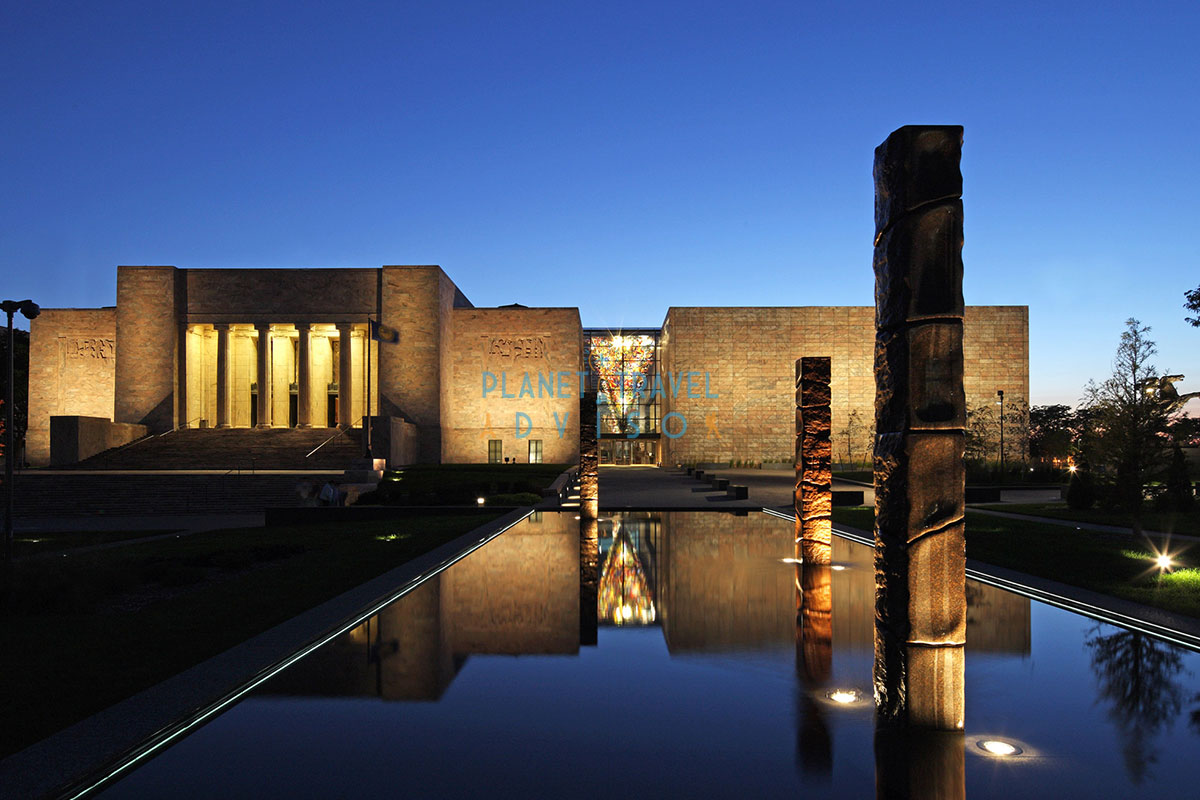 The Joslyn Art Museum, situated in Omaha, Nebraska, is a distinguished cultural institution renowned for its exceptional collection of art spanning diverse periods and styles. Established in 1931 by Sarah H. Joslyn as a gift to the community, the museum continues to captivate visitors with its world-class exhibits and commitment to artistic enrichment.
The museum's architecture is an exquisite blend of classical and contemporary elements, creating a visually striking and inviting space. Its spacious galleries, high ceilings, and abundant natural light provide an ideal setting for appreciating and contemplating the artworks on display.
Within the museum's hallowed halls, visitors can embark on a captivating artistic journey. The collection encompasses a wide array of mediums, including painting, sculpture, photography, and decorative arts. From ancient civilizations to modern and contemporary masterpieces, the Joslyn Art Museum offers a comprehensive exploration of human creativity and expression.
You'll have the opportunity to encounter renowned European paintings, ranging from Renaissance classics to Impressionist works that celebrate the beauty of light and color. American art is prominently featured, showcasing the diverse perspectives and rich cultural heritage of the United States. The museum also boasts an impressive assortment of Native American art, representing the traditions and artistic legacies of indigenous peoples.

4. Lauritzen Gardens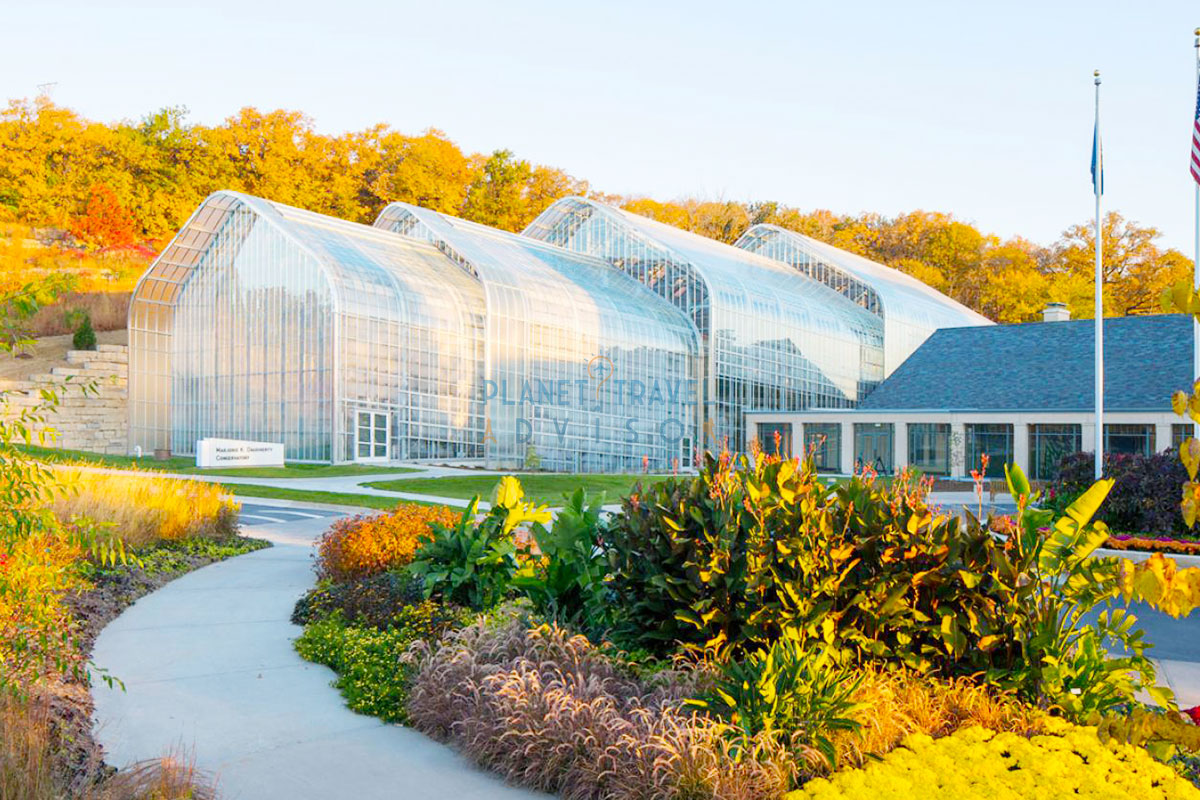 Nestled in the heart of Omaha, Nebraska, the Lauritzen Gardens is a breathtaking botanical oasis that invites visitors to immerse themselves in the beauty and tranquility of nature. Spanning 100 acres, this verdant paradise showcases meticulously landscaped gardens, enchanting themed displays, and an array of horticultural treasures.
As you explore the gardens, you'll encounter a diverse collection of flora from around the world. The plantings are thoughtfully arranged to create distinct areas, each with its own unique charm. From vibrant rose gardens to serene Japanese-inspired landscapes, the Lauritzen Gardens offers a variety of settings to explore and enjoy.
One of the highlights of the gardens is the Marjorie K. Daugherty Conservatory, a stunning glass structure that houses a multitude of tropical plants. Step inside and be transported to lush rainforests, where exotic flowers bloom, towering palms sway, and vibrant orchids dangle from the branches. The conservatory provides a year-round escape into a world of tropical beauty, regardless of the weather outside.
In addition to its botanical wonders, the Lauritzen Gardens hosts special events, educational programs, and seasonal displays throughout the year. From vibrant spring blooms to festive holiday lights, each season brings a unique and captivating experience for visitors of all ages.
The gardens also boast a visitor center, gift shop, and a charming café, where you can relax and savor a delicious meal or snack surrounded by nature's splendor.

5. Bob Kerrey Pedestrian Bridge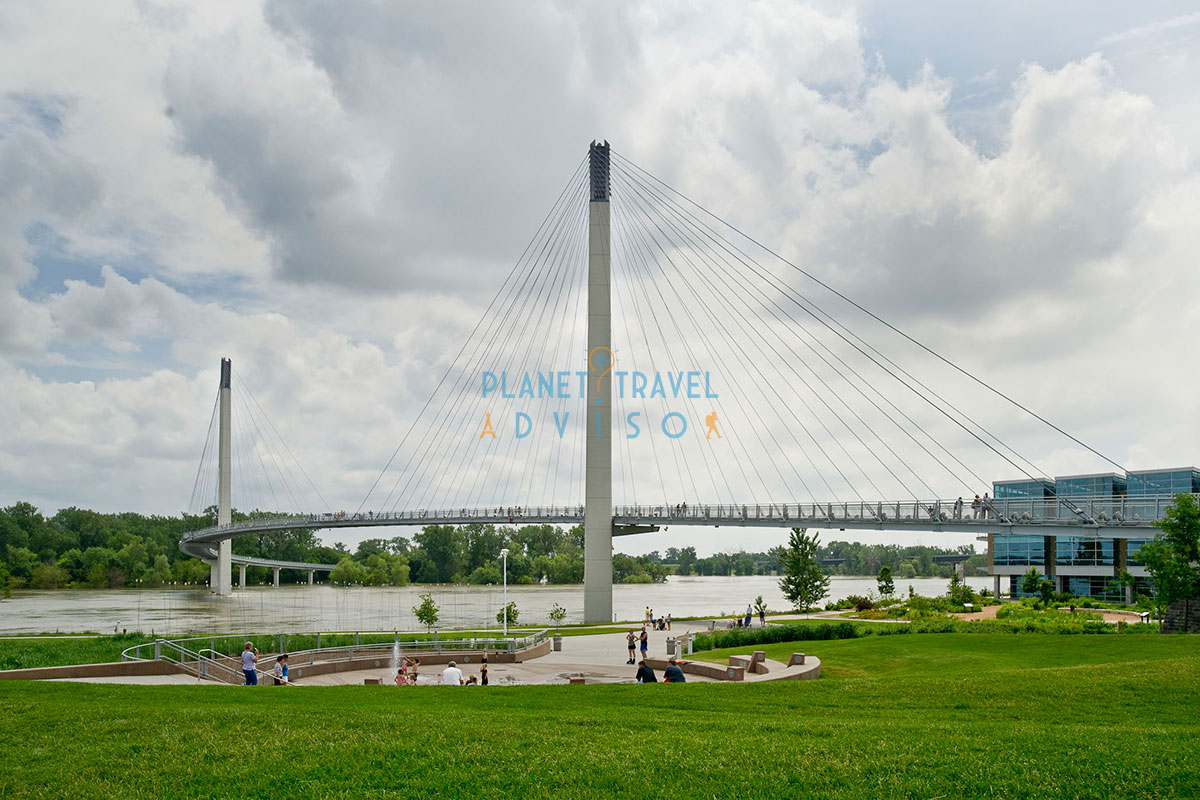 The Bob Kerrey Pedestrian Bridge is a magnificent structure that spans the Missouri River, connecting the cities of Omaha, Nebraska, and Council Bluffs, Iowa. Named after the former Nebraska governor and U.S. senator, Bob Kerrey, this pedestrian bridge is an iconic landmark in the region, attracting locals and tourists alike.
Stretching over 3,000 feet, the bridge is a stunning architectural marvel that seamlessly blends functionality and aesthetics. Its unique design features sleek lines and a suspended cable-stayed structure, creating an elegant silhouette against the sky. The bridge's sleek steel construction is complemented by a clean and modern aesthetic, making it a true visual delight.
Not only is the Bob Kerrey Pedestrian Bridge a remarkable feat of engineering, but it also serves as a vital link between the two states. It provides pedestrians, joggers, and cyclists with a safe and scenic pathway to cross the river, fostering connectivity and promoting outdoor activities. As people traverse the bridge, they are treated to breathtaking panoramic views of the river, the cityscape, and the surrounding natural beauty.
The bridge is more than just a transportation route; it has become a symbol of unity, bridging the gap between communities and fostering a sense of togetherness. It serves as a gathering place for locals and visitors, hosting various events, festivals, and celebrations throughout the year. If you're looking for experince unforgettable things to do in Omaha at night, visiting the Bob Kerrey Pedestrian Bridge should be at the top of your list.

6. The Durham Museum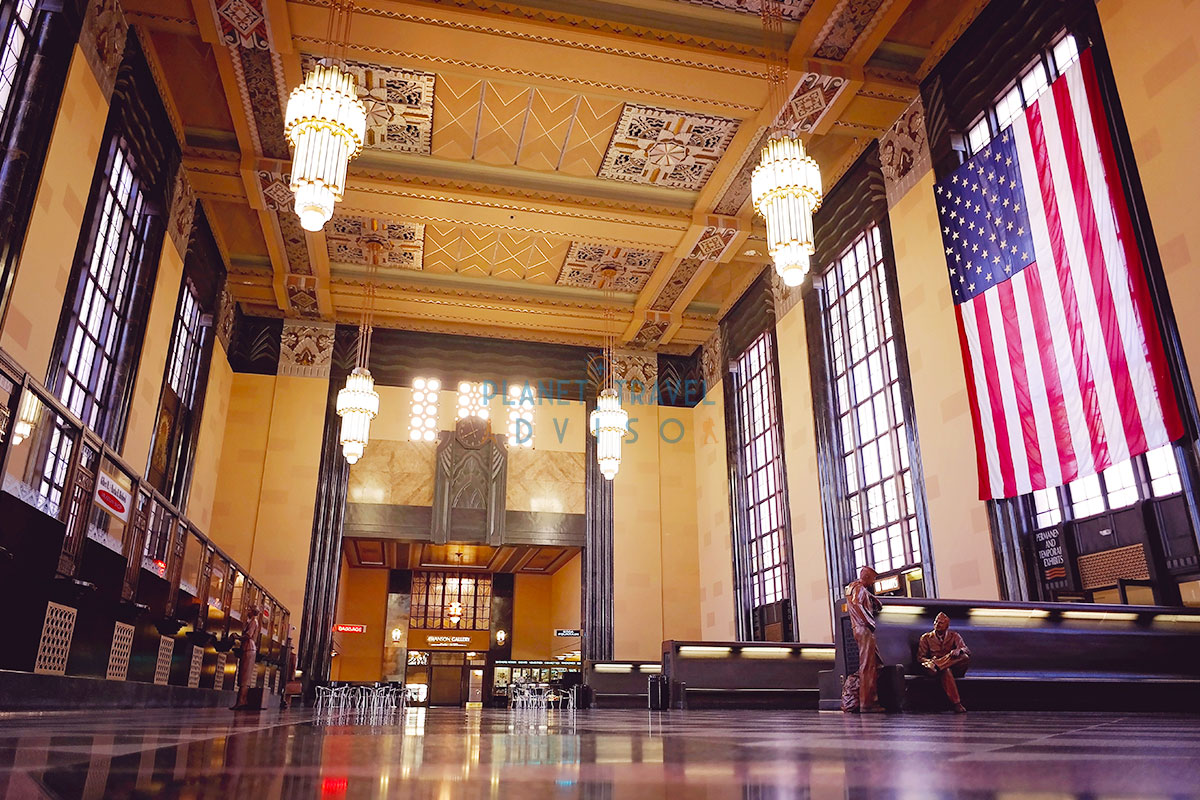 The Durham Museum, located in Omaha, Nebraska, is a vibrant cultural institution that preserves and showcases the history of the region. Housed in the beautifully restored Union Station, the museum offers visitors a captivating journey through time and a deeper understanding of the area's rich heritage. The Durham Museum is indeed one of the best things to do in Omaha for adults in 2023.
As one enters the museum, they are greeted by the grandeur of the historic train station, which served as a transportation hub in the early 20th century. The museum's exhibits span various periods, from the early settlement of the Great Plains to the transformative railroad era and the modernization of Omaha. Through interactive displays, artifacts, and multimedia presentations, visitors can immerse themselves in the stories of pioneers, railroaders, and local communities.
The Durham Museum also hosts traveling exhibits that offer unique insights into national and global history, arts, and culture. These exhibits add a dynamic element to the museum's offerings, providing visitors with fresh perspectives and diverse experiences.
Beyond its educational exhibits, the Durham Museum serves as a gathering place for the community. It hosts a range of events, including lectures, concerts, and family-friendly activities. The museum's commitment to community engagement ensures that it remains an accessible and inclusive resource for all.
With its blend of history, art, and community engagement, the Durham Museum stands as a testament to the importance of preserving and celebrating our shared past. It serves as a bridge between generations, connecting visitors with the stories that have shaped Omaha and the surrounding region.

7. Heartland of America Park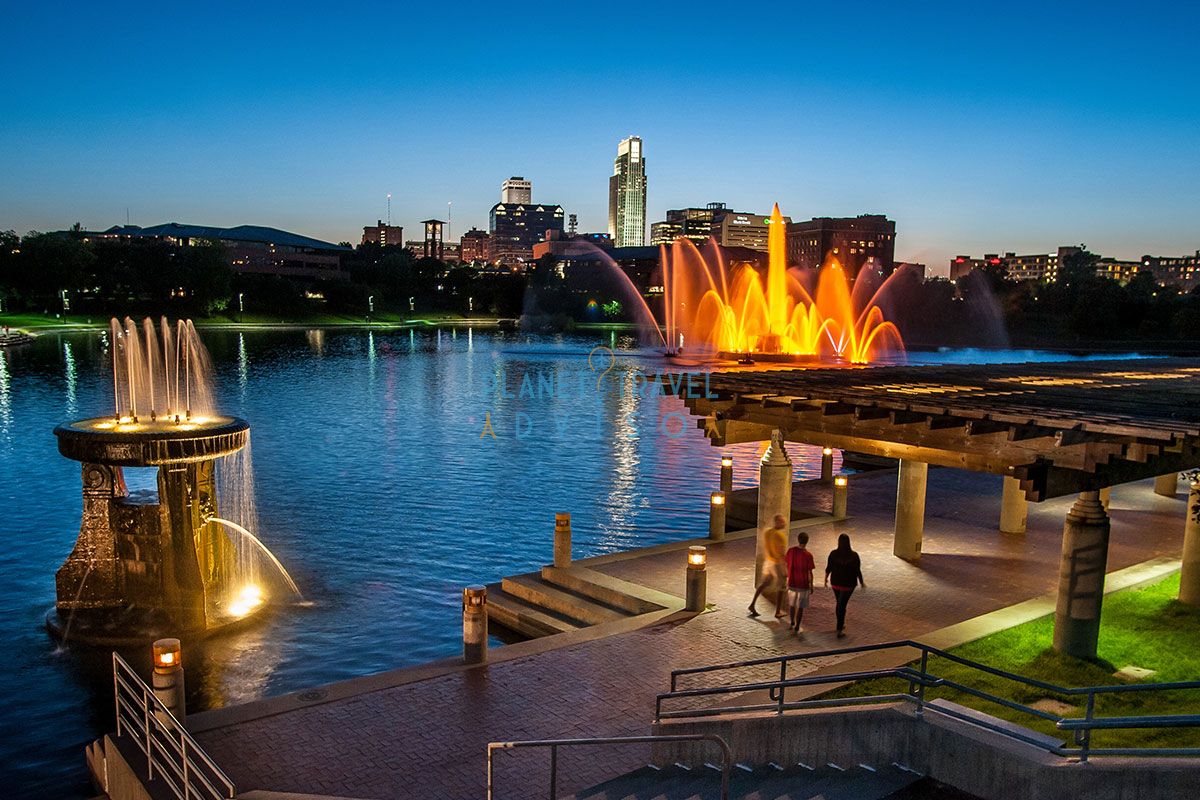 Heartland of America Park is a captivating urban oasis nestled in the heart of Omaha, Nebraska. Spanning over 30 acres, this scenic park offers a delightful retreat from the bustling city life. Its picturesque landscapes, serene water features, and diverse recreational opportunities make it a beloved destination for both locals and visitors alike.
The park's centerpiece is its magnificent lake, adorned with a mesmerizing 300-foot water fountain that dances to a vibrant array of lights during the evening hours. The sight of the fountain gracefully spraying water into the air is a true spectacle, capturing the imagination of all who witness it.
Visitors can stroll along the park's well-maintained pathways, enjoying the soothing sounds of cascading waterfalls and the rustling of lush greenery. The park also features charming picnic areas, perfect for enjoying a leisurely outdoor lunch or gathering with friends and family.
Heartland of America Park is not just about tranquility; it offers various recreational activities as well. Boating enthusiasts can rent paddleboats or kayaks and embark on a peaceful adventure across the lake. Fishing enthusiasts can cast their lines and try their luck at catching a variety of fish species.
Throughout the year, the park hosts numerous events and festivals, including concerts, art exhibits, and cultural celebrations, adding a vibrant and dynamic atmosphere to the surroundings.

8. Omaha's Henry Doorly IMAX Theater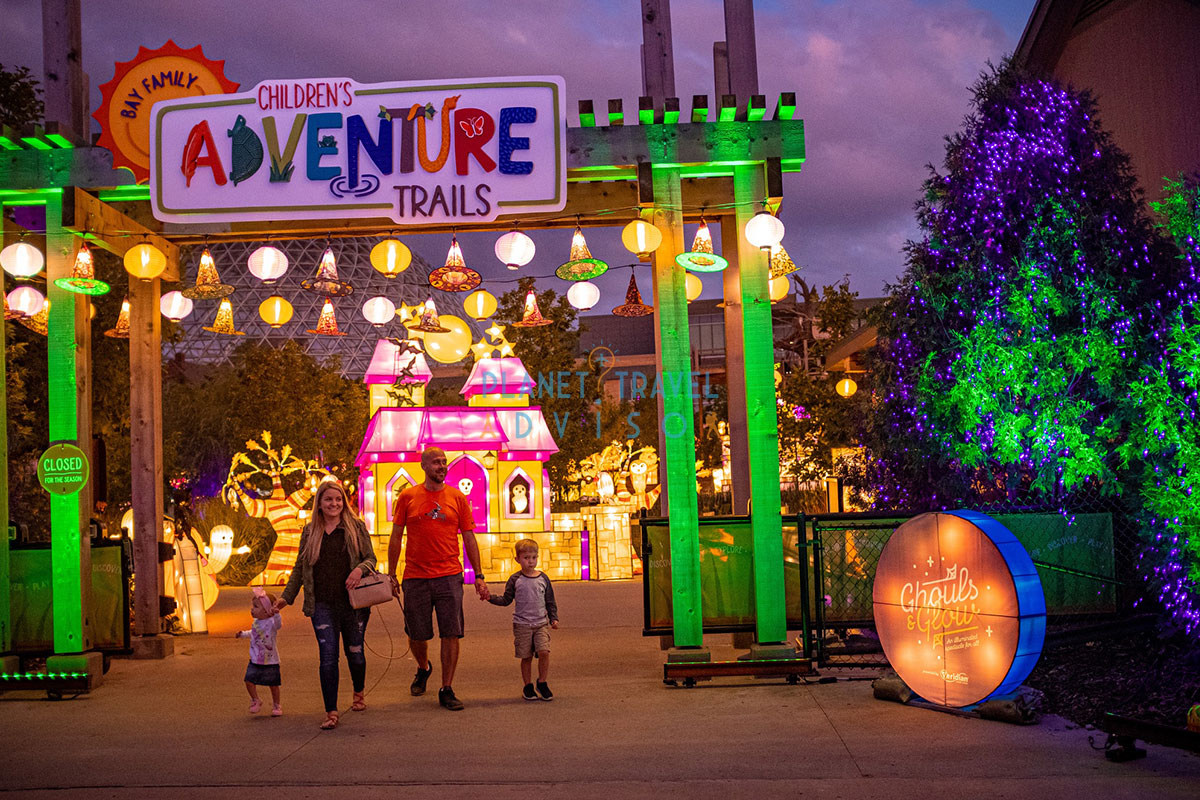 The Omaha's Henry Doorly IMAX Theater is a popular attraction located in Omaha, Nebraska, within the larger Henry Doorly Zoo and Aquarium complex. The theater features the IMAX format, which is known for its large screens and immersive audiovisual experience.
The IMAX theater at Henry Doorly Zoo is one of the largest IMAX screens in the United States, measuring approximately 70 feet wide and 52 feet tall. It offers audiences an incredible cinematic experience, with stunning visuals and powerful surround sound. The theater's comfortable seating arrangement ensures that viewers can fully enjoy the larger-than-life movies shown on the IMAX screen.
The theater showcases a variety of films, including educational documentaries, nature films, and popular Hollywood releases that have been specially formatted for the IMAX format. IMAX films are known for their breathtaking cinematography and use of cutting-edge technology, providing an immersive experience that is hard to replicate in traditional movie theaters.
In addition to regular movie screenings, the Omaha's Henry Doorly IMAX Theater also hosts special events, such as science lectures and presentations, which further enrich the educational and entertainment offerings available at the Henry Doorly Zoo.
If you're in Omaha and have an interest in experiencing movies on a grand scale or exploring educational documentaries, the Omaha's Henry Doorly IMAX Theater is definitely worth a visit.

9. TD Ameritrade Park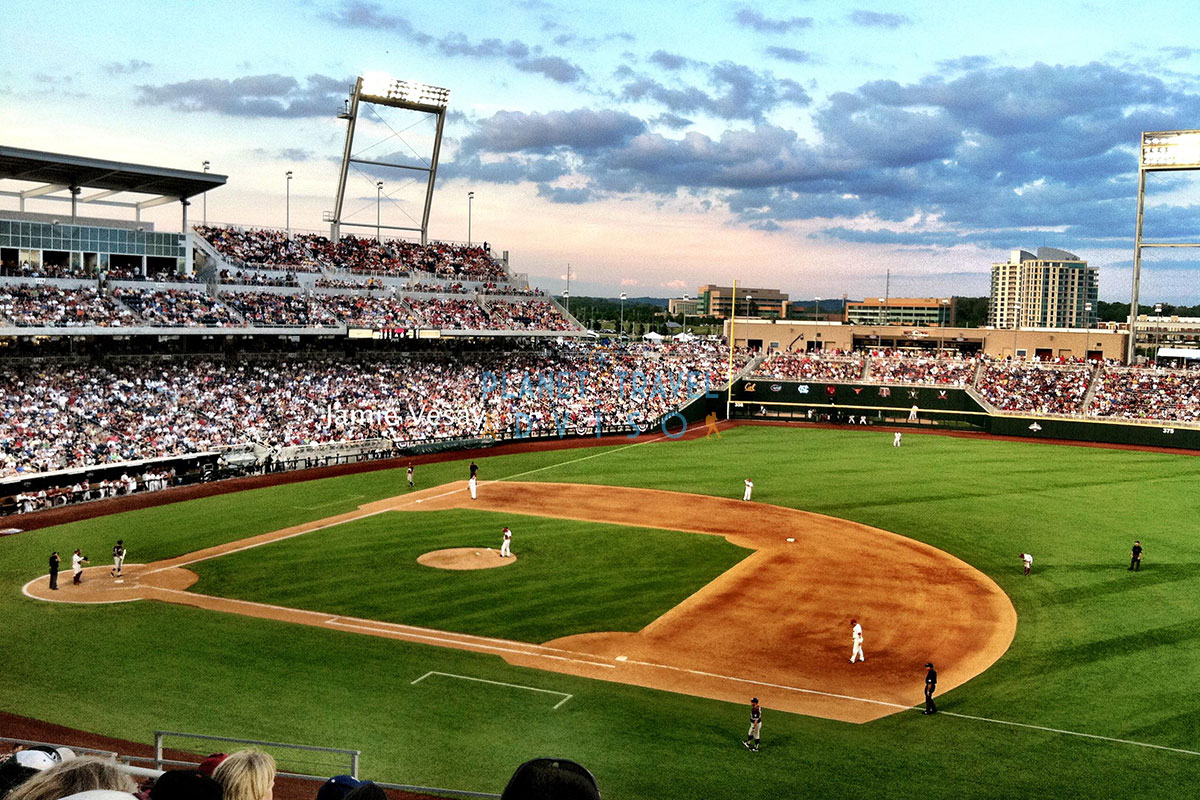 TD Ameritrade Park is a baseball stadium located in Omaha, Nebraska, United States. It serves as the home field for the Creighton University Bluejays college baseball team and also hosts the NCAA College World Series (CWS) each year.
The stadium opened in 2011 and has a seating capacity of approximately 24,000 spectators. It was built to replace Johnny Rosenblatt Stadium, which had been the longtime host of the CWS. TD Ameritrade Park was designed specifically for college baseball and features state-of-the-art facilities and amenities.
The CWS is a popular annual event in Omaha, attracting fans from all over the country. The tournament consists of eight teams competing in a double-elimination format, culminating in a best-of-three championship series. TD Ameritrade Park provides a great atmosphere for the games, with its modern design, spacious seating, and excellent sightlines.
In addition to hosting college baseball games, TD Ameritrade Park has also been used for other sporting events, concerts, and community events. It has become a significant landmark in Omaha and a symbol of the city's strong ties to baseball.

10. Strategic Air Command & Aerospace Museum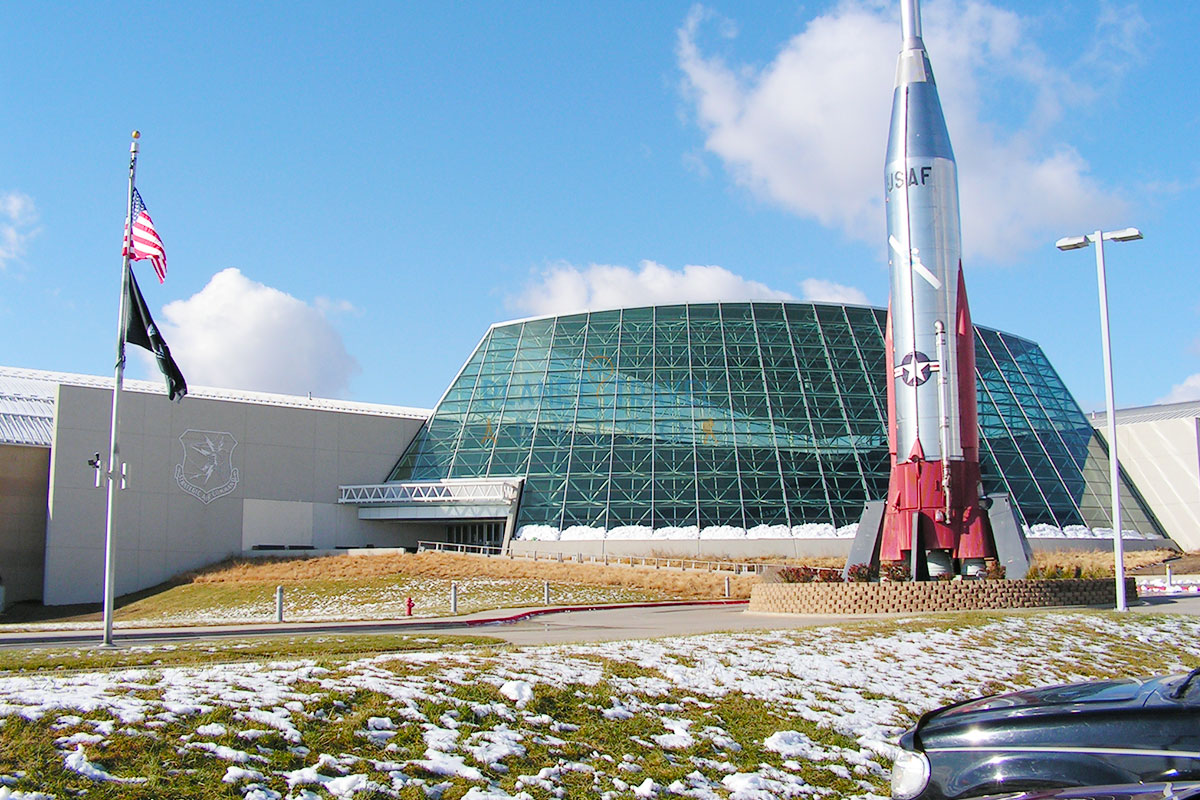 The Strategic Air Command & Aerospace Museum is a museum located in Ashland, Nebraska, United States, near the city of Omaha. It is dedicated to preserving the history and artifacts of the Strategic Air Command (SAC) and exploring the advancements in aerospace technology.
The museum was established in 1959 as the Strategic Air Command Museum and was originally located at Offutt Air Force Base. In 1998, it moved to its current location in Ashland, where it expanded its exhibits and facilities. The museum is situated on a large campus that covers approximately 300,000 square feet.
The exhibits at the Strategic Air Command & Aerospace Museum showcase a wide range of aircraft, missiles, and space-related artifacts. Visitors can explore a variety of military aircraft, including bombers, fighters, reconnaissance planes, and cargo planes. Some notable aircraft on display include the B-36 Peacemaker, B-52 Stratofortress, SR-71 Blackbird, and the famous B-29 Superfortress Enola Gay, which dropped the atomic bomb on Hiroshima during World War II.
In addition to aircraft, the museum features exhibits on the history of the Strategic Air Command, Cold War history, missile systems, space exploration, and more. Visitors can learn about the technological advancements and strategic role of the SAC during the Cold War era.
The museum also offers educational programs, special events, and interactive exhibits to engage visitors of all ages. There are guided tours available, as well as a gift shop and a café for visitors to enjoy.

Conclusion
In conclusion, Omaha is a dynamic and livable city with a strong economy, cultural vibrancy, and a favorable cost of living. It offers a range of opportunities for residents in terms of employment, education, and recreation. While challenges exist, Omaha's overall appeal and quality of life make it an attractive place to call home. Let our comprehensive Omaha travel guide be your companion as we unlock the treasures of Omaha, revealing the hidden gems and top best things to do in Omaha that make this city an unforgettable destination. Embark on an extraordinary journey and let Omaha captivate your senses.
Source of Video: Paradise Of USA Youtube
FAQ
What are the best attractions to visit in Omaha?
The Henry Doorly Zoo and Aquarium is a must-visit attraction in Omaha, known for its world-class exhibits like the Desert Dome, Kingdoms of the Night, and the Lied Jungle. Joslyn Art Museum is another popular spot, featuring an impressive collection of European, American, and contemporary art. The Old Market District is a historic and vibrant area with cobblestone streets, unique shops, restaurants, and art galleries. Lauritzen Gardens offers beautiful botanical displays and scenic gardens, while the Durham Museum showcases the city's history in a former Union Station.
Which neighborhoods in Omaha are known for their vibrant dining and nightlife scene?
The Old Market District is renowned for its lively dining and nightlife scene. It offers a diverse range of dining options, from upscale restaurants to cozy cafes and bars. Dundee is another neighborhood known for its trendy eateries and hip bars, often frequented by locals. The Blackstone District is an up-and-coming area with a mix of restaurants, bars, and breweries. Midtown Crossing is a vibrant district with a variety of dining options, a movie theater, and seasonal events.
Are there any family-friendly activities or destinations in Omaha?
Omaha offers numerous family-friendly activities and destinations. The Omaha Children's Museum features interactive exhibits, educational activities, and special events for kids of all ages. Omaha's Henry Doorly Zoo and Aquarium is a favorite among families, offering an immersive experience with a vast array of animal exhibits. Fontenelle Forest provides opportunities for outdoor exploration with hiking trails, nature exhibits, and educational programs. Fun-Plex Amusement Park offers water slides, rides, and attractions for a day of family fun. Parks like Zorinsky Lake Park and Elmwood Park are great for picnicking, playgrounds, and enjoying outdoor activities.
What are the top outdoor recreational areas or parks in Omaha?
Omaha boasts several beautiful parks and outdoor recreational areas. Heartland of America Park, located downtown, offers a scenic lake with fountains, walking paths, and a gondola ride. Gene Leahy Mall is a lush green space downtown with a waterfall, walking trails, and a scenic view of the city. Chalco Hills Recreation Area features hiking and biking trails, fishing lakes, and picnic areas. Standing Bear Lake is a serene spot with a walking trail, fishing opportunities, and a sandy beach for swimming.
Are there any annual events or festivals that are must-see in Omaha?
Omaha hosts a variety of annual events and festivals throughout the year. The College World Series, held at TD Ameritrade Park, is a highly anticipated sports event that brings together top collegiate baseball teams from across the country. The Taste of Omaha is a food festival where visitors can sample a wide array of cuisines from local restaurants while enjoying live music. The Omaha Summer Arts Festival is a three-day event featuring art exhibits, live performances, and a variety of food vendors. The Omaha Beer Fest showcases a wide selection of craft beers from local and national breweries. The Holiday Lights Festival is a cherished winter event with dazzling light displays, ice skating, and a festive atmosphere in the downtown area.