Best 12 Things to Do in Omaha for Adults 2023/2024
This article was created by a dedicated and authentic team of passionate travelers from the PTA Team, who are not only experienced travel experts but also proud members of the World Travel & Tourism Council (WTTC). Our sole purpose is to assist and support fellow travelers in planning their tours with utmost care and precision. With exclusive information, valuable insights, and meticulous analysis, we strive to provide high-quality content that leaves no room for mistakes. Count on us to deliver comprehensive destination reports and all the necessary information to ensure an exceptional and well-planned travel experience for you. Learn More
Article Table of Content
Omaha, known as the "Gateway to the West" is a vibrant city that offers numerous advantages for adults. With a population of over 400,000, it strikes the perfect balance between a lively urban atmosphere and a tight-knit community. The city boasts a strong economy, with diverse industries such as finance, healthcare, and technology, providing ample career opportunities. Omaha's affordable cost of living is a major draw, allowing adults to enjoy a high quality of life without breaking the bank. The city is renowned for its excellent schools, cultural attractions, and a thriving arts scene. Additionally, its friendly residents and abundance of recreational activities, including parks, sports, and entertainment venues, make it an ideal place to settle down and enjoy adulthood.

1. Visit the Henry Doorly Zoo and Aquarium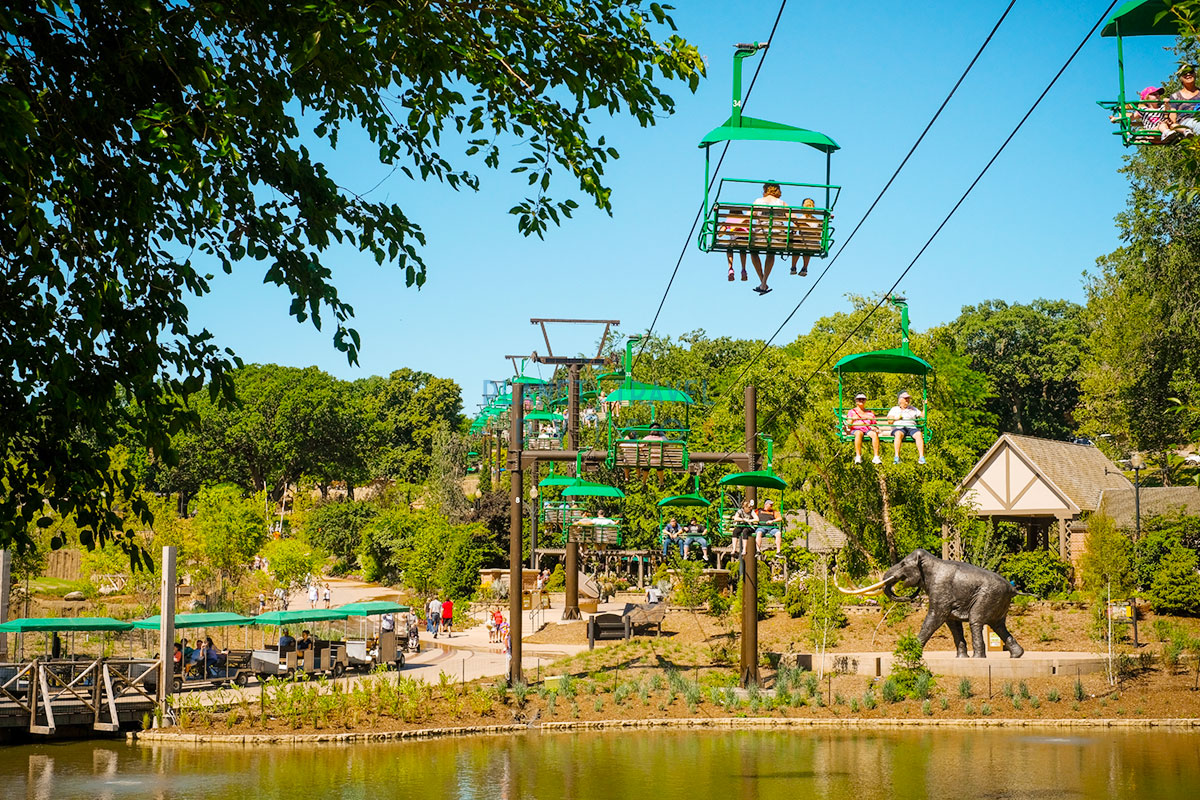 With a sprawling campus, the Henry Doorly Zoo and Aquarium is a must-visit attraction in Omaha. Immerse yourself in a world of wildlife as you explore the various exhibits. The Desert Dome is a highlight, featuring the world's largest indoor desert and showcasing unique species from arid regions. The Lied Jungle is another must-see, transporting you into a lush rainforest filled with exotic plants and animals.
From penguins to gorillas, giraffes to sharks, the zoo offers an incredible array of animals to observe and learn about. Make sure to check the schedule for feeding times and interactive experiences, such as feeding the giraffes or riding the Skyfari for an aerial view of the zoo. It's a family-friendly destination that's also perfect for adults seeking a memorable wildlife experience.

2. Explore the Old Market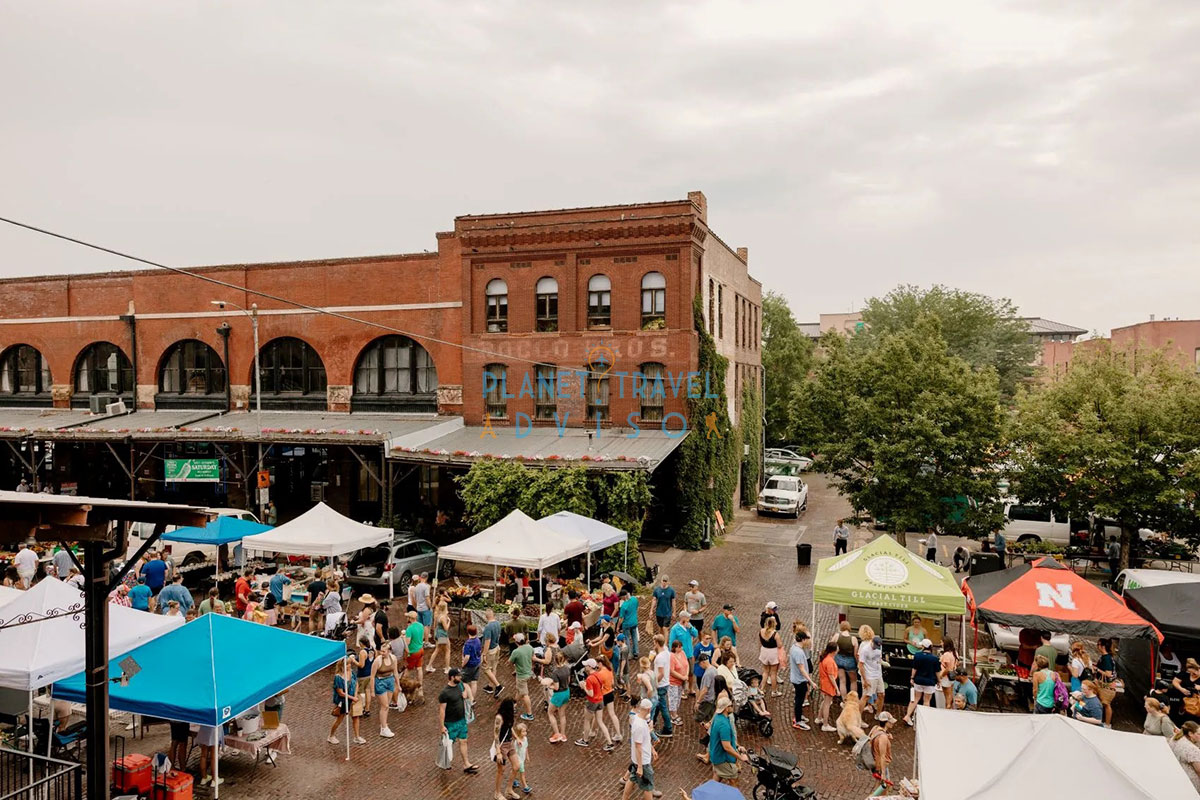 Step back in time as you wander through the historic Old Market district in downtown Omaha. This charming area is a hub of activity, filled with cobblestone streets, brick buildings, and a lively atmosphere. Start your exploration by browsing the unique shops, featuring local artisans, boutique clothing stores, and specialty shops. Art galleries showcasing works by local artists are also abundant, offering a glimpse into the vibrant arts scene in Omaha.
When hunger strikes, there are plenty of dining options to choose from, including upscale restaurants, cozy cafes, and trendy bars. Take a break at one of the outdoor patios, enjoy live music, and soak up the lively ambiance. The Old Market is the perfect place to spend a leisurely afternoon or evening, discovering hidden gems and enjoying the local culture.

3. Check out the Joslyn Art Museum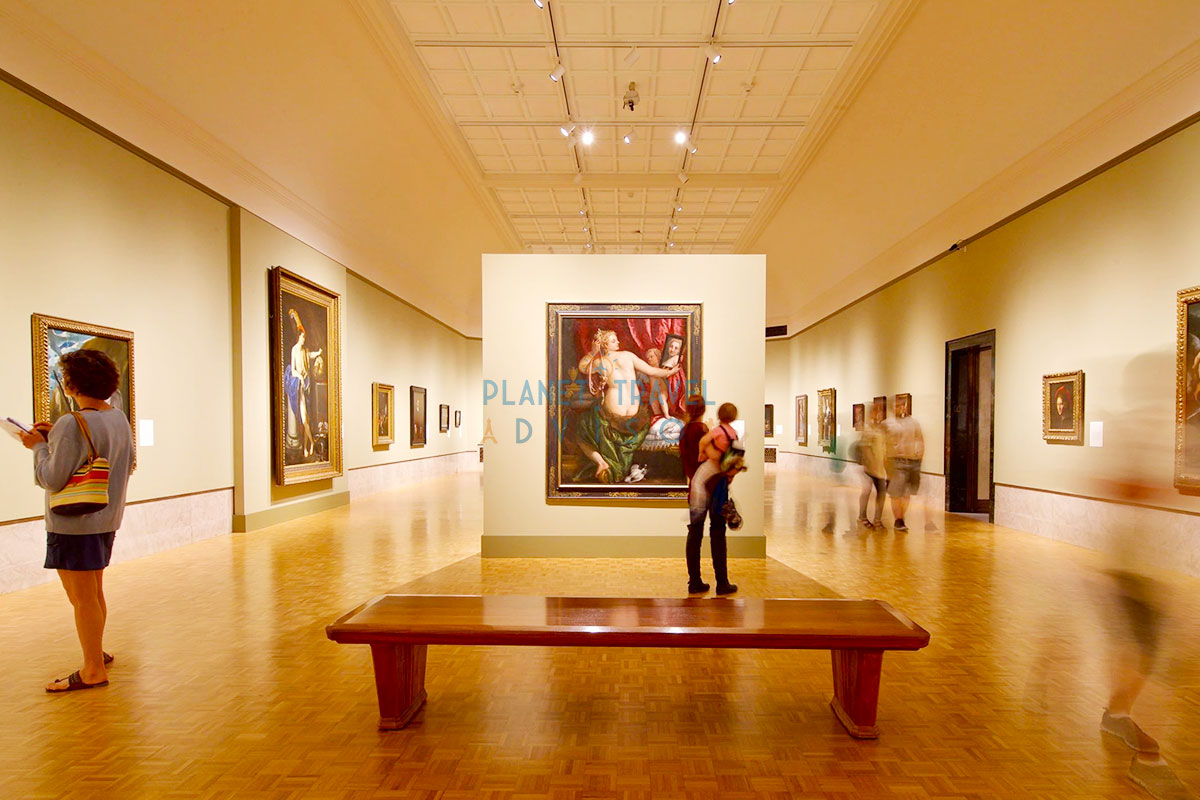 Art enthusiasts will be delighted by the Joslyn Art Museum, a premier cultural institution in Omaha. Housed in an impressive building with stunning architecture, the museum is home to an extensive collection of art from various periods and genres. Stroll through the galleries and admire works by renowned artists such as Monet, Renoir, and Pollock. The museum's collection spans thousands of years, offering a diverse range of artistic styles and mediums.
Temporary exhibits are also featured throughout the year, showcasing contemporary art and exploring thought-provoking themes. Take your time to appreciate the art, read the informative plaques, and engage with the exhibitions. The Joslyn Art Museum provides a serene and inspiring environment for visitors to immerse themselves in the world of art.
Attention all parents and caregivers in Omaha! Are you looking for fantastic activities to keep your kids entertained and engaged? Look no further! I urge you to read this exciting article that highlights the best things to do in Omaha for Kids. Whether you're a local resident or planning a visit to this vibrant city, this article is a must-read for you!

4. Enjoy the Durham Museum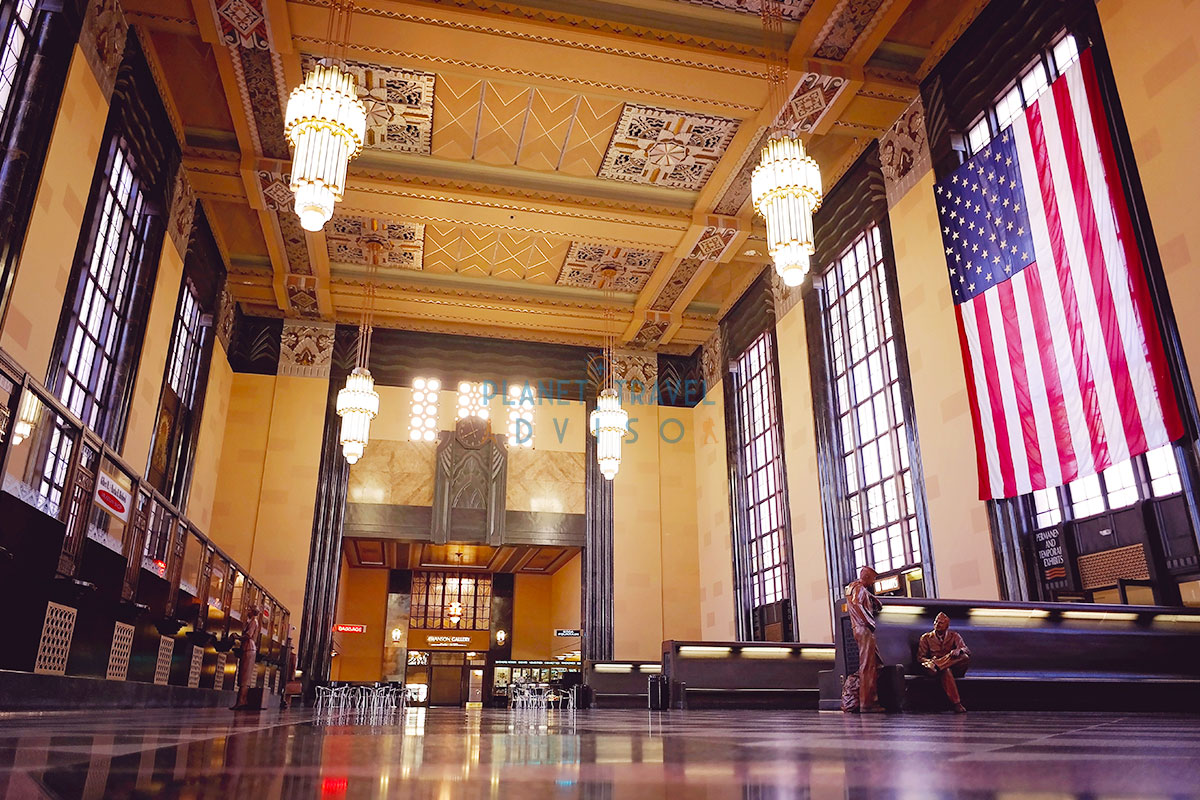 Step into history at the Durham Museum, housed in the beautifully restored Union Station, an iconic Art Deco building. The museum offers a captivating journey through Omaha's past and the region's rich history. Explore exhibits that highlight the development of the railroad, showcasing vintage train cars and interactive displays. Learn about the impact of transportation on Omaha and its significance as a hub for trade and commerce.
The Durham Museum also delves into the social and cultural history of the area, providing insight into the lives of early settlers and the growth of the city. Don't miss the stunning main hall, with its soaring ceilings and intricate architectural details. It's a great place to learn, reflect, and appreciate the heritage of Omaha.

5. Attend a performance at the Orpheum Theater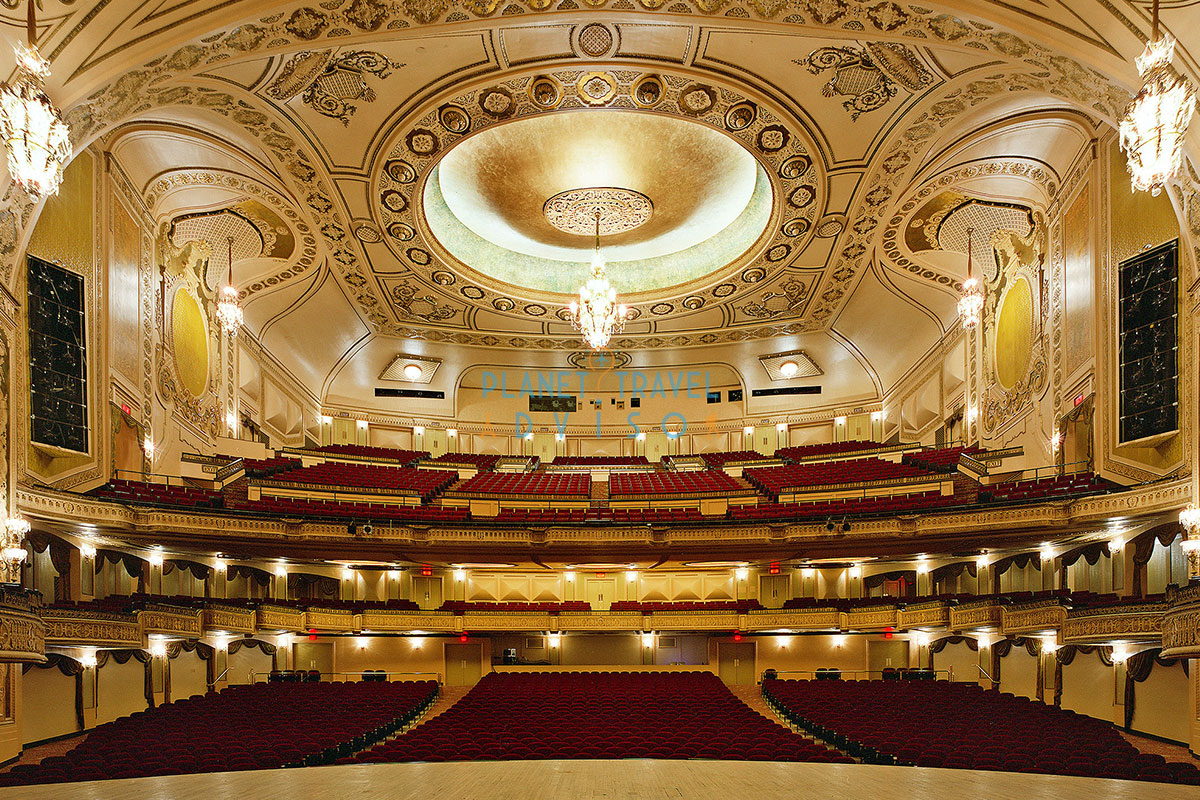 For a dose of entertainment and a touch of glamour, head to the Orpheum Theater. This historic venue hosts a variety of performances, including Broadway shows, concerts, and dance productions. Step inside and be enchanted by the grandeur of the theater, with its ornate decor and opulent atmosphere. Catch a Broadway production and experience the magic of live theater, or attend a concert by a world-class performer.
The Omaha Symphony also calls the Orpheum home, offering a range of classical and contemporary music performances throughout the year. With its excellent acoustics and elegant setting, the Orpheum Theater provides a memorable experience for theater and music lovers alike. Treat yourself to a night of entertainment and be swept away by the talent and creativity on display.

6. Take a Walk Along the Bob Kerrey Pedestrian Bridge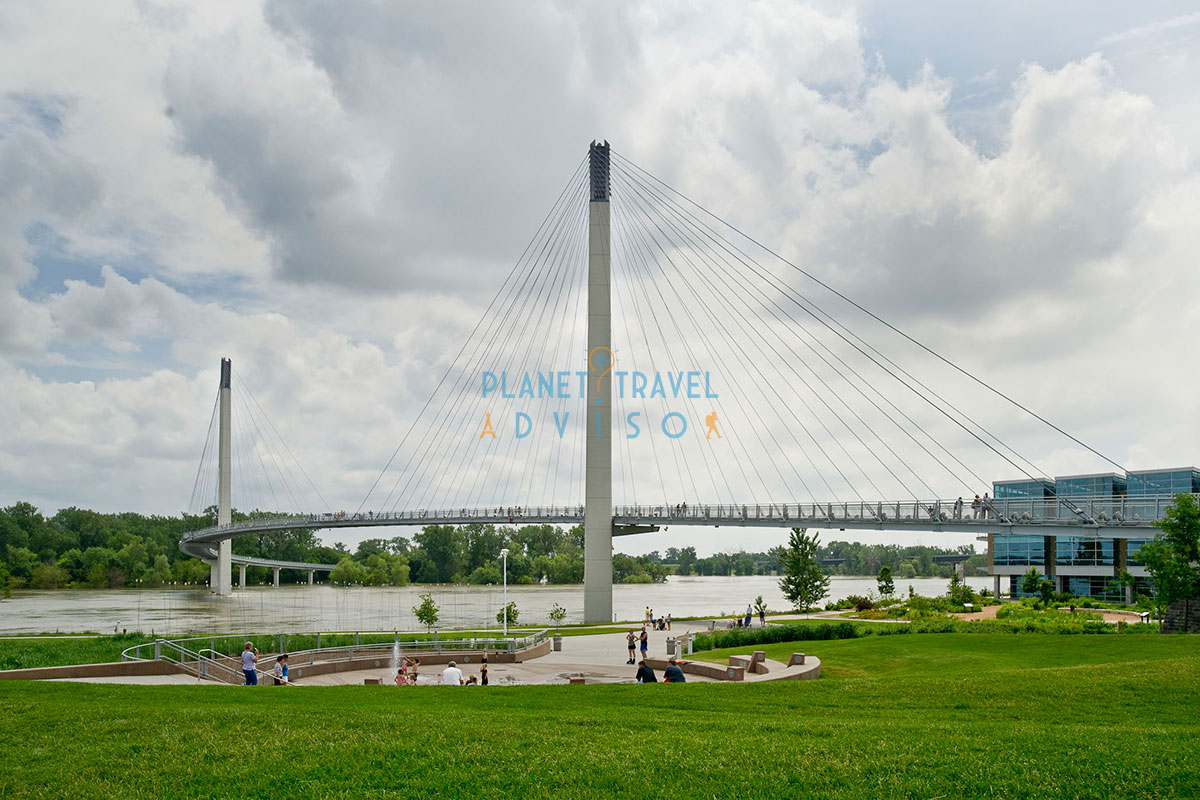 Enjoy a leisurely stroll or bike ride along the scenic Bob Kerrey Pedestrian Bridge, which spans the Missouri River and connects Omaha with Council Bluffs, Iowa. As you make your way across the bridge, take in the panoramic views of the river and the Omaha skyline.
The bridge offers a peaceful escape from the hustle and bustle of the city, providing a tranquil setting to appreciate the natural beauty of the area. If you visit in the evening, you'll be treated to the mesmerizing sight of the bridge illuminated by colorful lights, creating a magical ambiance. The Bob Kerrey Pedestrian Bridge is a perfect spot for exercise, relaxation, and capturing memorable photos.

7. Visit Lauritzen Gardens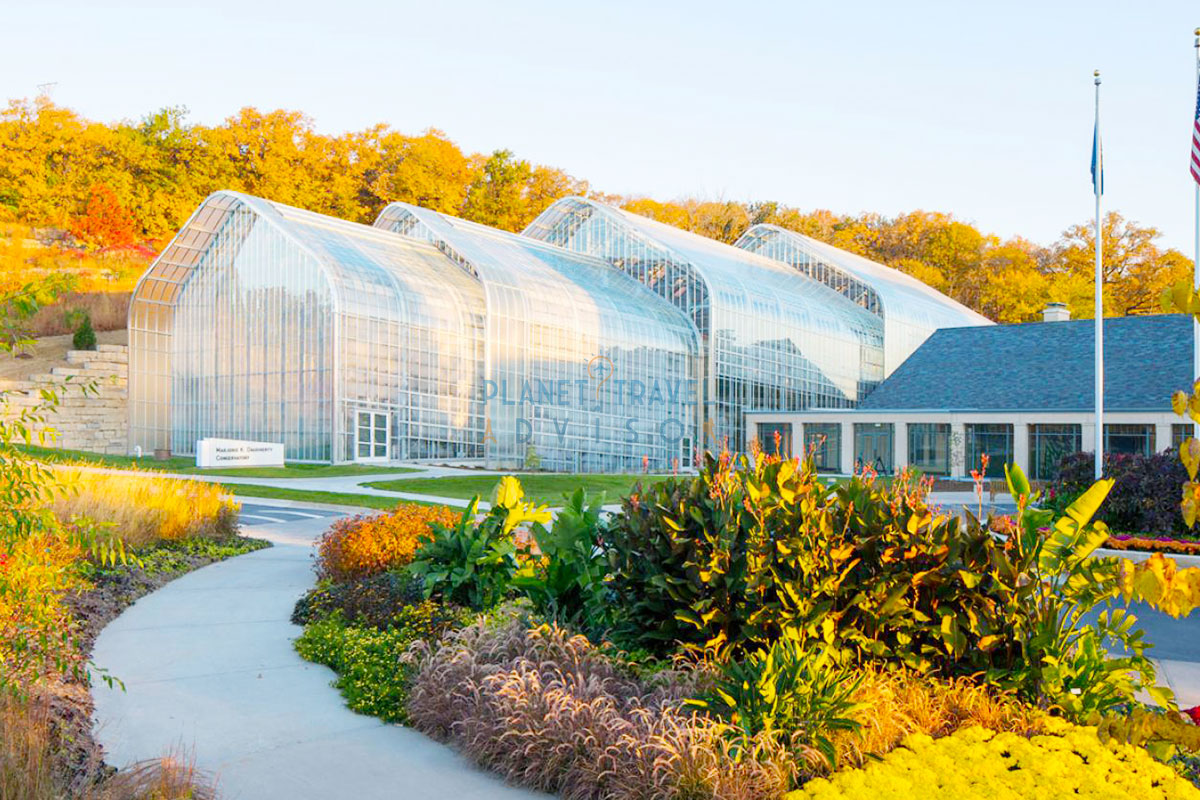 Nature lovers and gardening enthusiasts will be captivated by Lauritzen Gardens, a stunning botanical oasis in Omaha. Explore the beautifully landscaped gardens, each with its own theme and unique features. From the rose garden bursting with vibrant blooms to the tranquil Japanese garden with its serene pond and bridges, there's something to delight every visitor.
Stroll along the winding paths, breathe in the fragrant scents, and take in the natural beauty that surrounds you. The gardens also feature a visitor center with educational exhibits and a gift shop where you can purchase plants, garden accessories, and souvenirs. Whether you're a seasoned gardener or simply appreciate the wonders of nature, a visit to Lauritzen Gardens is a rejuvenating and inspiring experience.

8. Discover the Heartland of America Park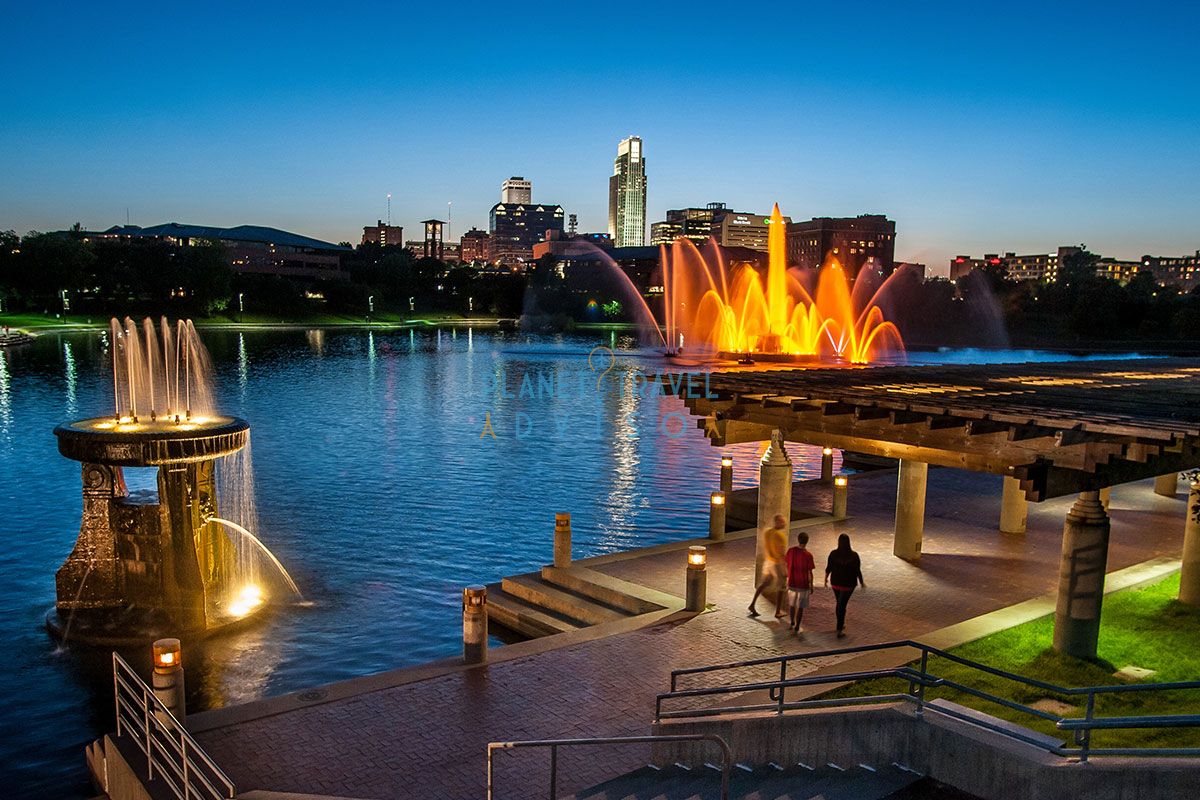 Located in downtown Omaha, the Heartland of America Park offers a serene retreat within the city. Take a leisurely walk around the park and marvel at the picturesque lake, complete with a captivating fountain display. The fountain, known as the "Fountain of the Rings" shoots water high into the air, creating a mesmerizing spectacle accompanied by music and lights in the evenings.
Find a bench by the water's edge and enjoy the tranquility as you watch ducks and geese glide across the lake. The park also features beautifully landscaped gardens and sculptures that celebrate the spirit and heritage of the Heartland. With its peaceful ambiance and scenic views, the Heartland of America Park is a hidden gem for relaxation and contemplation.

9. Tour the Joslyn Castle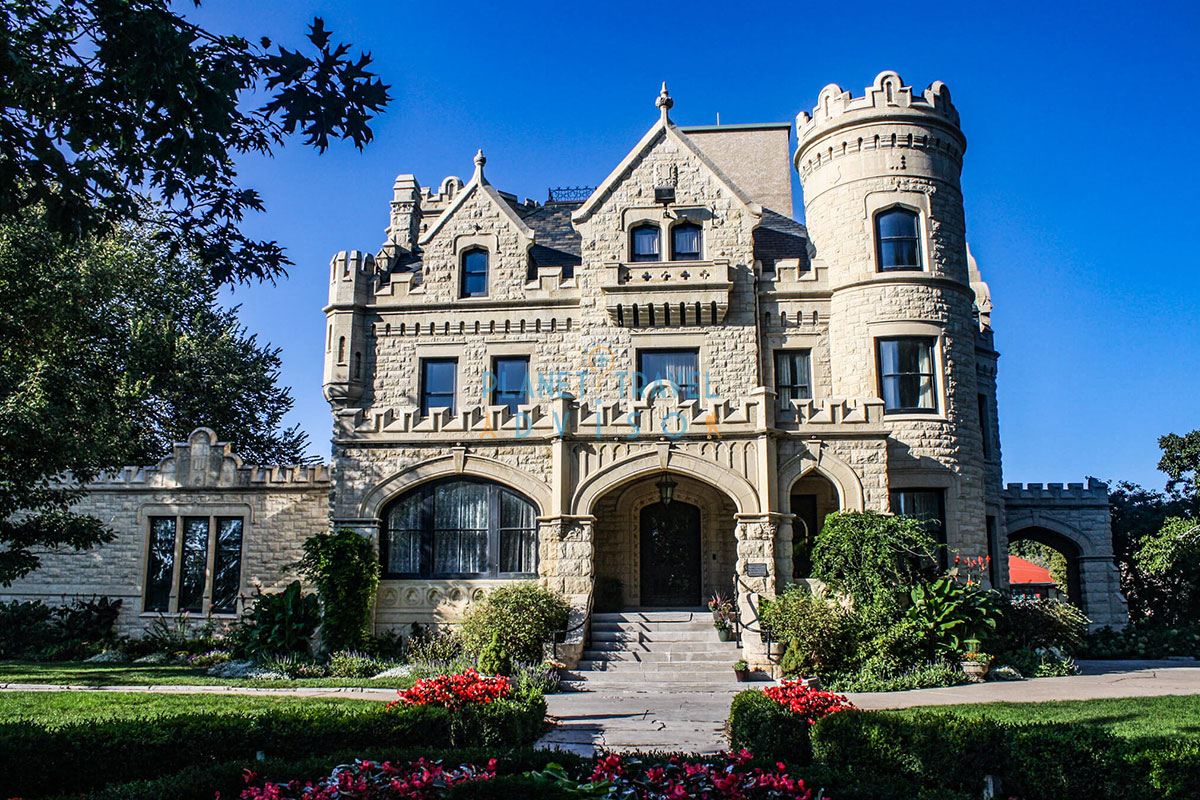 Step into the past with a guided tour of Joslyn Castle, a historic mansion that offers a glimpse into the grandeur of Omaha's early 20th-century elite. Built-in 1903, the castle showcases impressive architecture and elegant interiors. Explore the opulent rooms adorned with intricate woodwork, stained glass windows, and ornate details. Knowledgeable guides will provide insights into the history of the castle and the influential Joslyn family who once resided there.
The castle's surrounding gardens offer a peaceful escape, with manicured lawns, vibrant flowers, and shaded walkways. Guided tours are available, allowing you to learn about the castle's architecture, its place in Omaha's history, and the legacy of the Joslyn family. The Joslyn Castle is a hidden treasure that transports visitors to a bygone era of wealth and sophistication.

10. Discover the Omaha Arts and Culture Scene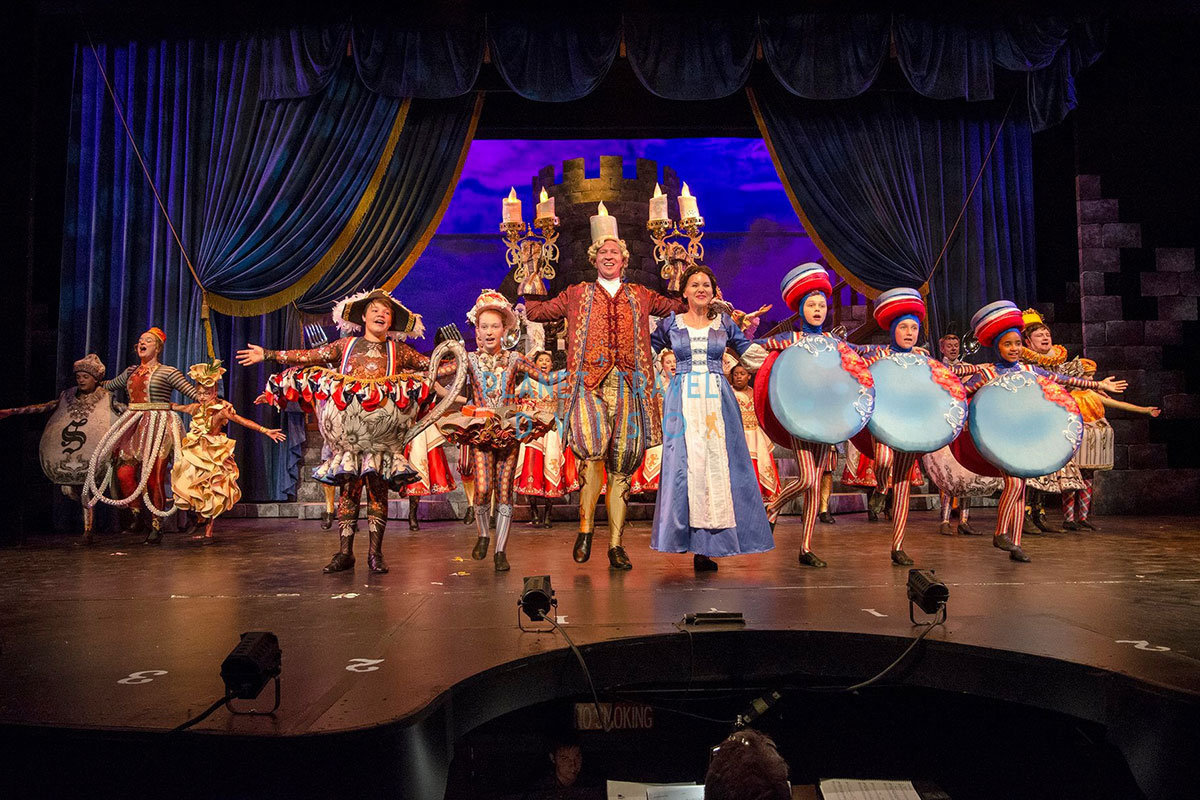 Immerse yourself in the thriving arts and culture scene of Omaha, which offers a wealth of museums, galleries, and performances. Start by visiting the Bemis Center for Contemporary Arts, a renowned institution showcasing cutting-edge contemporary artwork from local and international artists. Explore the exhibitions and attend artist talks and workshops to deepen your understanding of contemporary art trends.
Next, venture to the Omaha Community Playhouse, one of the largest and most respected community theaters in the country. Catch a live theater performance, ranging from classic plays to contemporary productions, and witness the incredible talent of local actors and actresses.
For a taste of history and culture, visit the Great Plains Black History Museum. Learn about the African American experience in Nebraska and the significant contributions of Black individuals throughout history. The museum offers engaging exhibits, educational programs, and events that promote dialogue and understanding.
Additionally, explore the El Museo Latino, a museum dedicated to celebrating and preserving Latin American art, culture, and history. Discover vibrant artwork, traditional artifacts, and immersive displays that showcase the diverse heritage of Latin America.

11. Catch A Game at TD Ameritrade Park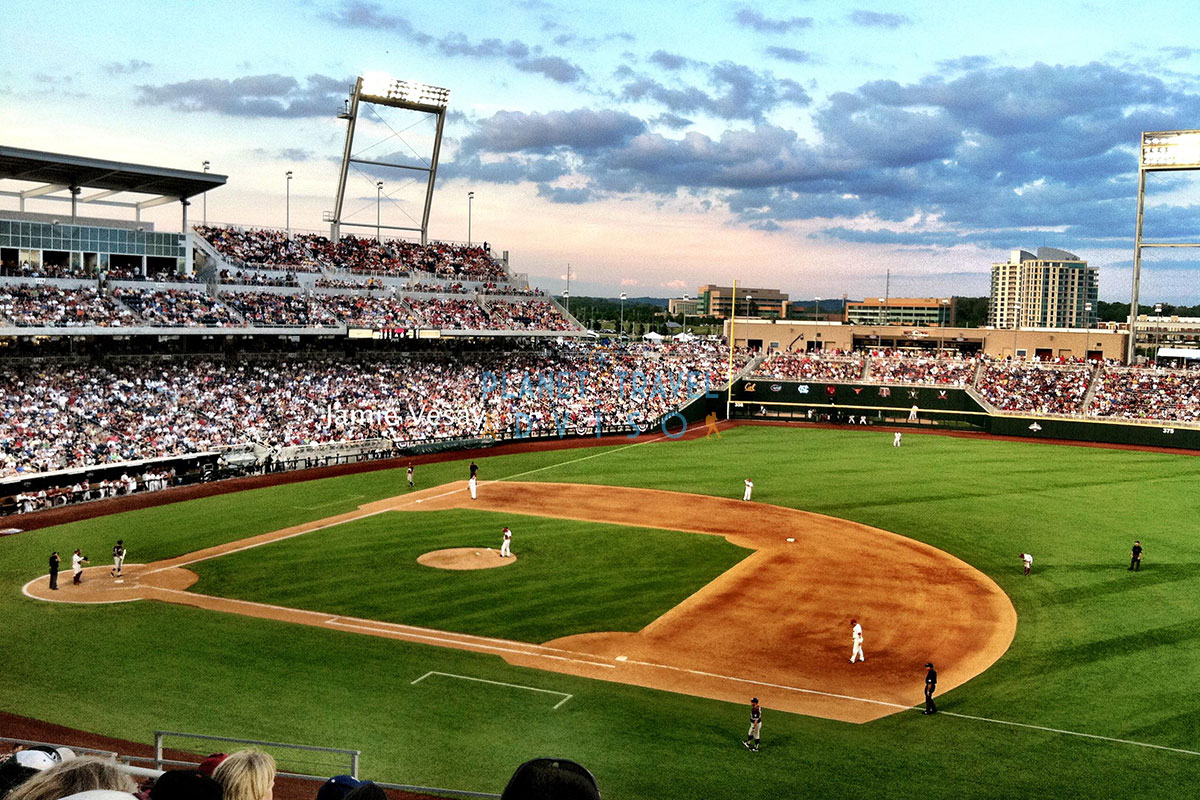 Sports enthusiasts shouldn't miss the opportunity to catch a game at TD Ameritrade Park. This state-of-the-art baseball stadium is home to the College World Series, one of the most prestigious collegiate baseball tournaments in the United States.
The stadium's modern design and excellent facilities provide an exceptional viewing experience for fans. Whether you're a baseball aficionado or simply enjoy the excitement of live sports, attending a game at TD Ameritrade Park is a thrilling and memorable experience. Join the cheering crowd, grab a hot dog and a cold beverage, and immerse yourself in the electrifying atmosphere of America's favorite pastime.

12. Sample A Local Cuisine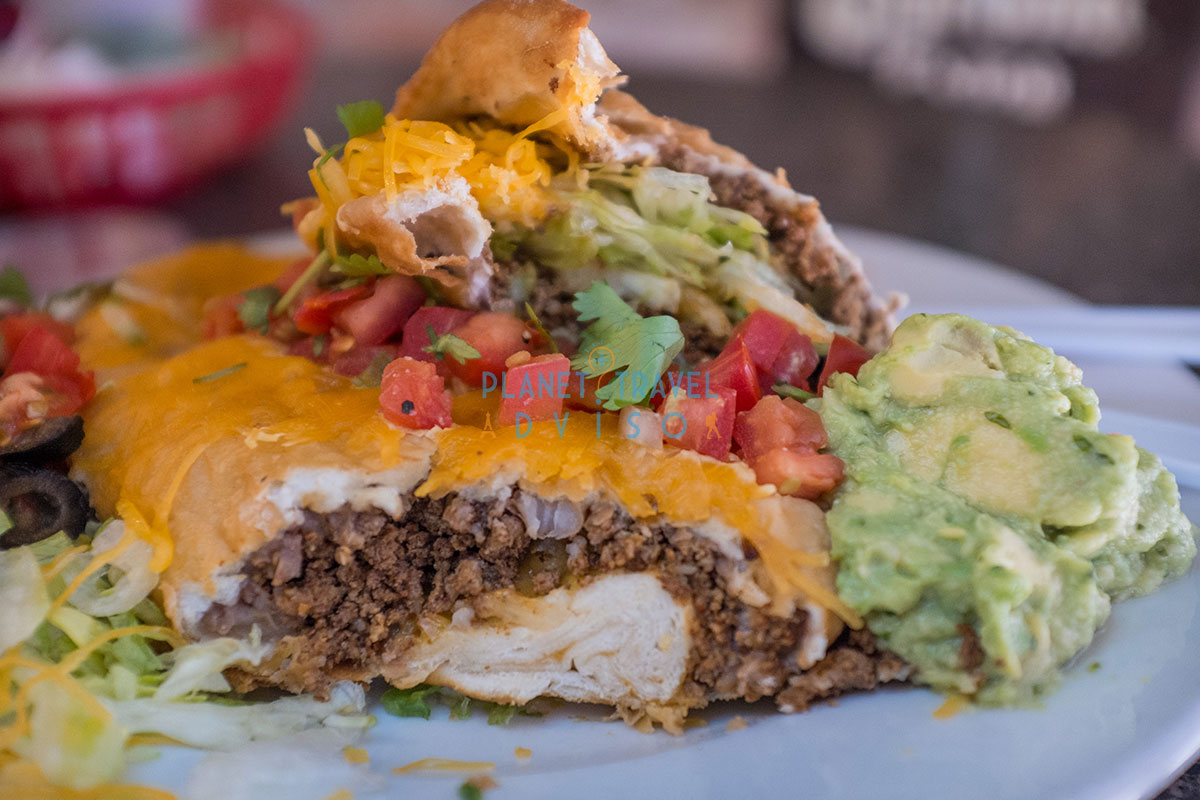 Omaha is renowned for its delicious steaks and vibrant culinary scene. Take the opportunity to indulge in the city's culinary offerings by sampling local cuisine. Visit a classic steakhouse and savor a perfectly cooked Nebraska beef steak, accompanied by mouthwatering sides. Explore the burgeoning farm-to-table scene and enjoy dishes made with fresh, locally sourced ingredients.
Omaha is also known for its craft breweries and thriving cocktail culture, so don't forget to try some local brews or artisanal cocktails. Whether you're a foodie seeking innovative flavors or simply looking to savor classic Midwestern dishes, Omaha's dining scene has something to satisfy every palate.

Conclusion
In conclusion, Omaha is a fantastic place for adults to call home. Its thriving economy, affordable cost of living, and diverse career opportunities make it an attractive destination for those seeking professional growth. The city's strong sense of community, excellent schools, and rich cultural offerings contribute to a high quality of life. Omaha's friendly residents and abundance of recreational activities ensure that adults have plenty of opportunities to unwind and enjoy their leisure time. 
FAQ
What are some popular nightlife options for adults in Omaha?
Omaha has a vibrant nightlife scene catering to adults. Popular spots include the Old Market district, where you'll find a variety of bars, pubs, and live music venues. The downtown area is also home to trendy cocktail lounges and rooftop bars, providing adults with a diverse range of options for socializing and entertainment.
Are there any adult education opportunities in Omaha?
Yes, Omaha offers a range of adult education opportunities. The city is home to several universities, colleges, and community colleges that provide adult learners with various programs and courses. Additionally, there are professional development workshops, vocational training centers, and continuing education options available to help adults enhance their skills and further their careers.
What recreational activities are available for adults in Omaha?
Omaha offers numerous recreational activities for adults. The city has a vast network of parks and trails where adults can engage in outdoor activities such as hiking, biking, and picnicking. Omaha also has several golf courses, fitness centers, and sports clubs catering to adult fitness and sports enthusiasts. Additionally, the city hosts various adult sports leagues, providing opportunities for friendly competition and camaraderie.
Are there any adult-oriented cultural events or festivals in Omaha?
Absolutely! Omaha hosts a variety of cultural events and festivals that cater to adults. The city's art museums, theaters, and galleries regularly feature exhibitions, performances, and shows targeted towards adult audiences. Events like the Omaha Summer Arts Festival, Taste of Omaha, and Oktoberfest offer adults opportunities to explore local arts, culinary delights, and cultural celebrations.
What are some popular dining options for adults in Omaha?
Omaha boasts a thriving culinary scene with numerous dining options for adults. From upscale restaurants offering gourmet cuisine to trendy eateries with diverse international flavors, there's something to suit every taste. The city is particularly known for its steakhouses, where adults can indulge in high-quality cuts of beef. Additionally, Omaha has a burgeoning craft beer and cocktail scene, with several breweries and craft cocktail bars catering to adult beverage enthusiasts.