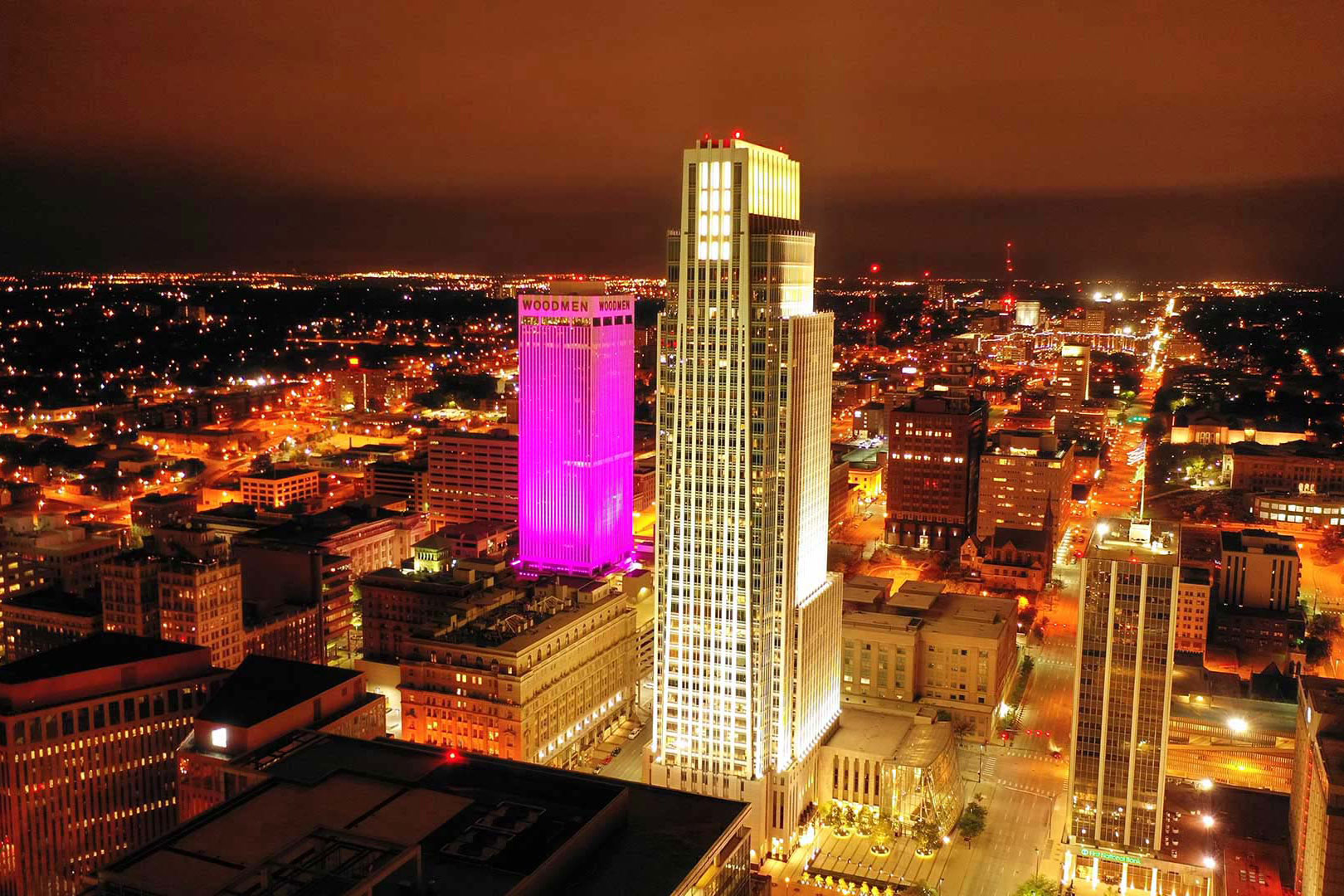 Best 10 Things to Do in Omaha at Night 2023/2024
This article was created by a dedicated and authentic team of passionate travelers from the PTA Team, who are not only experienced travel experts but also proud members of the World Travel & Tourism Council (WTTC). Our sole purpose is to assist and support fellow travelers in planning their tours with utmost care and precision. With exclusive information, valuable insights, and meticulous analysis, we strive to provide high-quality content that leaves no room for mistakes. Count on us to deliver comprehensive destination reports and all the necessary information to ensure an exceptional and well-planned travel experience for you. Learn More
Article Table of Content
Omaha at Night is a captivating experience that combines the charm of a vibrant cityscape with the tranquil ambiance of the night. As the largest city in Nebraska, Omaha offers a diverse array of attractions and activities that come to life under the shimmering lights and starry skies.
The city's downtown area transforms into a lively hub after dark, with its tall buildings illuminated in a dazzling display. The Old Market district, known for its historic brick buildings and cobblestone streets, becomes particularly enchanting at night. The area comes alive with bustling restaurants, trendy bars, live music venues, and art galleries, creating a vibrant atmosphere for visitors and locals alike.
In this article, you will discover the best things to do in Omaha at night, ensuring an unforgettable experience in the heart of Nebraska's largest city.

Explore the Old Market District at Night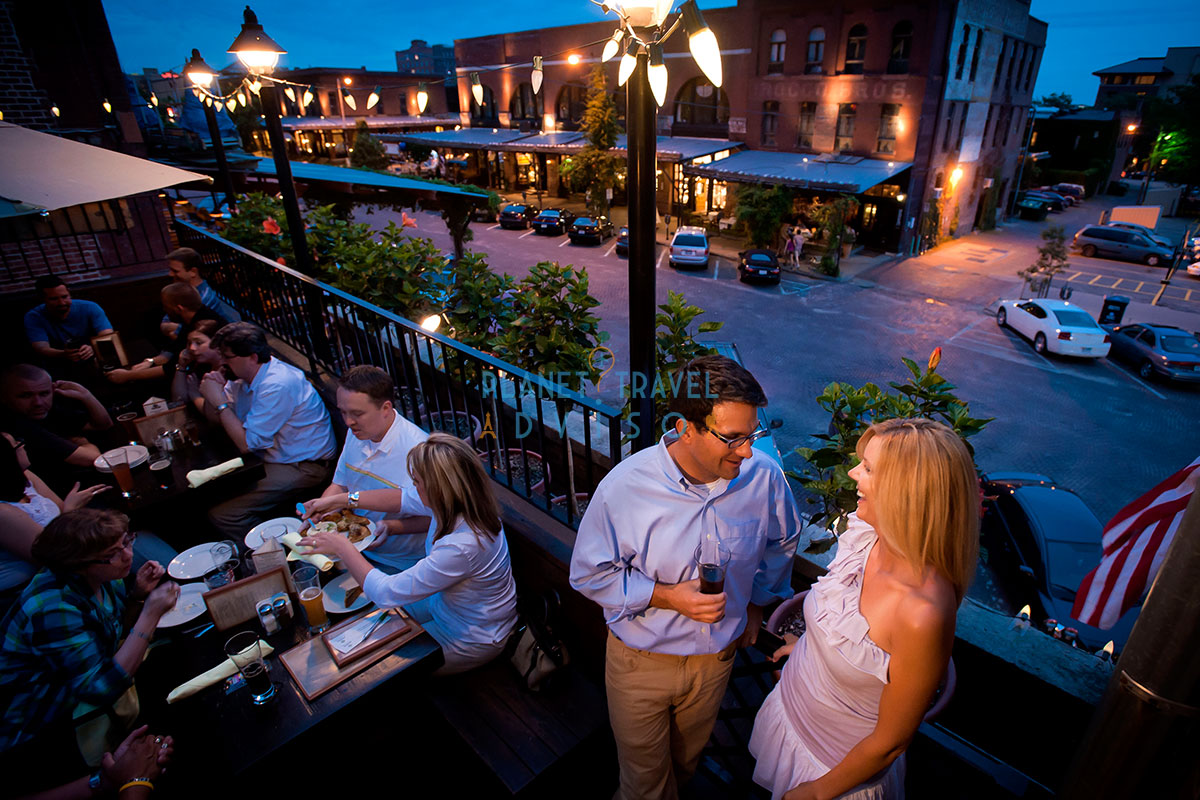 Exploring the Old Market District at night is one of the captivating things to do in Omaha that immerses you in the heart of Omaha's vibrant culture. As the sun sets, the district's historic brick streets come alive with bustling energy and a kaleidoscope of sights, sounds, and aromas. The twinkling lights and charming ambiance create a perfect backdrop for a memorable evening adventure.
The Old Market District offers a delightful array of dining options to satisfy every palate. From cozy cafes and charming bistros to upscale restaurants and lively pubs, you can indulge in a wide range of culinary delights. Sample local favorites like Nebraska steak or savor international cuisines that span the globe. After dinner, you can stroll through the district, taking in the unique architecture and atmosphere.
Art enthusiasts will find a haven in the Old Market District, with numerous galleries showcasing a diverse range of artwork. Explore contemporary exhibitions, admire local artists' creations, and even find unique pieces to take home as a memento of your visit. Many galleries host special events and openings at night, providing opportunities to engage with the local art community.
Live music fills the air in the Old Market District, with several venues offering nightly performances. From intimate jazz clubs to energetic rock stages, you can find a variety of genres to suit your musical taste. Enjoy the soulful melodies or dance to the infectious beats while sipping on handcrafted cocktails.
As you navigate the district's charming streets, you'll discover eclectic boutiques, antique stores, and specialty shops. Browse through an array of unique items, from vintage clothing and artisanal crafts to one-of-a-kind souvenirs. The Old Market District's welcoming ambiance and friendly shop owners make the experience even more enjoyable.

Experience Omaha Performing Arts Center at Night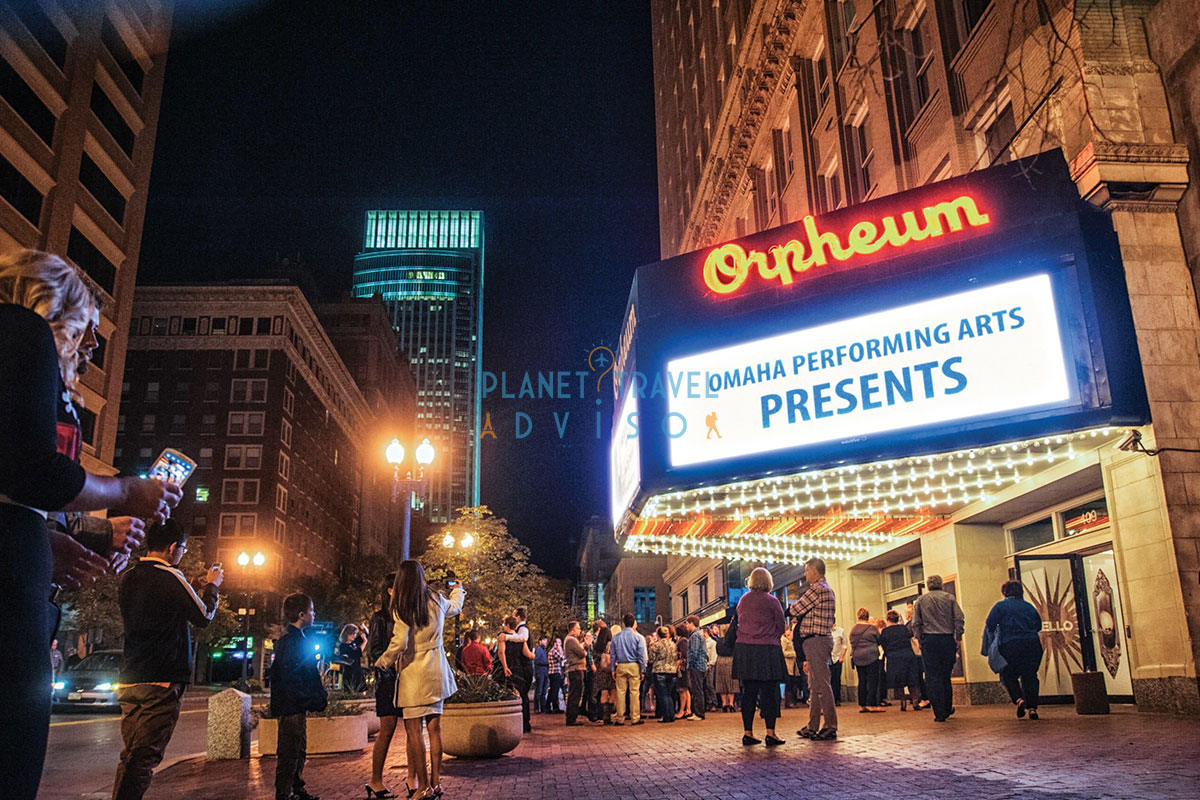 Attending a performance at the Omaha Performing Arts Center is a must for anyone seeking an enchanting evening filled with world-class entertainment. As you step into this stunning venue, you'll immediately be captivated by its grandeur and elegance. The Omaha Performing Arts Center is a cultural gem that hosts a diverse range of performances, including Broadway shows, concerts, dance performances, and theatrical productions.
The center boasts state-of-the-art facilities and acoustics that enhance the quality of every performance. From the moment the curtain rises, you'll be transported into a world of artistic brilliance and captivating storytelling. Whether you're a fan of musical theater, classical music, contemporary dance, or dramatic performances, the Omaha Performing Arts Center offers an extensive calendar of events to cater to all tastes.
Attending a Broadway show at the center is a truly immersive experience. From beloved classics to exciting new productions, you'll witness world-class talent bring unforgettable stories to life on the stage. The performances are complemented by impressive sets, stunning costumes, and top-notch production values, creating a memorable and visually stunning experience.

Visit the Henry Doorly Zoo at Night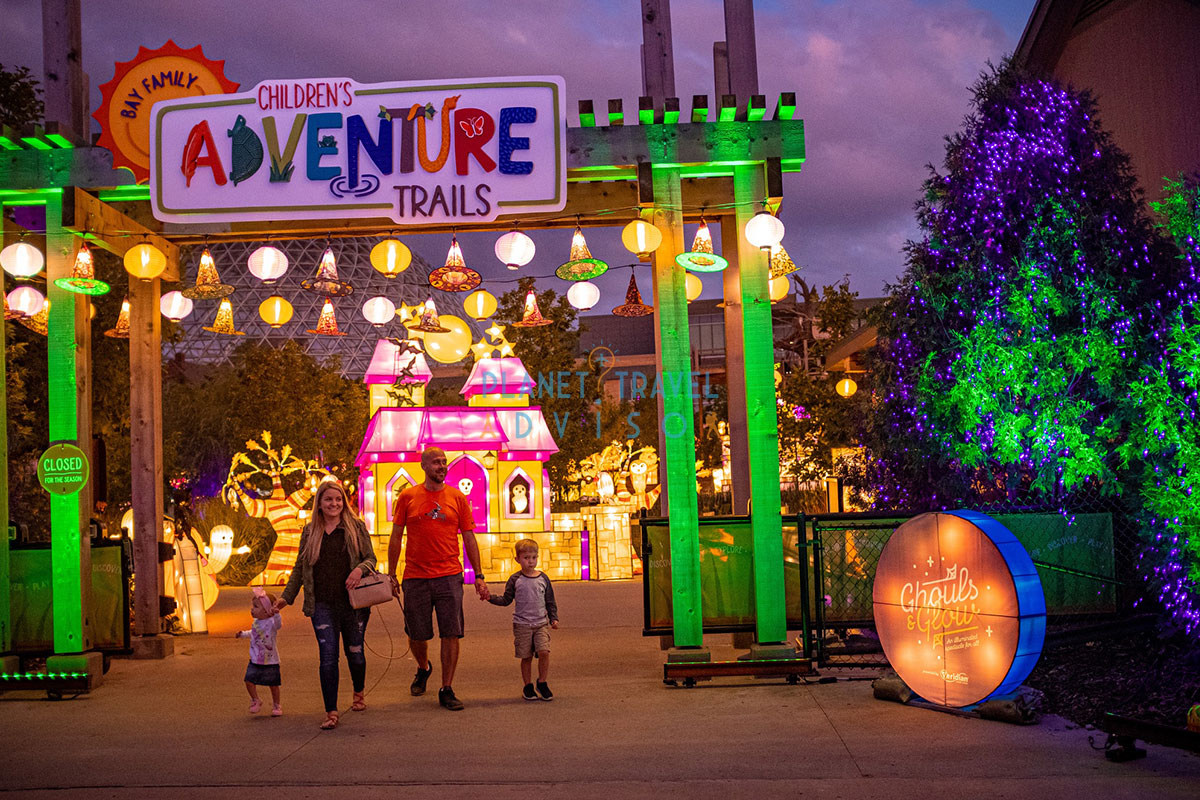 There are special events and occasions when you can experience the zoo at night. One such event is "Brew at the Zoo," which provides a unique opportunity to explore the zoo after hours while enjoying live music, craft beer, and delectable food offerings. This adults-only event creates a festive atmosphere, allowing you to meander through the zoo's exhibits under the enchanting evening sky.
As the sun sets, the zoo takes on a whole new ambiance. The pathways and enclosures are beautifully illuminated, creating a magical atmosphere for guests. It's a chance to see the animals in a different light, observe their nighttime behaviors, and perhaps catch a glimpse of nocturnal creatures that are more active after dark.
During these special events, you can also take advantage of additional activities and attractions. Educational programs and animal demonstrations provide fascinating insights into the zoo's conservation efforts and allow you to get up close and personal with some of the resident animals. You might have the opportunity to interact with animal ambassadors or take part in guided tours led by knowledgeable zoo staff.
Calling all parents and guardians! If you're searching for a treasure trove of ideas to keep your kids entertained in Omaha, I have just the solution for you. Get ready to dive into an incredible article best things to do in Omaha for Kids in 2023 that showcases the absolute best activities for children in this amazing city.

Take a Riverboat Cruise at Night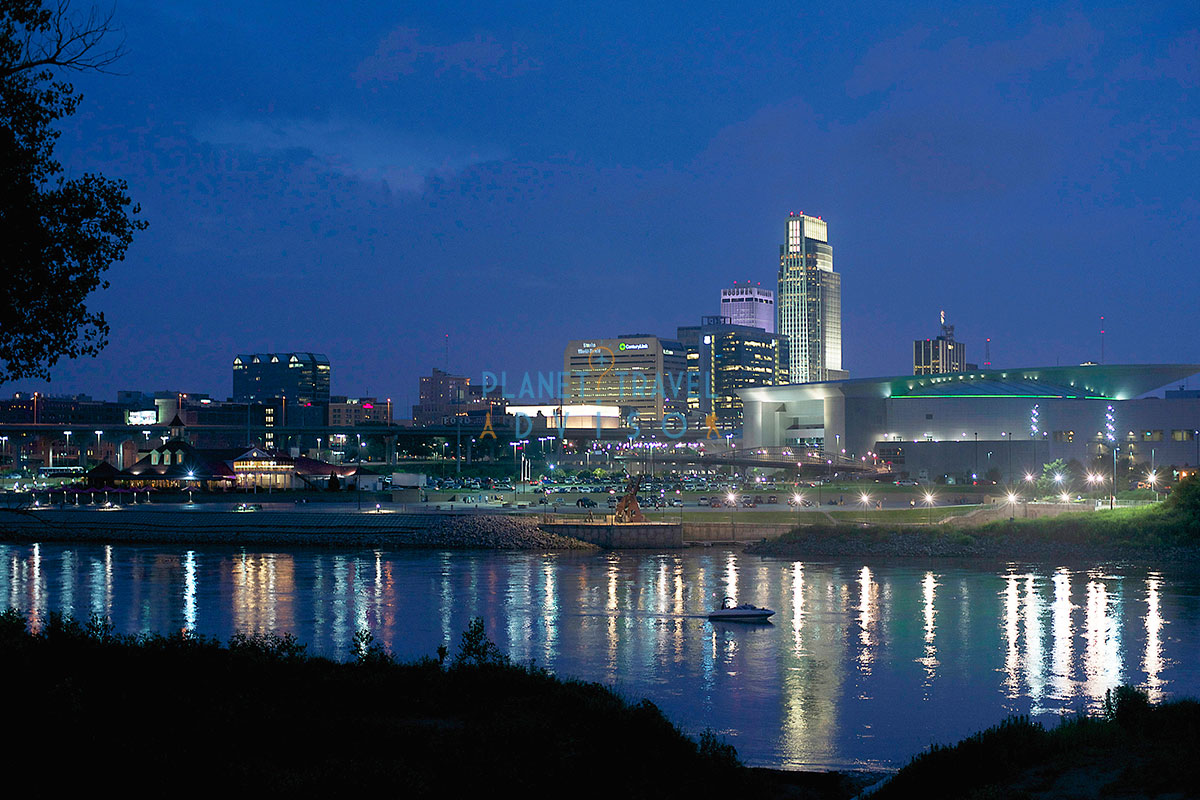 A riverboat cruise along the mighty Missouri River is a delightful way to spend an evening in Omaha. Step aboard a charming riverboat and embark on a scenic journey that combines the beauty of nature with the charm of a bygone era. As the boat gracefully glides along the river, you'll be treated to breathtaking views of the surrounding landscape, especially when the sun begins to set and paints the sky with vibrant hues.
During the cruise, you can relax on the deck, savoring the fresh river breeze and soaking in the tranquil atmosphere. The rhythmic churning of the paddlewheel adds a touch of nostalgia and creates a soothing soundtrack to your experience. Take in the sights as you pass by picturesque riverbanks, lush greenery, and perhaps even spot wildlife along the shores.
Many riverboat cruises also offer a delectable dining experience. You can indulge in a sumptuous meal while enjoying the picturesque views unfolding around you. From elegant dinners to themed buffet-style feasts, there's a culinary option to suit every taste. Pair your meal with a refreshing beverage from the onboard bar, raising a toast to the beautiful scenery and the company of fellow passengers.

Catch A Sporting Event at Night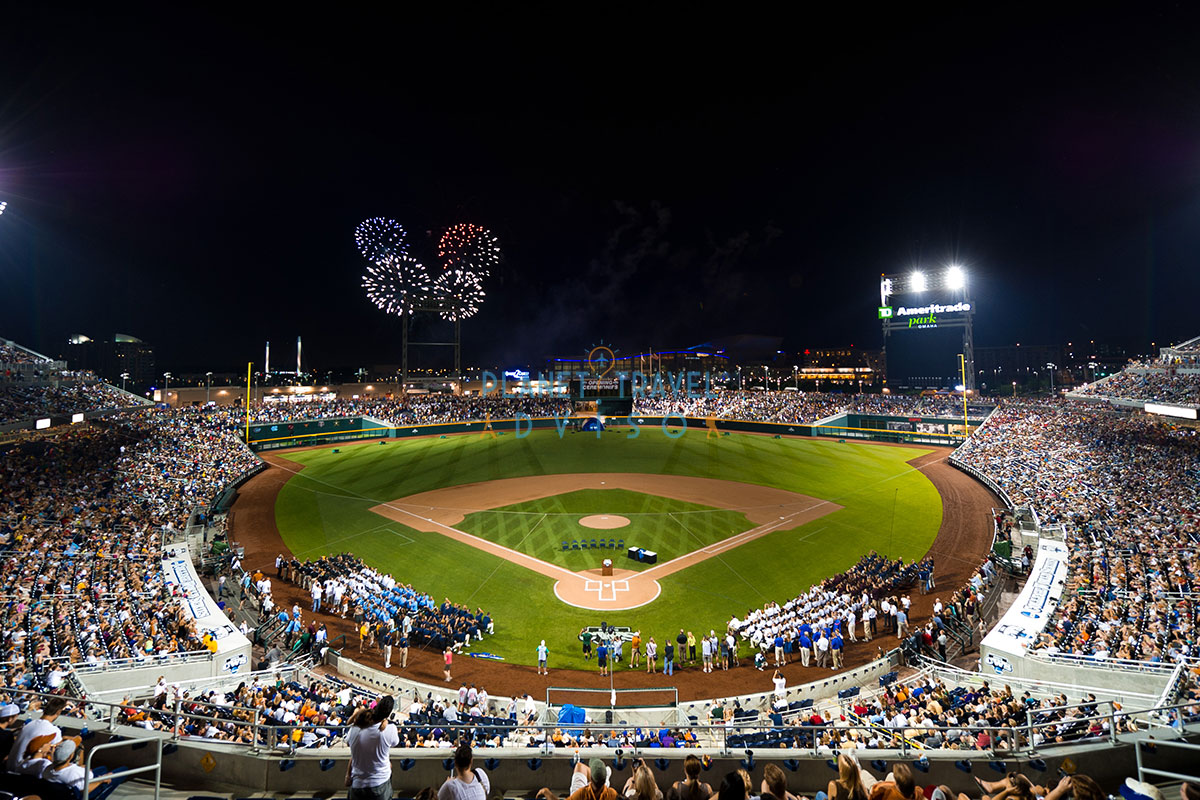 Sports enthusiasts in Omaha have a range of exciting options to catch a sporting event and immerse themselves in the thrill of live competition. Whether you're a fan of baseball, hockey, basketball, or soccer, the city offers diverse sporting experiences throughout the year.
During the summer, Omaha becomes the center of baseball excitement with the College World Series. As the best collegiate baseball teams compete for the championship, the atmosphere is electric, with passionate fans filling the stands and cheering on their favorite teams. The College World Series is a must-see event for sports lovers and provides an incredible opportunity to witness top-notch athleticism and spirited competition.
If you're looking for professional baseball, the Omaha Storm Chasers, the Triple-A affiliate of the Kansas City Royals, call Werner Park home. Catching a Storm Chasers game offers a fun and family-friendly experience with thrilling plays and the chance to see future Major League Baseball stars in action.

Discover the Joslyn Art Museum Events at Night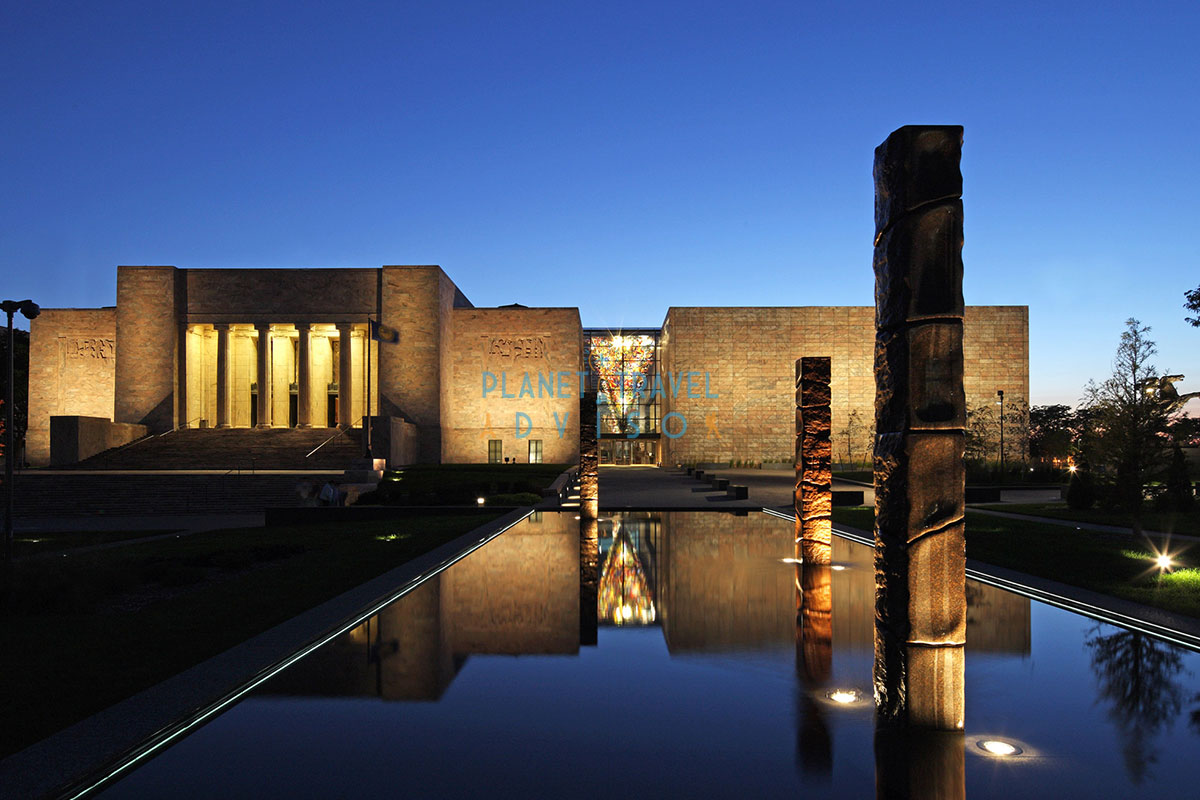 While the Joslyn Art Museum in Omaha typically closes in the evenings, there are occasional special events and programs that allow visitors to experience the museum at night. These nighttime events provide a unique opportunity to appreciate art in a different setting and atmosphere.
When the museum hosts evening events, it often combines art with live music, performances, or themed exhibitions. The galleries are beautifully lit, creating an enchanting ambiance as you wander through the exhibits. It's a chance to view the artwork in a different light, literally and figuratively, as the evening atmosphere adds a touch of magic and intimacy to the experience.
During these events, you can explore the museum's extensive collection, which spans a wide range of artistic styles and periods. From classical masterpieces to contemporary works, the Joslyn Art Museum offers a diverse array of art forms to admire and appreciate. Take your time to observe the brushstrokes, immerse yourself in the narratives, and gain a deeper understanding of the artists' visions.

Enjoy A Live Music Event at Night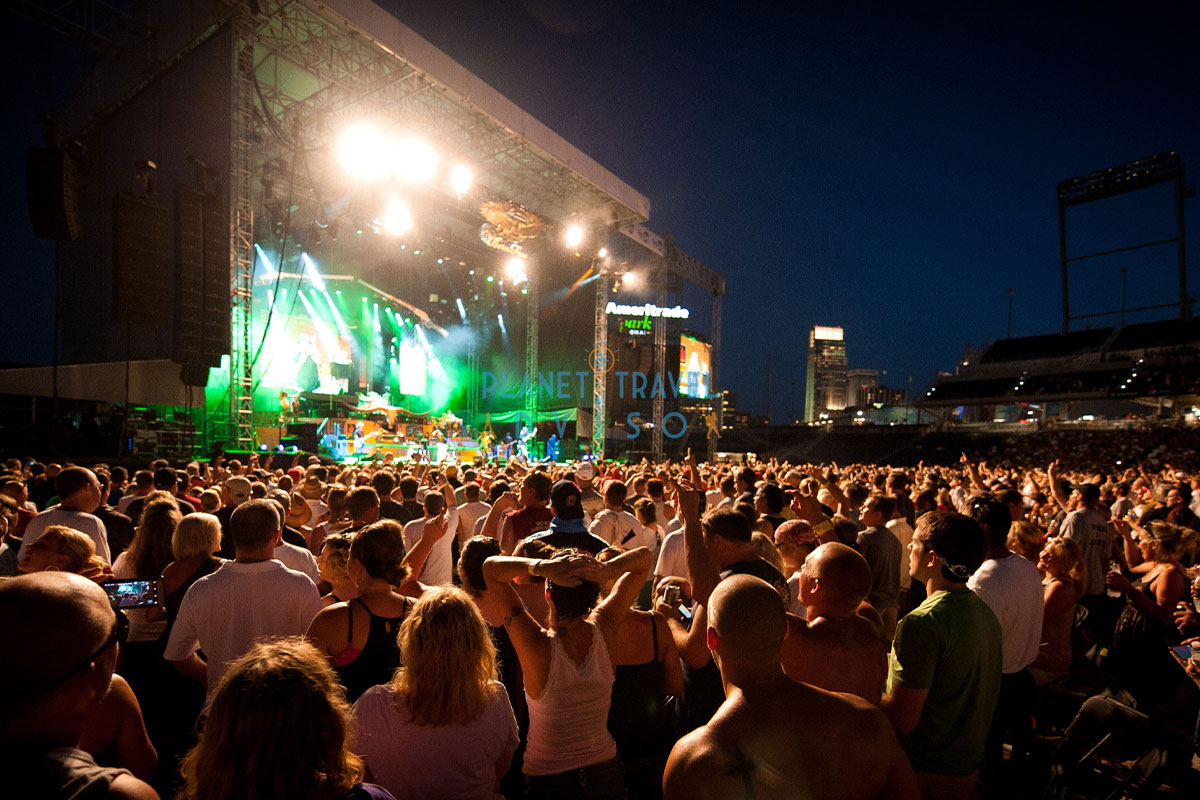 Immerse yourself in the vibrant music scene of Omaha, where live performances breathe life into the city's nights. From cozy jazz clubs to energetic rock venues, Omaha offers a diverse range of settings to enjoy live music. Feel the rhythm and soak up the electrifying energy as talented musicians take the stage and unleash their melodies.
The sound of live music reverberates through the air, captivating your senses and transporting you to a world of pure musical bliss. Whether you're a fan of soulful blues, high-energy rock, smooth jazz, or eclectic indie sounds, Omaha's music scene has something for everyone.
From local up-and-coming artists to established bands, you'll witness the passion and dedication that musicians pour into their craft. The intimate venues create an up-close and personal experience, allowing you to connect with the performers on a deeper level.

Take A Haunted History Tour at Night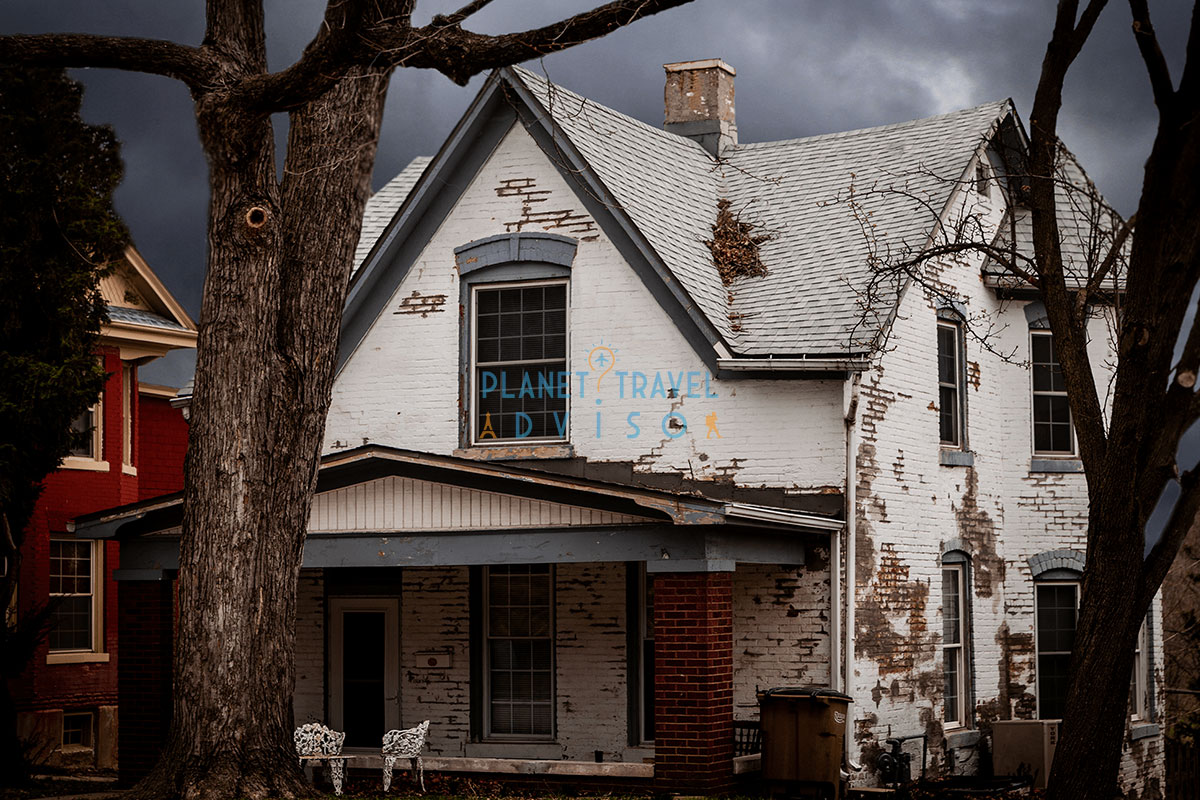 Embark on a chilling adventure by taking a haunted history tour in Omaha. These tours provide a unique opportunity to explore the city's eerie past, uncover haunted locations, and hear spine-tingling tales of ghostly encounters.
Guided by knowledgeable and entertaining storytellers, you'll journey through historic neighborhoods and visit sites with a haunted reputation. As you walk through dimly lit streets, you'll hear captivating stories of local legends, haunted houses, and paranormal activity that will send shivers down your spine.
From the notorious stories of haunted hotels and ghostly apparitions to tales of unsolved mysteries and tragic events, the haunted history tour will transport you to another realm. You'll learn about the city's darker history and the restless spirits that are said to still wander among the living.
Whether you're a believer in the supernatural or simply seeking a thrilling experience, the haunted history tour offers a unique blend of history, folklore, and spooky entertainment. As you navigate Omaha's haunted past, be prepared for goosebumps and a sense of unease, as the tour brings the city's haunted tales to life in a way that will stay with you long after the night ends.

Experience the Bob Kerrey Pedestrian Bridge at Night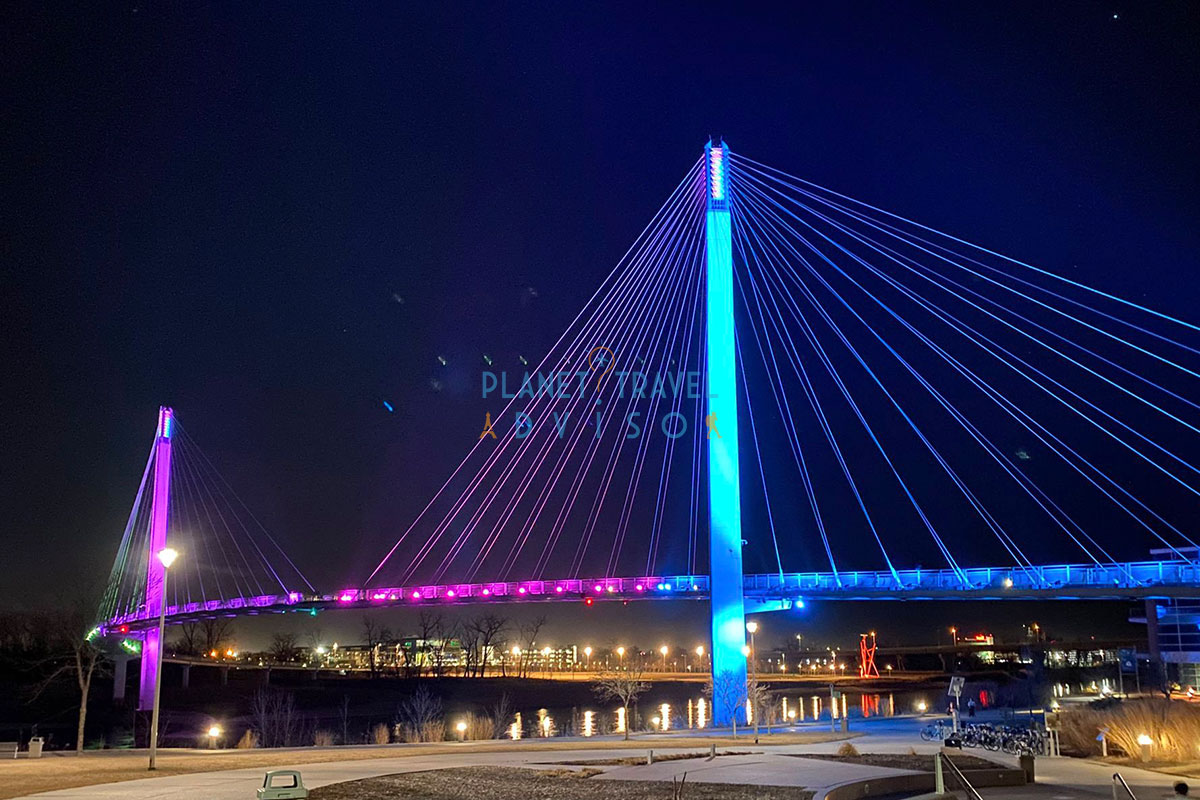 When the sun sets and the lights come on, the Bob Kerrey Pedestrian Bridge in Omaha transforms into a captivating sight that begs to be experienced at night. This iconic bridge, spanning the Missouri River and connecting Nebraska with Iowa, offers a unique and enchanting experience under the evening sky.
As you approach the bridge, you'll be greeted by the soft glow of the bridge's carefully placed lighting. The illuminated cables and towers create a stunning visual display that accentuates the architectural beauty of the structure. The sparkling lights reflect upon the water below, painting a picturesque scene that is nothing short of breathtaking.
Walking across the Bob Kerrey Pedestrian Bridge at night is a magical experience. The city skyline lights up, casting a mesmerizing glow over the river, while the stars twinkle above, providing a celestial backdrop. The tranquility of the nighttime ambiance allows for a peaceful and contemplative stroll, offering a respite from the hustle and bustle of the day.
As you make your way across the bridge, take in the panoramic views of Omaha and Council Bluffs. The illuminated cityscape stretches before you, showcasing the beauty of the metropolitan area from a unique vantage point. Capture the moment with photographs, allowing the bridge's grandeur to be forever etched in your memories.
Attention adults seeking memorable experiences in Omaha! Discover the ultimate guide to the city's top attractions and activities tailored just for you through the best things to do in Omaha for Adults in 2023.

Keep An Eye out for Night Omaha's Outdoor Movie Screenings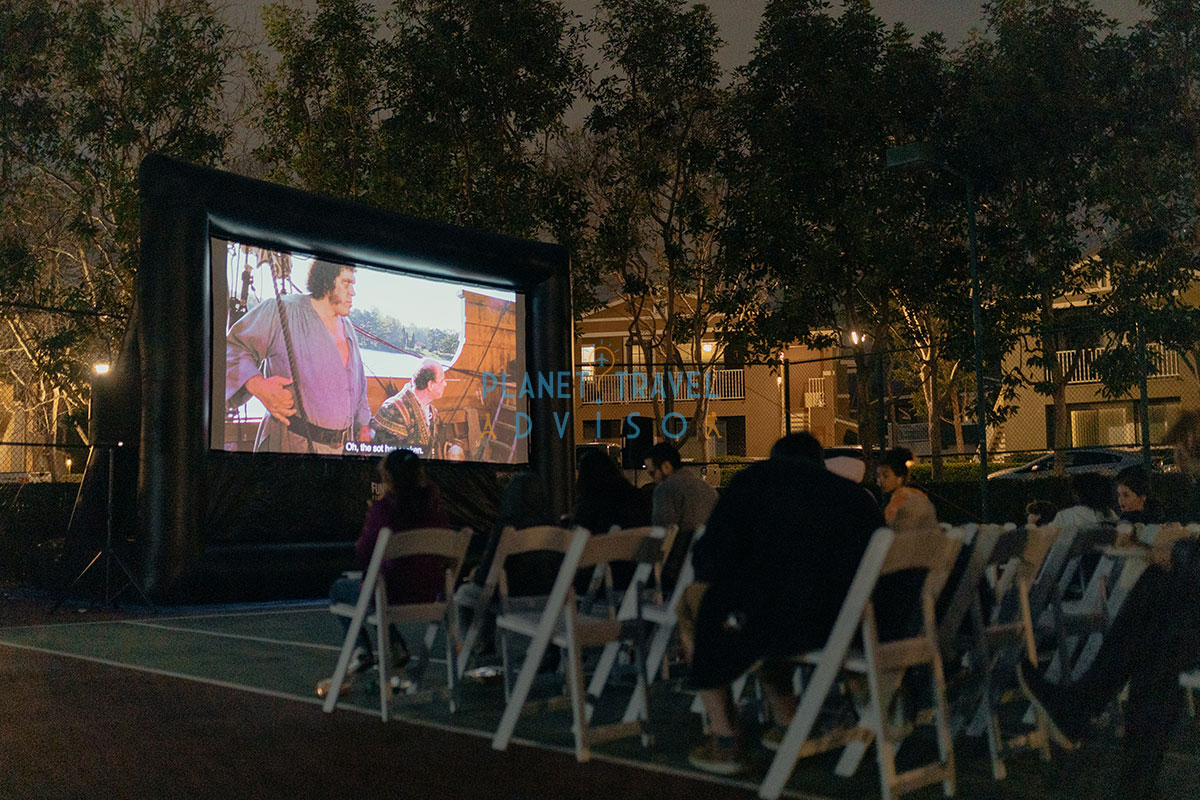 Omaha's outdoor movie screenings offer a delightful way to enjoy films under the open sky. During the summer months, various parks and public spaces in the city host these events, providing a nostalgic and communal movie-watching experience. Gather your blankets, lawn chairs, and picnic baskets, and settle in for an evening of cinematic entertainment.
As dusk settles, the outdoor screens come to life, projecting a range of movies, from beloved classics to recent blockbusters. The starlit backdrop adds a touch of enchantment to the experience, immersing you in the magic of cinema. Whether you're enjoying a family-friendly animated feature or a timeless romance, these outdoor movie screenings provide a memorable evening for all.
Food trucks often line the venue, offering a delectable array of snacks and treats to enhance the movie-watching experience. Grab some popcorn, indulge in ice cream, or savor a gourmet burger as you sit back, relax, and enjoy the film. These events often attract a diverse crowd, fostering a sense of community and camaraderie as everyone comes together to revel in the shared love of movies under the stars.

Conclusion
Omaha at Night truly has something for everyone, offering a balance of urban sophistication and natural beauty. So, whether you're seeking a romantic evening, a fun night out with friends, or a solo adventure, Omaha guarantees a memorable experience that will leave you wanting to come back for more.
Source of Video: TAPP Channel Youtube
FAQ
What are some popular nighttime activities in Omaha?
Omaha offers a variety of nighttime activities to suit different interests. Some popular options include exploring the Old Market District, known for its vibrant nightlife and numerous bars, restaurants, and live music venues. You can also catch a performance at the Orpheum Theater or the Holland Performing Arts Center. Additionally, the Omaha Henry Doorly Zoo & Aquarium offers special events like "Zoo's Got Talent" nights or "Brew at the Zoo," where you can enjoy the zoo after dark with live music and drinks.
Are there any ghost tours or haunted attractions in Omaha at night?
Yes, Omaha has some ghost tours and haunted attractions that operate at night. The Old Market District, in particular, offers ghost tours that take you through the area's historic buildings and share spooky stories of the past. There are also haunted houses and escape rooms that offer thrilling experiences for those seeking a scare.
What are some fun late-night dining options in Omaha?
Omaha has several restaurants that cater to late-night diners. The Diner, located in the Old Market District, is a popular spot that serves classic American comfort food 24/7. Coneflower Creamery offers delicious homemade ice cream until late at night, and they have unique flavors to try. Block 16 is another favorite, known for its gourmet burgers and sandwiches, and it stays open late on weekends.
Is there any stargazing or astronomy-related activities in Omaha at night?
Yes, Omaha has opportunities for stargazing and astronomy-related activities. The Omaha Astronomical Society often holds stargazing events open to the public at locations like the Wildlife Safari Park or Fontenelle Forest, where you can learn about the night sky and observe celestial objects through telescopes. The Papio-Missouri River Natural Resources District also organizes occasional stargazing events in various parks around the area.